Surrounded by fierce drag queens, a loving mum, and the predictable foil–a father who thinks his gay son is disgusting–Everybody's Talking About Jamie has landed at the Ahmanson Theatre, marking its North American premiere.
The musical charmer, Everybody's Talking About Jamie, launched in 2016 at the Crucible Theatre in Sheffield, England, drawing inspiration from a true story. It moved to London's West End, and now plays through February 20 at the Ahmanson.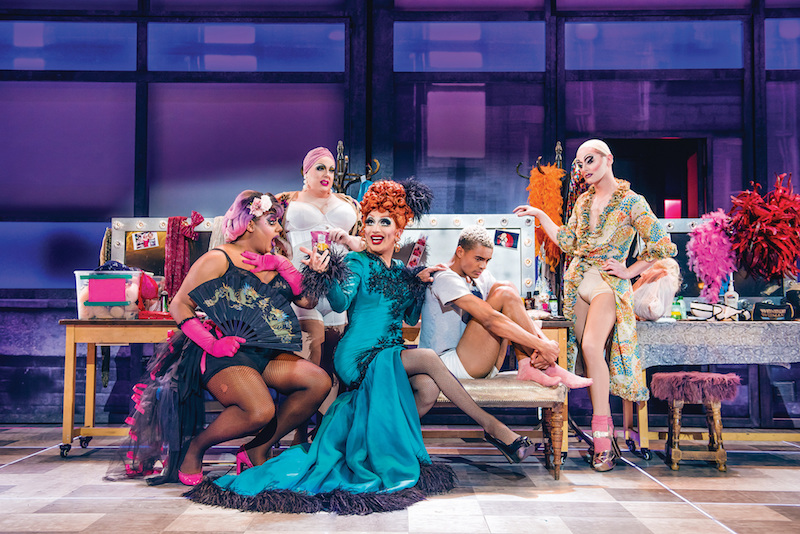 Exploring themes of acceptance, shame, verve, unconditional love and fabulousness, the musical centers on an uncommon relationship between an economically stressed mother and son who live in Sheffield's public housing. At 16, Jamie's searching for his center, his dreams of becoming a performer forever wavering amid bullies, that loathsome father, and a stern teacher.
A drag queen posse
Jamie New (Layton Williams) settles on an audacious self-defining move: he'll wear a dress to prom. His plan is furthered by Hugo, the owner of Victor's Secret, a drag-clothing emporium. Roy Haylock easily masters the character, along with his drag persona in the show, Loco Chanelle. Backing him and Jamie: three other drag queens who help ornament the show.
Haylock has some history here. He won the sixth season of RuPaul's Drag Race in 2014–his snarky Bianca Del Rio capturing the crown (the New York Times called Haylock "The Joan Rivers of the Drag World).
Those towering red pumps
The song, "The Legend of Loco Chanelle," Haylock's rendition of his drag backstory, was finessed with perfection (acted and danced by a younger Loco Chanelle). The piece underscores Jamie's need to find his own drag guise, because otherwise, he'll be "just a boy in a dress."
As Jamie, Layton Williams was a frisky through-line for the show, his spot on asides, sashay prowess–and eventual mastery of a pair of towering red pumps–became the show's familiar stimulant. By the end of the performance, Williams (as Jamie) was not only his schoolmates' favored friend, but the audience's as well. The songs, "You Don't Even Know It," and "The Wall in My Head," were superbly delivered. (Williams had replaced the original West End star, John McCrea, in early 2019).
Melissa Jacques' muscular voice
The night's showstopper belonged to the character's ever self-sacrificing mother, Margaret New, played by Melissa Jacques, who is graced with a vigorous, clarion voice. Her song, "My Man, Your Boy," shared with Jamie, brought the house down.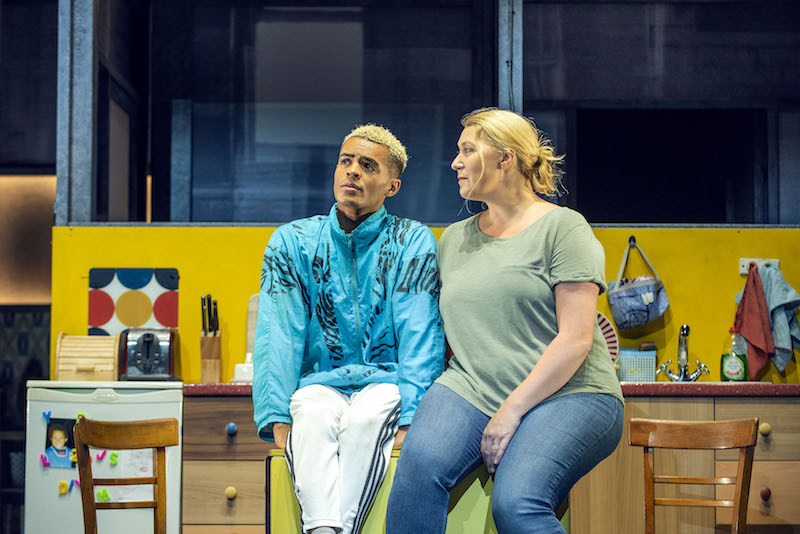 Jamie is based on the 2011 documentary "Jamie: Drag Queen at 16," which can be viewed on Amazon Prime. The stage production has toured in Japan and Korea, and there's a movie adaptation, also streaming on Amazon.
While the show's easy plot can at times be predictable, especially with an ending that ties things up in a line or two, Jamie is a brisk, playful ride backed by a brilliant cast.

this is an ad space