The poet Aaron Kenneth Toney is best known by his moniker A.K. Toney. Toney came to rise in Leimert Park at the World Stage and Fifth Street Dicks during the 1990s right after the Rodney King Uprisings. Perhaps more than any other poet in Los Angeles, Toney bridges jazz and hip hop. Before you listen to the two attached tracks, here's some exposition on this seminal Los Angeles poet.
Mentored by luminaries like drummer Billy Higgins, pianist Horace Tapscott and OG griots Kamau Daáood, Peter J. Harris and Michael Datcher, Toney is a dynamic wordsmith that stewards the word through print, sound and light. His lyrical dexterity can be heard on his debut spoken word recording, Neo Griot and the Afrocentric Prince.
Toney's vibe aligns with the Los Angeles spiritual jazz movement that includes the Pan Afrikan Peoples Arkestra, Kamasi Washington, Jimetta Rose, the Voices of Creation and Josef Leimberg. In many ways the emerging spiritual jazz scene of 2022 is a continuation of what's been happening in Leimert Park and Watts for decades now. The world is finally catching up to these artists and A.K. Toney.
Before breaking down the record. A word needs to be said about the title and the concept of the "Neo-Griot." First the word "Griot." Griot is defined by the Oxford Dictionary as "a member of a class of traveling poets, musicians, and storytellers who maintain a tradition of oral history in parts of West Africa." The griot's duty of preserving important community stories and local history is a core concept of African American poetry, especially since the rise of the Black Arts Movement in the 1960s.
Thus it follows that the term "neo-griot" means a new griot that travels sharing poetry and stories in this same spirit in our contemporary era. The term "neo-griot" was coined by Kalamu Ya Salaam, a poet from the Black Arts Movement based in New Orleans. "He's a member of a poetry troupe called the Black Arts South Movement," says Toney who met Salaam in 1989 in Leimert Park.
Salaam is the author of over a dozen books, renowned for his performances and the co-founder of the NOMMO Literary Society, a weekly workshop for Black writers. Salaam runs a popular blog called Neo-Griot, and his latest book is Cosmic Deputy. Salaam has mentored hundreds of writers since the 1970s including the award-winning memoirist Cassandra Lane and Pulitzer Prize winning poet Jericho Brown. He is also a good friend of Kamau Daáood. "I met both of them in 1989 at the World Stage for the first time," recalls Toney.
At the time Toney was the youngest poet at the World Stage and just out of high school. Before finding Fifth Street Dicks and the World Stage, Toney "was a loner looking for poetry readings long before they gained popularity," he states. The first poetry venue he read at in LA was at the Hollywood coffeehouse Highland Grounds a few months before he read in Leimert Park. Though Toney was born in Detroit and raised in Alabama, he moved to Inglewood at 15 and eventually discovered the burgeoning poetry community in Leimert after high school. He read Salaam in an anthology the year before so to meet the griot in the flesh was a revelation.
Toney was deeply inspired by Salaam's idea of the "Neo-Griot." One of the central tenets of the "Neo-Griot," is to present poetry in print, sound and light or in other words, publishing, recording and performance. To learn this concept at such a young age cemented Toney's worldview and he has spent the last three decades doing spoken word poetry in this vein. He was blessed enough to have access to geniuses like Horace Tapscott, Billy Higgins, Daáood, Salaam, Michael Datcher, and Peter J. Harris who encouraged him further.
From the beginning his work was informed with the Neo-Griot ethic of passing on the ancestors' stories. The importance of representing the community is so strong in Toney's work that he never uses "I" in his poetry. He prefers to speak for "we." He learned this from Kamau Daáood.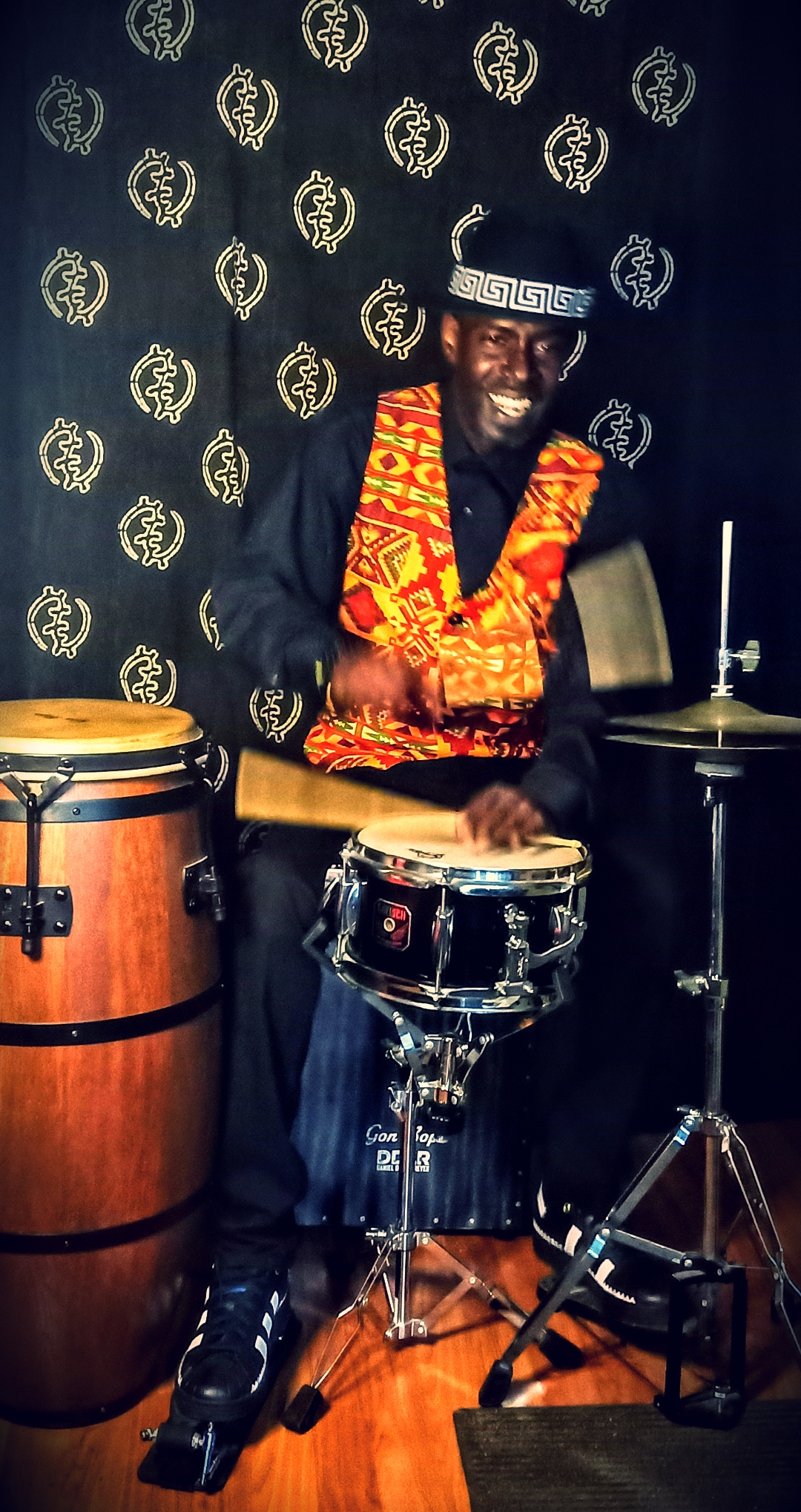 This brings us back to his new record. Though he has been performing with world class musicians since the early 90s, he never made any formal recordings until the last few years. His new album is with musicians in their late 20s and early 30s. What's more is that the crew he records with are members of the Pan Afrikan Peoples Arkestra and some of them are literally the offspring of Toney's original mentors. And the role is reversed too because Toney has helped these young players understand the Black Arts legacy and the long tradition of jazz and poetry like Toney's mentors had done for him.
Released as a collaboration between The Village Record label and Jali Music, this 12-track recording includes accompanying music composed by members of the Pan Afrikan Peoples Arkestra. The soundtrack behind Toney's words mirrors his poetry and disposition with a fusion of old school jazz and future forward rhythm. The production and poetry fuse seamlessly.
Toney's sonic poetry is new and old at the same time, but most of all it is drenched in duende. There is a contagious spirit in Toney's poetics. One of the most obvious examples is the track, "Afronauts." In this cut we hear Toney connect the dots between Horace Tapscott, Sun Ra and the recently deceased Leimert Park beat producer Ras G. Toney is an intersection between these luminaries.
"Horace, Sun Ra, Ras G, come into thee!" Toney repeats this chorus three times, opening the song pulling the listener into his word web. His poetics hit like a drum beat using the powers of invocation to honor ancestors. Toney's voice is an instrument. Throughout the record there are several sublime instances where Toney's alliterative consonance cracks harmonically with the piano keys, bass and drums.
In "Afronauts," he is celebrating Horace Tapscott, Sun Ra, Ras G, Leimert Park and all the other "cosmic deputies" that came before and paved the way for him. Here's an excerpt:
There from that orbital trinity is the mystical four blocks / A Pyramid in square with four sides / Where Aliens from other worlds gather and improvise conversation /Ancestors from the Astro Black American / Born within Covenant of Arkestra / Working with the Ancients is an act of continuing actions made..
Another standout track is "Watersnake." In this track Toney's alliterative delivery is relentless. Fusing with Jamael Deen's steady piano, the piece is unabashed sonic poetry. Here is a stanza from Watersnake:
Significant signs slowing seeping
Smooth sleigh sounding silent
Simply symbolized sprite sorcery
Secret scale savoy saving
Toney is a sorcerer of sound. He scats poetically in the lineage of Charlie Parker, Ella Fitzgerald and Freestyle Fellowship rapper Myka 9. Neo Griot and the Afrocentric Prince offers the perfect platform to showcase his skills.
Toney worked especially close with Jamael Dean (Jira X). They would meet in the studio. Sometimes Toney read the poem he wanted to record before they started, other times he'd write one simultaneously based on Dean's playing. Dean is a virtuoso multiinstrumentalist that plays piano, kalimba, the keyboard, guitar and drums. Dean is also a poet and hip hop lyricist. His musical versatility made him the perfect collaborator for Toney.
Their chemistry was so dynamic that it was not uncommon for them to record 2-3 tracks in a few hours. Toney and Dean also had assistance from vocalist Sharada Shashidhar, tenor saxophonist Aaron Shaw, bassist Lawrence Shaw, additional percussion by Carlos Niño and Mekala Session played drums and percussion on six tracks. Plus Toney played percussion on two of the tracks himself.
Toney came up with the LMU Professor and best selling author, Michael Datcher. They started together at Fifth Street Dicks and the World Stage three decades ago and have gone on to read together at colleges, libraries, literary festivals, clubs and countless other spaces. Datcher wrote about their friendship and published one of Toney's poems in his bestselling memoir, Raising Fences.
"A.K. Toney is the rare poet," Datcher declares, "who has the ability to articulate complicated socio-political ideas with the lyricism and insight of a poet with a great command of the English language. Equally impressive has been his ability to develop his craft over the years so that his poetic output has shown a discernible improvement over the years despite the fact that even earlier in his career he was operating at a high-level."
Toney has been in the trenches for years. Early in his career he published a poem in the legendary underground Los Angeles publication Urb and he was also published in an anthology about Tupac: Tough Love: Cultural Criticism and Familial Observations on the Life and Death of Tupac Shakur. The second anthology he appeared in was Catch the Fire: A Multi-generational African American Anthology edited by Derrick Gilbert aka D-Knowledge. Nonetheless this album marks a new milestone for Toney.
To put it into further perspective another Leimert Park poet Toney came up with Pam Ward, shares her insight. "'A to the muthafuckin K' was his original poetic name," Ward recalls. "I used to love saying it because, one I'm a hip hop fanatic and two, I loved hearing stoic members of the poetry community being forced to use it. A.K. brought beats, a lyrical cadence, resplendent with rapid fire delivery and changed the game. He truly evokes the older griots he admired."
"A.K. hustled poetry like some folks do weed, and I mean that in a good way," Ward continues. "He made his own tapes, traveled with the stellar Keith Antar Mason, taught the form in schools and even did community projects like creating a Leimert Park newsletter." This is Toney following in the footsteps of Salaam with print, sound and light.
As Ward alludes to above, during the 90s Toney was a part of a spoken word performance troupe called the Hittite Empire led by Keith Antar Mason. They toured colleges and even did a major gig in London, England. A few years later, Toney started his own literacy program "Reading is Poetry LLC.," and has taught poetry workshops for the last two decades all over California. He's received grants from Poets & Writers magazine and published his students' poetry. He continues to record more of his poems and shows no signs of slowing down. He's recorded another three albums worth of material, finishing a memoir and even has a children's book in progress.
To A.K. Toney though it all comes back to 1989 when he met Kalamu Ya Salaam and Kamau Daáood. Toney loves the "Neo-Griot" ethic and he sees it as his duty to fulfill this role. He wants to honor the ancestors and pass on community stories to his listeners, his students and the next generation like Salaam and Daáood did for him. His lifelong commitment continues with Neo Griot and the Afrocentric Prince.

this is an ad space