Incendiary considerations in Santa Monica, choreography competition in Palm Desert, a trio gathers in Pasadena, South Asian dance in Santa Monica, eclectic dance in Glendale, French dancemakers downtown, cinematic tribute to an LA legend in West LA, more SoCal dance this week, and a peek at next week.
Bits and pieces
The contemporary company Deborah Rosen and Dancers gathered guest choreographers, a guest artist and a guest composer for a program dubbed FRAG m e n t e d, also the title of Rosen's new dancework. Dancer/choreographer José Arguenta restages his 2020 duet fixation. Memories, motivations, and temptations are considered by the masterful Jamie Nichols in her newest, Les Moulins de Mon Coeur. The dancers include Natalie Borjoquez, Robert Huerta, Diane Hula, Thomas Ng, Sara Scrimshaw, Arguenta, and guest artist Wendy Andronika Samuels. ARC Pasadena,1158 E. Colorado Blvd., Pasadena; Fri.-Sat., Nov. 10-11, Sun., Nov. 12, 2 pm; $25, $20 students & children. Brown Paper Tickets.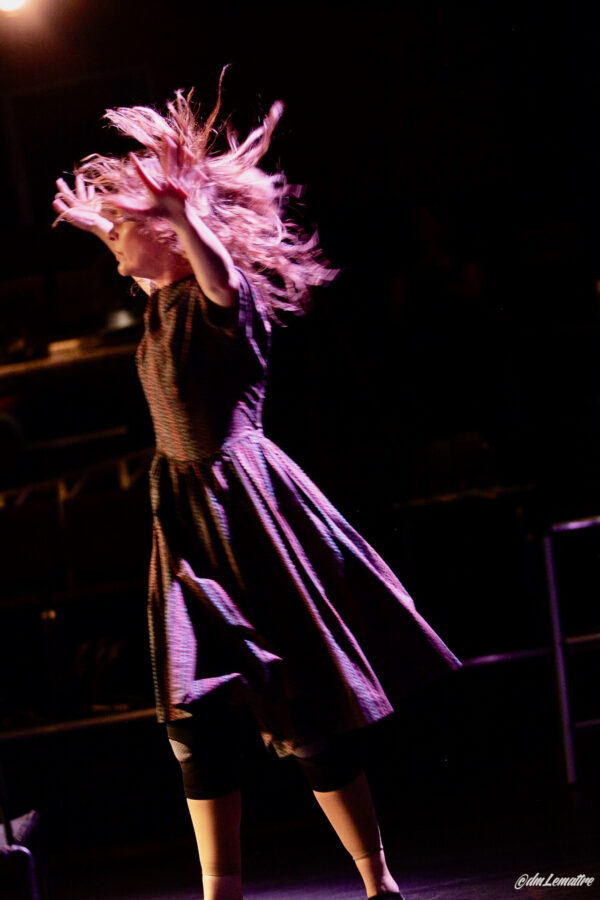 Desert dances
Since 1998, the Palm Desert Choreography Festival has presented an evening of curated new professional choreography and a second day with pre-professional companies dancing. In addition to selecting the choreography each year, festival founder/director Shea New and her panel of experts also present a lifetime achievement award in dance, this year honoring the recently retired San Francisco Ballet artistic director Helgi Tomasson. The ten professional choreographers selected from more than 100 submissions come from Germany, Spain, Texas, Ohio, Maryland, Nevada, Oregon, and three from California, Nicole Haskins from San Francisco, Maté Szentes from Huntington Beach, and Carly Topazio with San Diego'sThe Rosin Box Project. McCallum Theatre, 7300 Fred Waring Dr., Palm Desert; Sat., Nov. 11, 7 pm, $25-$50. McCallum Theatre.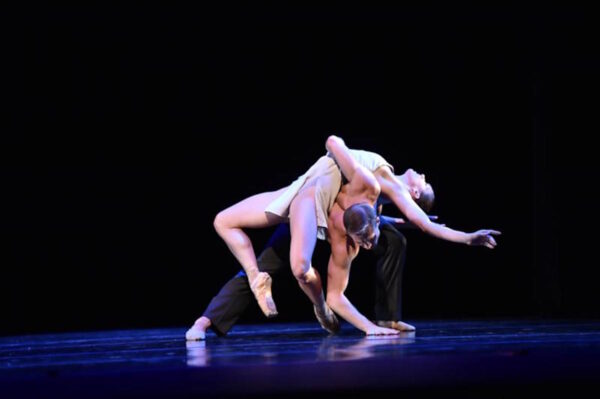 Declassified kathak
Teaming with the musical ensemble Salastina, the LA-based kathak dance company Leela Dance Collective brings South Asian dance to the stage. Dancers include Rukhmani Mehta, Joanna Meinl, Rachna NIvas, Carrie Jennings, Ahana Mukherjee, and Sonali Toppur. Rukhmani Mehta, Joanna Meinl, Rachna NIvas, Carrie Jennings, Ahana Mukherjee, and Sonali Toppur. Salastina artists include violinists and co-artistic directors Kevin Kumar and Maia Jasper White, plus musicians Meredith Crawford and Yoshika Masuda. The event is part of the California Festival celebrating music from the state's composers. In addition to the live performance, the event has a livestream option. The BroadStage, 1310 11th St., Santa Monica; Fri., Nov. 10, 8 pm, $40, $10 students, $10 livestream. Leela Dance Collective.
Out of the fire
Employing performance, music, painting, sculpture, and evoking the spirit of the Phoenix rising from its ashes, Andrea Soto draws on her Mexican heritage in her immersive performance Lo que el fuego me dio (What the fire gave me). Highways Performance Space, 1651 18th St., Santa Monica; Fri.-Sat., Nov. 10-11, 7:30 pm, $25, $15 students. Highways Performance Space.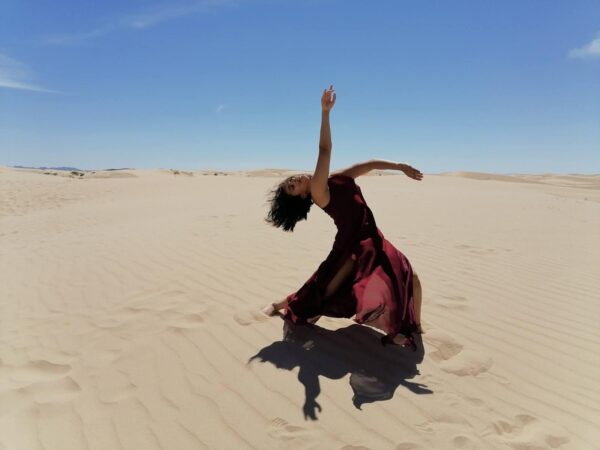 Out of bounds
Marking its 30th show, LA Unbound is known for concerts presenting dance styles ranging from hip-hop to ballet, contemporary to belly dance, tap to jazz. The dancers and choreographers include professionals exploring new material and non-professionals sharing their love of dancing. Mainstage Theater, Glendale Community College, 1601 E. Mountain St., Glendale; Sat., Nov. 11, 4 & 7:30 pm, $23-$30, LA Unbound.
Demystification
Much is said about the need to cultivate new audiences for dance. Choreographer Benita Bike and her Benita Bike's DanceArt have being doing just that for more than four decades. Launching their 43rd season, Bike and her dancers bring concert dance to audiences in recreation centers, educational institutions, and other untraditional venues where they perform, discuss and demystify, all for free. AMP Theatre, Los Angeles Mission College, 13356 Eldridge Ave., Sylmar; Thurs., Nov. 9, 7 pm, free. DanceArt.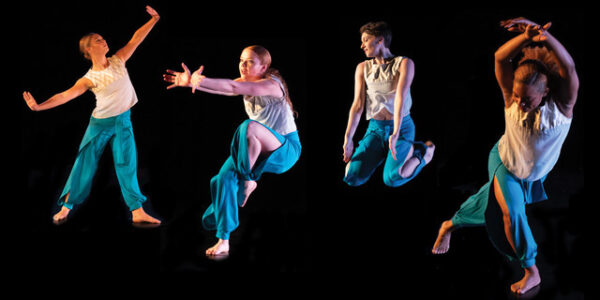 Fresh from
After its premiere in France and recent performances in Mexico, Studio Dimitri Chamblis brings takemehome to town. Chamblis and Kim Gordon collaborated to bring to the stage nine dancers, lighting via an inflated suspended zeppelin, five electric guitars and five amplifiers to consider forgotten people. REDCAT, Disney Hall, 631 W. 2nd St., downtown; Wed.-Thurs., Nov. 8-9, 8:30 pm, $30. REDCAT.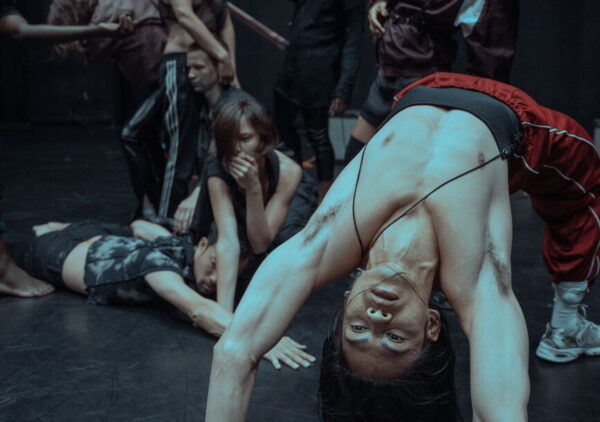 Bella! Bella!
Bridget Murnane's loving documentary Bella, celebrating the life and work of Bella Lewitzky, the late LA-based choreographer, teacher, and muse of equally legendary Lester Horton, opens for a limited run. Jeff Slayton profiles the movie and the movie maker at LA Dance Chronicle. The Laemmle Royal Theatre, 11523 Santa Monica Blvd., West LA; Fri.-Thurs., Nov. 10-16, see theatre website for times. Laemmle Royal Theatre.
Stand-by?
After an extended, sold out run of Bobbi Jene Smith + Or Schraiber's The Missing Mountain, the work gets three more performances. As of press time, all were sold out. LA Dance Project, 2245 E. Washington Blvd., Arts District; Thurs.-Sat., Nov. 16-18, $45-$55. LA Dance Project.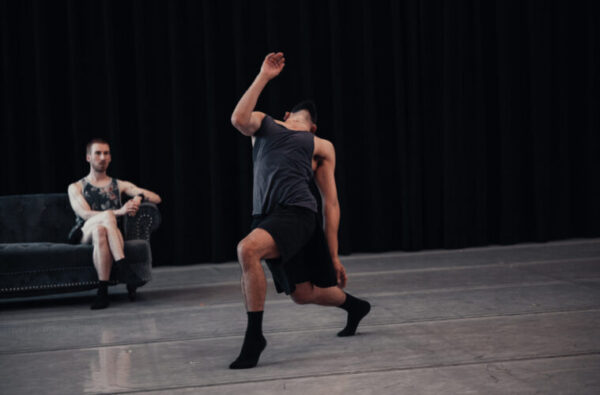 Gala time
A dance performance by LA Dance Project highlights this gala benefiting the company and honoring ballerina Misty Copeland. Vibiana, 214 Main St., Sat., Nov. 11, 6:30pm, $2,500 and up. LA Dance Project.
A Peek at Next Week
Hiroshima Kagura: Divine Tales From Japan at JACCC Aratani Theatre, 244 S. San Pedro St., Little Tokyo; Sun., Nov. 19, 2 pm, free w/reservation at JACCC.
Little Women Ballet at Pasadena Civic Ballet. Heritage Square Museum, 3800 Homer St., Montecito Heights;  Fri., Nov. 17, 6 pm, Sat.-Sun., Nov. 18 &19, 3 & 6 pm, $60. Tickets.
Backhausdance at Old Town Temecula Community Theater, 42051 Main St., Temecula; Sat., Nov. 18, 8 pm, $25. Backhausdance.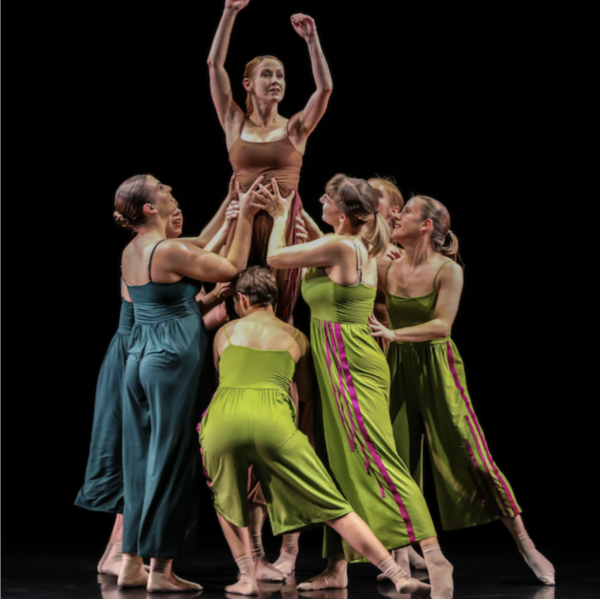 Spenser Theberge – The Unseen Hours…a salon series at The Stomping Ground, 5453 Alhambra Ave., El Sereno; Nov. 17, 12:15 pm-2:30 pm, free live or livestream w/membership, limited non-member tickets $25. Membership and ticket options at LA Contemporary Dance.
Malavika Sarukkai – Anubandh Connectedness at Irvine Barclay Theatre, 4242 Campus Dr., Irvine; Sat., Nov. 18, 8 pm, $25-$75. Irvine Barclay Theatre.
Body Weather Laboratory: Flower of the Season – Caloriflora at Electric Lodge, 1416 Electric Ave., Venice; Fri.-Sat., Nov. 17-18, 8 pm, Sun., Nov. 19, 3 pm, free w/reservation at Eventbrite.
LA Opera — El último sueño de Frida y Diego (The Last Dream of Frida and Diego) at the Music Center, Dorothy Chandler Pavilion, 135 N. Grand Ave., downtown; Sat., Nov. 18 & Dec. 9, 7:30 pm, Sun., Nov. 26 & Dec. 3, 2 pm, Thurs., Nov. 30, 7:30 pm, Wed., Dec. 6, 7:30 pm, $16-$274. LA Opera.
Notes
Jacob Jonas/The Company tours Santa Fe, New Mexico and Scottsdale, Arizona over the next two weeks.