The title is a little misleading. There are no children in The Children, a play by British playwright Lucy Kirkwood. Children are talked and worried about, but the action in this startling semi-thriller, now playing on the indoor stage at The Fountain Theatre, involves just three adults. They are interconnected by having played a part in a communal event: that of having shared a friendship, a seemingly dangerous former workplace, plus a couple of other significant details.
Hazel (Lily Knight) and Robin (Ron Bottitta), who are married to each other, are now living in a cluttered rustic cottage by the sea, not far from where they once used to live and work. On this day, they receive an unexpected visit from Rose (Elizabeth Elias Huffman), a former colleague and friend. Rose's unannounced arrival leaves Hazel not only delighted to see her, but in some ways, surprised. Husband Robin isn't home yet, and snatches of the two women's random and a bit stilted conversation strike occasional notes from the past. These point to unconventional memories from their mutual work history at the Power Plant not far up the beach. By the time Robin walks in on them, it all seems like the jolly reunion of three good buddies. Except that it isn't quite.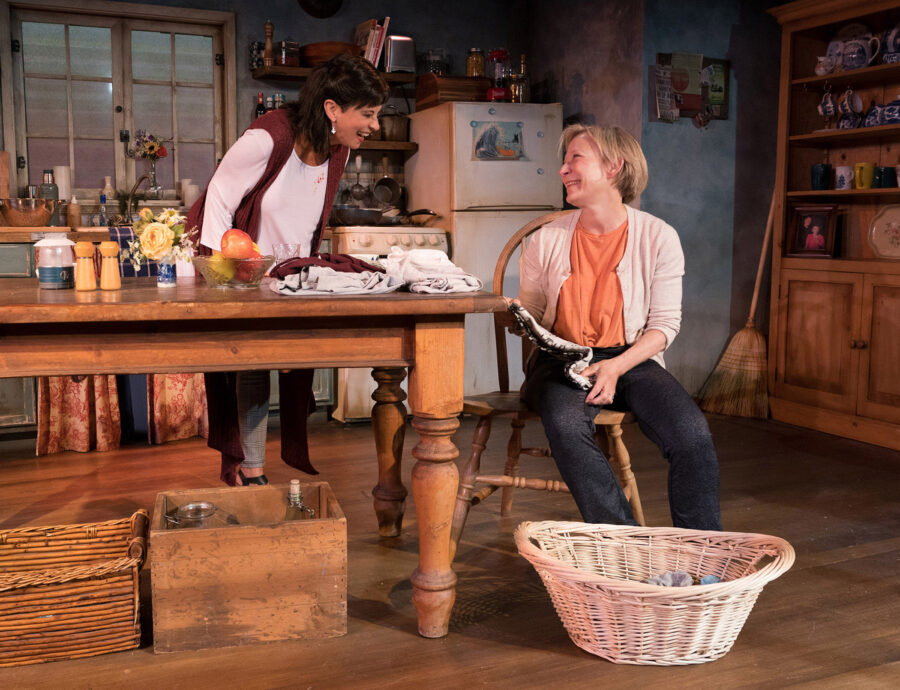 Leave it to LA's ever-adventurous Fountain Theatre to deliver the Los Angeles premiere of this cleverly conceived British play. It is wrapped in enough enigmatic spoilers to make it impossible for me to reveal any of them. Kirkwood is a rising young writer who's made a name for herself in England by dabbling in the quirky and the sly. When that gets your attention, she unleashes the fully unexpected. To tell you much more about The Children would damage your chance to experience it, which is the point after all and what this play deserves. So mum's the word.
Since given the circumstances, I can't say much more, you'll have to trust me when I say that Kirkwood is skillful at building up her twists and turns. While they're designed to keep you on your toes, her play is an examination of three people forced to face a major reckoning — never fully revealed — for an event in which they played a role that they wish they hadn't.
But there's more. Aside from their participation in something that apparently had far reaching implications, these three people also must confront a complication born of their own human failings. The friction of these two forces, the inner and the outer, sparks a long, late afternoon of volatile emotions and conversations topped by a volcanic proposition that may have you reeling.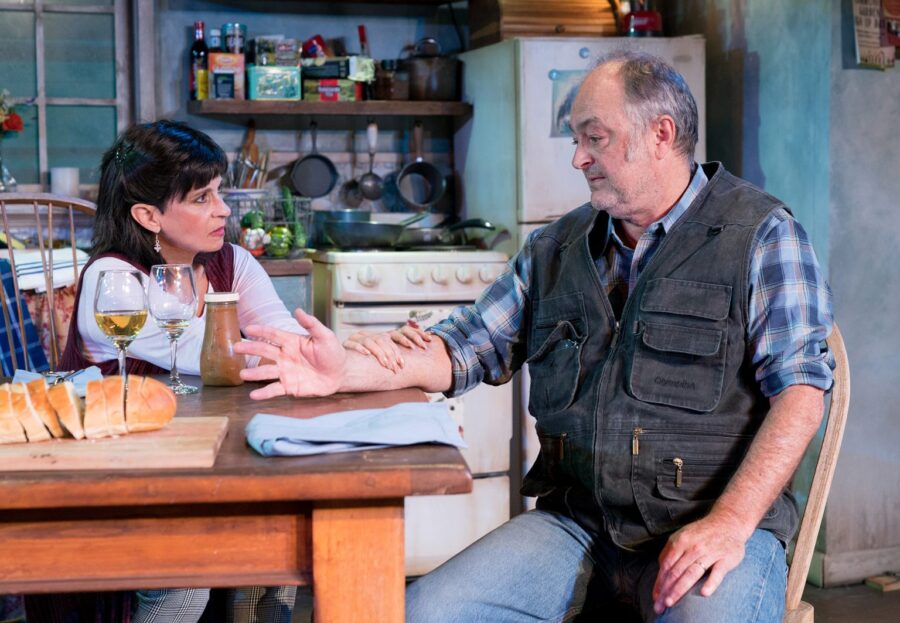 Kirkwood's aim is to show that, no matter how hard we try, we human beings cannot escape the fragility of what we're made of, especially when tested by forces beyond our control. The three friends in The Children once found themselves in a sweep of external events that they couldn't handle, any more than they could handle their more intimate impulses. And Rose's visit only re-awakens powerful feelings that they wrongly thought they had long ago buried deeply enough to forever forget.
The critical build-up of Kirkwood's carefully balanced script could benefit from a little trimming, especially in the early scenes, which would make its fraught message all the more pungent. But the production, directed by Simon Levy, gets high marks overall for its dramaturgical sturdiness. Presented without an intermission, its perpetually quickened pulse makes up for some of Kirkwood's lags, thanks also to a cast of three seasoned actors who  know how to balance the intensely conflicting and contradictory human traits required of them.
Knight as Hazel is the knowing and neurotic wife and mother, obsessed with minutiae (and yes, her grown children) as a way of covering up the incessant churning within, while Huffman's Rose is the opposite. She's the cool, composed unmarried outlier on a guarded if organized mission, as she tackles the various minefields that her visit represents. Bottitta, meanwhile is the man in the middle, trapped between past and present, truth and untruth, hi-jinks and despair.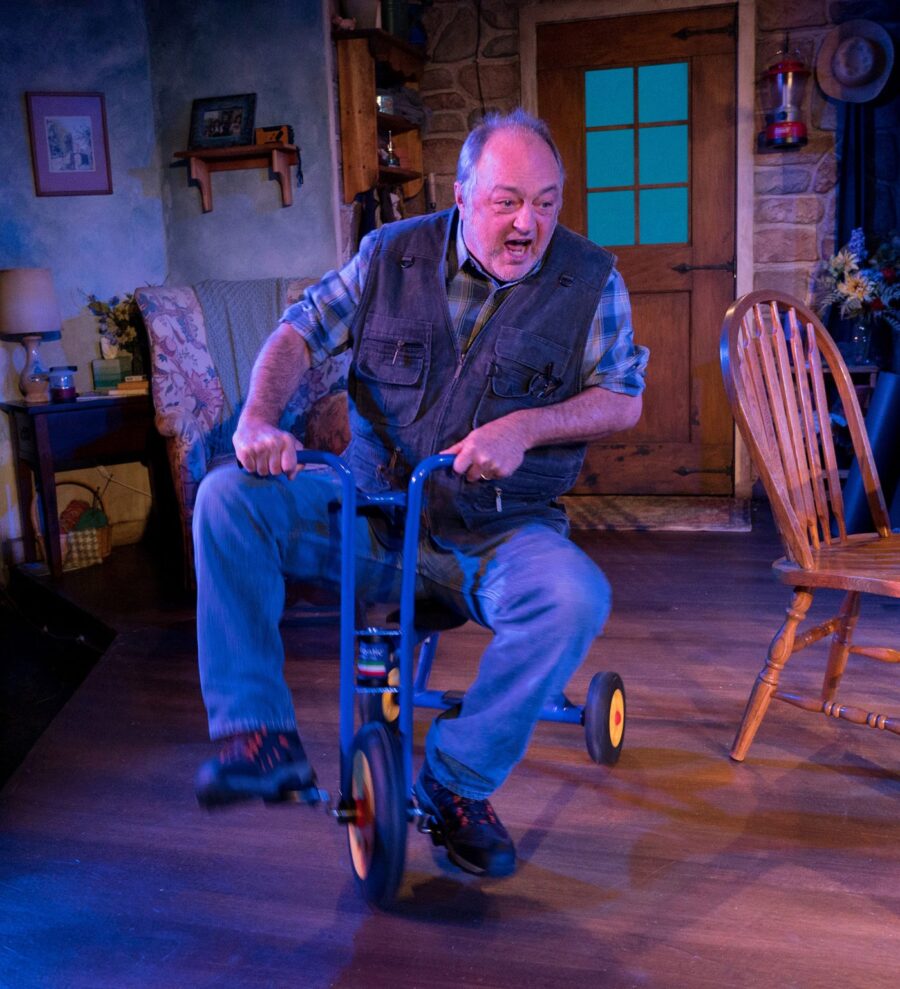 All of the action takes place in the cluttered kitchen of this humble seaside cottage (nice set by Andrew Hammer, with lighting by Christian V. Mejia and costumes by Naila Aladdin Sanders). The actors sounded slightly overmiked in the Fountain's small indoor space at the performance I attended. But it was a minor distraction in a taut production as arresting as it is unpredictable in the best possible sense.
***
WHAT: Los Angeles premiere of the Tony-nominated The Children 

WHERE: The Fountain Theatre
5060 Fountain Ave.
Los Angeles CA 90029
(Fountain Ave. at Normandie)
WHEN:
Fridays, 8pm. Dark Dec. 24, 31 & Jan 7.
Saturdays, 8pm. Dark Dec. 25 & Jan. 1.
Sundays, 2pm. Dark Dec. 26 & Jan 2.
Mondays, 8pm. Dark Dec. 20, 27; Jan. 3, 17.
Ends Jan. 23, 2022.

HOW: Tickets: $25 – $45, available at 323.663.1525 or online at www.FountainTheatre.com. Pay-What-You-Want on Monday nights, subject to availability in addition to regular seating.
PARKING: Free street parking or secure, stackable on-site parking: $5
OTHER IMPORTANT INFO:
• Performances are on the Fountain Theatre's INDOOR stage.
• Proof of vaccination and masking required of all patrons.
• Admission is limited to ages 12 and up.
Featured image: l-r, Elizabeth Elias Huffman (in the background), Lily Knight & Ron Bottitta in The Children at The Fountain Theatre in Hollywood. All photos by Jenny Graham.