I was immediately intrigued by the title of this movie, Aristotle and Dante Discover the Secrets of the Universe, that premiered at the Toronto Film Festival on September 9, 2022 and will be released in theaters on September 8, 2023. Watch trailer.
I benefited from a classical education while growing up in Italy, where in my high school (Liceo Classico) we explored the Divine Comedy (Divina Commedia) by Dante Alighieri every single day for three years in Italian literature class. We also studied the history of philosophy, so I was familiar with the ancient Greek philosophers Aristotle, Plato and Socrates.
The movie is based on the novel by the same name written by Benjamin Sáenz in 2012. Born in New Mexico in 1954, the author earned a Master's in creative writing from the University of Texas at El Paso, and still lives in that border town where this story is set in 1987. After 15 years of marriage to his wife, he came out as gay in his fifties, and they filed for divorce in 2009.
As we watch the movie, from a screenplay by Aitch Alberto in her directorial debut, we witness the developing of a loving friendship between two 15-year-old Mexican-American boys, Aritstotle Mendoza and Dante Quintana, played by newcomers Max Pelayo and Reese Gonzales. Veteran Mexican actor Eugenio Derbez plays Ari's father, Texas-born Mexican-American actress Eva Longoria is Dante's mother. Longoria made her feature film directorial debut with Flamin' Hot this year.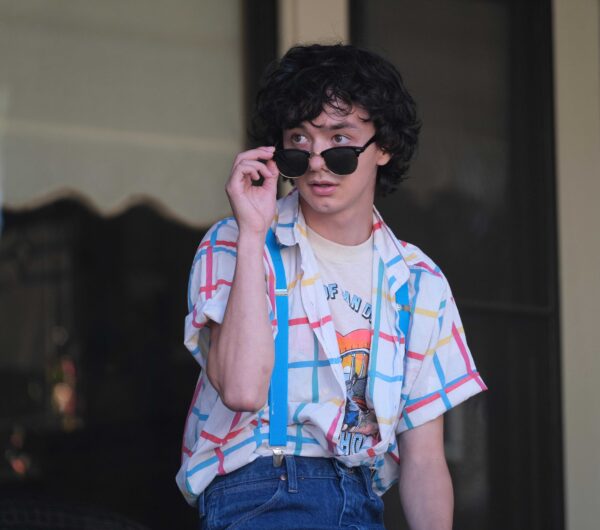 We ask Alberto what so intrigued her about the novel that she felt inspired to write the screenplay in 2018.
"Ben, the author of the book, said that this was a gift to his younger self, because maybe his journey would have been shorter and easier if stories like this existed when he was exploring his own identity. For me it was a mirror of my own journey. What inspired me the most, especially within a story that explores toxic masculinity, was that it was told in such a beautiful, gentle way, which is something that we haven't seen before, because often our stories, since they are told by other people who haven't lived authentically what it is to be Latino, are violent. So I really wanted to make sure that the movie reflected that, to hopefully open people's minds and hearts, but more than anything start a conversation amongst us."
The writer-directors expressed her hopes for the effect that the movie will have on viewers.
"It's an invitation for audiences to love themselves, which is often not easy, recognize the love around us and accept that love, which is truly what makes us unstoppable. To me that was always the foundation of this story, which is not only about identity. That is one aspect, but what are the nuances, how do we celebrate that in characters that are a reflection of myself and people that I love? We are not a monolith, we are so much more, and the movie is a celebration of that, making it universal."
Alberto said that she sent her spec script to Lin-Manuel Miranda, who had recorded the audio-book for the novel, and he agreed to produce the film.
"He has become a friend and a mentor in a way that I didn't expect, he is everything you would hope for him to be in real life, and that was so refreshing. The fact that he came in and supported me in so many ways was the validation that I needed to make me realize how necessary it was for me to be at the helm of telling this story. So I'm forever indebted and grateful to him."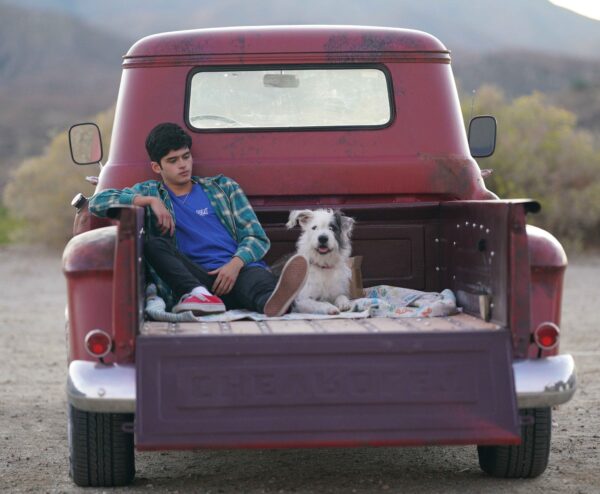 We ask Alberto, who was born in Miami to a Cuban family, about the documentary series by John Leguizamo, where he interviewed successful Latinos from various countries in six American cities from Los Angeles, to Miami, New York and Puerto Rico.
"There are many differences, absolutely, but I wanted to focus on what's universal amongst us, because, as much as we have differences, we have many similarities. So what was important to me was how do we equalize everybody and recognize that we are all a version of the same thing?"
And what is her opinion about the gender neutral term Latinx.
"Honestly I don't mind it, and even though it's not super important to me personally, I understand how it's important to some other folks that, as a language, we are as inclusive as possible. But I'm saddened that we have such a controversy around this term. I'm very inclusive of whatever someone wants to be called, so I don't think that, as a community, we should be focused on what we call ourselves, we should instead join forces to be a formidable movement and make our stories undeniable and necessary."
As an Italian I have to ask Alberto (who has an Italian last name) whether she was inspired by Call Me by Your Name (2017) directed by Luca Guadagnino.
"I love his work, I love the film, I've never been to Italy, not yet at least, and I loved the way he captured summer, but my film has a very different lens. Visually I was inspired by the work of Sofia Coppola, specifically in The Virgin Suicides (1999), with its very surreal palette, and how she handled the pain of being a teenage girl. Badlands (1973) by Terrence Malick was a huge inspiration, as was Stand by Me (1986) by Rob Reiner. Also the photography by William Eggleston has some of the most inspiring images that I wanted to reference. It's the idea of this faded memory and how do I use a palette to create a world that was grounded but where magic was possible, how do we use light to find moments exploring that."
To my last question as to why there is such increased transphobia in the US, with many Republican states denying the rights of trans-youth, like they did for reproduction rights, Aitch Alberto, a beautiful trans woman, is very wise in her answer.
"We are culturally going through a shift, because we have never been at the forefront of the culture in the way that we are now, which is exciting but also really scary. It's important for us to have an open mind, realize that maybe people won't get it right away, so we need to engage in conversations with each other and allow people to ask questions, so we may start moving towards more understanding. This is how we start changing things where we become this undeniable force, because the prejudice that's existing is the fear of not knowing. And once we recognize that there's trans people amongst us and in our own lives that we love and are not all that scary, we start to open our minds and our hearts to understand that a little bit more. That's what I am most passionate about as my mission, but I am not focusing on that aspect of myself, because I am much more than my transness, I'm a nuanced human being that's existing in the world. So those are the things that are important to me that I want to continue to focus on as a storyteller of that experience."
Dulcis in fundo (I studied Latin for 12 years from middle school to college), the novel's writer Benjamin Sáenz published a sequel in 2021 titled Aristotle and Dante Dive into the Waters of the World, where Dante's mother gives birth to a son that they name Sophocles. I might have to read that book as well, since I studied ancient Greek through my five years of high school and know about this 5th century BC playwright who wrote Antigones, Oedipus Rex and Electra, and about his contemporaries, Aeschylus and Euripides.
Whether you are Latinx, or LGBTQ, or just an open-minded human being, try to catch this movie at the Monica Laemmle or the Landmark Sunset. It will touch you with its gentle spirit.