When it opened on Broadway at the tail end of the 2003-4 season after an Off-Broadway run at the Public Theater, Caroline, or Change was overshadowed by the rivalry between Wicked and Avenue Q. This difficult, strange and complex musical by Tony Kushner (Angels in America) and Jeanine Tesori (Fun Home, Violet) about the relationship between an African-American maid and the little Jewish boy of the family for whom she works, was too rare a dish for audiences accustomed to a diet of witches and puppets. Tony Pinkins, who delivered a powerful performance in the title role, lost the Tony to Idina Menzel's Elphaba in Wicked. Caroline's only win was for Anika Noni Rose's supporting performance as Emmie, Caroline's rebellious daughter.
Kushner's flinty, semi-autobiographical book covered economics, race relations, civil rights and the intersection of the black and Jewish communities, plus it featured personified household appliances, while Tesori's multi-dimensional score ran the gambit from blues to rock to soul to pop. Not your typical Broadway fare. The show closed after only 136 performances.
Now, Caroline has returned in a triumphant revival from the Chichester Festival and a London West End run. This version, directed with verve and insight by Michael Longhurst and featuring a life-force performance by Sharon D Clarke, was originally scheduled to play New York in 2020 just before COVID hit. It has become even more relevant and vital in the interim since the death of George Floyd and a racial reckoning in the theater and society at large.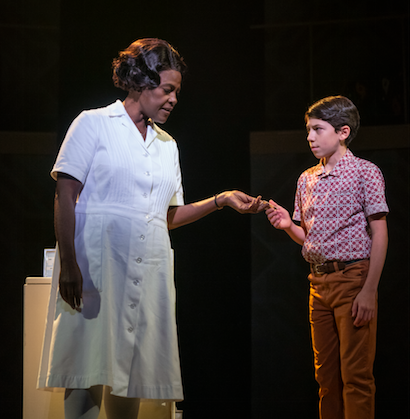 Set in 1963 Louisiana, the politically-charged near-opera focuses on Caroline Thibodeaux, a tough, unsentimental African-American woman barely scraping by on a $30-a-week salary earned by cooking and cleaning for the Gellmans, a transplanted New York Jewish couple. She and 10-year-old Noah Gellman (Kushner as a little boy) have an unusual friendship, sharing forbidden cigarettes and life advice in the basement, along with the living washing machine, dryer and radio (manifestations of Caroline's psyche and her unhappy past).
The plot pivots when Rose, Noah's stepmother, pushes Caroline to confiscate any spare change Noah leaves in his pockets when she does the family laundry. These coins change the dynamic as Caroline realizes just how desperate and inequitable her situation is. Noah also shifts his perspective as he leaves money for his friend, thinking he's helping her, but he's actually patronizing her. The hardened Caroline must reassess her standing with her white employers and with the changing world as Kennedy is assassinated and Martin Luther King leads the civil right movement. Almost two decades after its premiere, American audiences are ready for such a challenging work.
Longhurst's sleek and thoughtful production is not that different from George C. Wolfe's intense original. It's just as powerful and moving, but it is more fluid thanks to Fly Davis's revolving set which allows cinematic scene changes and overlapping settings as well as emphasizing the stark divisions between Caroline's dank basement and the Gellmans' suburban upstairs world.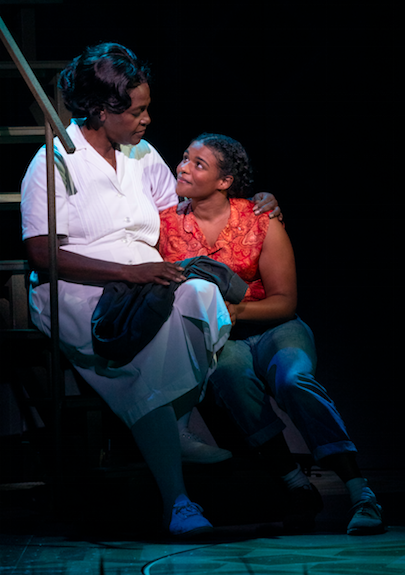 Sharon D Clarke makes a triumphant Broadway debut after a major career on the English stage. The role shatters the stereotype of the smiling African-American domestic always ready with comfort food and comforting words. Clarke's Caroline has been bruised by the travails of racism and she hides her scars with a shield of strength. She never allows the shield to drop or indulge in any treacly sentiment. Clarke's vocal performance equals her limning skills, endowing Caroline's soulful arias with the passion of Aretha Franklin or Sarah Vaughan.
The role of Noah is shared by three young actors. At the performance attended, Jaden Myles Waldman captured the conflicting emotions of the stand-in for the author, caught between anger over the death of his mother (Rose is his step-mom), attraction to Caroline's strength and resolve, and his own burgeoning maturity.
Samantha Williams delivers a magnificent Emmie, particularly in her solo on yearning for her own house and independence. Caissie Levy provides comic balance and pathos as Rose, especially in her asides to the audience when this nice lady erupts with concealed frustration. Kevin S. McAllister (The Dryer and The Bus), Arica Jackson (The Washing Machine), N'Kenge (The Moon), and Nasia Thomas, Nya, and Harper Miles (The Radio) lend their beautiful voices to a chorus of Caroline's inner thoughts. There is also strong support from Tamika Lawrence as Dotty, Caroline's fellow domestic who is taking college classes; John Cariani as Noah's numb father; Joy Hermalyn, Stuart Zagnit, and Chip Zien as his doting grandparents; and Alexander Bello and Jayden Theophile who played Emma's younger brothers at the performance attended.
My only complaint is Paul Arditti's sound design sometimes muddled Kushner's lyrics, but Tesori's brilliantly eclectic score comes across smoothly, delineating character and driving the churning cross currents of politics, class, and history in this landmark work, hopefully now recognized as such.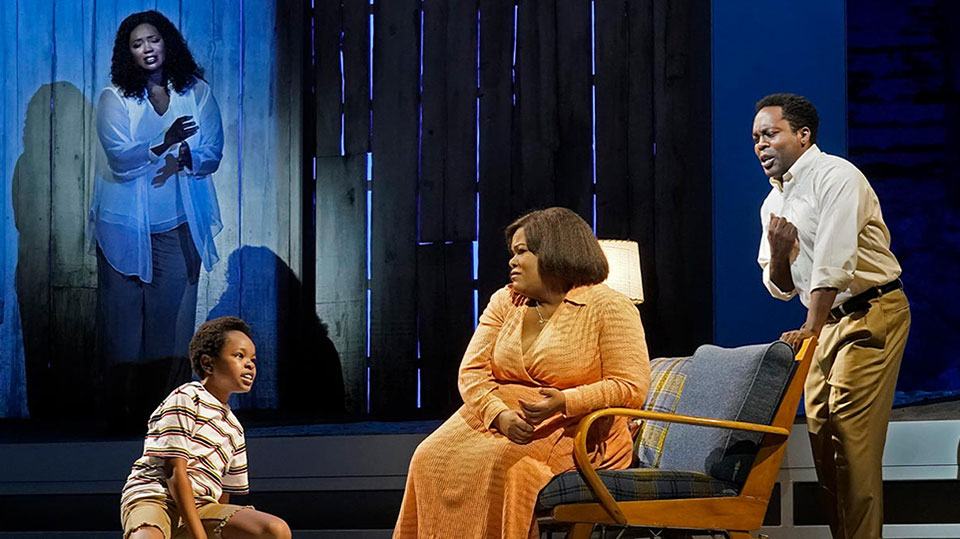 Speaking of landmarks, the same week I took in Caroline, I attended a cinema simulcast of the last performance of the historical production of Fire Shut Up in My Bones, the Metropolitan Opera's first presentation by a black composer. Like Caroline, Fire addresses hot-button issues of race and community and features a fascinating score (by Terrence Blanchard) brimming with multiple influences. Based on New York Times columnist Charles M. Blow's memoir, Kasi Lemmons' libretto follows the tortured inner journey of Charles from sensitive child to conflicted college student as he deals with his gay attractions and sexual abuse. Toxic masculinity in his small Louisiana town comes under fire as Charles matures. Co-directors James Robinson and Camille A. Brown create a sweeping epic production, highlighted by an explosive step-dancing routine, which would stop any Broadway show, choreographed with dazzle by Brown. Will Liverman's adult Charles is passionate and tender while Walter Russell III's child Charles is remarkably touching. Angel Blue as figures of Charles' psyche and Latonia Moore as his long-suffering but determined mother, add their soaring, supple voices to the mix. Just as Caroline offers unconventional subject matter and form for Broadway audiences, Fire hopefully will kindle interest for opera goers outside the usual territory of the distant or mythological past as well as affording opportunities for minority artists.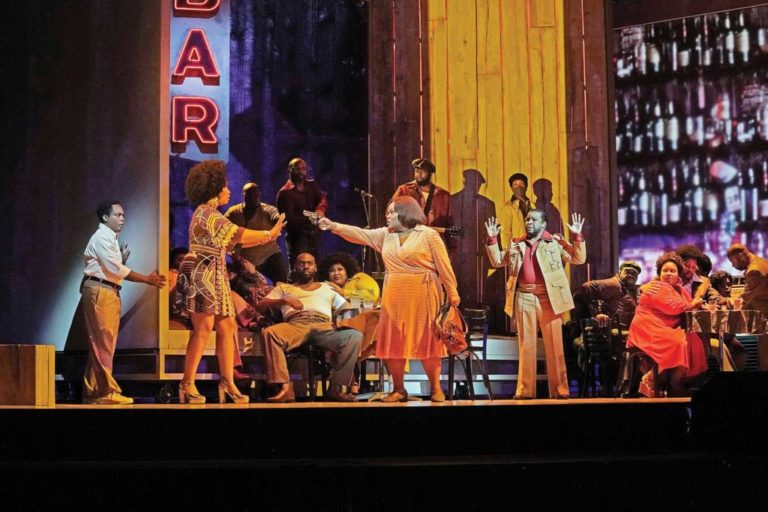 Caroline, or Change: Oct. 27—Jan. 9, 2022. Roundabout Theatre Company at Studio 54, 254 W. 54th St., NYC. Tue 7pm, Wed 2pm & 8pm, Thu 7pm, Fri 8pm, Sat 2pm & 8pm, Sun 3pm. Running time: two hours and 30 mins. with one intermission. $49—$250. www.roundabouttheatre.org.
Fire Shut Up in My Bones: Oct. 23-26. Metropolitan Opera and simulcast in cinemas on Oct. 26.