Oaxacan origin deities in the Arts District, pandemic social media in El Sereno, contemporary dance in Pasadena, irreverent excerpts in Costa Mesa, art-centered choreography in Claremont, an award-winner with pulleys downtown, more SoCal dance this week and a peek at next week.
Live This Week
Behind the hype
Social media and a doomed barrier breaker are starting points for the two works from Laurie Sefton Creates (aka Clairobscur). How social media became a means of connection and for some, a means of personal reckoning and sometimes identity reconfiguring during the height of the pandemic shutdown, became the spark for The Mythology of Self. The five dancers are Alisa Carreras, Emily Krenik, Mizuki Sako, Sidney Scully, and Nicolas Sipes. They share the stage with two photographers whose photos are projected onto a screen where a visual artists alters them. After the US Supreme Court majority struck down any federal protection for abortion, Sefton responded by revisiting Women, Fire, and Dangerous Things. Danced by Madeline Lacambra, Sako and Scully, the trio explore the life of noble prize winning scientist Marie Curie and a women-led effort to fund the purchase of radium for her research, research that ultimately killed her. Sefton sees the story as an important example of the power of women who organize against efforts that would deny them control of their lives, their bodies, or their vote. Stomping Ground/LA, 5453 Alhambra Ave., El Sereno, Fri.-Sat., Sept. 16-17 & 23-24, 7:30pm, $25. Brown Paper Tickets.
Arts & Sciences
With events over ten days at locations from an observatory to more traditional locales, the 2022 Fulcrum Festival–Deep Ocean/Deep Space considers intersections between art and science. Formerly known as the AxS Festival, the opening starts things off in Frogtown. Various locales, Thurs., Sept. 15 to Sun., Sept. 25, various times and prices. Fulcrum Arts.
And how is that pronounced?
Latching onto Biguidiribela, the Zapotec word for god of bats or flesh eating butterfly, MUXX Project employs dance, music, intricate set designs and 3D video technologies to explore themes of "the non-binary, the divine feminine, the anti-patriarchal" along with the non-binary divinities in Oaxacan origin stories. Impressively, Lukas Avendaño, EYIBRA, Nnux, and Oslwaldo Erréve, collectively known as MUXX Project, teamed with the LA County Museum of Art (LACMA), the Fulcrum Festival, and LA Dance Project which hosts the performances. LA Dance Project, 2245 E. Washington Blvd., Arts District; Fri.-Sat., Sept. 16-17, 8pm, $35, $20 under 30 years. LA Dance Project.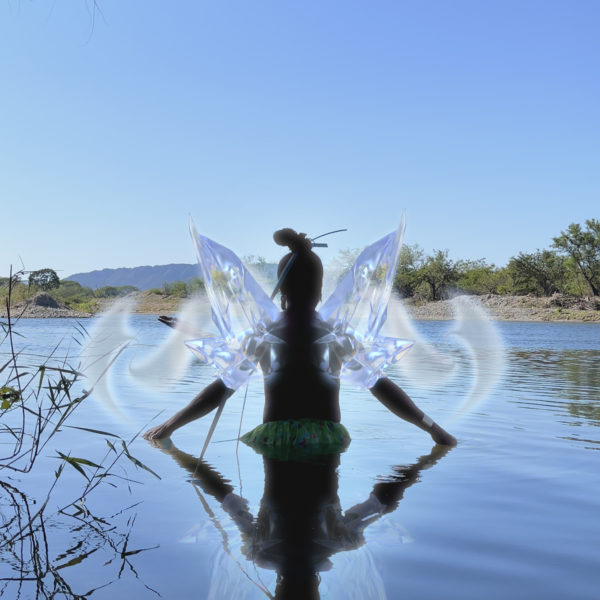 Come for the art, stay for the dance
A multi-part event including a food-truck dinner break is centered on an art installation. An Evening of Dance begins with Keith Johnson/Dancers in a series of solos on themes ranging from family, the environment, queer identity, race, and death. Moving to a collaborative mixed media installation, Nguyễn Nguyên, Maria Gillespie, and Kevin Williamson take the lead in to get there from here. The dinner break offers a selection of food trucks and conversation before heading into the theater for performances by LA Contemporary Dance Company, Marina Magalhães/Body as a Crossroads and Rebecca Lemme/Acts of Matter. A lot of dance packed into a relatively short road trip. Chapman College, 1030 Columbia Ave., Claremont; Sat., Sept. 17, 4 – 9pm, $10-$20. Keith Johnson/Dancers at 4pm; Kevin Williamson, Nguyễn Nguyên & Maria Gillespie at Ruth Chandler Williamson Gallery at 6pm; food truck dinner break, LA Contemporary Dance Company, Marina Magalhães/Body as a Crossroads & Rebecca Lemme/Acts of Matter at Garrison Theater at 8pm; Scripps College.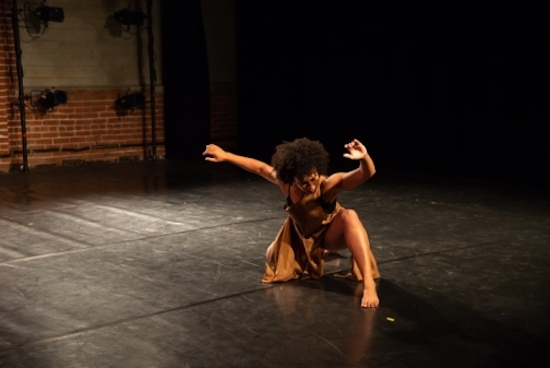 Getting it together
The power of the collective voice and the questioning of social constructs informs the seven choreographers assembled for Dialogues + Sensations: Unearthed. The dancemaker line up includes Arletta Anderson, Dorcas Roman, Kindra Windish, Lyndsi Zapata, Mallory Fabian, Megan Fowler-Hurst, and Vannia Ibarguen. Themes range from humans relationship to climate change, reflections on the past two years, classical ideals vs punk ethos, female perseverance, transitioning, grief, and the Peruvian female experience. ARC Pasadena (A Room to Create), 1158 E. Colorado Blvd., Pasadena; Fri.-Sat., Sept. 16-17, 8pm, $25. Info at Wild Roots Dance; tickets at Eventbrite.
Pulley dancer
A Doris Duke-award winning dancer/performer, Faye Driscoll comes to town with her most recent work: Thank You For Coming: Space. The press material mentions an installation setting with Driscoll wired for sound and at the prey of various pulleys and ropes. In addition to the live shows, Saturday offers a livestream option. REDCAT, 631 W. 2nd St., downtown; Thurs.-Sat., Sept.15-17, 8:30pm, $25, $20 students, Sat., Sept. 17 online, $15, $12 students. REDCAT.
Dance at the opera
In addition to having helmed her own company and multiple dance films, choreographer Kitty McNamee is a frequent name at the LA Opera and is back the new production of Lucia di Lammermoor. McNamee has done a prior Lucia, one of almost a dozen LA Opera shows she's contributed to. In this version, the director also includes a considerable video presence of the title character that involved McNamee's skills. at Music Center, Dorothy Chandler Pavilion, 135 N. Grand Ave., downtown; six performances Sat., Sept. 17-Sun., Oct. 9, see website for specific dates and times. $20-$324. LA Opera.
Horse ridden
Presented by the LAND (Los Angeles Nomadic Division), the experimental dancer/performer Chris Emile unveils his latest, The Horse. Developed in a three-month residency, the collaborative result exploring spiritual possession involves Emile and collaborators Cody Perkins (sound architect), Alevonallure (vocalist), Jason Fox (lighting designer), and what is described as "a small circle of West African drummers with guidance from Vodun practitioners." Tickets are free but limited, and in keeping the sense of ritual, the audience is requested to wear white. Downtown LA (address provided with registration); Thurs., Sept. 15, 8pm, Sat.-Sun., Sept. 17-18, 8pm, free with reservation Eventbrite.
A "best moments" visit
The irreverent, inventive dancers assembled by equally irreverent and inventive Momix director Moses Pendleton arrive with Viva Momix, a collage of sections from six different shows. Expect illusion, humor and some top-notch contemporary dance. Segerstrom Center for the Arts, 600 Town Center Dr., Costa Mesa; Sat., Sept. 17, 7:30pm, $29-$109. SCFTA.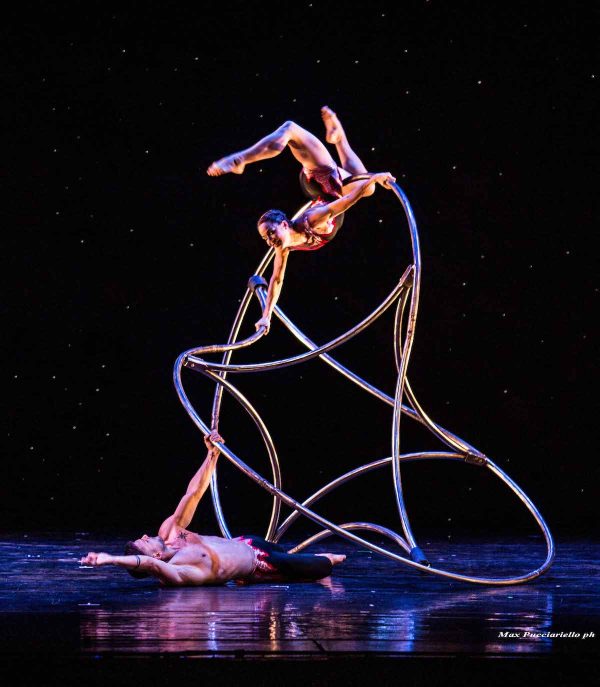 PA day for dancing
It's a full afternoon of performances and workshops. It's National Dance Day. The dance card includes broadway dance, ballet, breakdance, Latin dance, and more, plus a chance to learn this year's official dance. Stick around for the evening performance by Momix (see above). Segerstrom Center for the Arts, 600 Towne Center Dr., Costa Mesa; Sat., Sept. 17, 1pm to 5pm, free w/reservation at SCFTA.
A festival finale
After traveling throughout metro LA with community festivals celebrating its 25th anniversary in Inglewood, Lincoln Heights/East LA, Long Beach, Koreatown, Pacoima, Reseda, San Gabriel Valley, Wilmington, Crenshaw, and Watts, the Getty 25: Celebrates heads home to the hilltop site whose opening 25 years ago launched the festival. Getty Center, 1200 Getty Center Dr., Brentwood; Sat.-Sun., Sept. 17-18, 10am – 5pm, free with limited timed entry ticket. Getty.
A Peek at Next Week
WomXn Deborah Brockus, Hannah Millar, Malory Fain, & Maura Townsend at Fiesta Hall, Plummer Park, 7377 Santa Monica Blvd., West Hollywood; Sat., Sept. 24, 7pm, Sun., Sept. 25, noon, info at Brockus Project Dance, email for tickets.
Foothill Dancemakers – Benita Bike's DanceArt Company, Lineage Dance Company, Nancy Evans Dance Theatre, & Pennington Dance Group at ARC (A Room to Create), 1158 E. Colorado Blvd., Pasadena; Sat., Sept. 24, 8 p.m., Sun., Sept. 25, 4 pm, $20, $15 seniors & students. Pennington Dance Group.
MashUp at Frogtown ArtWalk, 2934 Gilroy St., Elysian Valley; Sat., Sept. 24, 3pm-9pm, free. Elysian Valley Arts Collective.
Monica Bill Barnes & Company: The Running Show at USC Bovard Auditorium, 3551 Trousdale Prkwy., downtown; Thurs., Sept. 29, 7pm, free with ticketed reservation. Visions & Voices.
Ballet Folklorico at the Ford Theatre, 2580 Cahuenga Blvd. East, Hollywood; Sat., Sept. 24, 8pm, $50-$85. Ford Theatre.
San Pedro ♥ Festival of the Arts 2022 – A Dance Only Event at Peck Park (Next to Community Center), 560 N. Western Ave., San Pedro; Sat., Sept. 24, 1-4:15 pm, free. San Pedro Festival of the Arts.