The North American touring production of Beetlejuice made its first stop on a 39-city tour at the Pantages Theatre in Hollywood. For a show about death, Beetlejuice is a non-stop, fun-tastic thrill ride. From dancing skeletons to tap-dancing corpses, this live staged adaptation of the 1988 Tim Burton cult classic is a full-fledged musical extravaganza with a stellar cast that hits all the right notes, literally and figuratively. At the top of that list is Isabella Esler who stars as Lydia Deetz, the mournful but sprightly goth girl played by Winona Ryder in the film. Justin Collette, who headlines this show as the titular Beetlejuice, provides the super-charged high-wattage electricity that propels the story forward and is an undeniable showboat scene-stealer. But it's Esler, a recent high school graduate making her professional debut, who is equally captivating and serves as the stabilizing force to anchor this over-the-top spectacle. Esler is blessed with a voice that is crystal clear and delivers a rock ballad like nobody's business without a trace of vocal strain.
Amidst an ever-expanding landscape of jukebox musicals, Beetlejuice is that rare commodity: a boldly imaginative musical that doesn't trade on a pre-existing musical catalogue (except for two Harry Belafonte songs). It's fresh, inventive and irreverent with vivid characters whose lives (and deaths) are intricately intertwined and full of surprising twists and turns. Kudos to the aptly named composer/lyricist Eddie Perfect whose songs are as clever and lyrical as they are comedic and character specific, commanding the attention of the audience every step of the way. The production values, from the production design to the costumes, staging and choreography are likewise first rate from the opening sequence depicting the mourners at Emily Deetz's funeral which looks like an Edward Gorey drawing come to life.
As for the story, Beetlejuice is not your typical "ghost meets girl" type of musical. Not by a long shot. For those unfamiliar with the movie (as I wasn't), the musical is about a dead guy named Beetlejuice who is dealing with some post-mortem anxiety and, in a desperate effort to be seen, resorts to diverting two deceased souls on their way to the afterlife. In so doing, he winds up ensnaring the new residents of the deceased couple's house who are going through their own issues after the death of their loved one. If you're a little confused, hold on to your hats because it gets even loopier with paranormal possessions, exorcisms and ghost-eating sandworms. It's from this conceit that the rest of this crazy story unspools, beginning with the untimely death of a perfectly ordinary, somewhat boring, young married couple named Adam and Barbara Maitland, played winningly by Will Burton and Britney Coleman. Tasked with finding the funny while playing a maddeningly ordinary couple, these two more than rise to the occasion using their malleable facial expressions and physical body language to maximum effect.
Once Adam and Barbara come to terms with the fact that they've died (by electrocution due to faulty home wiring) in the prime of their lives, Beetlejuice convinces the newly deceased couple that the best path forward is to haunt the new residents of their home, a task they are woefully ill-equipped for. Beetlejuice offers to give them some haunting lessons, but ultimately gives up on them as hopelessly un-frightening normies, leaving them to fend for themselves. The new occupants of the Maitland's house are Charles Deetz and his teenage daughter Lydia who is grieving the death of her mother. Charles has hired a "life coach" named Delia (whom he's sleeping with) to help his daughter pick up the pieces and adopt a sunny attitude. Delia's fake-it-till-you-make-it approach backfires miserably because Lydia isn't ready to move on. Charles, by contrast, seems to have skipped over the mourning stage and is anxious to rebuild their lives and turn the page. His main focus is turning the Maitland's dilapidated Victorian into a model home for a property development venture. By the end of act one, Charles has managed to turn the Maitland's house into a nouveau riche remodel. But when the investors show up for dinner, Beetlejuice and the Maitlands have their own plans to derail the deal, turning the evening into a zany evening of paranormal possessions, prompting an impromptu sing-along of the Harry Belafonte tune "Day-O" which has them all dancing the conga.
Like the Maitland's, Charles and Delia (played by Jesse Sharp and Kate Marilley) share a comedic chemistry that makes their pairing work brilliantly. There's a saying that there are no small parts and this applies to the cast of Beetlejuice because even those further down the cast list make the most of their stage time. One of those memorable performances belongs to Kris Roberts who does double duty in two wildly different roles, playing Maxine Dean (the wife of the investor Charles is hoping to impress) as well as Beetlejuice's dearly departed mum named "Juno" who turns out to be a high-ranking functionary of the Netherworld (that way-station between life and the hereafter). As Juno makes the rounds on her walker with tennis balls, imperiously lording it over the deceased, Roberts brings this chain-smoking curmudgeon into hilarious sharp relief. The same could be said of Danielle Marie Gonzalez who makes the most of her role as Miss Argentina (another deceased denizen of the Netherworld) and her spicy as salsa number "What I Know Now."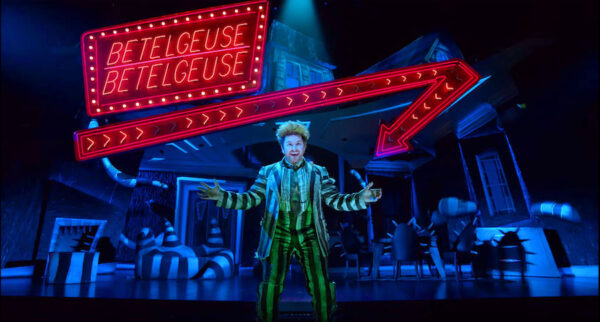 While Beetlejuice seems to have reached his goal of being "seen" by the end of Act 1, he's still not satisfied and prevails upon Lydia that if she agrees to marry him, that will give him a new lease on life, literally. And while Beetlejuice makes it clear that this would only be a marriage of convenience (like a Green Card for ghosts), there's a whole song dedicated to the ick-factor of creepy old men preying on younger women called "Creepy Old Men." It's a slippery slope that could be problematic were it not handled so deftly and called out in such a direct and tongue-in-cheek manner. But Lydia pulls a fast one on Beetlejuice and makes a break for it, finding her way to the Netherworld in search of her mother with the help of the Maitland's and the magical Handbook for the Recently Deceased. Lydia doesn't find her mother, but she does manage to have a meaningful conversation with her father and gets him to acknowledge the massive loss he's been trying to gloss over until now. When Lydia makes her way back from the Netherworld, Juno makes an appearance enforcing the rules that once you cross the threshold, you can't go back to the real world. But Beetlejuice valiantly stands up to his mother on Lydia's behalf before agreeing to finally accept his own fate and cross over to the other side, beseeching the others to "tell his story." Beetlejuice is the type of show where the more you try to explain the plot, the more confusing it gets. It's kind of like crowd-surfing, you just have to take a leap of faith and enjoy the ride. And what a ride it is!
Beetlejuice — At the Pantages Theatre, now through July 30. Tickets