Color is timelessly associated with emotion and thus becomes the emissary of artists, musicians, poets, and aesthetic movements, none more than the color blue. In fact, blue has moved past mere association to embody its linguistic meaning—"to feel blue" is to feel sad, despairing, lonely. It is a gestural, non-figurative representation of something we instantly recognize as melancholy, a primary attitude of the human experience.
It also has distinct cultural associations—think: the symbolic color of the masculine or of the Virgin Mary's robes; singing the blues; Picasso's Blue Period; David Lynch's film Blue Velvet or Derek Jarman's Blue, this last of which is part of the current exhibit "Blue is the only color my heart can see" at downtown gallery, Giovanni's Room, playing twice a day in the exhibition space on the weekends. It is Jarman's moving and intimate farewell, filmed as he was dying of AIDS-related complications in 1993. At the time, he was partially blind and could only see in shades of blue.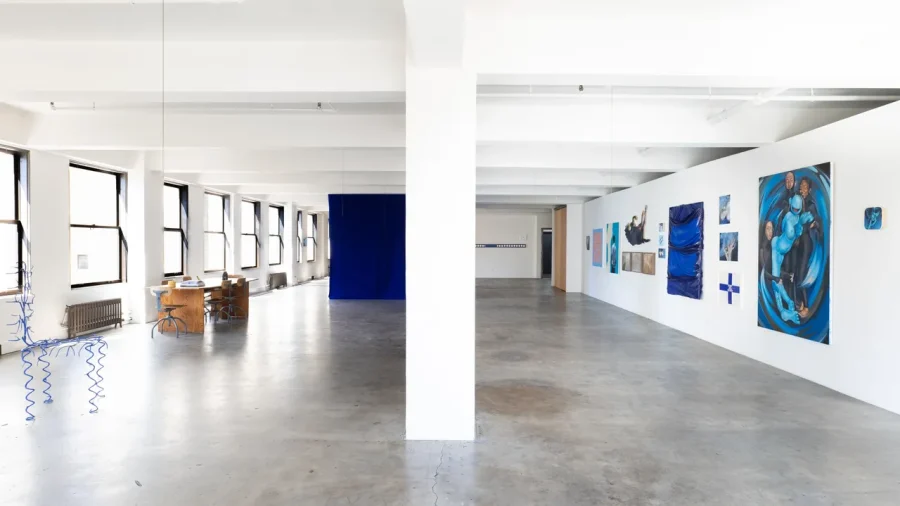 The show gathers almost two-dozen practicing artists, whose work is diverse, eclectic, and idiosyncratic but connected through a color, and, thus, an emotional space. The exception to this demographic is a piece by a member of the French new realists Yves Klein, Timbre Bleu (c. 1957), a single floating postage stamp of the eponymous ultramarine paint that he patented, known as IKB (International Klein Blue). It is coincidentally (or not so coincidentally) the exact color that Jarman uses as the backdrop for his film. This sort of attention to curatorial detail creates a surprising and resonant experience when it comes to a group show.
Other highlights include Katherina Olschbaur's Melancholia (2023), an oil portrait of a woman holding her head in her hand, a look of despondency on her face that is nonetheless ringed by a glowing veil of turquoise and white light. It's as if this modern Madonna was caught in a "blessed are the poor in spirit" moment of introspection. At the opposite end of embodiment, Xinyue Yan's My Little Killer (2023), is an oil painting of a blue line-figure in heels, holding a knife out in front of her but fading into the background as fourteen hyper-realistic water drops of varying sizes—tears? rain?—are superimposed on the surface. This surreal moment of weather (personal or environmental) creates three-dimensionality in comparison to the flat affect of the running figure, which acts, as the title suggests, as a private totem. Similar in spirit, Hiejin Yoo's painting When the Night Is Blue (2023), superimposes the white outline of a large hand, holding a blue calla lily, on top of a typical suburban mid-century house at night, moon in the sky above. Both pieces pay homage to a lexicon of noir imagery, which suggests strangeness and estrangement as an inevitable part of ordinary experience.
Even the more pop pieces act on emotional depths. Chris Pecaro's latex-draped canvas titled Blue Rubber (03.25.22) (2022), perhaps a reference to the so-called "blue movies" of porn culture, suggests a hidden domain behind the curtained canvas—what we can't see is the main show. Likewise, John Giorno's DAFFODILS BAPTIZED IN BUTTER (2017), a large acrylic work of orange text on blue, is, in fact, preoccupied with a third color, but only typographically. The missing paint color, signified by the words daffodils and butter, dominates the sign. We see orange and blue but think yellow. Absence is the key, just as it can serve as a key to unlocking the larger themes of the show and the color blue itself.
*
"Blue is the only color my heart can see" @ Giovanni's Room, 850 S Broadway, Suite 600, Los Angeles, CA 90014. April 28, 2023 – June 10, 2023