It's the casual, seemingly unobserved movements that makes the spectacular revival of Bob Fosse's 1978 revue Dancin' so special. Yes, there are thrilling feats of terpsichory with backflips, leaps, jetes, and extensions all over Robert Brill's set of moving, towering scaffolds, but there are just as many small, intimate gestures that sent a thrill up my spine. These include Peter John Chursin's relaxed elbow as he places both forearms over his head, Mattie Love's joyous smile as she bogeys down with Tony D'Alelio and Nando Morland in a tantalizing trio, and Kolton Krouse's intense head roll while galloping around the stage in a jazzy solo. Each allows the dancer to express their individuality while simultaneously conveying the sultry vision of Fosse. Twenty-two amazing dancers blend perfectly together in a dizzying display of the legendary stager's choreographic genius while maintaining their unique talent.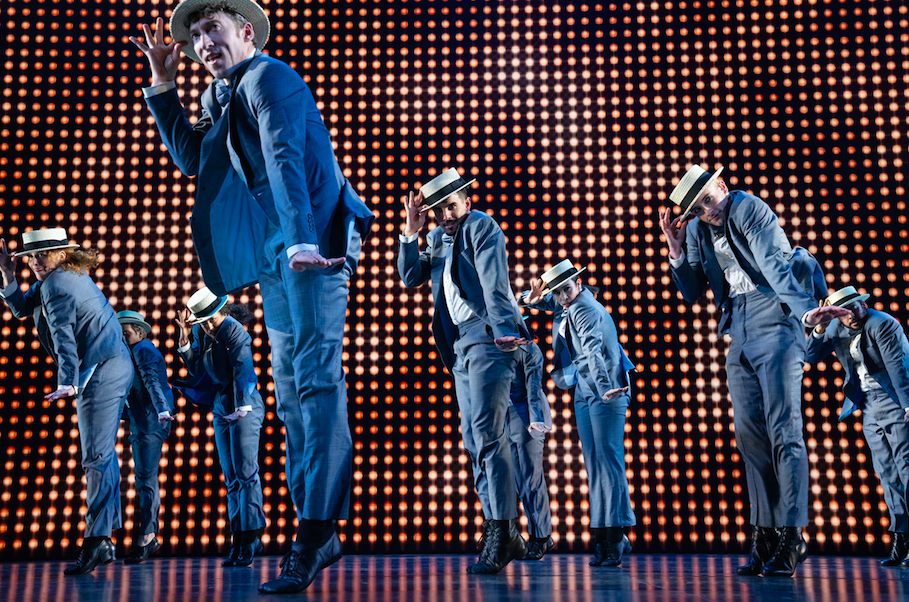 There is no plot as the rough-hewn, handsome Manuel Herrera explains in an opening monologue. The show is all musical numbers—some brief duets, some extended sequences, some excerpts from Fosse's forays into film and TV, all featuring his signature hip-thrusting, jazz-hands-extended, tucked-in elbows, oozing-sexuality style. Some of the pieces have been seen in the 1999 Broadway revue Fosse, but are welcome for another viewing. The numbers are punctuated with commentary on Fosse's attitude towards his work and his dancers, excerpted from interviews. Wayne Cilento, a veteran of the original Broadway production, is credited with direction and "musical staging" while Christine Colby Jacques is listed as responsible for "Reproduction of Mr. Fosse's Choreography" and Corinne McFadden Herrera does "Additional Choreographic Reproduction" and is associate director/musical stager. Cilento and crew create a seamless montage of breathtaking moments.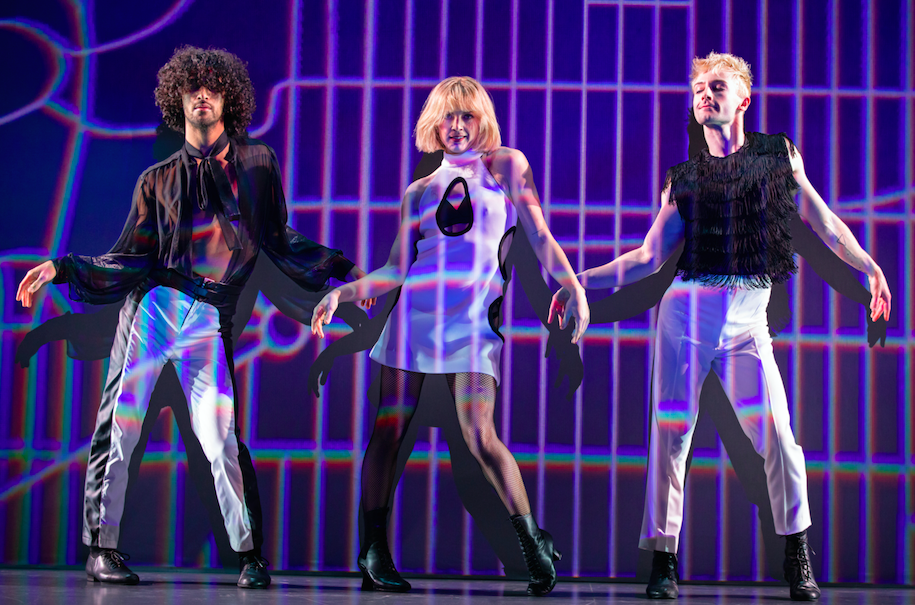 It's hard to single out an individual sequence since almost the entire two hours and 20 minutes is sheer bliss. The only possible caveat to be made is the inclusion of a prolonged excerpt from Big Deal, a Fosse flop from 1986. We get almost the entire plot of this lovable-small-time-hood caper crammed into an extended intro, but all we really need is the dynamite "Beat Me Daddy, Eighth to the Bar" with Nando Morland and Tony d'Alelio competing for the privilege of hitting the dance floor with madame Lilly (Khori Michelle Petinaud who has just finished selling a socko rendition of "Life Is Just a Bowl of Cherries.") This long sequence comes near of the end of the show and could be cut just to the "Beat Me" number without any great loss. I also could have done without a strained post-feminist take on the Dolly Parton hit "Here You Come Again" which doesn't even feature that much dancing.
Now that we've got the only flaws out of the way, on with the embarrassment of riches. The Crunchy Granola Suite introduces the cast with a bang. Then, Yeman Brown and Jacob Guzman soulfully embody the sweet melancholy spirit of Jerry Jeff Walker's "Mr. Bojangles." A segment featuring percussion instruments follows with Ron Todorowski exhibiting exceptional athleticism.
The centerpiece of the first act is the Big City Mime, cut from the original production during its Boston try-out. In this mini-musical, a young tourist named Cyril (the elegantly lean and sleek Peter John Chursin) takes a grimy trip through 1970s NYC. This extended revue-within-a-revue serves as a collage of Fosse's greatest hits, mashing up dance-hall girls and frugging club-goers from Sweet Charity, Charlemagne's legions from Pippin, a challenge duet from the movie of My Sister Eileen, drag queens, pimps, prostitutes, and clowns. Somehow it all works, evoking the gritty, funky atmosphere of a begone Times Square in all its sleazy glory. In addition to Chursin, Manuel Herrera, Kolton Krouse, and Dylis Croman are featured to advantage in this number. To finish Act One, Cilento shifts gears from gritty and rough to gentle and easy with "Dancin' Man," Fosse's tribute to the soft shoe and the eloquent art of Fred Astaire. The entire company, attired in light blue suits, bow ties and straw hats, shuffle their feet and slap their thighs in gentle, enchanting rhythm.
The second act opens with an irresistibly energetic jazz ballet set to "Sing, Sing, Sing," the classic Louis Prima composition popularized in Benny Goodman's driving rendition. Also recreated in Fosse, this dazzling show piece evokes the infectious vibe of the dance clubs of the 1940s. In a daring bit of casting, the gender-fluid Kolton Krouse performs the show-stopping Trumpet Solo originally done by Ann Reinking. Krouse kicks the hell out of this smashing spotlit turn as does the entire company with the surrounding number. Reid Bartelme and Harriet Jung's form-fitting, gauzy costumes are perfect for this slinky sensuous sequence as they are for the entire production.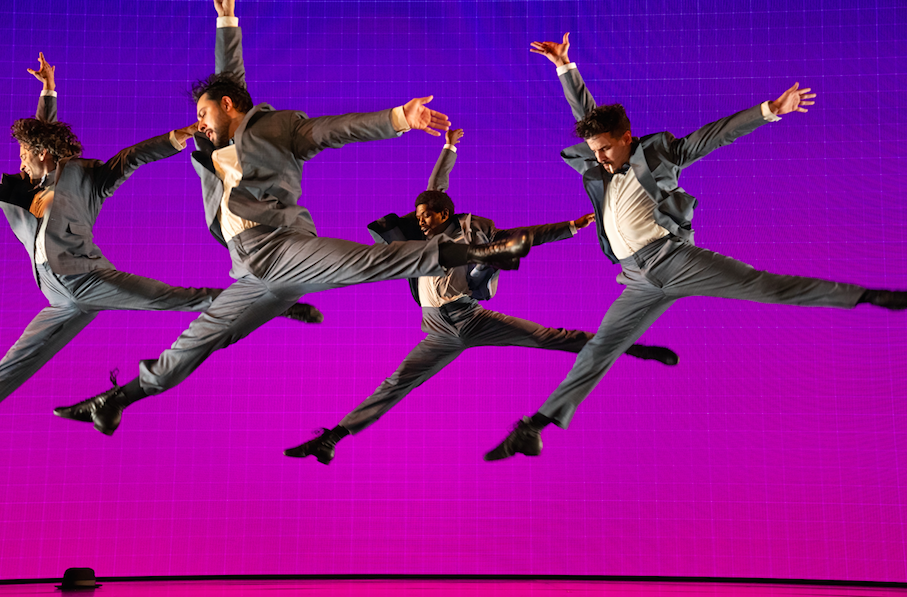 Jacob Guzman and Mattie Love stylishly introduce a series of sizzling erotic love duets with Fosse's super-cool parody of beatniks from the film of Kiss Me, Kate. Then a rousing and somewhat ironic patriotic medley ensues with a variety of famous quotes projected on a giant video screen. Finn Ross created the arresting video design which also gives each of the company a special shout out at the thrilling curtain call. Every one of the cast gets their name flashed behind them as they execute a bodacious bow. In this show, the chorus is the star, just as Fosse would have wanted it.
Bob Fosse's Dancin' — Opened March 19 for an open run. Music Box Theater, 239 W. 45th St., NYC. Running time: two hours and 20 mins. including intermission. Telecharge.