Immersive performance returns to Westwood, a wedding fandango downtown, contemporary dance in West LA, two eclectic shows in Venice, a Canadian cirque makes three SoCal stops, an important post-modern recreation downtown, a peek at next week, and more SoCal dance this week.
Live This Week
Darkness disconnecting
Week 4 of Odyssey Dance Festival brings a highly anticipated evening length creation from Jessie Lee Thorne's Poets in Motion with multi-media contributions from collaborators as well as the dancers. Topia: The Something in Between employs film from Anna Tse and text from Laja Field to explore the darkness of disconnection and the comfort from community. Odyssey Theatre Ensemble, 2055 S. Sepulveda Blvd., West LA; Fri.-Sat., Feb. 3-4, 8 pm, $25, $15 student. Complete list of festival performances and tickets at Odyssey Theatre.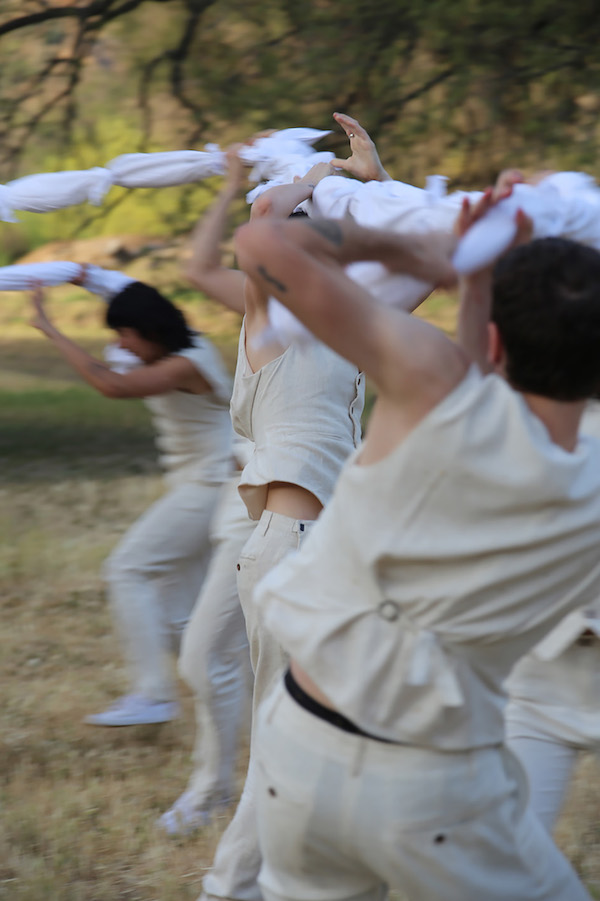 What's on the card?
The Obie award-winning duo Abigail Browde and Michael Silverstone aka 600 Highwaymen bring the final two weekends of immersive performance under the distinctively unwieldy title A Thousand Ways (Part Three): An Assembly. Described as  experimental theater creations, each roughly one hour event draws on elements of dance, performance, and civic engagement as each audience of 16 people read from assigned cards before being drawn in further, becoming part of each singular performance. UCLA Royce Hall Rehearsal Room, Royce Hall, Sat.-Sun., Feb. 4-5 & 11-12, noon, 1:30, 3pm, 4:30, 6 & 7:30pm. $29.97. CAP UCLA.
Flipping for cirque
Canada certainly has spawned its share of "cirque" companies and one, Cirque FLIP Fabrique continues its SoCal tour with its distinctive brand of athletic entertainment. Haugh Performing Arts Center, 1000 W. Foothill Blvd., Glendora; Fri., Feb. 3, 7:30 pm, $23-$46. Haugh PAC. Also at Carpenter Performing Arts Center, Cal State University Long Beach, 6200 Atherton St., Long Beach; Sat., Feb. 4, 8 pm, $40. Carpenter Performing Arts Center Tix. Also at Granada Theatre, 1214 State St., Santa Barbara; Sun., Feb., 5, 7 pm, $20-$61. Granada Theatre.
Figaro Fandango
In Act III, when the singers finally work out the plot's antics to get to the actual Marriage of Figaro, choreographer Kitty McNamee unleashes the dancers for a wedding fandango and a flower dance. Often LA Opera's go-to choreographer, including several of this season's operas, MacNamee recruited dancers Raymond Ejiofora, Katherine Highstrete, Jessica Gadzinski, and Nicholas Sipes to the stage for the six performances of Figaro over the next few weeks. Music Center, Dorothy Chandler Pavilion, 135. N. Grand Ave., downtown; Sat., Feb. 4 & 11, 7:30 pm, Thurs., Feb. 16 & 23, 7:30 p.m., Sun., Feb. 19 & 26, 2 p.m. $39 to $399. LA Opera.
Dancing the rehab
Toran X. Moore contributed choreography to Dahlak Brathwaite: Try/Step/Trip, a spoken word musical that follows a individual's experience in a court-ordered drug rehab program. Brathwaite is joined by Jasmine T.R. Gatewood, Freddy Ramsey, Jr., and Max Udell, with special guest performer: Isaiah Lucas. Wallis. Annenberg Center for the Performing Arts, 9390 N. Santa Monica Blvd., Beverly Hills; Thurs.-Sat., Feb. 2-4, 8 pm, Sun., Feb. 5, 2:30 pm, $40-$50. The Wallis.
Post-Modern History, Live
Several of the notable figures who emerged from the Post Modern dance era centered at New York City's Judson Church in the 1960's left and came to SoCal. Rudy Perez and Simone Forti are among those NY transfers who became forces on the LA dance scene and now have éminence grise status here. Forti's oeuvre and the materials that fueled them are the focus of Simone Forti, the first museum exhibit to survey what she produced. The three-month exhibit includes live performances of Dance Constructions, one of her landmark works from 1961. Sarah Swenson, a known LA choreographer and long-time associate of Forti, acted as Performance Coordinator for this project and Forti's Dance Constructions presented throughout the exhibition, were staged by Carmela Hermann Dietrich. Hermann Dietrich and Forti have a relationship dating back to 1989 that includes improvised duets, the most recent of which, in 2017, was at Highways Performance Space.The exhibit also includes Forti's sculptures, videos, drawings, and notebooks. Dance Constructions at MOCA Grand Avenue (Museum of Contemporary Art), 250 S. Grand Ave., downtown; Exhibit runs Sun., Jan. 15 to Sun., April 2. Performances of Dance Constructions performed Thurs., 3:30, 4:45, 6:00, & 7:15 pm, Sat. & Sun., 12:30, 1:45, 3:00, & 4:15 pm, throughout the exhibit run, free with timed museum admission. MOCA.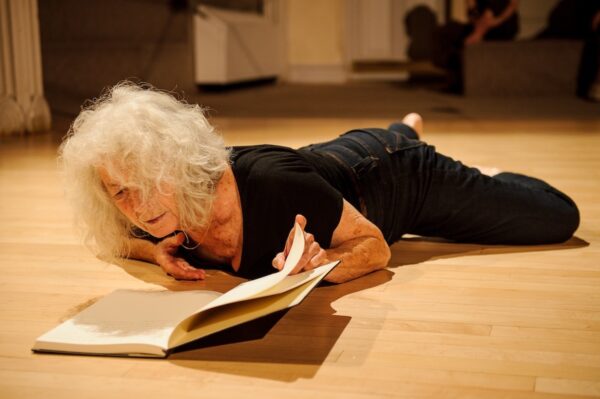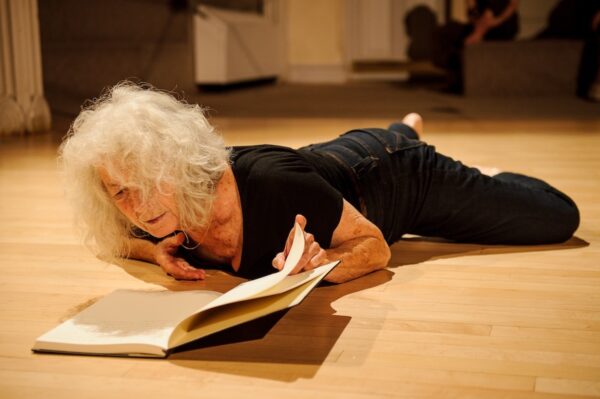 All electric
Timed to coincide with First Friday events on nearby Abott Kinney Boulevard, High Voltage offers an eclectic, ever-changing line-up of performers, often including dance and movement performers.  Electric Lodge, 1416 Electric Ave., Venice; Fri., Feb. 3, 8 pm, $10. Eventbrite.
Ten for ten
The mostly monthly program Max 10 gives ten performers ten minutes each onstage. Hosted by venue director Joel Shapiro and curated by the staff, the line up of performances often includes dance. A post-show reception offers a chance to chat with the artists. Electric Lodge, Scott Kelman Theater, 1416 Electric Ave., Venice; Mon., Feb. 6, 7:30 pm, $10. Electric Lodge.
A Peek at Next Week
Dancing Through Prison Walls — DATA or 7 ways to dance a dance through prison walls. At Odyssey Dance Festival (Week 5) Odyssey Theatre Ensemble, 2055 S. Sepulveda Blvd., West LA; Fri. Feb. 10, 8 pm, Sat. Feb. 11, 2 & 8 pm., $25, $15 student. Odyssey Theatre Ensemble. Complete list of festival performances at Odyssey Theatre.
Nancy Evans Dance Theatre — Imprint at Norton Simon Museum, 411 W. Colorado Blvd., Pasadena; Sat., Feb. 11, 5 pm, free w/registration and museum admission, tickets available at 4 pm. Norton Simon Museum.
Kyle Abraham/A.I.M. — An Untitled Love. At USC Bovard Auditorium, 3551 Trousdale Parkway, University Park; Wed., Feb. 15,  7:30 pm, free w/reservation at Visions and Voices USC.
Suarez Dance Theater — Mother. Father. At Los Angeles LGBT Center, 118 N. McCadden Pl., Hollywood; Tues., Feb. 14, 1 pm, free. Suarez Dance Theater.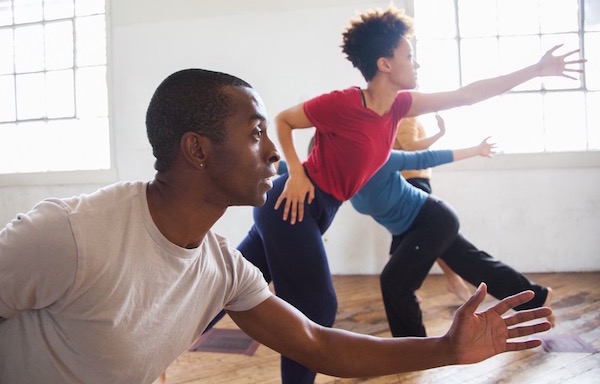 American Contemporary Ballet — Astaire Dances. At ACB Studios, Two California Plaza, 350 S. Grand Ave., 28th Flr., downtown; Fri., Feb 10, 17 & 24 8pm, Sat., Feb. 11, 18 & 25, 5 & 8 pm, Sun.,12, 19 & 26, 2 & 5pm, Tues., Feb. 14, 8 pm, $60-$130. American Contemporary Ballet.
SoCal Dance Notes
The ecology of dance
Sponsored by the Jerome Robbins Dance Division, this year's annual Dance Symposium NY offers a free, online reprise of the day-long, live event at NY's Library for the Performing Arts where dance scholars and artists shared research on the theme of dance and ecology. Online event, Fri., Feb. 3, 7 am to 2 pm PST, free with reservation at Eventbrite.
Max the access
A new Music Center program, Dance Extension (DANCEx), offers dance students discounted tickets to Music Center dance performances, invitations to dress rehearsals, and talks with dance professionals. Details at Music Center.
Jazz hands?
The documentary Uprooted: The Journey of Jazz Dance gets a screening and chance to chat with the director Khadifa Wong and USC Kaufman professors Moncell Durden and Saleemah E Knight, two dance experts in the film. USC School of Cinematic Arts, Ray Stark Family Theatre, 900 W. 34th St., #108, University Park.  Wed., Feb. 8, 7 pm, free with reservation at Visions and Voices USC.