Carmen, the celebrated French opera by George Bizet, that premiered at Paris Opéra-Comique on March 3, 1875, and was based on a 1845 novella by Prosper Mérimée, inspired several motion pictures, starting from the silent era until the present.
Carmen is a fiery gypsy dancer working at a cigarette factory in Seville, Spain, who, after being arrested for attacking a co-worker with a knife, seduces Don José, the soldier in charge of keeping her in jail. He helps her escape, becomes her lover, ignores his sweet fiancé Micaëla, and deserts from the army. When Carmen gets tired of him and takes a new lover, bullfighter Escamillo, Don José kills her.
The most famous arias are the Habanera "L'amour est un oiseau rebelle," watch it here sung by Latvian mezzo-soprano Elīna Garanča as Carmen in 2010, the Toreador Song "Votre toast, je peux vous le rendre," performed in 2017 by Italian bass Roberto Tagliavini as Escamillo, the duet "Parle-moi de ma mère," listen to it with Italian soprano Mirella Freni as Micaëla and Italian tenor Franco Corelli as Don José.
Garanča last performed Carmen in summer 2022, in a production originally directed by Franco Zeffirelli at Arena di Verona, Italy. Watch trailer here.
Among the several silent film versions of Carmen, we mention these.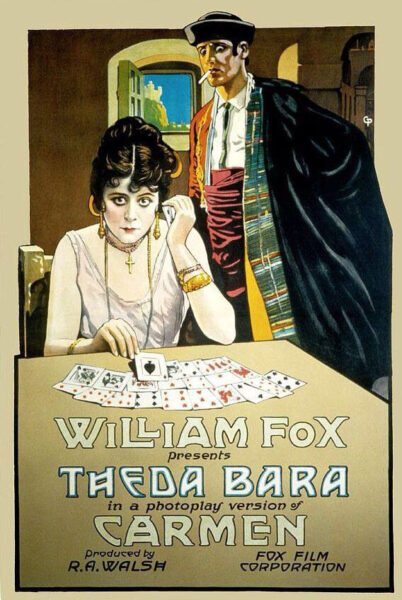 Carmen (1915) by Raoul Walsh with Theda Bara, a lost film. Bara was nicknamed "The Vamp" for her roles as a sexy femme fatale.
Carmen (1915) by Cecil D. DeMille with American lyric soprano Geraldine Farrar.
This movie, like the other silents mentioned here, was based on the novella by Mérimée, which was in the public domain, not the opera libretto, which was under copyright.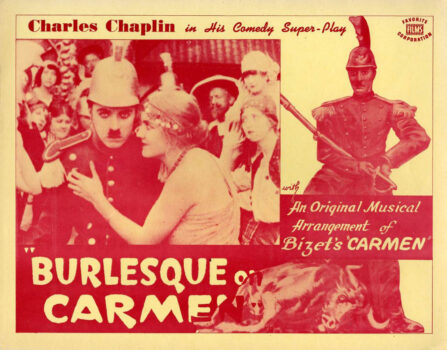 A Burlesque on Carmen (1915) by Charlie Chaplin is a parody with Chaplin as Don José and Edna Purviance as Carmen. You may watch here the 1916 re-edited version.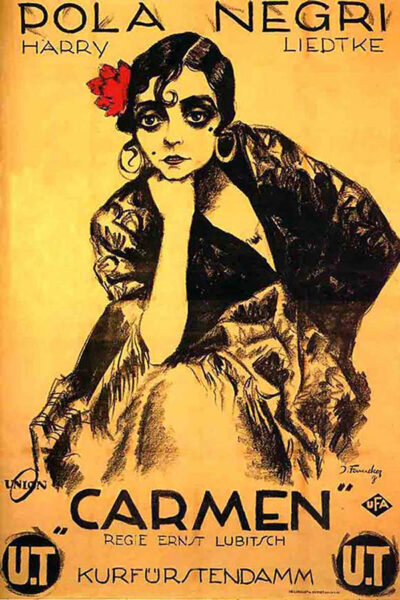 Carmen (1918), German silent by Ernst Lubitsch with Polish actress Pola Negri, released in the US as Gypsy Blood (1921). Negri acted on stage, moved to Germany in 1917 at the age of 20, starred in silents directed by Lubitsch, both were signed by Paramount in 1922 and made movies in Hollywood.
The Loves of Carmen (1927) by Raoul Walsh with Dolores del Río. Born in Durango Mexico, del Río became a major star of American and Mexican movies.
Of the many sound films that told the story of Carmen, we highlight these.
Carmen (1945) by French director Christian-Jacque with Viviane Romance and Jean Marais. Romance made movies in France and Italy, but rejected offers from Hollywood.
The Loves of Carmen (1948) by King Vidor with Rita Hayworth and Glenn Ford. Hayworth's father Eduardo Cansino was of Romani (gitano, gypsy) descent from Seville, Spain.
Carmen Jones (1954) directed by Otto Preminger from the 1943 stage musical with lyrics by Oscar Hammerstein set to the music of Bizet's opera. It featured an all Black cast headed by Dorothy Dandridge and Harry Belafonte.
Carmen (1967), directed by Austrian conductor Herbert von Karajan, is not really a movie, but a filmed stage performance. I mention it here because, like Luciano Pavarotti, Mirella Freni was born and lived in my hometown of Modena, Italy, where she made her opera debut as Micaëla in Carmen in 1955.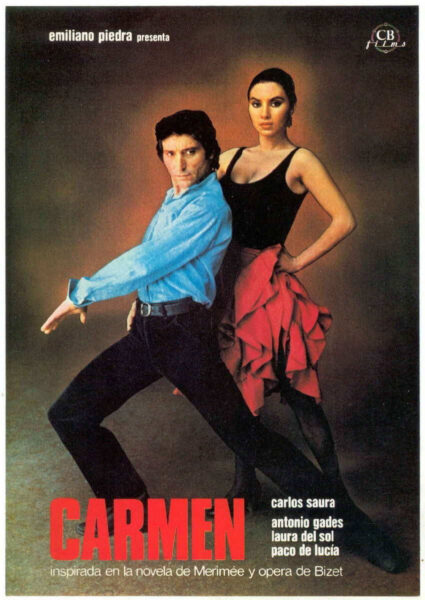 Carmen (1983) by Spanish director Carlos Saura, where the lovers re-enact their tragic story through flamenco dancing.
Carmen (1984) by Italian director Francesco Rosi with Julia Migenes, Plácido Domingo, Ruggero Raimondi. Migenes was born in New York City, Domingo in Madrid, Spain, Raimondi in Bologna, Italy. You may watch trailer here, the full movie at this link (in French with Spanish subtitles).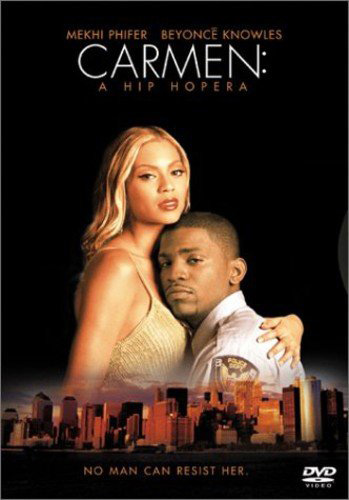 Carmen: A Hip Hopera (2001), a MTV movie directed by Robert Townsend featuring an original hip-hop/R&B score, with Beyoncé Knowles and Mekhi Phifer.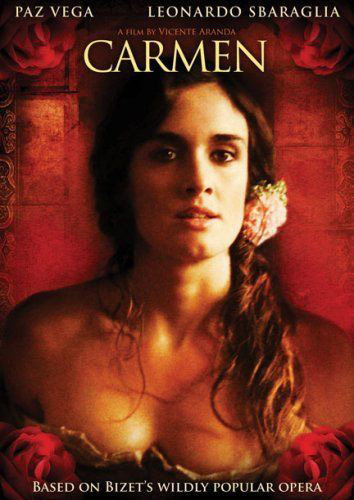 Carmen (2003) by Spanish director Vicente Aranda with Paz Vega, born in Seville, Andalusia, Spain, and Leonardo Sbaraglia, born in Buenos Aires, Argentina.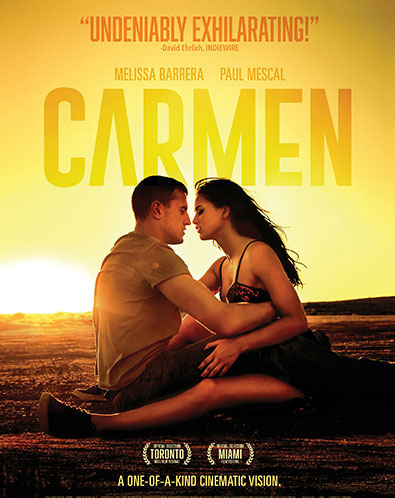 Carmen (2023) directed by French dancer-choreographer Benjamin Millipied with original score by Nicholas Brittell, starring Melissa Barrera, born in Monterrey, Mexico, and Paul Mescal, born in Ireland.
Please click on words underlined in pale orange for more info.