On Sunday April 16 I attended the premiere of Chevalier at the historic Hollywood theater El Capitan. I had been anxiously awaiting to see this movie ever since it was presented at the Toronto Film Festival last September, and, as I expected, it was an exciting experience, that you may have as well, in the company of other film and music lovers, when it opens on April 21. Here's the trailer.
Chevalier is inspired by the true life story of Joseph Bologne, Chevalier de Saint-Georges (Kelvin Harrelson Jr.), the illegitimate son of a married white plantation owner from the Caribbean island of Guadeloupe, a French colony, and his teenage Black slave from Senegal, Nanon (Ronkẹ Adékoluẹjo). His father brings him to Paris at the age of 13 to enroll him at the famed La Boëssière Academy, where he can develop his many exceptional talents, most notably as a violin virtuoso and a champion fencer. The young man would become music teacher and friend of Marie Antoinette (Lucy Boynton), the Austrian princess who had married the future Louis XVI at the age of fourteen in 1770, becoming Queen of France in 1774. For a time he is able to flourish in high society despite the laws restricting the rights of people of color, but he is eventually cast aside, and will end up composing music for a concert to fund the French Revolution of 1789, at the rallying cry of liberté, egalité, fraternité.
I won't tell you more about the plot so as not to spoil your surprise when you get to watch Chevalier, but here's what some of the artists involved in the making of the film said in Toronto, the production notes and YouTube interviews.
Screenwriter Stefani Robinson: "I read about Joseph Bologne when I was in high school, my mom gave me a book that mentioned him and I was captivated with him right away, he had such a fascinating life. It has been a dream of mine to write this fictionalization of his story. As a Black woman so often I've been told directly or indirectly that you can't make mistakes, you need to be the best, and that's an idea that we challenge in this movie. Joseph throws himself into achievement as a means of feeling love and acceptance, of escaping from the literal and metaphorical plantation. But as he grows, there's a deeper understanding of himself as a Black artist and a questioning of how he can use his voice."
Director Stephen Williams: "I was also born on a Caribbean island, Jamaica, and left for boarding school at 13. I didn't see my parents for years and experienced many feelings Joseph must also have experienced, so I could relate to him on some very intimate levels. The French Revolution is so reminiscent of the social convulsions we've seen globally over the last few years, with similar outcries for equality and greater accountability. It's a world that mirrors our own."
I was first impressed by Kelvin Harrison Jr. in the movie Waves (2019) then in The High Note (2020) where he played the son of Tracee Ellis Ross, he was Fred Hampton in The Trial of the Chicago 7 (2020) written and directed by Aaron Sorkin, costarred with Peter Dinklage in Cyrano (2021) directed by Joe Wright from the 1897 play Cyrano de Bergerac by Edmond Rostand, portrayed B.B. King in Elvis (2022) by Baz Lurhman.
"The first instrument I really played was the violin when I was 7, and it meant a lot to me at the time, but after Katrina I lost it and shifted my trajectory, I started playing piano and trumpet. Music has been at the forefront of my life experience, with my parents being musicians and growing up in New Orleans. My dad is a classical music teacher, he taught at university and I remember growing up hearing him sat that it would take him six months to teach these kids one concerto." The actor really does play the violin with great flair in the movie, after practicing five hours a day for six months, and reveals that he was inspired by rock stars like Prince and Jimi Hendrix.
"What shocked me the most was the fact that a Black man was even allowed to live in free society in that way, it blew my mind; then you have to do a deep dive into how was this possible and to understand the complexity of humankind. For a slave owner to rape a 16-year-old slave, have a child and then wanting to take that child and give him an opportunity like that, the question still remains, why did he do it?  That to me it's fascinating. Then how did Joseph overcome so much trauma in order to get to the position that he was in? We are an incredible, complicated species, that's what we have to remember."
Samara Weaving, born in Adelaide, Australia, plays Marie-Joséphine, married to the Marquis de Montalembert. Joseph asks her to perform the leading soprano role in his opera, Ernestine, and she accepts, keeping it a secret from her husband. "For me she represents all the women who were unaware of how truly oppressed they were. She has a beautiful house and beautiful clothes, but she is essentially a bird in a cage.  So, when she gets a taste of freedom with the Chevalier, it's like opening Pandora's Box for her. It's devastating to think about all these people who couldn't live how they wanted and explore true happiness. We have to recognize that this story is still so relevant in the world now."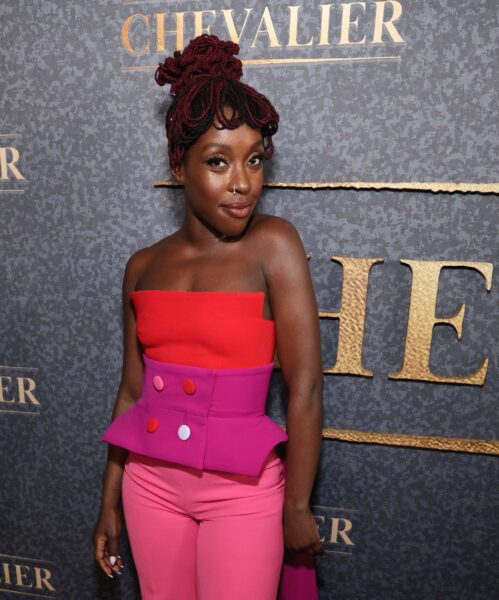 Ronkẹ Adékoluẹjo, born in London, England of Nigerian ancestry plays Chevalier's mother: "All the years Nanon spends away from Joseph form a black hole in her life, but when she gets to Paris, it isn't the mother-son fairy tale she hoped it would be. She has to relearn who her son is, and who she is herself after being displaced.  I felt I had to not only do Nanon justice but to highlight what she and all her ancestors went through. That weighed heavily on all of us." Nanon is the one who encourages her despondent son to go out there in the streets, reconnect with his people and find inspiration to compose a new kind of music. As she says in the movie: "This world is painful for us, my son, but there is always the choice to fight."
Williams adds: "Nanon's journey is one of forging a new relationship with her son, working her way back to a meaningful role in his life. She becomes Joseph's conscience in a way, as she helps him find a truer connection to the totality of who he is. She reminds me of many mothers, including my own, who are so gifted with wisdom and patience, and they are willing to wait for a child to see them clearly."