The leading women of two new musical productions are facing momentous birthdays. Bobbi, the protagonist of a gender-reversed revival of Company, Stephen Sondheim and George Furth's innovative 1970 musical about marriage, friendship and the chasm between the two, is facing a dreaded 35th natal anniversary while still unattached. The title character of Kimberly Akimbo, a musical adaptation of David Lindsay-Abaire's 2000 dark comedy, is just turning 16, but the consequences of aging are much graver for her. Kimberly is suffering from a rare disease which causes her to age four times faster than normal and her approaching date could be a death sentence. How the two deal with the challenges presented make for two of the most exciting evenings in the New York theater season so far.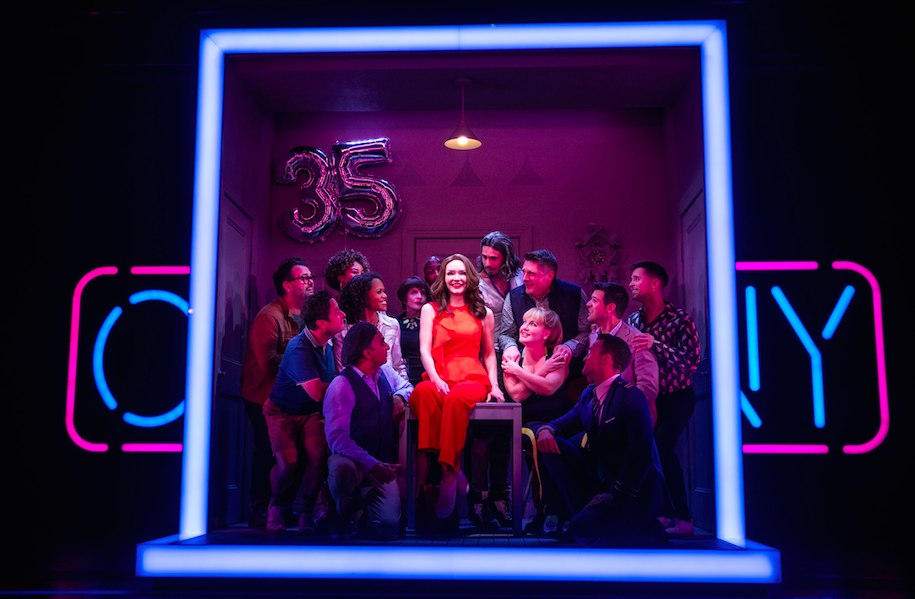 The idea of swapping the sexes in Company seemed like a crazy one, but Marianne Elliott's sleek and warm-hearted production somehow works. The new take on a beloved classic was a smash hit in London and was set to open on Broadway just before COVID-19 closed all the theaters. Now finally unleashed, this dazzling and vibrant alternate view of a familiar favorite was well worth the long wait. The original production was one of the first concept musicals, eschewing the traditional easy songs and romantic plot for Sondheim's complex, intricate score and Furth's acid-funny, splintered book portraying a bachelor afraid of commitment and five couples offering diverse and ambiguous, sorry-grateful perspectives on marriage. Interestingly, aside from the gender switches, very little in Furth's prescient book and Sondheim's brilliant lyrics have to be updated. Life Magazine has been replaced by Time and references to answering services have been deleted, but not much else has been changed. By the way, David Cullen's orchestrations and Joel Fram's music supervision and direction perfectly set off Sondheim's magnificently eclectic score.
By making Bobbie into Bobbi and updating the setting to the present, Elliott has found new perspectives on this unblinking view on the good and bad of conjugal unions. The pressure on women to wed is still greater than on men, plus the protagonist's marriage uncertainty becomes more urgent as her biological clock is speeding ahead. Elliott emphasizes this aspect with ticking clocks and enormous party balloons with the number 35 overwhelming Bobbi. In another bold creative move, Elliot and set designer Bunny Christie use Alice in Wonderland as inspiration as Bobbi sinks into tunnels, emerges onto terraces, crawls into shrunken apartments and her friends becomes the wacky revelers at a mad marriage tea party. "Tick Tock," originally a dance solo for Donna McKechnie, becomes a nightmare sequence involving the whole cast, in which Bobbi envisions an endless stream of mundane mornings of monogamy.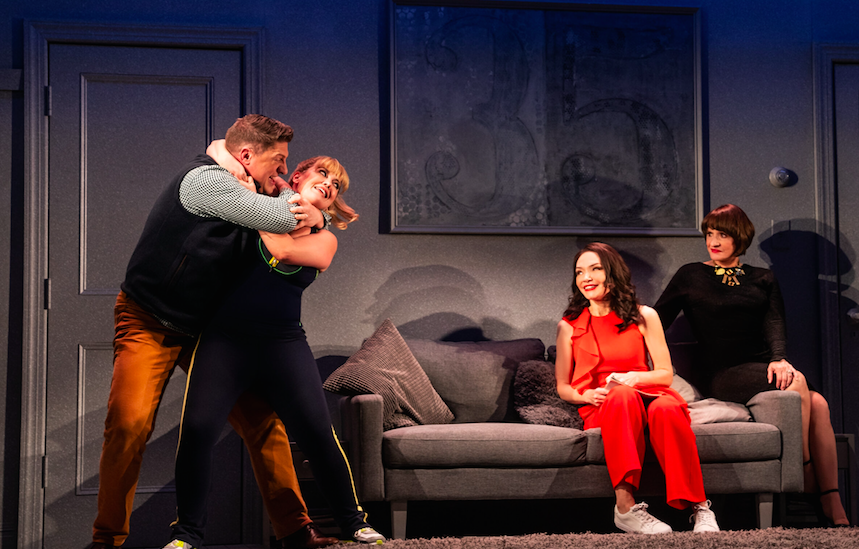 Katrina Lenk captures Bobbi's ambivalence towards the martial state as well as her thirst for finding an amorous connection. Her singing voice is not as strong or supple as could be desired for some of the power notes of "Being Alive," but she puts across this shattering ballad of longing—as well as the urging Act One closer "Marry Me a Little"—with power and tenderness. Patti LuPone delivers the expected powerhouse rendition  of the caustic Joanne and a scorchingly memorable "Ladies Who Lunch." Terence Archie is believably confident as her hubby Larry and convincing as the one man who could handle  her. Christopher Sieber and Jennifer Simard are riotously contentious as Harry and Sarah, a duo suppressing urges for booze and chocolate while literally wrestling in their living room.
In another of Elliot's strokes of recasting genius, the frantic, fearful bride Amy is now a gay groom Jamie played with perfect jittery intensity by Matt Doyle. Etai Benson is sympathetic as his steadier soon-to-be husband. Jamie's comedy number, "Getting Married Today" is brilliantly staged with the couple's ultra-modern apartment becoming a madhouse with ensemble members popping out of appliances. Christopher Fitzgerald and Nikki Renee Daniels provide giggles as David and Jenny as they experiment with pot. Greg Hildreth and Rashidra Scott do too as Peter and Susan who find happiness in divorce and an uncluttered terrace.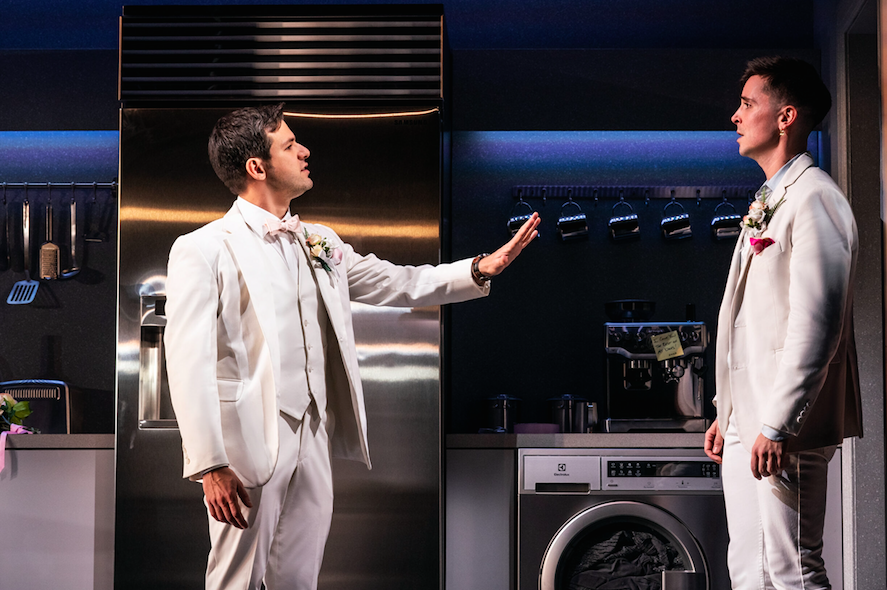 Bobby's original trio of girlfriends become Bobbi's three suitors and are hilariously embodied by Claybourne Elder as a gorgeous but dim flight attendant, Manu Narayan as a philosophical New Englander, and Bobby Conte as a hippie-ish free spirit who delivers a powerful "Another Hundred People." The "city of strangers" referred to in that bracing song about the alienated denizens of Gotham is even more apt now with the cast wondering through designer Christie's neon jungle set, enraptured by their I-phones. Also aided by Neil Austin's stark, evocative lighting and the enveloping sound design by Ian Dickinson for Autograph, Marianne Elliott has created a bracing, uncompromising Company for the present moment.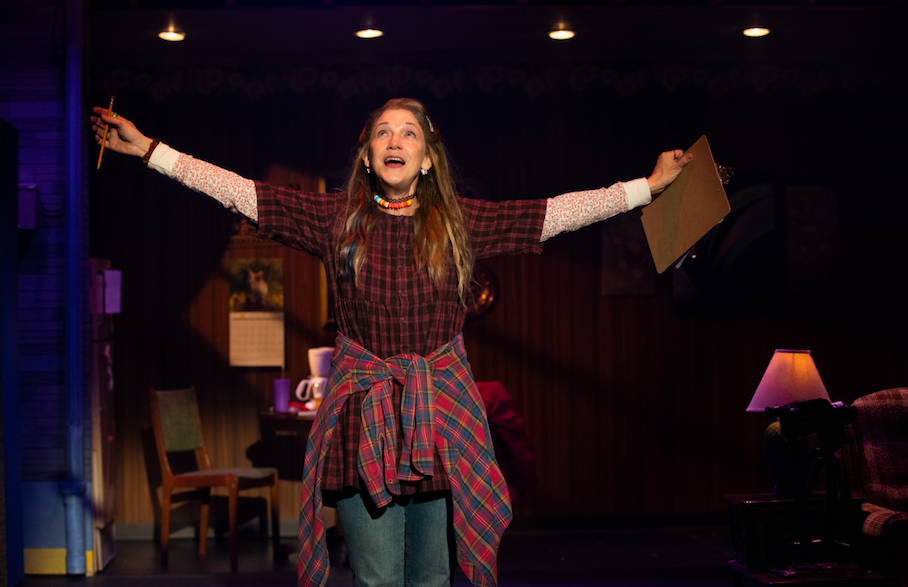 The musical version of Kimberly Akimbo is equally unflinching in its portrait of a dysfunctional family, split apart by disease and misfortune. Yet David Lindsay-Abaire's book (based on his own play) and lyrics, along with Jeanie Tesori's music, are riotously funny as well as touchingly empathic. Kimberly (a magnificent Victoria Clark, skillfully playing a teenager in a 60-year-old body) yearns to be like any girl her age, but physically she's an old lady, plus her family is more than a little batty. Her dad Buddy (appropriately scruffy and forlorn Steven Boyer) chugs beer to escape reality. Her mom Pattie (hilariously needy Alli Mauzey) has both arms in casts while pregnant with Kim's sister. Aunt Debra (delightfully lowdown Bonnie Milligan) is a con artist, bent on using Kim as a pawn in a check-forging scheme. Not exactly your model family. Kim is attracted to and finds a fellow outcast in Seth, an equally lonely, puzzle-loving nerd (adorable Justin Cooley). The title comes from an anagram of Kim's name, created by Seth as a brainy valentine.
The musical improves on the play by widening Kim's world. We see her in high school attempting to live a normal life but thwarted by her illness. To echo her anxiety, Lindsay-Abdaire and Tesori have added a quartet of student misfits, confused about their sexuality and yearning to hit it big in Show Choir (Olivia Elease Hardy, Fernell Hogan II, Nina White and Michael Iskander, all wonderfully awkward and endearing).  In a wrenchingly funny and heartbreaking sequence, the kids perform a musical science class report, detailing various ailments, all very funny. That is until Kimberly (Clark is particularly heartbreaking here) vocalizes about her own ailment and exposes a galaxy of desperate emotions.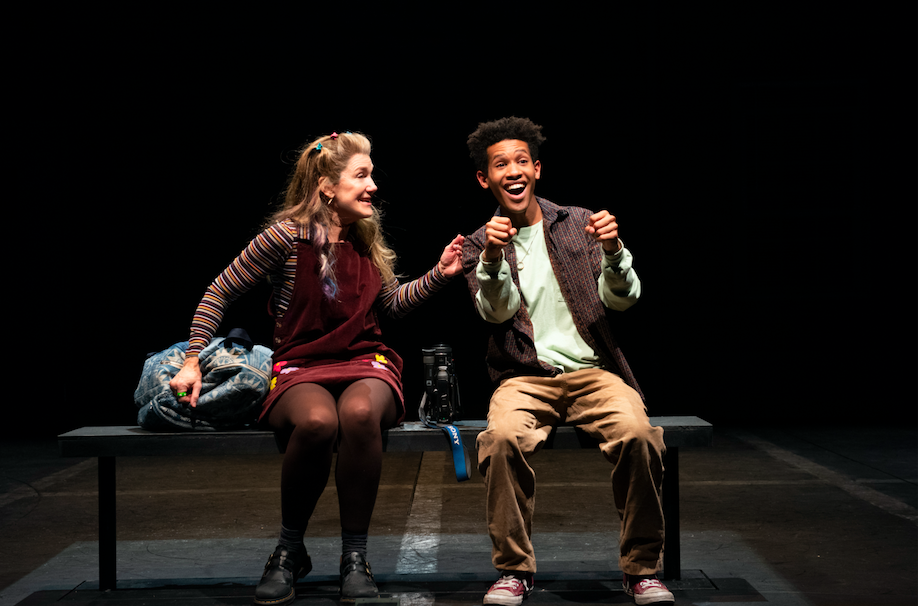 Director Jessica Stone's intimate production balances farce with tragedy. David Zinn's sets, Sarah Lux's costumes and Lap Chi Chu's lighting combine to create a seedy but recognizable New Jersey environment for this bittersweet little show. Hopefully, it will transfer to a longer run either on or Off-Broadway after its limited run at the Atlantic Theater Company.
Company: Opened Dec. 7 for an open run. Bernard B. Jacobs Theater, 242 W. 45th St., NYC. Tue 7pm; Wed 2pm & 8pm; Thu 7pm; Fri 8pm; Sat 2pm & 8pm; Sun 3pm (check schedule for holiday week performances). Running time: two hours and 40 mins. including intermission. $59—$299. Telecharge.
Kimberly Akimbo: Dec. 8—Jan. 15, 2022. Atlantic Theater Company at the Linda Gross Theater, 336 W. 20 St., NYC. Schedule varies. Running time: two hours and 30 mins. including intermission. $101.50—$131.50. OvationTix.

this is an ad space