If you looking for a fizzy cocktail to help you cool off from the global triple-digit heat wave, you couldn't find a funnier or more intoxicating concoction than Sandy Rustin's bubbly The Cottage. Set in the bucolic English countryside in the 1920s, Rustin's theatrical bauble is a combination of lighter-than-air Noel Coward romantic mix-up and Georges Feydeau bedroom farce, with a dash of absurdist meta-theatricality. Jason Alexander of Seinfeld fame cleverly stages the manic goings-on with a delightful blend of slapstick and sitcom, but he stops just short of going over the top.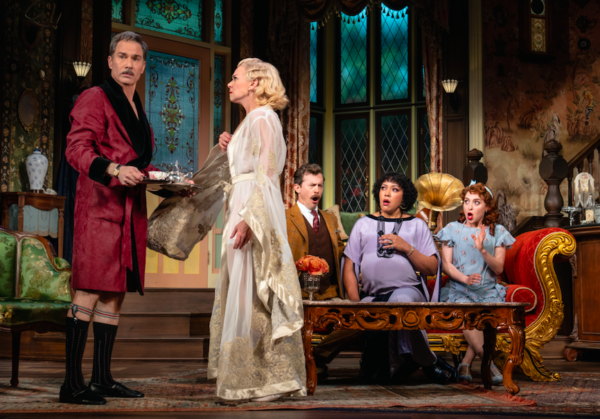 From the moment you enter the Hayes Theater, you know what kind of an evening to expect—gorgeous and eye-catching but with hidden, slightly raunchy elements. Theatergoers are greeted by sound designer Justin Ellington's selection of jaunty period tunes and set designer Paul Tate dePoo II's ravishing show curtain depicting the titular charming cottage. Upon closer inspection, woodland creatures can be seen performing naughty carnal acts, a bra is dangling from a tree, and a hunky gardener is leering in the background. When the curtain rises, the elegant Laura Bell Bundy as Sylvia, beautifully dressed by costume designer Sydney Maresca in a stylish dressing gown and slip, is posing all over dePoo's handsome and slightly kooky drawing room, trying to find the most seductive slouch for the handsome and dashing Eric McCormack as her lover Beau, just off-stage and ready to continue their tryst.
What follows is a riotously funny series of confusions and complications, set in motion by a series of telegrams sent by Sylvia. To be more specific on the plot would spoil the fun, but all you need to know is Sylvia and Beau are soon inconveniently joined by Beau's extremely pregnant wife Marjorie (hilariously blustering Lilli Cooper), his highly excitable brother Clarke (SNL's Alex Moffat in fine form), his other mistress Deirdre (girlishly daffy Dana Steingold), and Deirdre's manically jealous husband Richard (comically conflicted Nehal Joshi).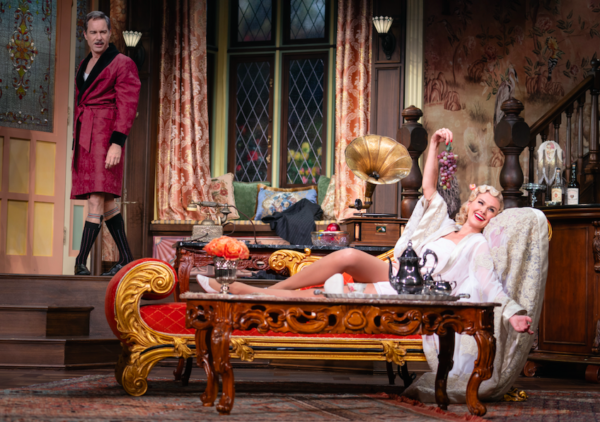 Rustin brilliantly satirizes the style of frivolous stage romps which used to populate Broadway and later summer stock for decades—the kind the beleaguered characters in Noises Off attempt to perform despite numerous mishaps. The basic set-up of pairs of amorous couples clashing is taken from Coward's Private Lives and Quadrille. She also takes a step back and allows her loopy lovers to comment on their actions with frankly theatrical asides, accented by Jiyoun Chang's smart lighting choices and Ellington's music cues emanating from a convenient period radio. These looney people exist in a bizarre Ionesco-like universe where cigarettes, lighters and shots of whiskey are constantly consumed and pop out of Poo's ingenious set in the oddest places. It's not unexpected for Beau to spring on stage armed with a swordfish or a porcupine or for Marjorie to whip up a mountainous tray of pastries in seconds. The pacing of these gags are masterfully timed by Alexander and the crack cast.
Bell Bundy provides the spine of play. She adeptly charts Sylvia's progression from passion-driven romanticism to steely pragmatism. McCormack riotously spoofs Beau's boundless narcissism as he is caught out in lie after lie. Cooper is hysterically domineering, yet she never goes too far. She is particularly funny when violently expressing Marjorie's jealousy and when her expectant condition causes an extensive release of wind (kudos to Ellington's sound design for creating Broadway's longest and funniest fart). Moffat displays a fine-tuned sense of physical comedy as the restless Clarke endlessly fiddling with props and contorting his body into various pretzel shapes. Steingold ably limns Deirdre's seemingly childish innocence and the not-so-innocent secret she conceals. Joshi is equally adept at unravelling Richard's many layers of disguise and deception.
In addition to the design elements previously praised, Maresca's costumes are period perfect and delightfully droll as is this cunning little Cottage, a perfect summer retreat from the madness of our modern world.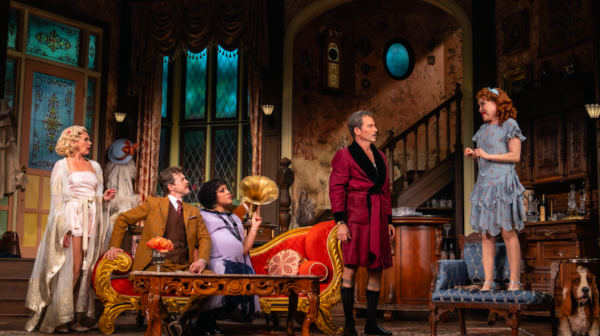 The Cottage: July 24—Oct. 29. Hayes Theater, 240 W. 44th St., NYC. Running time: two hours and five mins. including intermission. telecharge.com