Dance Camera West 2021
ScreenDance Diaries
Visceral, emotive, and ritually executed with little to no spoken word, dance often has a way of making a viewer feel first and think later… which I personally think can be a very good thing. And when merged with the medium of film – another ephemeral art form that is perhaps most akin to our own dreams – it can blur boundaries between cultures, language, ethnicity, socio-economics, and much more. Now an international genre, festivals featuring Dance on Film, aka Screen Dance, have been popping up in every corner of the globe for quite some time.
Even in the face of Covid, LA's own Dance Camera West is back again with a dual set of shows, happening both online and in person, beginning this week and continuing towards the end of the month. This year Dance Camera West(DCW) has partnered with LA presenters, The Broad Stage and Theatre Raymond Kabbaz to present two unique sets of programming.  First up, this week January 7-9that 8:00 pm, Theatre Raymond Kabbaz presents a virtual program of International Dance that can be streamed from anywhere. The program includes19 international short dance films, along with exclusive interviews on the stage of Theatre Raymond Kabbaz with filmmakers, producers, dancers, choreographers and festival directors. For tickets and programming visit: Théâtre Raymond Kabbaz for information and tickets.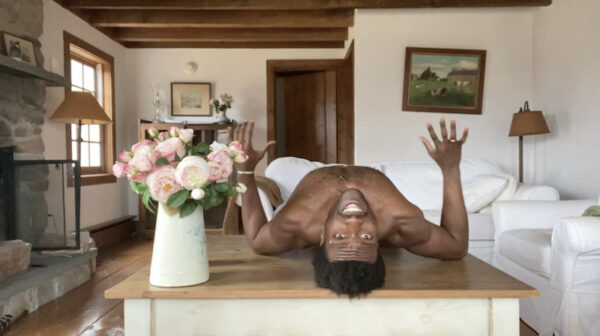 Then, in partnership with The Broad Stage, on January 30 & 31st, DCW will present the Best of the Festival DRIVE-IN screening on the Santa Monica College Bundy Campus – East Parking Lot with 2 Programs and 4 Screenings:  Program A: Saturday January 30, 5:30 pm, repeating Sunday January 31st, 8:00 pm, and Saturday January 30, 8:00 pm, repeating Sunday January 31st, 5:30 pm. The program also includes the introduction of the winners of a newly announced Finishing Fund for Underrepresented Dance-Filmmakers. For information and tickets visit: thebroadstage.org/dancecamerawest.
I cut my eye teeth for dance film festivals working nearly seven years with the unstoppable Dance Camera West, and last year had the privilege of partnering with them at REDCAT for my own festival — Dare to Dance in Public Film Festival's first live screening.  This year DCW received over 250 entries from 35 countries internationally in what will I'm sure be a stellar line up of films. Dance Camera West always makes my highly recommend list.
Check out the teaser below and JUST GO!
Author
Founder/Director of Dare to Dance in Public Film Festival, Sarah Elgart is a Los Angeles based choreographer and director working under the auspice of Sarah Elgart | Arrogant Elbow. Sarah creates original content for stage, screen, and site-specific venues. Her stage and site-works have been performed at alternative spaces including LAX Airport, The Skirball Center, Mark Taper Forum, Van Nuys Flyaway, The Bradbury Building, Jacob's Pillow, INSITU Site-Specific Festival NY, and Loft Seven, where she created a rooftop work lit entirely by a hovering helicopter accompanied by Nels Cline (Wilco). Her work has been produced by venues including The Music Center, MASS MoCA, Dance Place, Los Angeles Theater Center, Mark Taper Forum and The International Women's Theater Festival. In film Sarah has worked with noted directors including JJ Abrams, David Lynch, Catherine Hardwicke, and Anton Corbijn. Her own films include award-winning music videos, dance shorts, and an Emmy nominated PSA, and continue to be accepted into festivals internationally. In addition to teaching dance and film, Sarah writes a regular column, ScreenDance Diaries that focuses on the intersections of both genres internationally for online magazine Cultural Weekly. Sarah's work has received support from organizations that include the Rockefeller Foundation, the NEA, City of Los Angeles Cultural Affairs Department, California Arts Council and more. She is an alumna of the Sundance Institute's Dance Film Lab, a Fellow of AFI's Directing Women's Workshop, and a director member of the DGA.
Tags: