Dark humor pervades two new Broadway productions, both delayed years by the COVID crisis and finally opening in an atmosphere of disquiet and insecurity. Both plays address injustice and political turmoil with satire and conclude we live in nasty times with little brightness to look forward to. Martin McDonagh's Hangmen premiered in London in 2015, transferred to Off-Broadway's Atlantic Theater Company in 2018 where it won Best Play from the New York Drama Critics Circle and was supposed open on Broadway just as the theaters were closing in 2020. It was cancelled permanently, but has been resurrected. Tracey Letts' The Minutes had a production at Chicago's Steppenwolf Theater in 2017 and was announced to open on Broadway before the pandemic but there were hold-ups in addition to the health crisis. The pair are worth the long wait and feature spectacular staging and tight-knit ensembles.
Hangmen and The Minutes are about community and justice and the slippery definitions of those loaded terms. In both plays, a character perceived as an outsider is dealt with harshly and the audience must decide if the crowd's actions are justified. Hangmen takes place in early-1960s Lancashire, England where hanging is about to be outlawed as a form of capital punishment. That's bad news for big-frog-in-a-small-pond Harry Ward whose source of local celebrity is about to be taken away. But he still owns the pub where cronies and hangers-on come to listen to his grisly tales of execution. The plot is sent in motion when a menacing stranger named Mooney walks into the pub. This enigmatic character may or may not have evidence Harry has sent an innocent man to his death and proceeds to endanger the former hangman's acerbic wife Alice and his moody teenage daughter Alice.
As in his plays such as The Pillowman and his screenplay for Three Billboards Outside Ebbing, Missouri, McDonagh's theme is justice can be an elusive goal and violence is often perpetrated in its name by both law enforcers and lawbreakers. The dialogue and situations are wildly funny as the upright citizenry's secrets and hypocrisies are revealed. Matthew Dunster's direction is as tight and well-paced as his Off-Broadway production, but overall this new edition is an improvement. In the over-the-top Atlantic Theatre Company staging, Harry was played by Oliver Hardy-like Mark Addy as a Ralph Kramden knock-off and Harry's sniveling assistant Syd was similar in manner to Art Carney's goofy sidekick role of Ed Norton. There's even a domineering wife named Alice who's the real boss of the family, so the earlier edition was too close to a rerun of The Honeymooners.
Now the comic elements are not so broadly played by David Threlfall as a bragging but vulnerable Harry, Tracie Bennett as an Alice with warmth beneath her brittle exterior, and Andy Nyman as a Syd who has a desperate need to belong. Harry's pomposity and the community's response to the threatening Mooney ring truer. But there is a big minus in this version. Mooney is now played by Game of Thrones' Alfie Allen and he's not nearly as frightening as Johnny Flynn was at the Atlantic. This lessens the tension and weakens the stunning climax.
Despite this casting flaw and some thick Northern English accents, Hangmen is hilariously dark and bracingly theatrical. John Hodgkinson steals the show with his one scene as a rival hangman to Harry who is even more puffed-up and grandiose. Gaby French repeats her endearingly odd performance as the introverted Shirley from the Atlantic production and there are many funny contributions from Richard Hollis, John Horton, Ryan Pope and Jeremy Crutchley as Harry's gang of lackeys. Anna Fleischle's complex, haunted-house-like set adds to the grim atmosphere and ingeniously allows for multiple settings.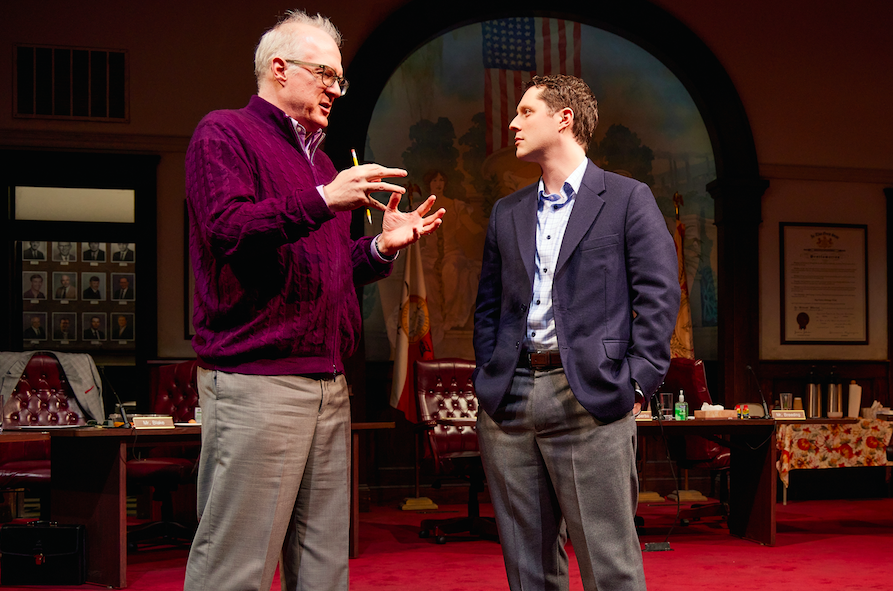 Letts' The Minutes is as equally riotous as Hangmen but a bit less subtle in its satire. Premiered in Chicago in the early days of the Trump administration, this metaphorical meteor of a comedy takes place at a Midwestern city council meeting during an appropriately stormy night. (David Zinn's detailed set captures the flavor of official suburbia.) The apparently average elected officials have gathered to discuss the upcoming annual Heritage Festival, a new handicapped-accessible public fountain and parking spaces. But something is definitely amiss due to the mysterious absence of the usually diligent Councilman Carp and the lack of recorded minutes from the previous week's meeting to explain it to new councilman Peel who was not present due to the death of his mother.
Letts and director Anna D. Shapiro skillfully build the tension, rising from minor discomfort at Carp's disappearance to a cataclysmic confrontation dealing with the town's true history (no spoilers). Along the way, Letts lets off a stunning series of absurd exchanges twisting words and meanings, recalling the most brilliant madness of Ionesco, all dryly delivered with impeccable timing and played for truth rather than laughs. Political attitudes and posturings are skewered as the members simultaneously jockey for position, cover their asses, and stick their fingers up to see which way the wind is blowing. Without revealing too much about the shocking finale—staged with maximum impact by Shapiro and even more harrowing than the one in Hangmen—Letts brilliantly roasts our current fractured political scene and the nationalist trends to distort our history. The only quarrel I have is a big speech delivered by the missing Carp in a frightening flashback. The preaching-to-the-choir monologue, though passionately acted by Ian Barford, is too on-the-nose for this otherwise subtle and satiric show.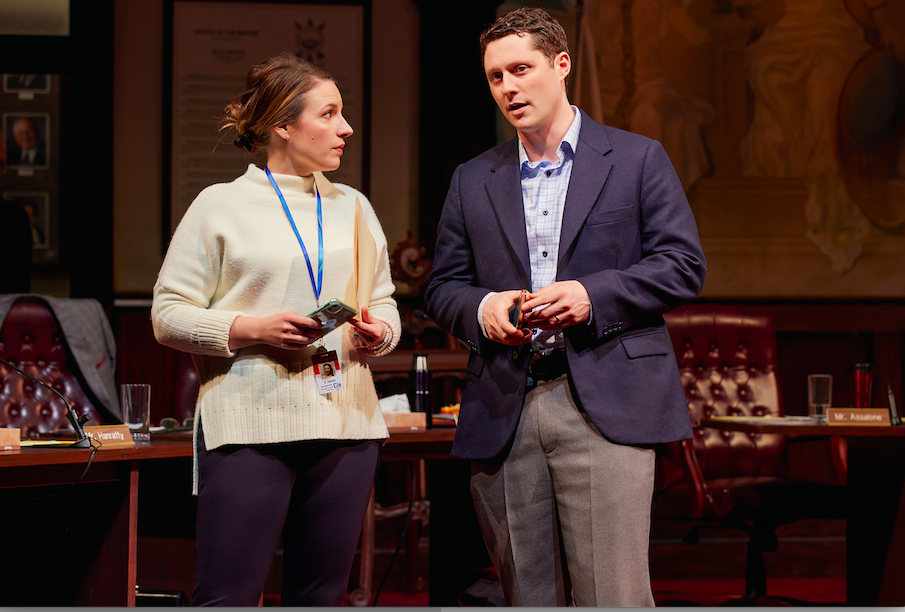 Letts also gives a brilliantly understated performance as the seemingly jovial mayor who lets the hammer down with devastating force when his cosy world is threatened. Noah Reid from Schitt's Creek has the right combination of spunk and doubt as the probing Peel. Veteran Austin Pendleton garners gargantuan laughs as the oldest Councilman who crabs about his parking space and can't follow anything that's happening. Jessie Mueller clearly delineates the conflicted clerk, battling between her ethics and her loyalty to the group. Sally Murphy is a dizzy delight as a scattered member and Blair Brown expertly renders a long-winded senior councilwoman reading a hilariously endless speech. Jeff Still, Cliff Chamberlain, Danny McCarthy and K. Todd Freeman all have moments of bite and brio. None of this crazy crew descends into stereotype or cliche, though they are in an exaggerated parody of reality. There are only 90 minutes in The Minutes, but they are probably among the funniest and most thought-provoking on Broadway.
Hangmen: April 21—June 18. Golden Theater, 252 W. 45th St., NYC. Mon—Tue 7pm, Wed 2pm & 8pm, Thu 7pm, Fri 8pm, Sat 2pm & 8pm. Running time: two hours and 30 mins. including intermission. $59—$225. www.telecharge.com.
The Minutes: April 17—July 24. Studio 54, 254 W. 54th St., NYC. Running time: 90 minutes with no intermission. Tue 7pm, Wed 2pm & 8pm, Thu 7pm, Fri 8pm, Sat 2pm & 8pm, Sun 3pm. $39—$249. www.telecharge.com.