After beginning life as a 2010 concept album, then two separate Off-Broadway runs at the Public Theater (2013 and again the following season), engagements at London's National Theater and Seattle Rep, Here Lies Love, the immersive disco musical charting the tumultuous rise and fall of Imelda Marcos, the capricious first lady of the Philippines, has arrived on Broadway. The result is unlike any other Broadway show currently running or in recent memory.
Alex Timbers recreates his innovative staging with the action happening all around the audience, some of which are standing throughout the show. But the action moves so fast and so intensely, you'll hardly notice the passing 90 minutes. Set designer David Korins has transformed the Broadway Theater into a vibrant, wild disco with moving platforms and runways which the theatergoers follow as jumpsuit-wearing techies direct them with landing lights as if they were airplanes taxiing for position. The staging even extends into the mezzanine and side viewing areas where audience members are seated.
Annie-B Parsons' versatile choreography combines elements of disco and folk movements. Clint Ramos' magical costumes, M.L. Dogg and Cody Spencer's crystal-clear but not overpowering sound design, Justin Townsend's splashy lighting and Peter Nigrini's explosively effective videos complete the picture to create a pulsating, swirling atmosphere.
If you are in reasonable physical shape, I would definitely recommend standing on the dance floor. You'll feel as if you are part of the story as Imelda ascends to power, falls from it, and the people eventually take control of their government. The characters interact with the crowd so they are suddenly participants in a presidential campaign or a protest march. The effect is thrilling.
The sung-through rock score by David Byrne (concept, music and lyrics), Fatboy Slim (music), and Tom Gander and Jose Luise Pardo (additional music) feelingly and intensely charts Imelda's journey, remaking herself from a poor rural girl to the most powerful woman in her country.  The seductive tunes and easy lyrics mask the complex political motives of Imelda and her dictator husband Ferdinand as they use populist sentiment against the elite to rise to autocratic authority, crushing democratic norms (sound familiar?) When Imelda sings "Please don't look down on me" to her political opponent Ninoy Aquino, who is later imprisoned and assassinated by the Marcos regime for daring to challenge them, she sounds incredibly like a MAGA supporter.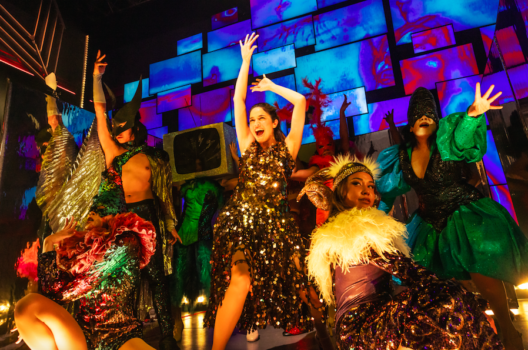 Arielle Jacobs captures Imelda's driving ambition—she's sort of a Filipina Eva Peron—and passionately delivers the ballads and love songs of Byrne and company. "Star and Slave" is this show's "Don't Cry for Me, Argentina" and Jacobs skillfully limns Imelda's ambiguous reactions to becoming a de facto absolute ruler when her hubby falls ill. She conveys Imelda's self-pitying but also revels in her power.
Jose Llana is a subtly attractive dictator as Marcos and Conrad Ricamora an intense, heartbreaking Aquino. Melody Butiu has several strong moments as Estrella, Imelda's childhood caregiver who defiantly scorns her when Imelda attempts to pay her for her silence. Jasmine Forsberg displays mighty pipes as Imelda's Inner Voice. As Aquino's mother, Reanne Acasio (subbing for Lea Salonga at the performance attended) is quietly devastating singing "Just Ask the Flowers" after her son has been brutally murdered, brilliantly staged by Timbers as the audience becomes the crowd of mourners. Moses Villarama is a charismatic DJ, launching the action and providing a moving coda to the evening, leading the cast in a simple, direct rendition of "God Draws Straight (With Crooked Lines)" as the citizens of the Philippines retake control of their land. It's a stunningly effective moment, contrasting the dazzlingly theatrical show that precedes it.
Here Lies Love: Opened July 20 for an open run. Broadway Theatre, 1681 Broadway, NYC. Running time: 90 mins. with no intermission. telecharge.com.