Perhaps the most powerful moment in Parade, the stunning revival of Alfred Uhry and Jason Robert Brown's 1998 musical about the infamous Leo Frank case, is a silent one. Ben Platt, who gives a stirring performance as Frank, a man falsely accused of murdering a young girl, sits silently high up on Dane Laffrey's evocative set, lit by Heather Gilbert to suggest a jail cell. Platt remains seated at a simple table throughout the intermission with a look of desperation on his face. We know the character's ultimate fate—Frank was kidnapped and lynched after his sentence was commuted to life in prison—and it makes this unspoken sequence all the more shattering.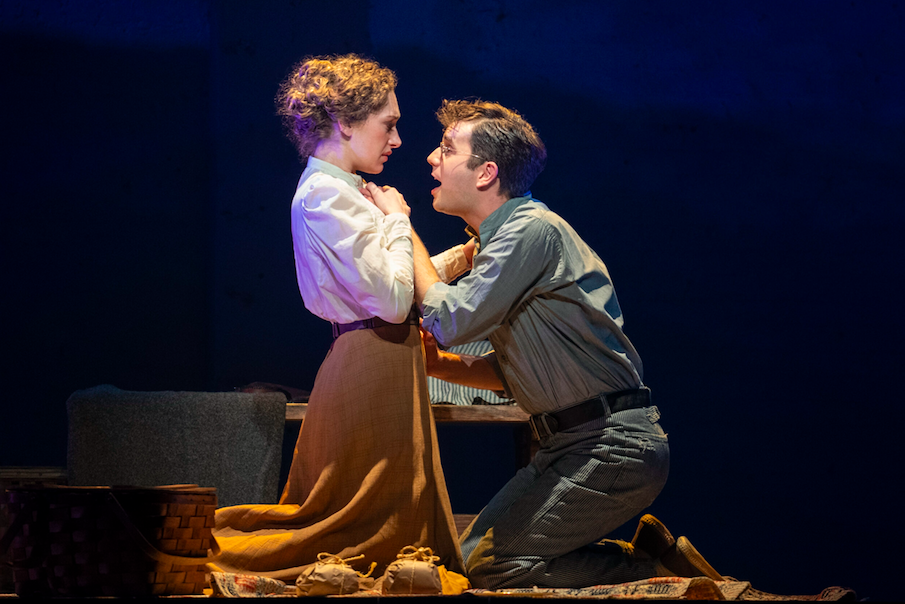 What comes before and after is one of the most devastating musical experiences in recent Broadway memory. Platt, last seen on Broadway in his Tony-winning turn in Dear Evan Hansen, delivers another emotionally charged interpretation. He conveys Frank's transformation from a pinched, emotionally closed husband to a passionate partner to his wife Lucille, beautifully played by Micaela Diamond, who makes a similar sojourn from submissive housewife to fearless defender of her wronged spouse. Platt also gets to have some fun when he enacts the prosecution's depraved version of Frank, moving his body with honky-tonk hijinks (Lauren Yatango-Grant and Christopher Cree Grant are credited with the bouncy choreography). But these brilliant leads are just two of a remarkable ensemble of cherished Broadway vets. (More on them later.)
When it first opened, Parade was powerful and moving. But this current Broadway revival, a transfer of the recent City Center Encores staging, is twice as impactful given the current polarized political atmosphere. The story follows the real-life case of Frank, a factory supervisor accused of the murder of 13-year-old Mary Phagan, one of his employees, in 1913 Atlanta. Antisemitic hatred swelled against Frank, a Jewish outsider from Brooklyn, and he was convicted on circumstantial evidence and trumped-up testimony. Echoes of our current divided state of affairs can be heard in rallying cries to protect the establishment from wicked, usurping minorities. (As if to demonstrate the show's relevance, neo-Nazi protestors harassed ticketholders as they waited to enter the Bernard B. Jacobs Theater at Parade's first preview.)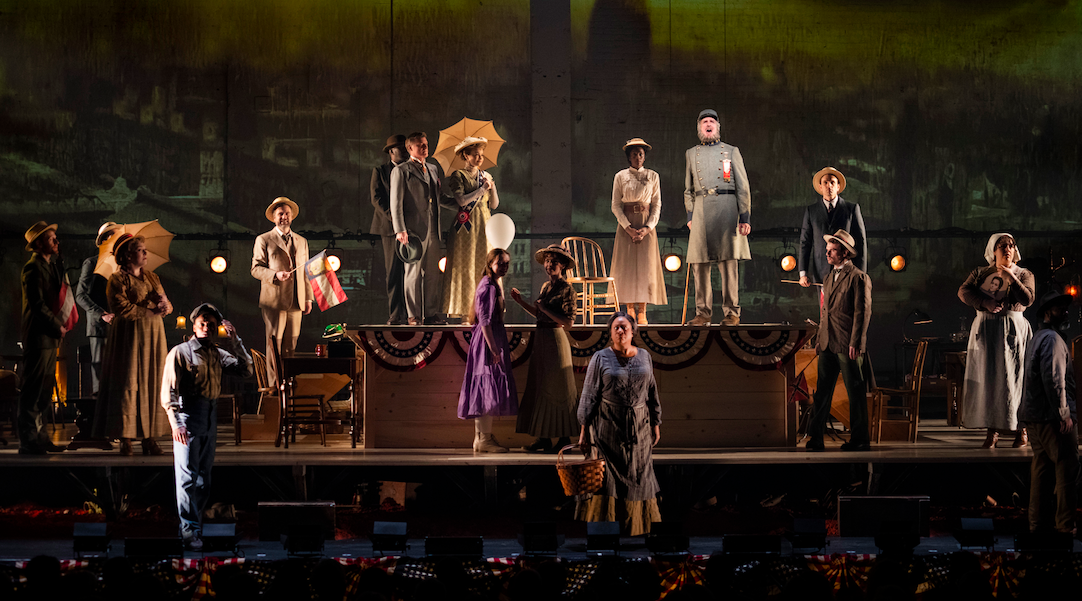 Seeing Michael Arden's arresting production is like watching an old newsreel come to life. His staging is fluid and cinematic, blending musical sequences and dramatic scenes seamlessly. Gilbert's lighting transforms Laffrey's set which resembles a combination courtroom and reviewing stand into multiple locations while Susan Hilarity's sepia-toned costumes place us in the right historical period. Sven Ortel's projections of vintage photographs of the actual principals give context to the traumatizing events from the murder itself to the one-sided trial and its long aftermath, reaching up to the present day in a clever bit of staging that brings the issues addressed into the present moment.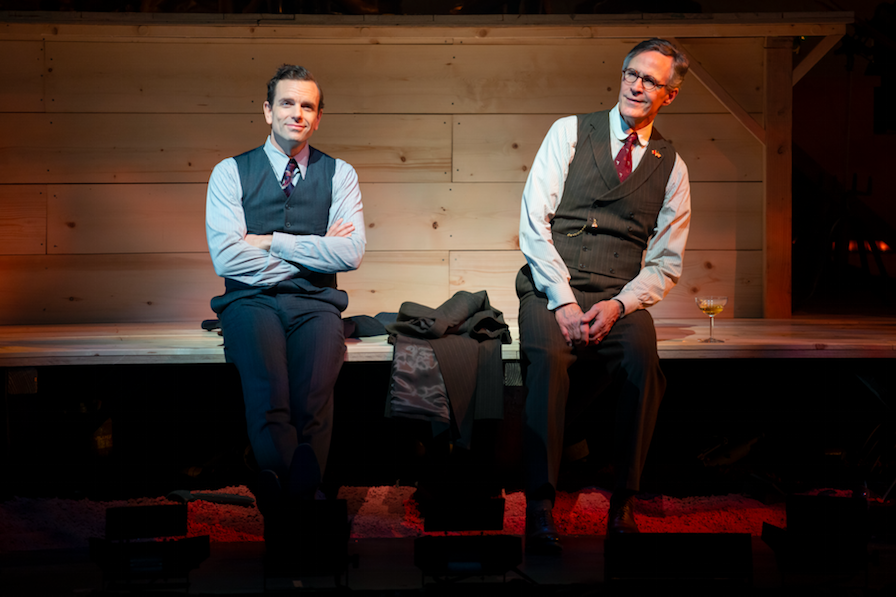 Uhry's panoramic book offers multiple perspectives on the events with each viewpoint given full weight. Industrialization versus rural lifestyles, political motivations behind the attacks of Frank, power dynamics and historical background reaching back to the Civil War are all part of the rich canvas. Brown's flavorful score combines a variety of influences, such as jazz, ragtime, blues, and gospel, to reflect that diversity.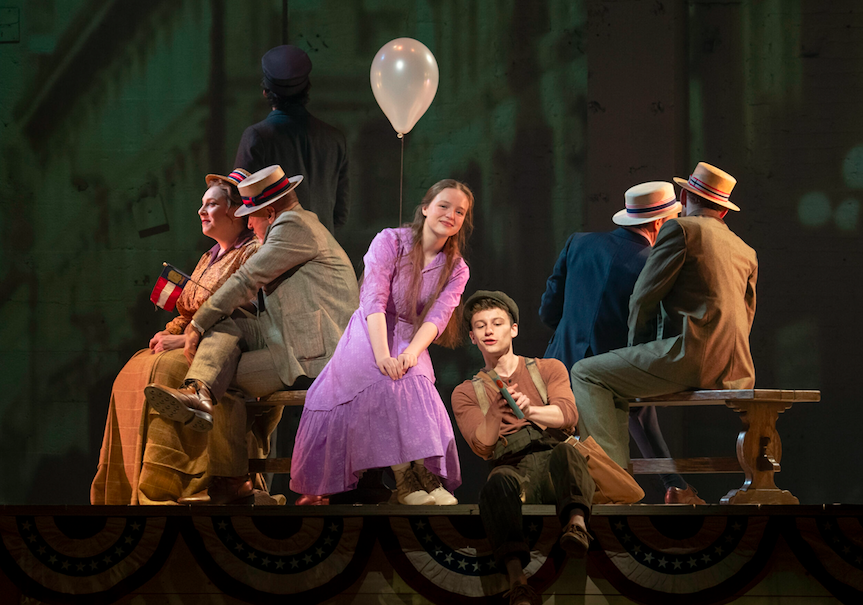 The estimable company, led by Platt and Diamond, is among the best on Broadway in the last several years. As Jim Conley, the factory's African-American janitor who testifies against Frank, Alex Joseph Grayson nearly steals the show with a rapid-fire turn on the witness stand and then almost makes away with it again when he puts across a rough-edged chain-gang lament. Kelli Barrett is heartbreaking as Mary's grief-stricken mother. Jay Armstrong Johnson gives snap and sass to an opportunist reporter. Paul Alexander Nolan is oily and slick as the racist prosecutor with his eye on the Governor's mansion. Sean Allan Krill ably displays the conflict faced by the current Governor, torn between expediency in order to stay in office and justice for Frank. Stacie Bono provides sturdy support as his wise wife. Manoel Feliciano colorfully spews volcanic hatred as a demagogic newspaper editor. Danielle Lee Greaves gives soulful heft to the Franks' housekeeper, forced to give false evidence against her boss. Howard McGillin is vivid as the biased judge and a Confederate soldier. Also praiseworthy are Erin Rose Doyle as Mary who appears as an angel sitting on a trapeze during the trial, Jake Pedersen, Douglas Lyons, Courtnee Carter, Eddie Cooper, and Christopher Gurr. Even the smaller parts, such as Gurr's elderly prison guard, are given depth.
This is a complex, passionate Parade, reflecting our conflicted past and present. It's as vital and informative as tonight's news and just as imperative for viewing if you want to know what's going on in America.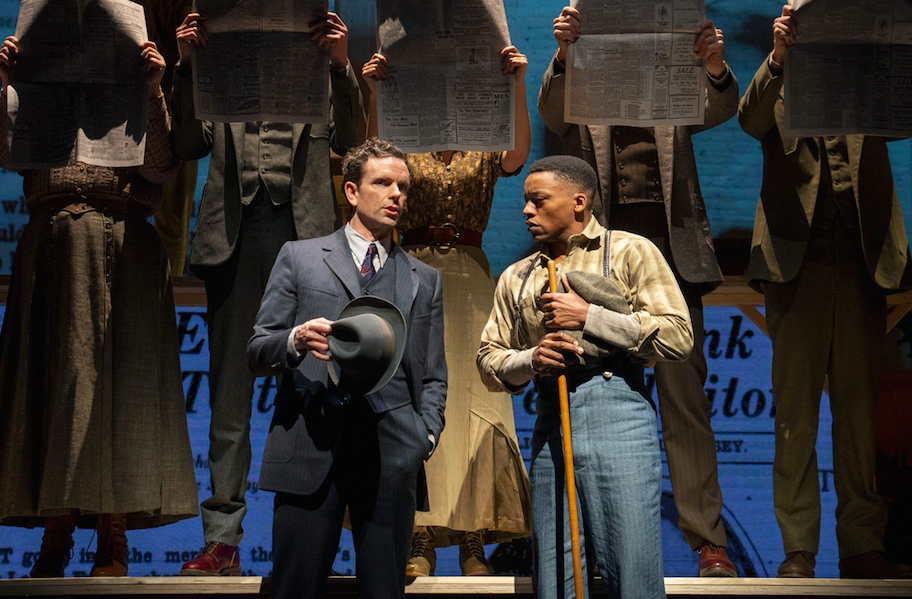 Parade. March 16—Aug. 6. Bernard B. Jacobs Theater, 242 W. 45th St., NYC. Running time: two hours and 40 mins. including intermission. Telecharge.