Varying takes on toxic masculinity and dysfunctional families are on view in two Broadway revivals of powerful, late 20th century works. Paula Vogel's How I Learned to Drive focuses on a woman's recollection of her ambiguous, incestuous relationship with a pedophile uncle. On the surface, David Mamet's American Buffalo examines a botched robbery among three incompetent petty thieves, but if you dig deeper, you'll find a brutal, but sympathetic look at a makeshift family. Both are given strong interpretations by their directors and cast, but Drive finds more layers beneath the surface while Buffalo is funnier and showier, yet doesn't delve into the play's depths.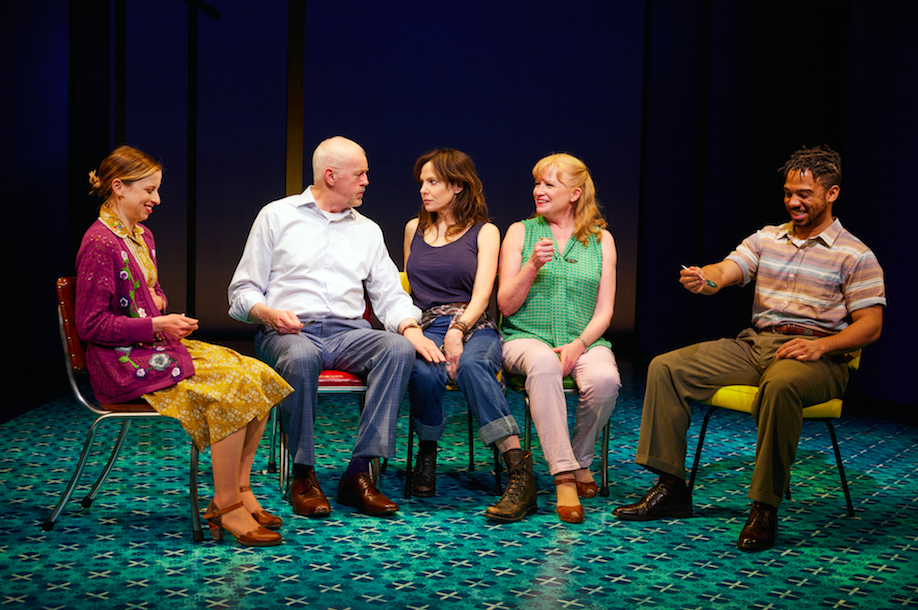 Drive may be the more complex production because the director (Mark Brokaw) and three of the leads (Mary-Louise Parker, David Morse, Johanna Day) are repeating their duties from the original 1997 Off-Broadway production at the Vineyard Theater which resulted in a Pulitzer Prize. Vogel uses the metaphor of learning to operate an automobile to relate the twisted connection between Li'l Bit (Parker), an awkward, artistically-inclined young woman yearning to break free of her rural Maryland family, and Peck (Morse), her uncle by marriage, whose interest in his niece blurs the line between emotional support and sexual abuse. Three actors (Day, Alyssa May Gold, Chris Myers) play all the other roles in Vogel's fascinating, kaleidoscopic script, narrated by an adult Li'l Bit. Brokaw's direction remains fluid and compassionate, giving equal truth to all the participants in a shameful, secretive affair. Rachel Hauk's suggestive set, evocative of farmlands and highways, becomes a landscape of painful memories, transformed into a variety of locals by Mark McCullough's lighting.
Parker and Morse won critical praise and awards the first time around and their limning has only gotten richer in the intervening 25 years. Parker makes seamless transitions for her character at various ages, slipping from cynical, forgiving adult to eager child to volatile teen with grace and attention to detail. Her physical life is fascinating as she conveys Li'l Bit's uncomfortable relationship with her changing body. The most vibrant element in the performance is her bond with Uncle Peck which Parker renders in all its clashing variety. She loves him because he pays attention to her and at the same time she loathes him for his carnal advances. But she is also drawn to him. Watching these conflicting emotions play on Parker's pliant features and shifting body is a master class in acting.
Morse is equally versatile in his interpretation of Uncle Peck's roiling sea of desires, passions, and manipulations. He effortlessly conveys the predator's charm and genuine concern for his target. This Peck actually believes he's doing nothing wrong. The glimmers of a guilty conscious show briefly in his twinkling smile which never becomes an obvious leer. Morse actually makes us understand Peck's motives, even as we re horrified by them.
Another wonder in Brokaw's revisiting of the play is the emphasis on the family which fosters the dangerous liaison between uncle and niece. Day creates a powerful impression of denial as Peck's stoic wife in a self-binding monologue and of guilt as Li'l Bit's defensive mother. Gold and Myers admirably fill the roles of grandparents, schoolmates and friends to complete a memorable Drive into painful and illuminating territory.
American Buffalo also takes us into scary places in the nation's psyche. Mamet's breakthrough work premiered on Broadway in 1977 with Robert Duvall in an explosive performance as Teach, a swaggering would-be master criminal who's really just a lost blowhard. There have been revivals starring Al Pacino (1983) and John Leguizamo (2008) on Broadway and with William H. Macy, in London at the Donmar Warehouse and Off-Broadway at the Atlantic Theater Company (2000).
The three characters are part of a found family of hustlers, crooks and losers, congregating in a crowded junk shop, belonging to Donnie. Onstage Teach, Donnie and Bobby argue and plot to rip off a coin collector. The impromptu group also includes the offstage Ruthie and Grace, a lesbian couple, and Fletch, an expert thief (according to Donnie). The robbery is the seeming engine of the slight plot, but the real dynamic is the posturing and maneuvering by the macho Teach as he schemes to replace the scattered, drug-addled younger Bobby as inside man of the planned heist. What's happening underneath the surface is Teach wants to push out Bobby as the adored son in the eyes of the father figure Donnie. When the scheme falls apart and Teach sees he has nothing underneath his testosterone-fueled bluster about manhood, friendship and the American way, he throws a temper tantrum and destroys Donnie's shop. Finally, like Beckett's tramps in Waiting for Godot, the three continue together because they have nothing else.
Neil Pepe, who also directed the Donmar/Atlantic Theater production, has staged a funny and efficient version at Circle in the Square. Scott Pask's incredibly detailed set is like a hoarder's nightmare and creates the perfect atmosphere of decay and clutter. But the new production misses the family element. Sam Rockwell makes for muscular, threatening Teach and he delivers Mamet's signature profane dialogue with snap and bite, but he lacks the core of loneliness seen in his Oscar-winning performance as the violent deputy in Three Billboards Outside Ebbing, Missouri and as Bob Fosse in the FX series Fosse/Verdon. Laurence Fishburne plays the avuncular Donnie with the authority he has brought to his many screen roles including in The Matrix series, which is all wrong for this bumbling surrogate dad. Only Darren Criss as a pathetic Bobby strikes the right notes of despair and desperation. He imbues this struggling kid with an yearning to belong, missing from the other performances.
This early Mamet work is revived frequently because it offers opportunities for big laughs and volcanic eruptions (and it still should be done in spite of the playwright's recent offensive remarks about teachers). This Buffalo has plenty of chuckles, but little of its potential emotional impact.
How I Learned to Drive: April 19—June 12. Manhattan Theater Club at Samuel J. Friedman Theater, 261 W. 47th St., NYC. Tue 7pm, Wed 2pm & 8pm, Thu 7pm, Fri 8pm, Sat 2pm & 8pm, Sun 2pm. Running time: one hour and 40 mins. with no intermission. $79—$299. www.telecharge.com.
American Buffalo: April 14—July 10. Circle in the Square, 1633 Broadway, NYC. Tue 7pm, Wed 2pm & 8pm, Thu 7pm, Fri 8pm, Sat 2pm & 8pm, Sun 3pm. Running time: 100 minutes including intermission. $79.50—$279.50. www.telecharge.com.