Our relationship with language is the subject of Sanaz Toossi's perceptive new play English, presented in a taut and affecting production by Knud Adams in a co-production from Atlantic Theater Company and Roundabout Theater Company. It's so refreshing to hear from a new voice and gain perspective outside the American kitchen sink. Set in an English language classroom in 2008 Iran, this funny and moving work follows four adult students and their teacher as they prepare for the all-important TOEFL (Test of English as a Foreign Language). A high score can mean the difference between menial work and better job opportunities and possibly moving to the West.
Each character has a different attitude toward their subject and Toossi subtly delineates their conflicts and interactions with each other. The flinty Elham (a bracingly rough-edged Tala Ashe) hates having to speak English with a passion. She feels it represses her personality and culture, but she knows she must learn it for a better life. The softer Goli (attractive and bubbly Ava Lalezarzadeh) is open to the new language, but struggles with its intricacies. Matronly Roya (dryly funny Pooya Mohseni) only wants to acquire the new tongue so she can communicate with her granddaughter in Canada and eventually move there with her son and daughter-in-law. Proficient Omid (confident yet complex Hadi Tabbal) speaks like a native American and is hiding his real motivations for taking the course.
These might include his attraction to the teacher Marjan (wonderfully conflicted Marjan Neshat), who disdains her native Farsi and Iranian way of life. But she is ambivalent about English as well, having lived in Manchester, England for many years and returned to Iran because she felt out of place.
Through these five differing lenses, Toossi makes sharp and penetrating observations on how language shapes one's attitude to self-worth, environment and society. The students shake their teacher's beliefs that English is superior to Farsi by asserting their love of their native tongue. Marjan pushes back, questioning her life choices. Aided by Marsha Ginsberg's evocative and spare revolving set, Adams' direction distills the conflicts and struggles of the learners and their instructor. In addition to conveying these shifting viewpoints and passions, the cast skillfully indicates when they are speaking in English and in Farsi though almost all the dialogue is in English (There is a shift between the casual naturalness of speaking in their mother tongue and the stiff formal vocalizing of the foreign language.)
The only time the characters speak in Farsi is the final scene between Elham and Marjab, but thanks to crystal-clear intentions and choices of Ashe and Nehsat, we understand exactly when is being said.
Taylor Mac's bizarre musical entertainment, The Hang at HERE, is somewhat less clear. Mac is an award-winning playwright-performer whose works seen on, Off and Off-Off-Broadway question not only gender norms but also traditional dramatic structure. The Hang eschews traditional elements such as story and character to focus on a celebration of queerness in a free-form spectacle which is part party, part philosophical debate and part funeral rite. The plot, such as is it, centers on the last hours of the ancient Greek sage Socrates as the hemlock he has consumed takes effect. A bearded and festively costumed Mac as Socrates, looking like the zany comedian Rip Taylor, expounds on sexual non-conformism and virtue for its own sake as a chorus in drag attire cavorts and discusses their mentor's ideas, and a sober Plato (Ryan Chittaphong) records the master's dying words on a cardboard typewriter.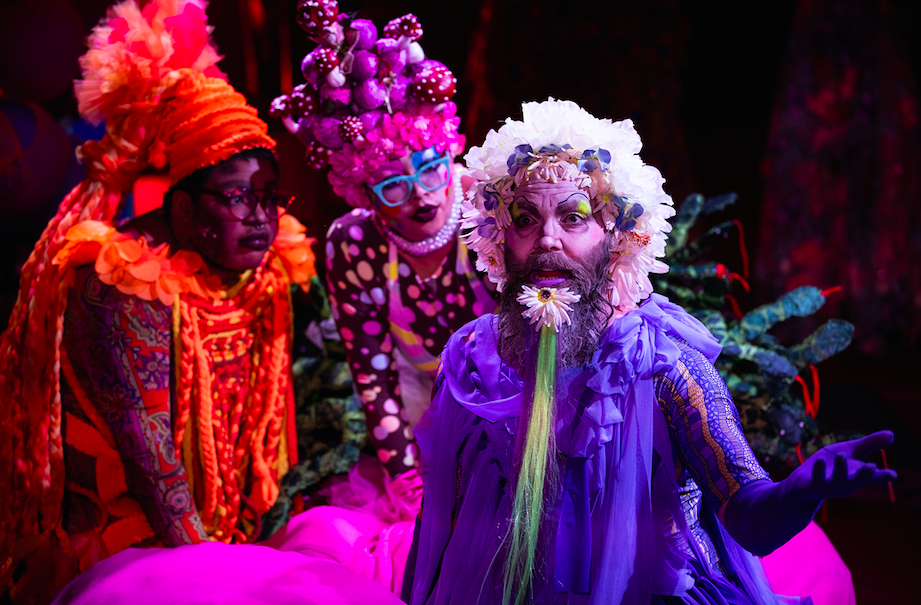 Mac's book and lyrics are more than a bit puzzling and obscure with contemporary references to Senator Mitch McConnell and the dueling Gay Pride Parades (one corporate and one anti-capitalist) sandwiched into the songs. But Matt Ray's jazzy, driving score, Niegel Smith's fast-paced, fluid direction, Machine Dazzle's truly dazzling costumes and colorful, 1960s, hippie-ish set, Kate McGee's show-biz lighting, and magnificently moving performances from Mac, the versatile cast, and skilled musicians make this Hang an entertaining, but head-scratch-inducing two hours. 
English: Feb. 22—March 20. Atlantic Theater Company and Roundabout Theater Company at the Linda Gross Theater, 336 W. 20th St., NYC. Tue 7pm, Wed—Fri 8pm, Sat 2 pm & 8 pm, Sun 2pm & 7pm.

 

Running time: one hour and 40 mins. with no intermission. $76.50—$96.50. www.ovationtix.com.
The Hang: Jan. 23—March 6. HERE, 145 Sixth Ave., NYC. Tue—Fri 8:30pm, Sat 2pm & 8:30pm, Sun 2pm. Running time: two hours with no intermission. $35—$100. www.here.org.

this is an ad space