When patrons enter the Samuel J. Friedman Theater for Manhattan Theater Club's Broadway premiere of Dominique Morisseau's Skeleton Crew, they are greeted with prominent signage as part of Michael Carnahan's ultra-realistic industrial set. The paper admonishments and placards to abide by the theater's COVID safety protocols blend in with the play's written rules for the characters to refrain from smoking and gambling and to keep the break room clean. Thus, we are pulled into the crushing world of a Detroit auto-parts plant and its African-American employees. Previously presented Off-Broadway by Atlantic Theater Company in 2016, Morisseau's well-built and affecting play gives us a strikingly relevant portrait of an oppressive economy and those struggling to find their way through it. The play's only flaws are that Morisseau ties her plot strings up a bit too neatly and some of the characters are overly familiar. But their struggles are credible and affecting.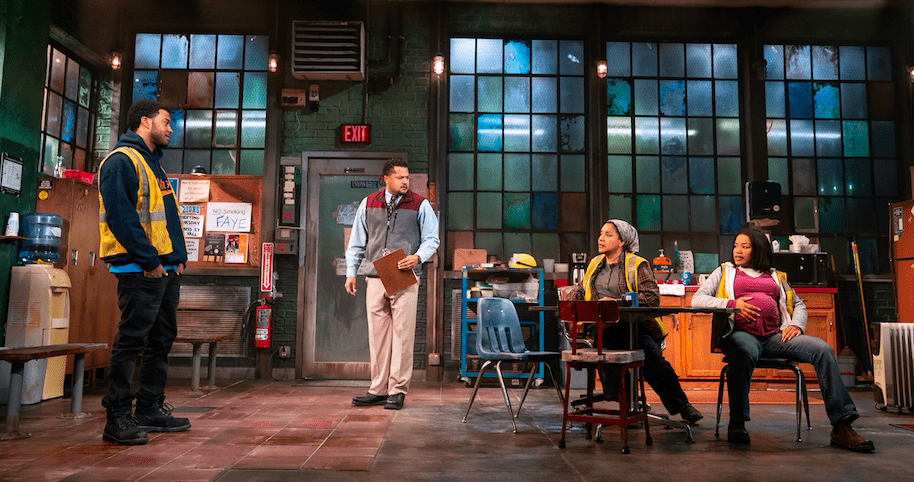 Reggie, the demanding supervisor, is the one responsible for all the signs monitoring his staff's behavior. He fills the role of the white-collar worker who has risen through the ranks and now must balance loyalty to his former colleagues and responsibility to his new  position and the white bosses. Dez is the proud, defiant worker, full of ambition but pigeonholed as a troublemaker. Shanita is the oppressed single mother-to-be, just as ambitious as Dez. Naturally, these latter two are unattached and attracted to each other, despite Shanita's initial show of indifference to Dez. The fourth character, Faye is freshest and most original. A veteran of the plant and an unapologetic lesbian, she acts as den mother of the group, offering life advice and work tips, but she also has deep flaws including an overpowering gambling addiction which has cost her the roof over her head.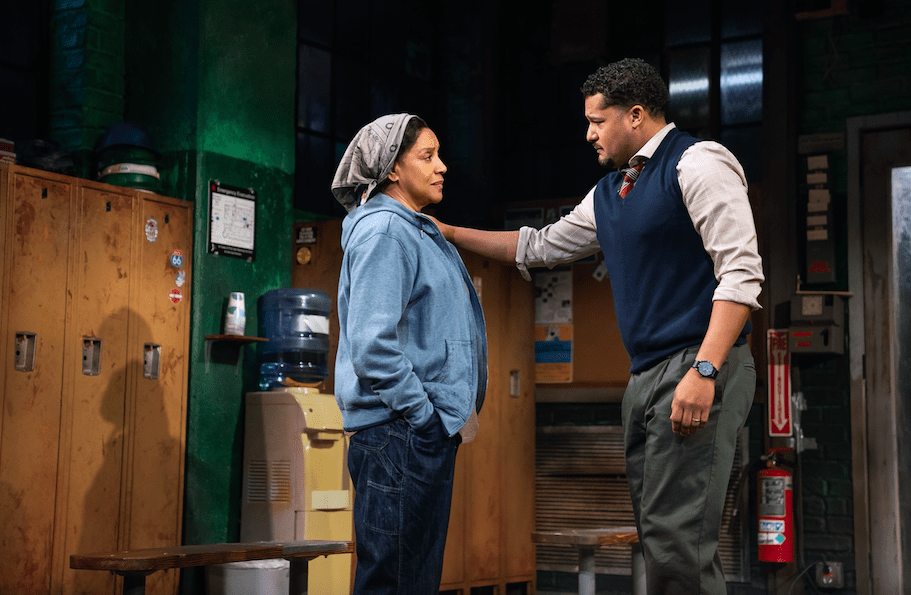 We've seen some of these storylines before, but these characters' struggles are credible and affecting. The catalyst for the play's action is the imminent shuttering of the plant as each must deal with impeding unemployment. Morisseau also supplies her workers with tangy dialogue and memorable monologues describing their situations and reflecting their relationships. Faye's taunts to Dez to join her at cards and Shanita's reliving of a nightmarish traffic jam are particularly juicy.
The four-person ensemble skillfully infuses depth and humor into their roles. Brandon J. Dirden conveys the conflict between Reggie's need for economic survival and his striving for dignity and fairness. He's particularly powerful when reenacting losing control in front of his white work superior. Joshua Boone captures Dez's recklessness and drive and Chante Adams has a bead on Shanita's strength and her concealed desperation. Phylicia Rashad, one of our most distinguished actresses, gives a luminous performance as Faye, combining her sass and grit with her devastation at losing a past lover (Reggie's mother) and her livelihood.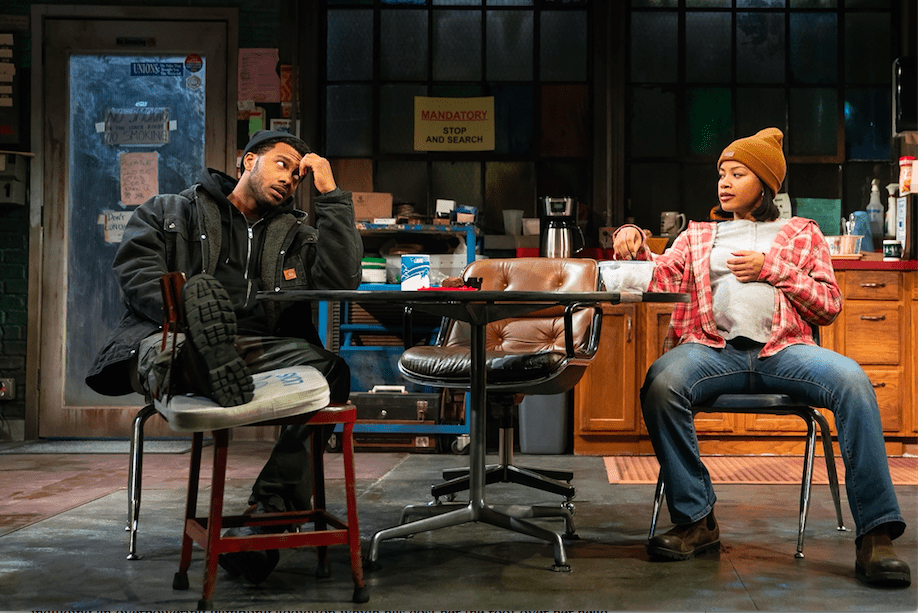 Reuben Santiago-Hudson's gritty and heart-felt direction overcomes the shortcomings and accentuates the positives with unflinching honesty and well-balanced pacing. Rob Kaplowitz's rough-edged original music and sound design, Nicholas Hussong's flashy projections, Rui Rita's dazzling lighting, and original songs by Jimmy Keys provide exciting transitions between scenes as does performer-choreographer Adesola Osakalumi's kinetic hip-hop dancing, expressing the frustrations and dreams of the plant employees.
Jan. 26—Feb. 20. Manhattan Theater Club at the Samuel J. Friedman Theatre, 261 W. 47 St., NYC. Tue 7pm, Wed 2pm & 7pm, Thu—Fri 8pm, Sat 2pm & 8pm, Sun 2pm. Running time: two hours including intermission. $59—$249. (212) 239-6200. Telecharge.