You don't need a working knowledge of basketball to enjoy Flex, Candrice Jones's infectious and fast-paced new play on friendship and competition in a high-school girls team at Lincoln Center's Off-Broadway Mitzi E. Newhouse Theater, but it would help. There is a lot of talk about point guards, fouling, and free throws but the more important themes involve the limits and responsibilities of teamwork and the roles of gender and race in sports and class. Jones develops all of these tropes with sharp and tangy dialogue and strong characterization, supported by Lileana Blain-Cruz's sensitive and rapid-fire direction and an on-point cast.
The title refers to a court strategy employed in which each player contributes equally to scoring baskets. If any one teammate tries to hog to the ball or the crowd's adulation, the stratagem falls apart. The flex play is a metaphor for the athletes' conflicts between supporting the squad and yearning for the spotlight. The stakes are high for all five members of the starting line-up. Shining on the court is means for these African-American young women to get out of dusty Plainnole, Arkansas in 1998, the first full year of play for the Women's National Basketball Association. There is also the added pressure of sexual tension. Their hard-as-nails coach (a flinty Christiana Clark) has made it a rule that pregnancy bans players from the team. Thus, Jones addresses the unfair burden placed on teen women in school sports. In the ironic opening scene, all the players appear to be pregnant during a practice session, but only one of them really is.
The balance between group effort and individual sparkle is the dilemma for the protagonist Starra (steely Erica Matthews), a talented athlete who stoops to extreme measures to sabotage her nearest competitor Sidney (funny and fierce Tamera Tomakili). Starra is ostenibly the main character, the only one who directly addresses the audience, explaining her burning desire to be the best hoopster and also speaking with her unseen mother, also a star player in her youth. It's presumed Starra's mom has passed away from an incident involving her service in the military, but Jones doesn't fully explain this plot development, one of the few flaws in her otherwise strong script.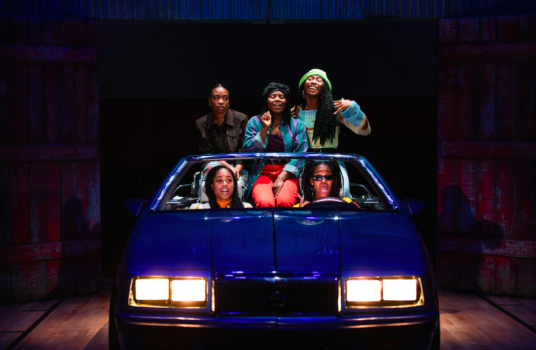 Though Starra has the most stage time and the longest monologues, the most interesting and difficult conflict belongs to April (sympathetic Brittany Bellizeare), who must sit out the championships because she is expecting a child. In a blistering speech, she reveals to her teammates she is contemplating terminating her pregnancy, not to get back on the team but because of the history of sexual abuse in her family and the economic dead-end a child would cause for her.
The team is rounded out by religious, compassionate Cherise (off-beat and endearing Ciara Monique) and ambitious Donna (sly and amusing Renita Lewis), who are carrying on a secret lesbian relationship. At times the characters sound like they're in an After School Special, dispensing homilies and fortune-cookie advice, but for the most part, Jones delivers a robust and realistic rendering of the challenges and triumphs of being young, black, female and athletically gifted.
Matt Saunders designed the versatile set which included two basketball courts (a dirt one in Starra's home and the professional one where the climactic final game is played) and an authentic automobile which splits apart to audience applause.
Flex: July 20—Aug. 20. Lincoln Center Theater at the Mitzi E. Newhouse Theater, 150 W. 65th St., NYC. Running time: two hours including intermission. Telecharge.