In this theater season when African-American women playwrights such as Lynn Nottage, Dominique Morriseau, Antoinette Chinoye Nwandu, Aleshea Harris, and the late Alice Childress are receiving major productions of their work, it's appropriate that we are also seeing the first Broadway revival of Ntozake Shange's 1976 choreopoem, for colored girls who have considered suicide/when the rainbow is enuf.
First produced in a women's bar near Berkeley, California, then Off-Broadway at the New Federal Theater and the Public, and on Broadway at the Booth where the revival is now playing, for colored girls was only the second play by an African-American woman to open on the Main Stem. (The first being Lorraine Hansberry's A Raisin in the Sun.) Apart from changing a reference from Vietnam to Afghanistan, there has been no updating, but the issues of racism and sexism raised are still tragically relevant. This new vibrant, energetic production from director-choreographer Camille A. Brown celebrates the play's spirit of sisterhood with joyous movement and magnificent acting.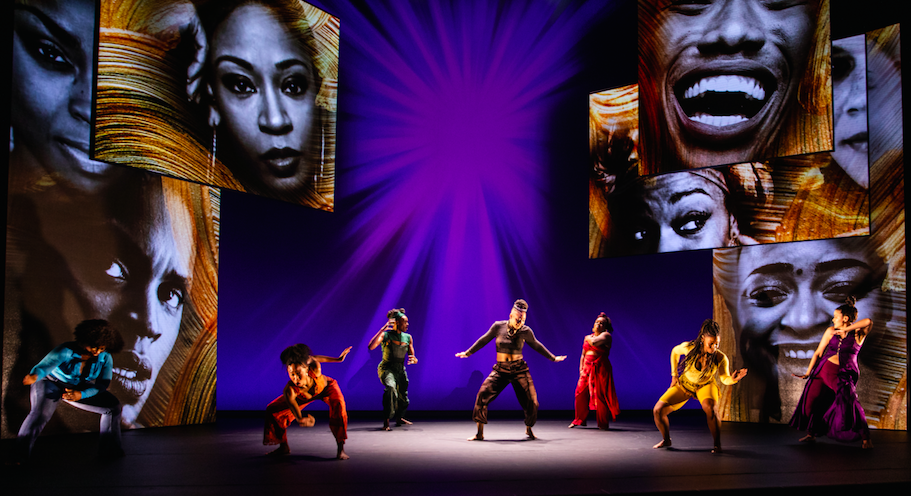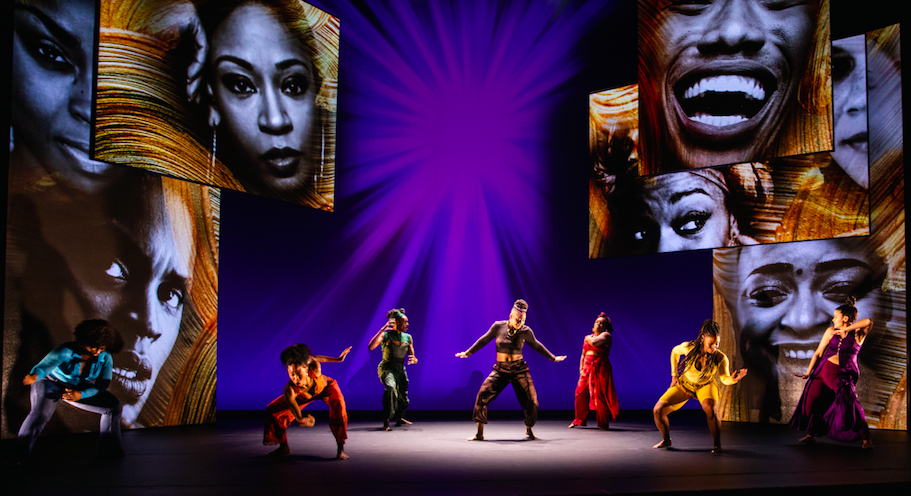 The 90-minute piece combines poetry, dance and music as seven women, named for the colors of their costumes, share their experiences of oppression and resilience. Ranging from an ecstatic high-school prom date to a shattering encounter with a crazed ex-lover, the monologues form a tapestry of pain, love, and community. Brown, who choreographed an earlier Off-Broadway revival at the Public, weaves in exuberant dance steps, some based on schoolyard games, others on Latin popular rhythms, along with intricate grouping and dramatic patterns. Brown is also a trailblazer here as the first African-American woman to both direct and choreograph a Broadway show in over 60 years.
The company skillfully conveys the passion of the various ladies through limning and movement and casting directors Erica Jensen and Calleri Jensen Davis have assembled a fascinatingly diverse group. A pregnant Kenita R. Miller is shattering in her climactic monologue, recounting a devastatingly abusive relationship with a drug-addicted veteran (here is where the Vietnam allusion is updated). You can feel her pain as she transitions from the third person narrating the story to a shattering first person account of her children being in danger. Her pregnancy makes the impact all the greater.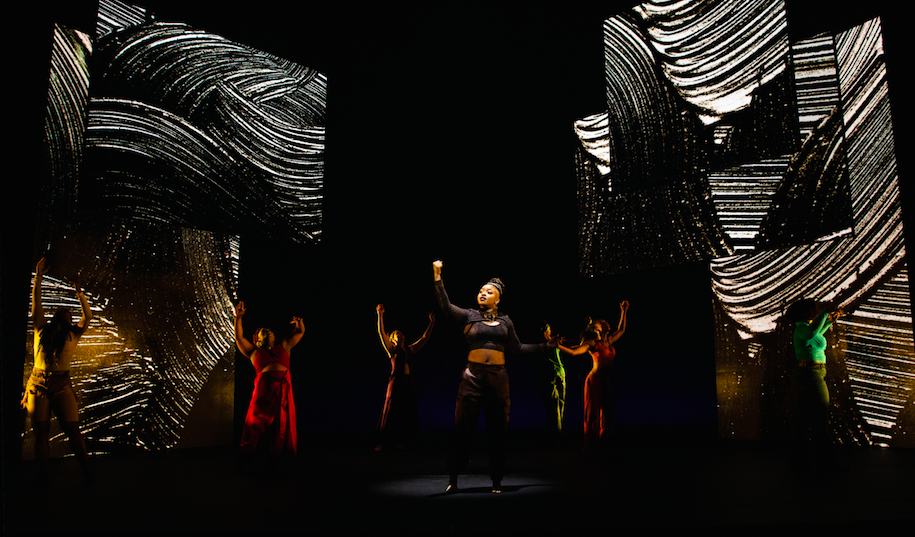 Okwui Okpokwasili blazes with anger and indignation as she accuses a departing beau of stealing her "stuff," meaning her personal traits and emotions which she invested in a wrecked affair. Amara Granderson saucily conveys the excitement of losing herself in dance as does Stacy Sargeant who also explodes with intensity when she tells the world she's had enough apologies. Tendayi Kuumba exhibits spunk and sass recreating a young girl's infatuation with the Haitian revolutionary Toussaint L'Overture. Hearing-impaired actress Alexandria Wailes is seductive and shaky-hipped as a carnival dancer and makes herself perfectly understood even to those who don't know sign language. D. Woods sweetly recreates a high-school graduate's sexual initiation.
Safari Bush's casual and athletic costumes facilitate the movement and are suitable for the various situations. Myung Hee Cho's open and suggestive set is transformed into a variety of environments by Jiyoun Chang's lighting and Aaron Rhyne's projections. Martha Redbone and Aaron Whitby provided the original, multi-genre music for this full-bodied for colored girls.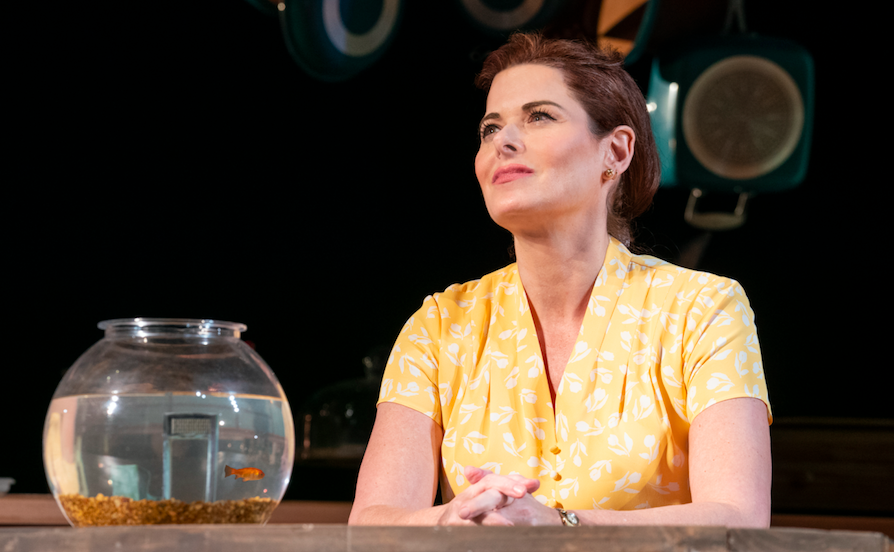 While for colored girls maintains its spark and innovation, Noah Haidle's new play Birthday Candles (Roundabout Theatre Company at the American Airlines) feels like its been on the bakery shelf a bit too long. Starring Debra Messing of Will and Grace fame as an everywoman housewife-mother-dessert entrepeneur named Ernestine, this Thornton Wilder-lite diversion crams 90 years of living into 95 minutes with very little insight or depth.
Beginning at age 17, Ernestine starts a tradition of baking her birthday cake while reciting fortune-cookie aphorisms about the universe, atoms, and creation having something to do with eggs, butter, and flour. Her entire life transpires in Christine Jones' beautifully detailed kitchen set which opens up into a view of the heavens festooned with everyday objects. It makes for a pretty greeting-card picture, but a shallow play.
A bell sounds every time a year passes as Ernestine experiences marriage, motherhood, divorce, self-discovery, second love, and finally senility and death with each succeeding generation of children and grandchildren reciting the same claptrap about finding one's place in the cosmos and that a party is a place for rest and to notice things. (Huh?) There are also references to Shakespeare's King Lear (Ernestine acts in a high-school feminist version as Queen Lear), the memory span of goldfish (three seconds), and the Hindu philosophy of Atman, all repeated ad naseum.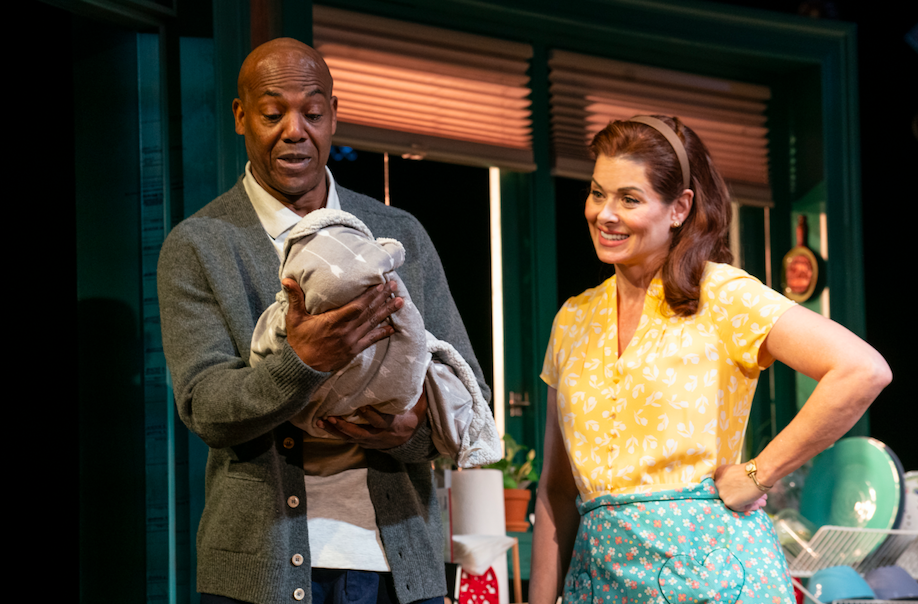 There are moments of light humor and cosy warmth in Vivienne Benesch's Hallmark Network staging and the game cast offers flashes of subtext here and there. Messing deserves commendation for remaining onstage throughout and aging appropriately. She does a professional job, but it's not particularly moving or special. I was taken with Crystal Finn's refreshingly neurotic Joan, Ernestine's insecure daughter-in-law. Enrico Colantoni is an endearing nebbish as Kenneth, Ernestine's neighbor who has been hopelessly in love with her since childhood. John Earl Jelks, Susannah Flood and understudy Brandon J. Pierce (subbing for Christopher Livingston) ably complete the cast for a low-cal Birthday cake. Blow out your candles, Ernestine and good bye.
*
for colored girls who have considered suicide/when the rainbow is enuf: April 20—Aug. 14. Booth Theatre, 222 W. 45th St., NYC. Tue 7pm, Wed 2pm & 7pm, Thu 7pm, Fri 8pm, Sat 2pm & 8pm, Sun 3pm. Running time: 95 minutes with no intermission. $69—$225. www.telecharge.com.
Birthday Candles: April 10—May 29. Roundabout Theatre Company at the American Airlines Theater, 227 W. 42nd St., NYC. Tue 7pm, Wed 2pm & 7pm, Thu 7pm, Fri 8pm, Sat 2pm & 8pm, Sun 3pm. Running time: 95 minutes with no intermission. $49—$250. www.roundabouttheatre.org.