Pandemic social media impacts considered in El Sereno, al fresco dance fest in San Pedro, Mexican folkloric in Hollywood, contemporary masters in Pasadena, female perspectives in West Hollywood, more SoCal dance this week and a peek at next week.
Live This Week
Taking it to the hills
A quartet of significant SoCal contemporary dance companies, all based in foothill communities below the San Gabriel Mountains offer a performance sampler under the banner Foothill Dancemakers. Each company is known for its distinctive style with proven track-records rooted in modern dance. John Pennington was well-known as one of the late Bella Lewitzky's featured dancers and evolved her Lester Horton-based technique in his own work for his Pennington Dance Group as well as restaging Lewitzky's oeuvre. Bike's roots are in Martha Graham technique and for decades Benita Bike's DanceArt Company has demystified modern dance in recreation centers, libraries, and other alternative venues, long before it was trendy. A Bike-alum, Hillary Thomas has built Lineage Dance Company into a Pasadena institution where her recently opened new performance space offers dance, theater, and other programming known for having a social conscience and caring heart. Nancy Evans Doede came to dance via acting and brought her dance background from Minnesota when she established Nancy Evans Dance Theatre 14 years ago infusing theatrical elements into her choreography. A similar 2019 performance by the four offered a taste of the qualities that have sustained these long-lived ensembles in the hard-scrabble local dance scene. ARC (A Room to Create), 1158 E. Colorado Blvd., Pasadena; Sat., Sept. 24, 8 p.m., Sun., Sept. 25, 4 pm, $20, $15 seniors & students. Pennington Dance Group.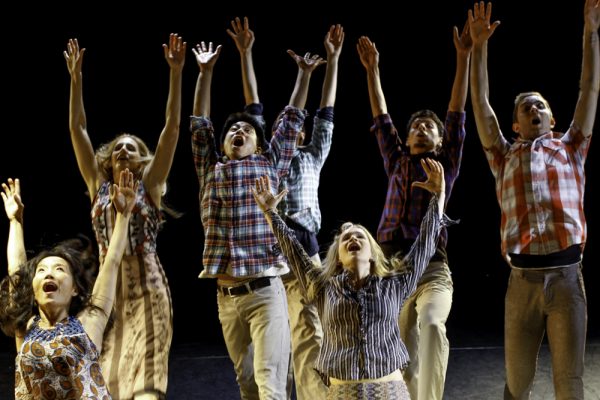 From her point of view
What is dance from a distinctively female perspective? That's the question a quartet of LA-based female choreographers — Deborah Brockus, Hannah Millar, Malory Fabin, and Maura Townsend — have set out to answer in WomXn. Combining their talents, the four are individually known as forces in the SoCal dance world. Brockus' reputation is rooted in her work with her contemporary company BrockusRed and as a producer for important endeavors including the LA Dance Festival. In her own work and with her company Imprints, Millar has focused notably on confronting fear. Her most recent project PCKT along with a long-list of credits and affiliations, reflect how Fabin's skills as a dancer, choreographer and rehearsal director are much in demand. An alum of the Lula Washington Dance Theatre, Townsend now leads her own Project21 Performing Arts Consortium as well as producing dance festivals. The four bring their distinctive viewpoints to Fiesta Hall, Plummer Park, 7377 Santa Monica Blvd., West Hollywood; Sat., Sept. 24, 7pm, Sun., Sept. 25, noon, $20. info and tickets at Brockus Project Dance, or by email.
Behind the buzz
Social media and a doomed barrier breaker are starting points for the two works from Laurie Sefton Creates (aka Clairobscur). How social media became a means of connection and for some, a means of personal reckoning and sometimes identity reconfiguring during the height of the pandemic shutdown, became the spark for The Mythology of Self. The five dancers are Alisa Carreras, Emily Krenik, Mizuki Sako, Sidney Scully, and Nicolas Sipes. They share the stage with two photographers whose photos are projected onto a screen where a visual artists alters them. After the US Supreme Court majority struck down any federal protection for abortion, Sefton responded by revisiting Women, Fire, and Dangerous Things. Danced by Madeline Lacambra, Sako and Scully, the trio explore the life of noble prize winning scientist Marie Curie and a women-led effort to fund the purchase of radium for her research, research that ultimately killed her. Sefton sees the story as an important example of the power of women who organize against efforts that would deny them control of their lives, their bodies, or their vote. Stomping Ground/LA, 5453 Alhambra Ave., El Sereno, Fri.-Sat., Sept. 23-24, 7:30pm, $25. Brown Paper Tickets.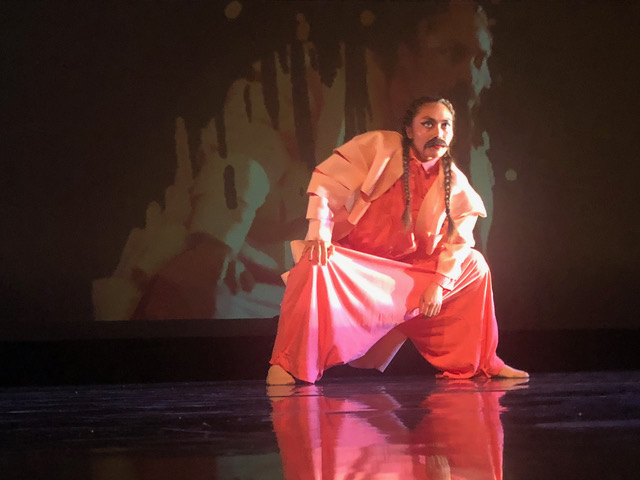 It's a re-run
This popular itinerant ensemble Monica Bill Barnes & Company returns after a several year absence with its fun-filled, signature The Running Show collaborating with local artists from age 12 to 80 who perform to a play-by-play commentary delivered live. This edition involves students from the USC Kaufman school of dance, a young ballet student and a 77-year old. USC Bovard Auditorium, 3551 Trousdale Prkwy., downtown; Thurs., Sept. 29, 7pm, free with ticketed reservation. Visions and Voices.
Taking it outside
Late summer means choreographer Louise Reichlin is ready to launch this year's San Pedro ♥ Festival of the Arts 2022. The free, family-friendly event always includes professional dance ensembles and curated community groups. This year's line up of performers promises a special focus on dance including DAGDAG Dancers, Jazz Spectrum, Jeevika Bhat – Jyoti Kala Mandir, Kairos Dance Company, Kaitlyn McKinney, Katrina Ji, Megill & Company, Pranamya Suri, Re-borN Dance Interactive, Sahlala Dancers, SINDHOOR & NATYAVEDA – Navarasa Dance Theater, The Mcculla Movement, Encore Dance Company, Cabrillo Dance Company, Degas Dance Studio, Santa Barbara Community College Dance Company, Showtime-Katusha, and host company Louise Reichlin & Dancers/ Los Angeles Choreographers & Dancers. Peck Park (Next to Community Center), 560 N. Western Ave., San Pedro; Sat., Sept. 24, 1-4pm, free. San Pedro Festival of the Arts.
Dance and the voice
Mexican folkloric dance is contributed by Ballet Folklorico Ollín in this celebration of the late Juan Gabriel, El Divo de Juarez. Singer Juan Michel pays tribute with musical help from Las Colibrí and Mariachi Ángeles de Pepe Martinez, Jr. Ford Theatre, 2580 Cahuenga Blvd. East, Hollywood; Sat., Sept. 24, 8pm, $50-$85. The Ford Theatre.
Come for the dance, check out the art
Explore the emerging Frogtown art scene and enjoy dance films as MashUp Contemporary Dance Company joins the visual art participants in the Frogtown ArtWalk. MashUp Studios, 2934 Gilroy St., Elysian Valley; Sat., Sept. 24, 3pm-9pm, free. Elysian Valley Arts Collective.
Dance at the opera
In addition to having helmed her own company and multiple dance films, choreographer Kitty McNamee is a frequent name at the LA Opera and is back, providing choreography to the new production of Lucia di Lammermoor. McNamee has done a prior Lucia, one of almost a dozen LA Opera shows she's contributed to. In this version, the director also includes a considerable video presence of the title character that involved McNamee's movement skills. Music Center, Dorothy Chandler Pavilion, 135 N. Grand Ave., downtown; six performances to Sun., Oct. 9, see website for specific dates and times. $20-$324. LA Opera
A Peek at Next Week
Cirque Mechanics — Zephyr—A Whirlwind of Circus at Carpenter Center, Cal State Long Beach, 6200 E. Atherton Street, Long Beach; Sat., Oct. 1, 8pm, $40. .
600 Highwaymen – A Thousand Ways (Part Three): An Assembly at UCLA Royce Hall Rehearsal Room, Royce Hall, Sat.-Sun., Oct. 1-2 & 22-23, Feb. 4-5 & 11-12, noon, 1:30, 3pm, 4:30, 6 & 7:30pm. $29.97. Center for the Art of Performance UCLA.
Freaks With Lines Dance Company – Benefit Performance at ARC (A Room to Create), 1158 E. Colorado Blvd., Pasadena; Sat., Oct. 1, 6pm, $75. Freaks With Lines Dance Company; Eventbrite.