"It's the suitcase or the coffin," bluntly explains a character in Prayer for the French Republic, Joshua Harmon's somewhat overlong, but ultimately moving drama ostensibly about one family of French Jews, but it's really about the state of European and all Jewry. The man uttering the unvarnished, but pragmatic assessment of what it means to be a Jew is Charles Benhamou (solid Jeff Seymour), a father and husband contemplating moving his family from a comfortable, upper-middle-class existence in Paris to an unknown situation in Israel. Their transfer is brought about when Charles' adult son Daniel (endearing Yair Ben-Dor) is attacked on the street for wearing a yarmulke and by the increase in anti-Semitic violence starting in 2016 with the prominence of Marie Le Pen's National Front party.
The possible move to Israel is the catalyst for the drama, but Harmon uses the family to evoke the entire history of Jews fleeing from persecution and never really finding a safe haven for long. There are flashbacks to 1944 focusing on Daniel's great-grandparents Irma and Adolphe (Nancy Robinette and Kenneth Tigar, magnificently conveying suppressed sorrow) both luckily escaping the concentration camps, but tormented with lack of news about their children and grandchildren who were not so fortunate. (As family Holocaust survivors, Ari Brand and Peyton Lusk silently depict the horrors they have faced through eloquent facial expressions and body language.) Another character Patrick (sardonic Richard Topol), Charles' vehemently secular brother-in-law, acts as narrator and commentator, providing historic perspective with a sarcastic retelling of grisly Jewish persecution during previous centuries.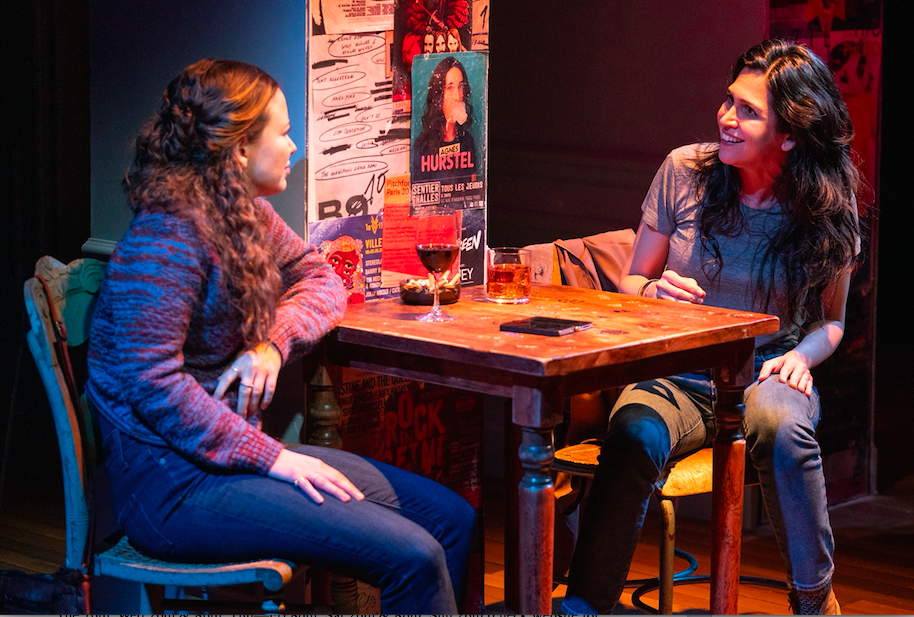 At times, Harmon gets preachy and overindulgent. The characters occasionally sound like  editorials or spokespeople for political points of view. This is particularly egregious during a lengthly monologue delivered by Elodie, Daniel's manic-depressive sister (Francis Benhamou, doing her best to make an unpleasant character relatable) delivered to Molly (sweet Molly Ranson), a distant American cousin who expresses sympathy for Palestinians and develops a crush on Daniel. I suspect Elodie's harangue was intended to be like the thought-provoking debates in Angels in America, but it comes across as strident, though Benhamou does a splendid job of pacing and modulating this marathon speech.
In another overly presentational moment which doesn't fit in with the rest of the play, the entire family is assembled and each theatrically answers the question, "Why do they hate us?" It's as if Harmon is hitting us over the head with a summation, but then he makes up for it by with stirringly simple curtain moment. As the play ends, all the generations stand around the family piano (an important symbol—the family's business has been selling pianos for over 150 years) and simply and undramatically sing the Les Marseilles. It's the opposite of the scene in Casablanca when the inhabitants of Rick's Cafe tearfully defy the occupying Nazis by vocalizing the French national anthem. Here it's a group of people softly avowing their allegiance to their country and expressing regret at having to deal with prejudice and hatred in their beloved home.
Luckily the lapses are isolated spots. Most of the play is naturalistic and believable. There is some breaking of the fourth wall as when Patrick directly addresses the audience and interacts with characters from the past, but, thanks to David Cromer's nearly invisible and subtle direction, these moments flow with the rest of the work. The majority of the play consists of small-scale interactions as the family argues, grieves, and consoles each other. Quibbles over left-out wine glasses escalate into full-scale confrontations. A passover seder is transformed into a civil war with religious identity pitted against survival. Cromer masterfully stages these multi-character, complex blocking challenges. Takeshi Kata's flexible, suggestive set allows for fluid transitions between eras with the aide of Sarah Laux's period perfect costumes and Amith Chandrashaker's versatile lighting.
The cast could not be better in conveying the push-pull, love-hate of all families. In addition to those already mentioned, Pierre Epstein is convincingly desolated as the modern-era patriarch, bereft of his dignity and livelihood, and Betsy Aidem brilliantly gives life to the conflicted emotions of Marcelle, Charles' wife, who must choose between an increasingly dangerous home and the unknown future of a strange land.
Prayer has its flaws. Clocking in at three hours with two intermissions, it could stand cutting, but it is Harmon's most mature work to date. He has gone beyond feathery comedies like Skintight and Significant Other and expanded on social and personal themes found in deeper works like Bad Jews and Admissions. This is an eloquent and complex Prayer.
Prayer for the French Republic. Feb. 1—27. Manhattan Theater Club at NY City Center Stage I, 131 W. 55th St., NYC.  Tue 7pm, Wed 2pm & 8pm, Thu—Fri 8pm, Sat 2pm & 8pm, Sun 2pm (check website for any schedule changes); Running time: three hours including two intermissions. $99. (212) 581-1212. www.NYCityCenter.org.

this is an ad space