Shakespeare's Hamlet is usually conceded to be the greatest play in world literature, because its essential conflict of the individual with him or herself can be applied to any culture, time period or setting. The most famous line of the text, "To be or not to be," echoes man's eternal search for meaning in a seemingly meaningless universe. That journey resonates as much today as it did in the Bard's time. Hot British director Robert Icke employs video and modern dress to bring the Melancholy Dane into the 21st century, but his thoughtful, passion-packed production at the Park Avenue Armory after a smash run at London's Almeida Theater, does not rely on gimmicks or technology for its impact. His insightful staging and editing as well as layered performances from a skilled cast led by a intensely emotive Alex Lawther in the title role, keep this version from lapsing into trendiness. The production plays in repertory with Ickes' adaptation of Oresteia at the Park Avenue Armory after a smash run at London's Almeida Theater.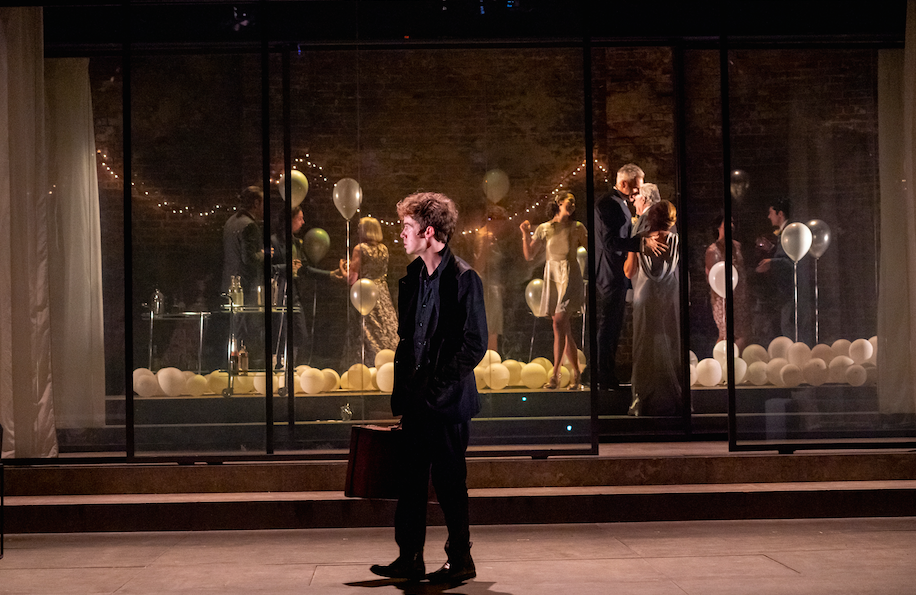 Icke's Elsinore is indeed very modern, a sleek corporate environment with multiple video screens reaching into each corner of the castle (Hildegard Bechtler designed the chilly set and austere costumes, lit coolly by Natasha Chivers). The production opens with slick news footage of the funeral of Hamlet's father and then the palace guard sighting of his ghost on CCTV cameras. There have been previous surveillance-state Hamlets such as Gregory Doran's RSC production with David Tennant (seen on PBS in 2019) and Nicholas Hytner's National Theater version with Rory Kinnear (caught by this critic in an NT Live cinema screening in 2015). Both those stagings featured omnipresent intelligence agents, constant videotaping and an overt political emphasis. Icke's edition stresses the psychological rather than the social. He examines the psychic damage caused not only by the King's death, but the reaction to it.
His and Lawther's indecisive prince is no macho action hero (like Mel Gibson in the 1990 Hollywood-style film) nor is he a boisterous clown like Tennant. This is an emo-protagonist, overwhelmed by grief, quite possibly mad in truth rather than as a stratagem to trick out the guilt of his uncle Claudius as his father's killer. Slight of build and tender of years (Lawther is 27 but convincingly looks 17), this teen Hamlet wears his heart on his sleeve and is unafraid to unpack his warring emotions with detailed care. Fortunately, he is not overindulgent (as Peter Sarsgaard was in a 2015 Off-Broadway CSC production where he came across as a spoiled brat.) Lawther balances Hamlet's mad rashness with a keen intelligence, howling like a whipped dog at one moment and the reasoning out his next course of action in beautifully spoken soliloquies the next.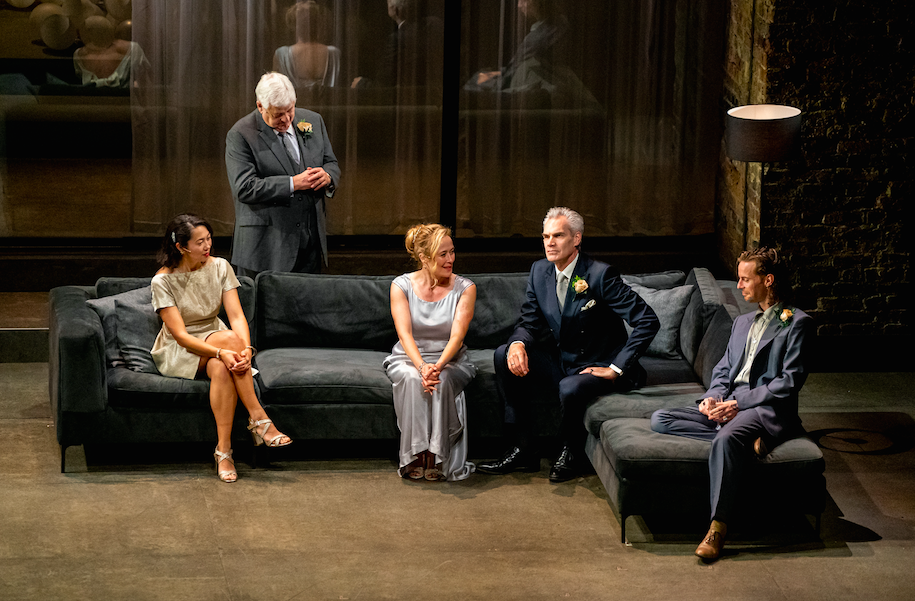 Likewise, Angus Wright's Claudius is not just a kissable villain, but an ambiguously motivated ruler. Jennifer Ehle, a late replacement for Gertrude when Lia Williams sustained an injury, ably fulfills the roles of passionate lover of her new husband and doting mother to Hamlet. Her American accent stands out amid the company of Brits and gives her characterization a novel rough edge.
Ickes' psychologically deep approach extends to the family of Polonius, Ophelia, and Laertes. The director sees them as victims of royal corruption just as much as Hamlet. He has re-arranged the text, placing several scenes in a different order so as to play up this usually secondary group of characters' prominence. Laeretes' farewell which gives many details of Ophelia's relationship with the Prince, is now placed earlier in the evening. Ophelia (a complex Kirsty Rider) is now a more vital presence in Hamlet's emotional life, we see them necking and hiding from their elders, so her eventual madness has more resonance when she is forced to reject him. In a chilling touch, the flowers in her mad scene are replaced with scars from self-inflected wounds. Peter Wight's compassionate Polonius and Luke Treadaway's fiery Laertes are equally multidimensional.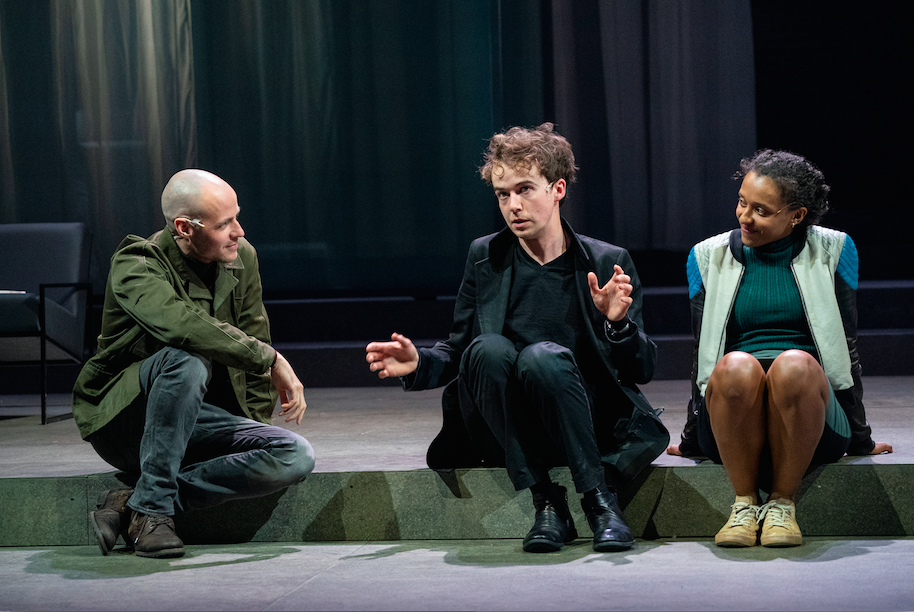 Even Rosencrantz and Guildenstern, usually played as negligible accomplices in Claudius' machinations, have depth and importance here. Now Guildenstern (soulful Tia Bannon) is a woman who appears to have had a collegiate crush on Hamlet which he reciprocated and Rosencrantz (comically pathetic Calum Finlay) is an uncomfortable third wheel. Both R&G are unwilling pawns here, much like in Tom Stoppard's famous rift on the pair.
Some of Ickes' choices are confusing, such as having Claudius directly address a pistol-wielding Hamlet during the former's confessional speech, usually played alone. Is this encounter in Hamlet's imagination or is Claudius brazenly daring his stepson-nephew to blast him away?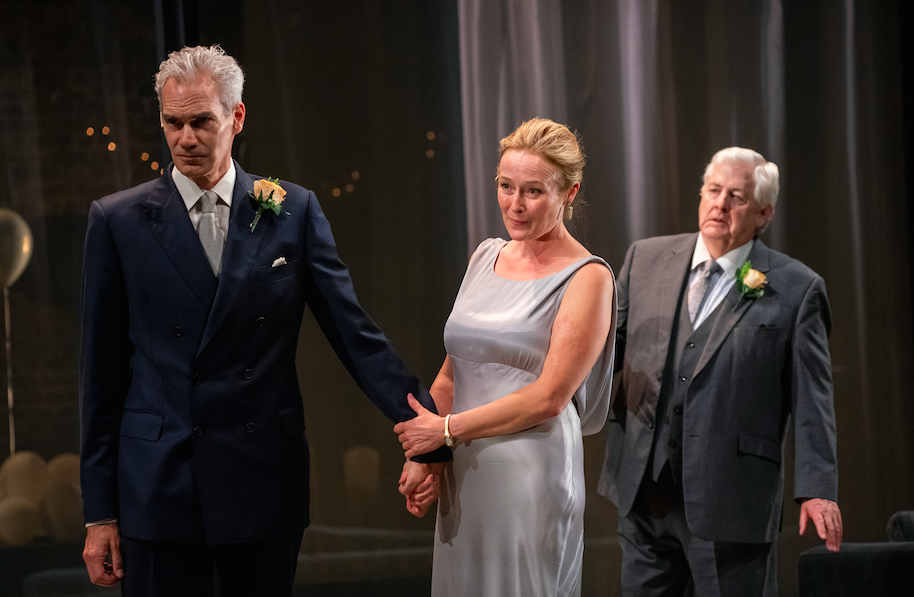 But so many more of the decisions are right and fitting. The ghost of Hamlet's father and the Player King are played by the same actor (a commanding David Rintoul), doubling the force of the play-within-a-play. Ophelia's encounter with Hamlet in her closet takes place in the palace kitchen as she is raiding a refrigerator for a forbidden midnight snack (an eating disorder added to her symptoms). Horatio (sturdy Joshua Higgott) now confides with Gertrude as to Hamlet's intentions and Claudius' treachery. The play-within-the-play ends the first act with the real audience as awkwardly stunned as the Danish court with Claudius abrupt exit. The final dueling scene is elaborately and intricately staged as if it an Olympic fencing event. Then in a shattering touch, Ickes blots out some of the famous dialogue with Bob Dylan songs, increasing the visceral blows of the violence which shatters a kingdom and destroys the hero.
All of these insights make this a rich Hamlet, offering new views on Shakespeare's most interpreted and complex work.
Hamlet. June 28—Aug. 13. Park Avenue Armory and Almeida Theater at Wade Thompson Drill Hall, Park Avenue Armory, 643 Park Ave., NYC. Schedule varies (runs in repertory with Oresteia). Running time: three hours and 40 mins, including two intermissions. $45-$199. www.armoryonpark.org.