The African-American experience in different decades of the 20th Century is explored with ingenuity and passion in two new Off-Broadway musicals. Both feature eclectic and captivating scores, but one succeeds in telling a relatable story while the other pushes too hard to make its valid points. Intimate Apparel, at Lincoln Center's Mitzi E. Newhouse Theater, is an operatic version of Lynn Nottage's award-winning 2003 play about a lonely seamstress seeking love and security. Black No More, produced by The New Group at the Pershing Square Signature Center, is a rap-hip-hop stage adaptation of George S. Schuyler's 1931 satiric novel imagining a machine that transforms black people into whites. They both have many entrancing and effective elements, but Apparel is the more integrated and powerful piece.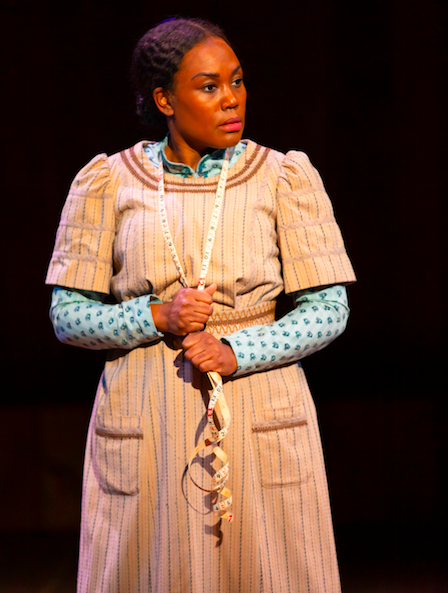 Set in 1905, the Apparel opera focuses on Esther (Kearstin Piper Brown in a searing vocal and dramatic performance) who earns a living creating sexually provocative bedroom wear and yearns to find the kind of romance that her garments facilitate. (Catharine Zuber's dazzling costumes clearly delineate the roles these women must play in order to survive.) Oppressed because of her race and gender, Esther is self-reliant but isolated.
Her clients represent different strata of society, but each faces her own form of degradation. The white socialite Mrs. Van Buren (regal yet sensual Naomi Louisa O'Connell) has no feeling for her wealthy husband yet she commissions Esther to create scandalous negligees to keep him interested. The black entertainer and prostitute Mayme (sexy yet vulnerable Krysty Swann) needs Esther's designs to earn her living since she cannot find employment in any other field. Mrs. Dickson (Adrienne Danrich, particularly moving in her biographical aria), Esther's landlady, runs a social club for respectable young African-American ladies to find suitable husbands. Esther sews wedding gowns for them. But Mrs. Dickson's girls are just as much for sale as Mayme since they must put security above love.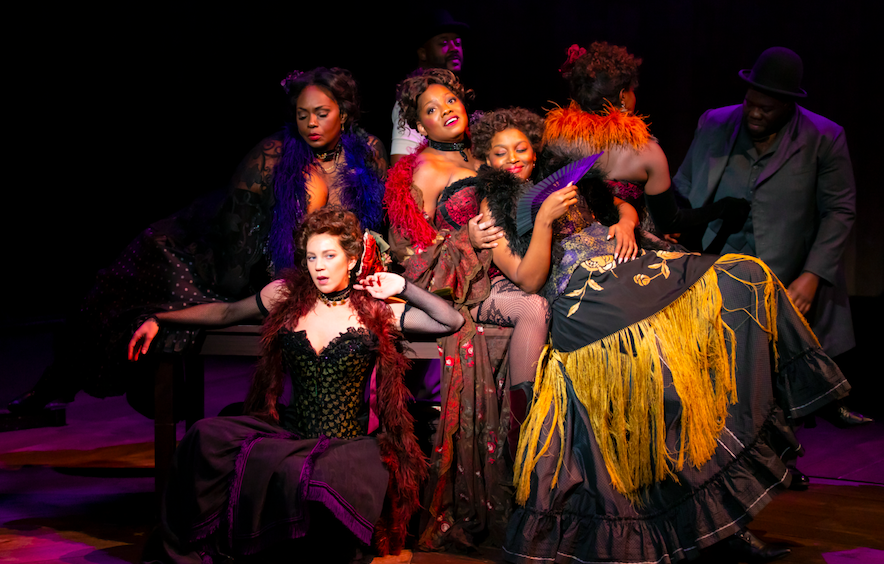 Esther appears to have found a way out of her loneliness when she begin corresponding with George (virile and sly Justin Austin), a laborer on the Panama Canal, but her dreams are shattered when the real George arrives in person to wed her. She eventually realizes her true love is forbidden since she is drawn to a white, Orthodox Jewish fabric salesman (empathic Arnold Livingston Geis). Director Bartlett Sher skillfully employs Michael Yeargen's spare, revolving set for a fluid production, perfectly integrated with Ricky Ian Gordon's melodious music melding ragtime with blues and Broadway, played by two pianos under the masterful music direction of Steven Osgood. Nottage wrote the libretto, paring down her own play for maximum musical expression. The exquisite voices of the cast blend with their dramatic skills for a heart-wrenching portrait of the struggle to overcome oppression and find comfort in a racist and sexist world.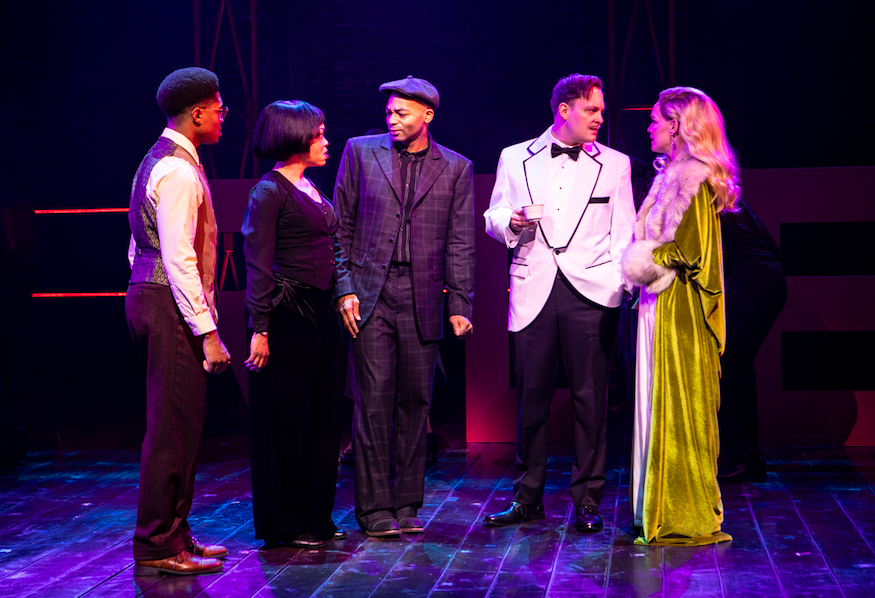 Black No More employs a harsher attack on the same subject. Subtitled, "Being an Account of the Strange and Wonderful Workings of Science in the Land of the Free AD 1933-1940," George S. Schuyler's source novel takes a Swiftian sword to America's fractured race relations about twenty years after the events of Intimate Apparel and the issues it raises are still sadly relevant. The show starts with the wily Dr. Junius Crookman (played with an arched eyebrow by Tariq Trotter who also wrote the sharp lyrics and collaborated on the diverse music) addressing the audience with news of his miraculous invention, a process to change African-Americans's skin tone to become indistinguishable from that of Caucasians. The procedure devastates the newly thriving Harlem community and changes the opportunistic Max Disher (Brandon Victor Dixon in a captivatingly funny performance) from a street con man into a leader of a white racist movement.
The premise is a potentially fascinating one. Melvin van Peebles created a reversal of the idea in his cult film Watermelon Man and Douglas Turner Ward made a variation on it in his one-act play Day of Absence with black actors in white face. While its intentions are honorable and its claims are perfectly valid, John Ridley's book is too broad and the characters are too narrow for the musical to be entirely effective. It's more like an SNL sketch stretched out to a full evening.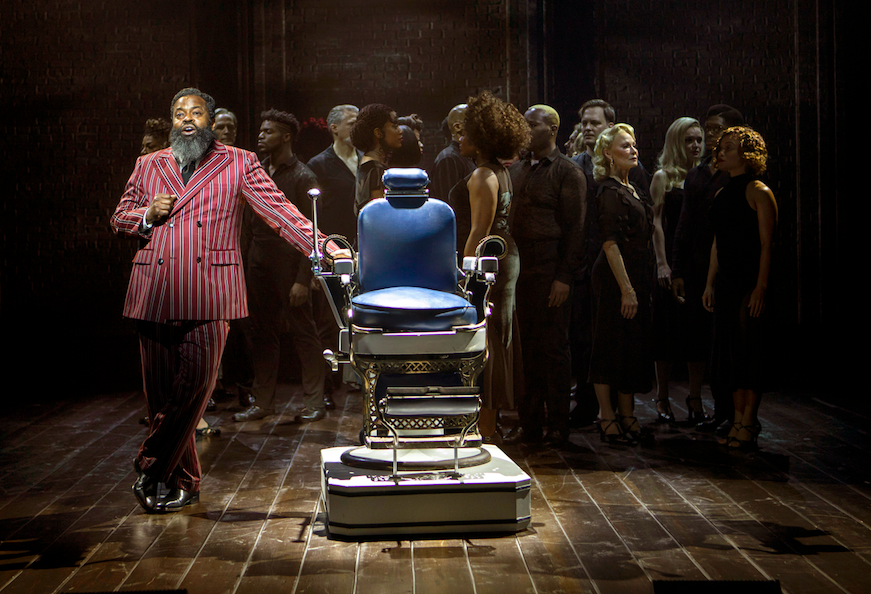 The score written by Trotter, Anthony Tidd, James Poyser and Daryl Waters who also is credited with musical supervision, orchestrations and vocal arrangements, seamlessly combines hip-hop, rap, rock, reggae, soul, and even country-western for a smorgasbord of delights. Scott Elliott's direction is well-paced, but Bill T. Jones' choreography is truly outstanding with elaborate and intricate movement indicating character and social status. Dixon is a riot as he conveys Max's metamorphosis into how he would imagine privileged white people would move. He's equally captivating when the masquerade ends and he must confront the raw face of bigotry. Tamika Lawrence infuses her supporting role of Buni, Max's friend who attempts to rescue him from a Southern klan community, with compassion and grit. The talented Ephraim Sykes, a highlight of Ain't Too Proud, is unfortunately wasted in a functional part while Lilias White makes the most of the no-nonsense hair salon proprietor who realizes her hair-straightening and skin-lightening techniques have contributed to black self-hatred. Jennifer Damiano also infuses depth in her role of the white Southerner who falls in love with Max, but Howard McGillin, Tracy Shayne, and Theo Stockman are stuck in stereotypes as her racist relatives. The musical has many valid observations and intriguing staging and dancing, but its themes are too obvious and broadly presented, unlike Intimate Apparel which gives us a real woman in a believable situation.
Intimate Apparel: Jan. 31—March 6. Lincoln Center Theater at the Mitzi Newhouse Theater, 150 W. 65th St., NYC. Tue 7pm, Wed 2pm & 8pm, Thu 7pm, Fri 8pm, Sat 2pm & 8pm, Sun 3pm. Running time: two hours and 30 mins. including intermission. $82—$92. Telecharge.
Black No More: Feb. 15—27. The New Group at Pershing Square Signature Center, 480 W. 42nd St., NYC. Tue—Fri 7:30pm, Sat 2pm & 8pm, Sun 2pm & 7:30pm. (Check website for any schedule changes.) Running time: two hours and 30 mins. including intermission. $38—$113. The New Group.
Feature photo: Kearstin Piper Brown and Justin Austin in Intimate Apparel. Credit: Julieta Cervantes