Mix the fairy-tale revisionism of Into the Woods with the tween pop jukebox format of & Juliet, add a dash of female empowerment from Six and a smidge of meta story-within-a-story sensibility from Woody Allen's The Purple Rose of Cairo, and you have Once Upon a One More Time, the derivative but entertaining new musical at the Marquis. Employing "the music performed and recored by Britney Spears" for its score, Once has a built-in audience of the Britney Army, but for non-inductees it's still a fizzy summer delight.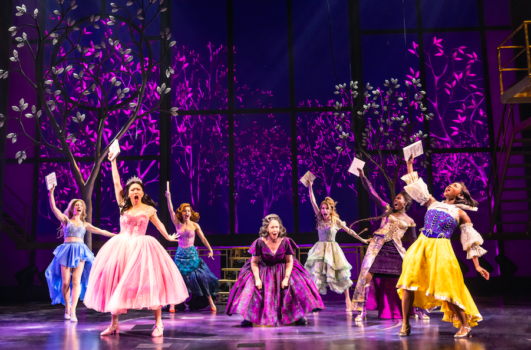 The show has its challenges, particularly since it's opening within a year of Lear DeBossenet's exemplary revival of Woods and the similarly themed Bad Cinderella. Luckily for Once, it's far superior to the last-named Andrew Lloyd Webber misfire. Too bad it suffers in comparison to the first-named James Lapine-Stephen Sondheim classic. Jon Hartmere's efficient and humorous book imagines an alternate fairy-tale universe where the storybook characters lead off-stage lives when their narratives are not being read at bedtime to "real" little children. A cruelly critical taskmaster Narrator (briskly sharp Adam Godley) oversees the proceedings with an iron fist.
The trouble starts when Cinderella (brightly intelligent Briga Heelan) yearns for something more than the standard-issue happy ending. She and five other princesses meet weekly for "Scroll Club" (instead of Book Club, get it?) and commiserate over the monotony of their too-good-to-true marriages to Prince Charming (who turns out to be the same cheating cad, a dashing and drolly narcissistic Justin Guarini). Cinderella's identity crisis prompts a visit from a boisterous Fairy Godmother (brassy Brooke Dillman) who delivers a copy of Betty Friedan's The Feminine Mystique which stirs up all kinds of emotions and radical ideas among the fairy-tale folk.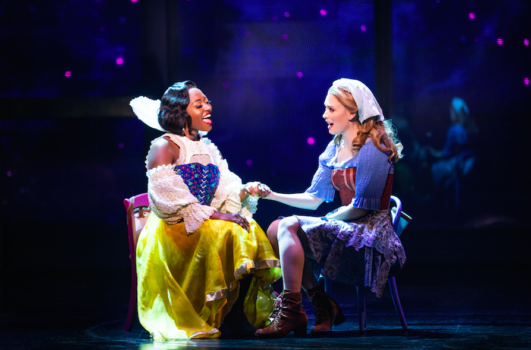 The fact that Friedan's revolutionary book is over 60 years old and that Lapine and Sondheim have already updated the Grimm Brothers' catalogue over 30 years ago gives this venture a dated feel. Even the obligatory gay male romance subplot between a courtier of the Prince and one of Snow White's taller dwarves seems like an item on a check-off list from a previous decade, though Ryan Steele and Nathan Levy handle the material with sweet delicacy. Surely Cinderella and her pals should be into the third or fourth wave of Feminism and Gay Liberation by now. Fortunately, the direction and choreography of the husband and wife team of Keone and Mari Madrid is slick, fast-paced and energetically modern and the cast is uniformly bubbly. (David Leveaux is listed as Creative Consultant, so it's not clear how much of the staging can be credited to him.)
In addition to those already mentioned, Aisha Jackson, Gabrielle Beckford, Salisha Thomas, Morgan Whitley and Lauren Zakrin display awesome pipes and give individuality and wit to the members of the Scroll Club. I particularly enjoyed Morgan Whitley's dry grumpiness as the Princess who lacks sleep because of a pea beneath a mountain of mattresses. Amy Hillner Larsen and Tess Soltau take full advantage of the nasty antics given to Cinderella's gleefully wicked stepsisters.
As their steely mother, Jennifer Simard steals the second act and much of the first. She makes this archetype of evil into a clench-jawed, suburban matron willing to stoop to any depth to get her daughters in front of the Prince. Her line readings are a study in understated malevolence and then she lets loose with a theater-rocking rendition of "Toxic" as she manipulates the Narrator into banishing her offspring's rivals. Costume and hair designer Loren Elstein gives her and all the other characters the perfect storybook chic style. Anna Fleischle's set is simple, elegant and evocative, transformed by Kenneth Posner's versatile lighting from cosy cottages to candlelit ballrooms to a rock stadium where tweens and adult theater fans can wave their complimentary luminous wristbands in celebration of a fun time in the theater.
Once Upon a One More Time — Opened June 22 for an open run. Marquis Theater, 210 W. 46th St., NYC. Running time: two hours and 30 mins., including intermission. Ticketmaster.