The workplace play is a tried and true template affording opportunities for dramatic conflict and comic interplay among staff and customers in a single setting. The formula has accommodated such diverse works as A Memory of Two Mondays, Superior Donuts, Glengarry Glen Ross, Skeleton Crew, Tabletop, Jitney, Steel Magnolias, Seared, and Clyde's. The Barber Shop film franchise is another example. Hit TV sitcoms of the genre have included Barney Miller, The Office, Cheers, Taxi, and The Mary Tyler Moore Show. Jaja's African Hair Braiding, Ghanian-American playwright Jocelyn Bioh's contribution to the job site oeuvre, is a rich, funny and moving entertainment. Though some familiar tropes and characters are employed, Bioh skillfully tells several specific stories seldom seen on Broadway in this lively, polished production brightly directed by Whitney White and produced by Manhattan Theater Club as part of its season at the Samuel J. Friedman.
Bioh's vital comedy-drama chronicles one very hot day in the titular Harlem hairstyling establishment where West African coiffeuses risk blisters and aching fingers to create elaborate, intricate masterpieces for their clients' tresses. The shadow of immigration woes hang over them as they gossip, joke, commiserate and counsel. Bioh makes several important and fiery statements about the impossible hurdles placed in the way of hopeful immigrants, but they come across as speeches rather than natural dialogue.
There are several recognizable plot devices. There's the daughter quietly chafing at her demanding mother's wishes for her to pursue a professional career when she'd rather follow her heart and go into a riskier field in the arts. Professional jealousy rears its head as a worker accuses another of stealing her customers. Marital troubles are rife as more than one braider complains of a straying mate. Then there's the most familiar plot element of all: the ornery, judgmental cynic who turns out to have a heart of gold.
The climax is also a trifle predictable. No spoilers but suffice it to say that there is a major event with so much build-up and with such high stakes that it doesn't take much theatrical intuition to guess that something will go terribly wrong.
Despite the potential for cliches, Bioh creates multi-dimensional characters in believable situations. The dialogue sizzles and the fiery cast studiously avoids stereotypes in their lively limning. Brittany Adebumola enchantingly delivers a long monologue on her trek from standing up to an abusive husband in Sierra Leone to determining her own future in the US. Rachel Christopher takes the role of her all-day customer and makes her into a sympathetic and compassionate listener.
As Jaja, the shop's owner, Somi Kakoma makes the most of her brief appearance, strongly declaring her passion for achieving citizenship and success and making the case for immigration reform. Dominique Thorne subtly conveys the conflicts of Marie, Jaja's daughter, who is caught in a web of parental expectations, class restrictions and fear of being deported. Zenzi Williams makes the constantly complaining Bea a funny, complex figure, Nana Mensah infuses the lottery-addicted, dance-loving Aminata with spark and Maechi Aharanwa has fun with the dramatic and ambitious Ndidi. Kalyne Coleman, Lakisha May and Michael Oloyede play multiple roles with flair, filling each one with zest.
David Zinn created the incredibly detailed set and Dede Ayite designed the colorful, character defining costumes. Jaja's shop may be a familiar one, but it's a snappy, joyful place to spend an hour and a half.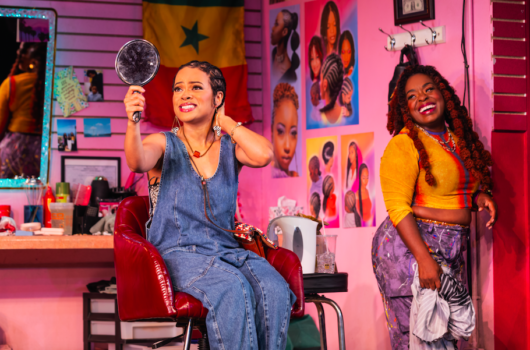 Jaja's African Hair Braiding: Oct. 3—Nov. 5. Manhattan Theater Club at Samuel J. Friedman Theater, 261 W. 47th St., NYC. Running time: 90 mins. with no intermission. Tickets.