Now that Jamie Lee Curtis has received a Golden Lion for Lifetime Achievement at the Venice Film Festival, I reflect on my relationship with her that has spanned over 40 years, and I congratulate her.
I first met Jamie in 1980, when I interviewed her for The Fog by John Carpenter, I then spoke with her numerous times for many of her movies and TV series, such as Perfect (1985) with John Travolta, A Fish Called Wanda (1988) with John Cleese, Anything But Love (1989), My Girl (1991), The Heidi Chronicles (1995), House Arrest (1996), Freaky Friday (2003), You Again (2010), Scream Queens (2015-2016), Knives Out (2019).
Most memorably in June 1988 I photographed Jamie on assignment for The Village Voice, on the rooftop of PMK, with the blessing of her publicist. I often met her at the Golden Globes, a celebration that she rarely missed, having been nominated seven times and won twice. She was always friendly and down to earth, with a bawdy sense of humor.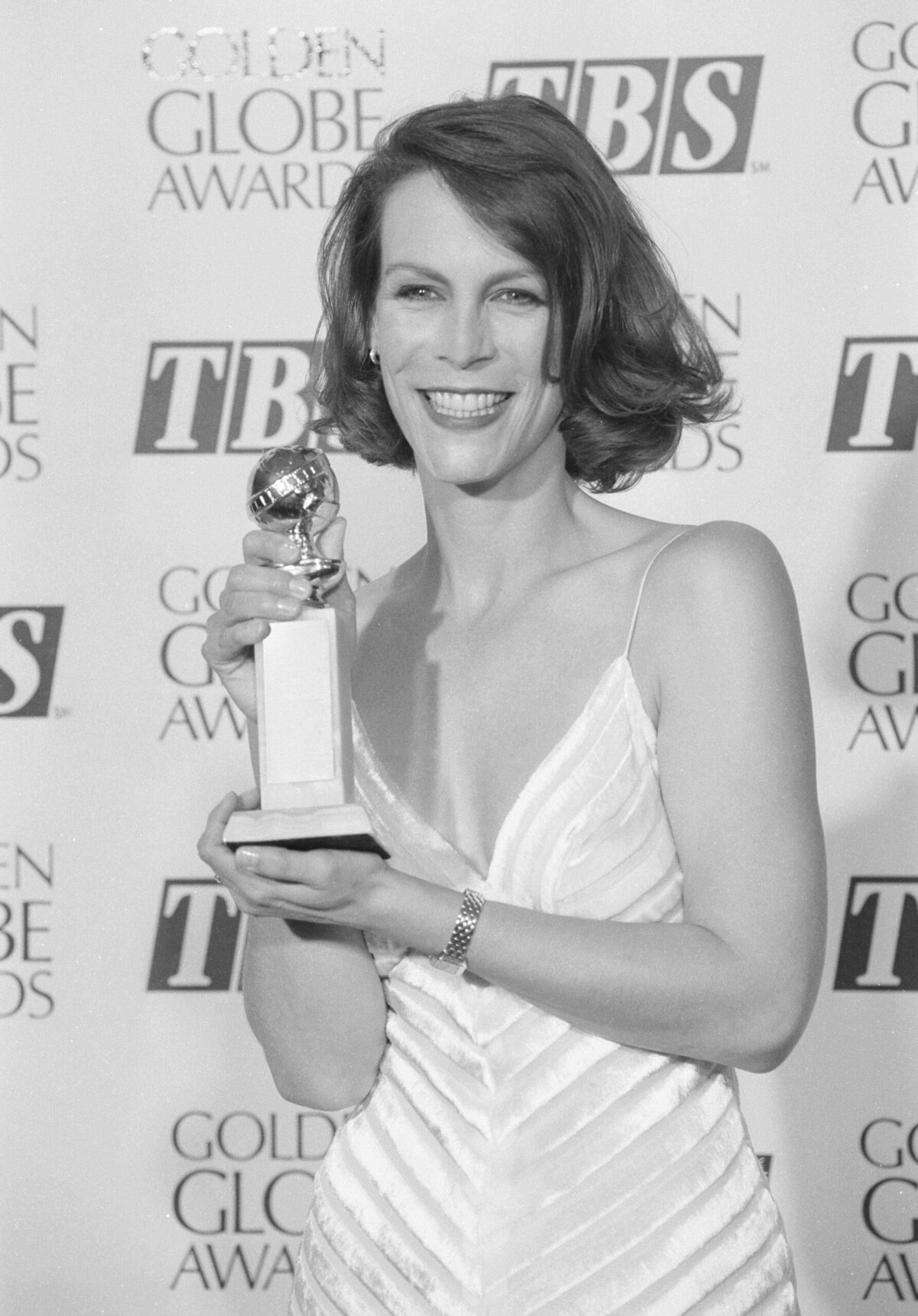 See her here in 1995 when she won Best Actress in a comedy for True Lies directed by James Cameron with Arnold Schwarzenegger.
And here in 1990 when she won Best Actress for the comedy TV series Anything But Love (1989-1992).
I met her husband Christopher Guest at the home of my ex-husband, Stuart Birnbaum, who had produced and co-written his comedy special Flakes in 1977. You may watch it at this link on the website for The Chicken Little Comedy Show, that I created in 2014 to remember our fun 1972 weekly production at KEMO-TV in San Francisco and the 1974 comedy special at KCET in Los Angeles, Beneath the War of the Worlds.
Jamie's father Tony Curtis had been my childhood crush. I'm not sure why, but maybe because I had seen him play the magician in Houdini (1953). I loved him in movies like Trapeze (1955) with Burt Lancaster and Gina Lollobrigida, Sweet Smell of Success (1957), The Defiant Ones (1958) with Sidney Poitier, Some Like It Hot (1959) by Billy Wilder with Jack Lemmon and Marilyn Monroe. In 2008 I read his autobiography American Prince: A Memoir.
I had seen Jamie's mother Janet Leigh in Psycho (1960) by Alfred Hitchcock starring my teenage crush Anthony Perkins.
In 1988 I wrote an interview with Jamie Lee Curtis for Elle, Italy, in 1990 I wrote her profile for the Italian film monthly Ciak, when I was their Los Angeles Correspondent from 1987 to 1994. Click here to see it.  I wrote more interviews with Jamie for the Italian publications Marie Claire, Gioia and Donna Moderna.
As a mother myself, I admire Jamie for writing a series of children's books such as Tell Me Again About The Night I was Born (1996), I rejoice at the news of the 2019 wedding of her daughter Annie, and I praise her support for her trans daughter Ruby.
To coincide with Jamie's award in Venice, on September 8, before the screening of Halloween Kills, sequel to her film debut in Halloween (1978) directed by John Carpenter, I edited for the Golden Globes website some quotes from an exclusive interview she gave to the journalists of the Hollywood Foreign Press in 1981, where she talked about her parents, and I selected a 1980 headshot from the extensive HFPA photo Archives that I curate.
Best wishes to Jamie and her family.

this is an ad space