Most updated adaptations of classic theater works deliver few fresh ideas or interpretations and usually elicit the response, "If it ain't broke, don't fix it. Just present the original and have done with it." But two current variations on oft-produced pieces prove the exception to this rule. Both & Juliet on Broadway at the Stephen Sondheim Theater after a smash run in London and The Seagull: Woodstock, NY presented by the New Group at the Pershing Square Signature Center, offer new insights for contemporary audiences without tearing down their source material.
The concept for & Juliet sounds like yet another bubble-headed, pop-infused jukebox musical: a feminist, 30-ish version of Anne Hathaway proposes a different ending of Romeo and Juliet to a hot, young version of her husband William Shakespeare. What if the heroine doesn't off herself after she discovers her lover has poisoned himself when he believes she is dead? The story follows Juliet's amorous adventures in Paris in the company of her sassy Nurse, non-binary best friend May, and her other best friend conveniently played by Anne. Willie Shakespeare also pops in playing various cameo roles, allowing the couple to debate which way the plot should go. Along the way, Juliet meets a new love interest with issues of his own and discovers her own voice and agency while belting out a series of girl-power ballads.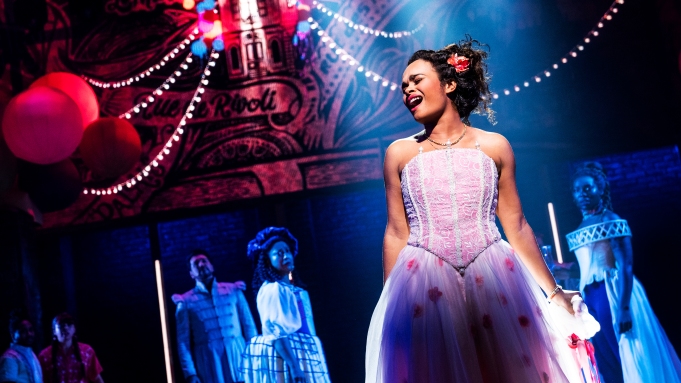 The book by David West Read, a writer and executive producer for Schitt's Creek, is cute, fun and provocative without being condescending. He raises legitimate questions about the Bard's original such as "Why would Juliet kill herself when she's only 14 and has the rest of her life ahead of her?" and "Is Romeo something of a drama queen?" The plot never feels like a clothes-line upon which to string a series of hits by the ultra-successful Max Martin whose oeuvre include favorites popularized by Katy Perry ("Roar," "I Kissed a Girl"), the Backstreet Boys ("I Want It That Way"), Justin Timberlake ("Can't Stop the Feeling") and Britney Spears ("Baby One More Time"). Read's riff feels fully-grown and not just a parody and Martin's blissful songs never feel shoehorned in, but explode with joy and express the characters' emotions and conflicts.
The characters are fleshed out and have their own motives outside of those provided by the Bard. As embodied by the vibrant Lorna Courtney, Juliet emerges as her own woman rather than an appendage of Romeo or the creation of the Bard. Betsy Wolfe and Stark Sands give full life and vocal strength to the battling Shakespeares.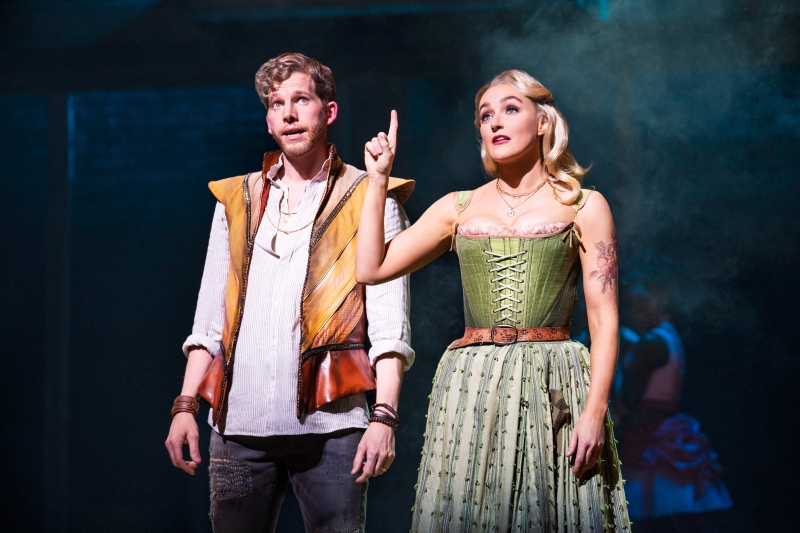 Paolo Szot and Melanie La Barrieare are delightfully droll as a pair of more mature lovers while Philippe Arroyo captures the conflicted spirit of Francois, Juliet's new boo, or beau as us old folks would say. The plot twists when Francois encounters May, Juliet's non-binary BFF who is played with sweet sass by Justin David Sullivan. Another complication arises when a figure from the past (charismatic Ben Jackson Walker) re-emerges on the scene. Three guesses as to his identity, but no spoilers here.
Luke Sheppard's direction is fast and bouncy, as is Jennifer Weber's infectious choreography. Paloma Young's clever costumes combine 21st century casual chic with Elizabethan sensibility as does Sutra Gilmour's romantic and fun set. & Juliet is a joyful combination of classic theater and pop rock concert.
Anton Chekhov's The Seagull has been adapted and/or updated on numerous previous occasions. In separate versions, Jeff Cohen and Emily Mann moved the complex portrait of actors and writers lounging and loving in the countryside from rural early 20th century Russia to the contemporary Hamptons. Tennessee Williams wrote a "free adaptation" called The Notebooks of Trigorin. Regina Taylor did an all-African-American modern version called Black Crow which played Broadway in 2004 while Aaron Posner deconstructed the script in his Stupid F*****g Bird which had numerous regional productions.
In The Seagull/Woodstock, NY, Thomas Bradshaw transports Chekhov's play to the Hudson Valley and infuses it with the sort of sexual frankness which marked his earlier works for The New Group such as Burning and Intimacy. The updated Arkadina and Trigorin (now Irene and William) view sex tapes on their I-phones and Nina now pleasures herself for the assembled guests as part of the avant-garde play written by Irene's son Kevin (originally Konstantin). The explicit dialogue doesn't come across as a jarring disruption but how these people would talk to each other given the erotic tinge of the times. The essence of Chekhov's detailed observations of literary and theatrical artists remains. It's still an incisive portrait of a group of confused individuals searching for love, meaning, and fulfillment.
Director Scott Elliott mines the comedy as well as the drama as these egotistical, flawed artists and wannabes clash over their passions. Parker Posey is dazzlingly riotous as the narcissistic Irene, full of herself and with no care for the considerations of her lover William (Trigorin), son, or friends. Nat Wolff is equally outlandish as her fledgling playwright offspring Kevin, dissolving in tears as the object of his adolescent affection Nina (a marvelously complex Aleyse Shannon) deserts him for his mother's boyfriend, the brilliant but emotionally aloof writer William (conflicted Ato Essandoh).   
The transgender actress Hari Nef captures the bitter disappointment, sharp, sarcastic wit and outsider status of Sasha (Masha in Chekhov), not-so-secretly in love with Kevin, but eventually unhappily married to the hapless schoolteacher Mark (appropriately suppressed Patrick Foley). David Cale and Bill Sage lend spice as old rakes and Amy Stiller and Damiel Oreskes battle amusingly as Sasha's dysfunctional parents.
Occasionally Bradshaw hits a wrong note as when William laments a reviewer comparing his work unfavorably to that of David Sederis which makes no sense since his fictional novelist writes in a totally different genre than the New Yorker humorist. Most of Bradshaw's updates are spot on, finding modern equivalents to Chekhov's details. Instead of Arkadina in a rage because there are no horses available to take her to town, Irene is infuriated because the only car available is too low-class for her glamorous image. Plus it's not electric which would be bad for her progressive credentials. Bradshaw skillfully recreates the complex web of relationships and artistic ambitions Chekhov weaved over a century ago. It's an intricate structure of individual strands, each strong and true, woven with humor and compassion.
& Juliet: Opened Nov. 17 for an open run. Stephen Sondheim Theater, 124 W. 43rd St., NYC. Running time: two hours and 30 mins. including intermission. Criterion Ticketing.
The Seagull/Woodstock, NY: Feb. 28—April 9. The New Group at the Pershing Square Signature Center, 480 W. 42nd St., NYC. Running time: two hours and 30 mins. including intermission. The New Group.

this is an ad space