Theater is the ultimate medium of the imagination, more so than film or TV. With the latter two, there is the potential to travel literally anywhere in the world (or the universe in fact), but the audience must work their minds to transform the four corners of the stage into the four corners of the earth. The stage provides more magical experiences than the ones offered before the large or small screens since you are a collaborator on making the trip and not just a viewer looking through the cinema camera lens.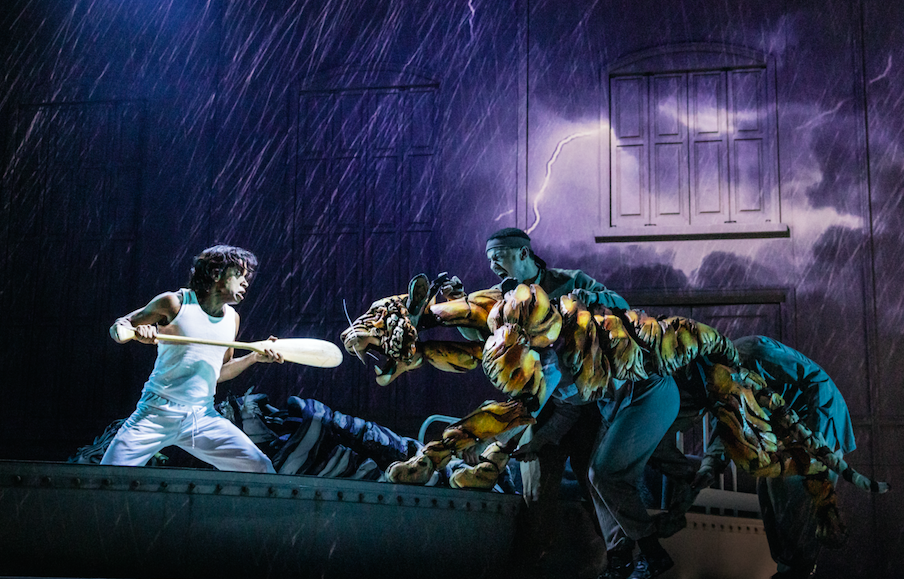 Two current productions take us on thrilling journeys employing metaphorical means and imaginary dialogue. Life of Pi at the Gerald Schoenfeld, adapted by Lolita Chakrabarti from Yann Martel's classic novel, chronicles the harrowing voyage of the title character, a charismatic, intellectually curious young East Indian, from a zoo in his native country to a lifeboat in the Pacific shared with a hungry tiger named Richard Parker to a hospital bed in Mexico. (This production arrives on Broadway after debuting in Sheffield, followed by an acclaimed, Olivier-winning run in London and a stint at ART in Cambridge, Mass.) Keith Bunin's The Coast Starlight, at Lincoln Center's Mitzi Newhouse, focuses on a sextet of strangers, each at the end of their respective ropes, sharing a coach car from Los Angeles to Seattle. Both works feature sojourns of self-discovery and sublime stagecraft. Directors, designers and cast combine to transport us emotionally and spiritually.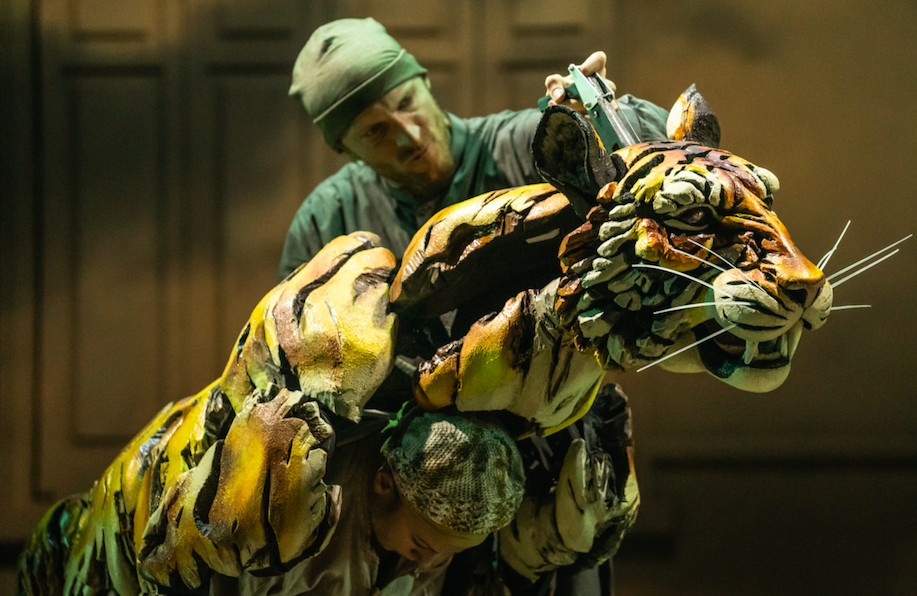 Pi is one of those novels that seemed impossible to bring to the stage not only because it features a menagerie of animals, but also because of its deep ruminations on philosophy, religion, biology and the nature of storytelling. Ang Lee won an Oscar for his inspired direction of the 2012 film version which used spectacular cinematic effects, but how could similar wizardry be accomplished in the theater? The main answer is provided by Max Webster's multi-dimensional staging, Tim Hatley's amazing globe-spanning set, and the incredibly lifelike puppet creations of Nick Barnes and Finn Caldwell. Pi ranks with Lion King and War Horse as Broadway's most memorable puppet shows.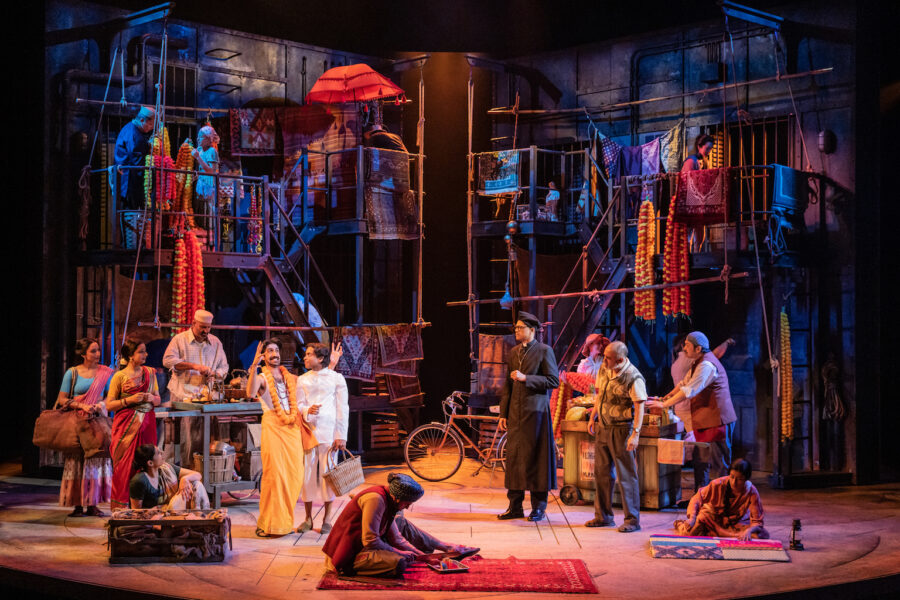 Chakrabati's contribution is just as vital. She compresses the action, paring down Pi's colorful backstory and framing the action as a flashback (In the novel, the author meets the protagonist who relates his tale). As the play begins, Pi (a magnificently complex and magnetic Hiran Abeysekera) is being interviewed by Mr. Okamoto (brusque Daisuke Tsuji, concealing seething emotions), an investigator with a Japanese shipping line, and Lulu Chen (ably played by understudy Celia Mei Rubin at the performance attended), an official with the Canadian embassy. They have come to question Pi, the sole survivor of the wreck of the freighter belonging to Okamoto's company. Through the magic of Hatley's set, Tim Lutkin's lighting and Andrzeg Goulding's video projections, we relive Pi's incredible story. His hospital room melts away, the bed becomes a boat, and the stage a vast ocean.
Pi and his family were transporting the occupants of their zoo to start a new life in Canada because of political unrest in 1970s India. After a storm at sea, Pi and the oddly-named tiger are the only ones left. Or are they? As the tale becomes more fantastic, questions of God, humanity and narrative are introduced and Pi's adventure takes on troubling ambiguities. What's real and what's imaginary? Just as in life, no clear answers are offered and we must ponder the intentions of God and his various manifestations.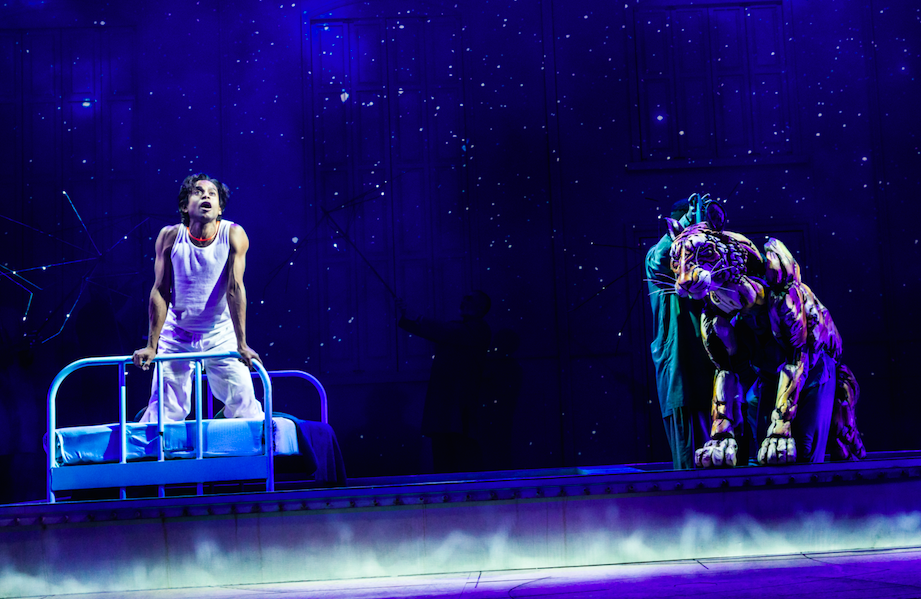 The ferocious feline, named after the hunter who captured him due to a clerical error, becomes a fully realized character as he and Pi fight for dominance and survival in the tiny lifeboat. Chakrabarti adds variety by introducing characters in Pi's imagination to debate him on religion, science and the nature of man versus animals.
In addition to those already mentioned, standouts in the excellent large cast include Brian Thomas Abraham's brutal French ship's cook, Rajesh Bose's domineering father, Mahira Kakkar's compassionate mother, Sonya Venugopal's whip-smart sister, Avery Glymph as the no-nonsense voice of a naval survival guide Pi reads, and the amazing ensemble who manipulate and bring the animal-puppets to life (the puppet movement is credited to Caldwell). This is a nourishing slice of Pi for the mind and the soul.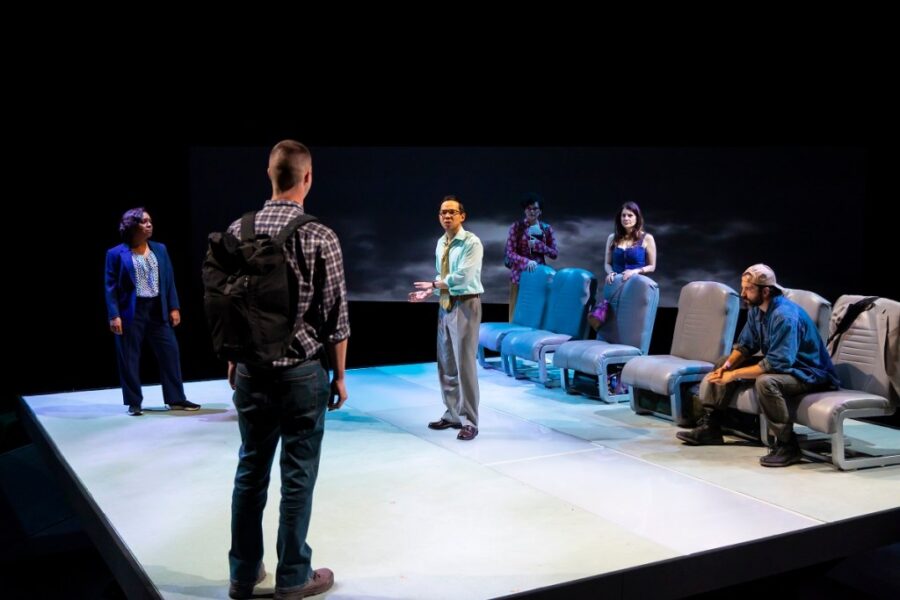 While not as spectacularly flashy as Life of Pi, The Coast Starlight is just as imaginative in its staging and thought-provoking in its dramaturgy. Playwright Bunin conjures a chance meeting on a 36-hour train ride between a group of strangers. In reality, they barely exchange a few words. But Bunin places them in an alternate dimension where they converse on what they might have said and done had they revealed their true selves instead hiding behind the barriers of civility. Director Tyne Rafaeli cleverly reconfigures the seats on Arnulfo Maldonado's flexible, revolving set in multiple combinations to reflect the shifting relationships among the passengers. Lap Chi Chu's lighting and 59 Productions' projections add to the transitions and transformations while Daniel Kluger's evocative original music resonates with impact.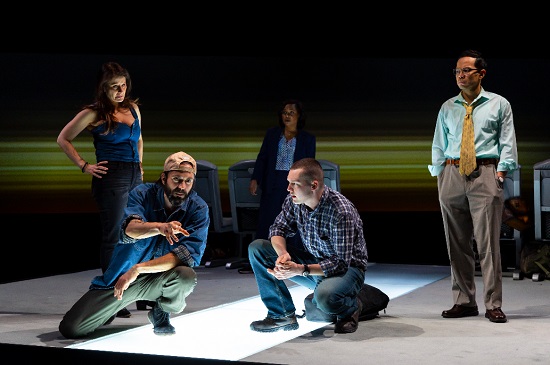 Each character is faced with a crisis and is making a figurative and literal trip to find their best possible next step. T.J. (emotive Will Harrison) has deserted his naval base and must chose between leaving the train to return before it's too late or living the life of a fugitive. Jane (charming Camila Cano-Flavia) is an animator with ambivalent feelings for her current boyfriend and a strong attraction for T.J. Veteran Noah (rugged Rhys Coiro) leads an aimless existence on a friend's boat and is visiting his ailing, senile mother. Sparkplug Liz (scene-stealing Mia Barron) is fleeing a catastrophic couples weekend. Alcoholic salesman Ed (volcanic Jon Norman Schneider) explodes with frustration over his shattered homelife and nowhere job. Loving Anna (tender Michelle Wilson) is returning home from identifying the body of her estranged junkie brother.
The format of random strangers coming together in a small common space is a familiar one. Thornton Wilder's novel The Bridge on the San Luis Ray, Lanford Wilson's The Hot L Baltimore, and Tennessee Williams' Small Craft Warnings are three examples that spring to mind. Fortunately, Bunin's variation on this theme is a rich and varied one. He paints each passenger with vibrant colors and telling details. Mia Barron's Liz is particularly memorable as she bursts into the car, ripping all manner of personal items from her bag and broadcasting the events of her chaotic weekend in a non-stop monologue into her cell phone. The loneliness of Ed's relentless hotel-hopping work life are made stunningly specific in Jon Norman Schneider's sorrow-infused performance. In my mind, I can still see the exotic cocktails he orders at the hotel bar, served in ceramic jars shaped like skulls.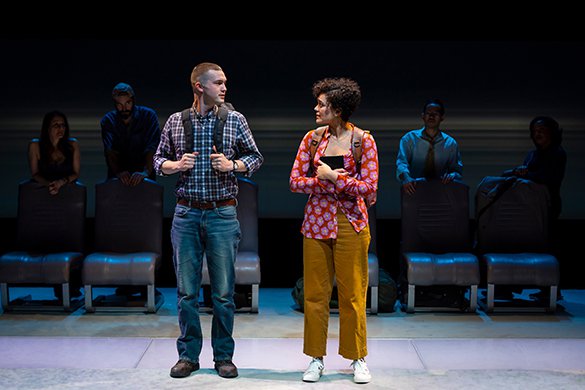 The action reaches a heart-stopping climax as T.J. must make a final decision and the other passengers lay out how harrowing and desperate a life on the lam would be. Then each traveller steps off the train and on with their lives. As with Life of Pi, the ending here is somewhat ambiguous. We don't know what will ultimately happen to each of the characters, but the point is to dramatize the journey that brings them to their current position. Bunin, Rafaeli and company do a masterful job of guiding us along the way, as does the team behind Life of Pi.
Life of Pi: March 30—Sept. 3. Gerald Schoenfeld Theatre, 236 W. 45th St., NYC. Running time: two hours and 10 mins. including intermission. www.telecharge.com.
The Coast Starlight: March 13—April 16. Mitzi Newhouse Theatre at Lincoln Center, 150 W. 65th St., NYC. Running time: 95 mins. with no intermission. www.telecharge.com.