Different love stories danced in downtown, at USC, in Hollywood, and in Northridge, contemporary dance festivals hits week 5 in West LA and debuts in Lincoln Heights, quartet variations in El Sereno, two-dimensional lithography goes live in Pasadena, a peek at next week, and more SoCal dance this week.
Live This Week
Taking A.I.M.
Two chances to experience the contemporary choreography from NY-based Kyle Abraham/A.I.M. in different works. First up at USC, the music of R&B legend D'Angelo provides the soundtrack for An Untitled Love considering self-love and Black love. Then, the dancing moves to Northridge where electronic music composed by Jlin's contemplation of Mozart's Requiem propels the West Coast premiere of Requiem: Fire in the Air of the Earth. Preview clip at the Soraya website. An Untitled Love at USC Bovard Auditorium, 3551 Trousdale Parkway, University Park; Wed., Feb. 15,  7:30 pm, free w/reservation at Visions and Voices USC. Also Requiem: Fire in the Air of the Earth at the Soraya, Cal State University Northridge, 18111 Nordhoff St., Northridge; Sat., Feb. 18, 8 pm, $39-94. The Soraya.
She can't look away
Week 5 of the Odyssey Dance Festival brings chorographer Suchi Branfman in Dancing Through Prison Walls in DATA or 7 ways to dance a dance through prison walls. A deeply thoughtful activist for prison reform, Branfman's latest is drawn from notes she kept of the havoc and deaths Covid wreaked inside prison. Branfman is joined by dancers Marc Antoni Charcas, Ernst Fenelon Jr., Mokhtar Ferbrache, Selina Ho, Amy Oden, and Tom Tsai. Odyssey Theatre Ensemble, 2055 S. Sepulveda Blvd., West LA; Fri. Feb. 10, 8 pm, Sat. Feb. 11, 2 & 8 pm., $25, $15 student. OvationTix. Complete list of festival performances and tickets at Odyssey Theatre.
New festival for new choreography
In addition to her choreography and directing her own troupe BrockusRED, another of Deborah Brockus' distinctive talents is her stamina giving visibility to LA-based dance companies, especially in performance series like the LA Dance Festival. Her latest effort is Still Moving, a seasonal series geared to developing and presenting new choreography. The debut of Still Moving #1 (Winter) presents new choreography over two evenings. Friday offers new works by Anthony Accedes (Akomi Dance), Jordan Saenz, Sean Greene, Brittany Delany, and Brockus. Saturday includes Janelle Burgess (Spectrum Dance Company), Charlotte Katherine (Charlotte Katherine & Co.), Ken Morris (Ken Morris Project), Maria Hoffman (Akomi Dance), Greene, Delany, and Brockus. At Brockus Project Studios, 618 B Moulton Ave, Lincoln Heights; Fri., Feb. 10, 8:30 pm, Sat., Feb. 11, 8 pm, $10 cash or venmo at door. Information at Brockus Project.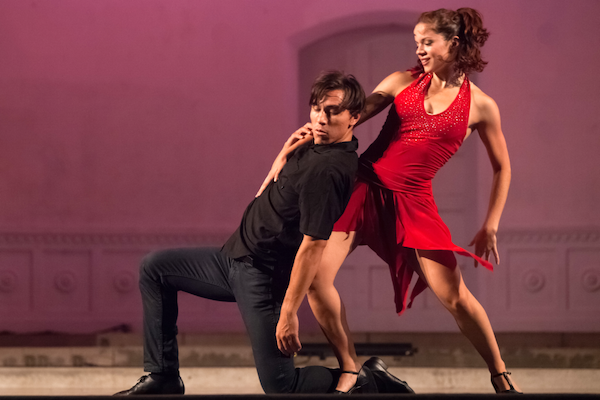 Shall they dance?
Dance classics from Fred Astaire, Ginger Rogers and his other movie musical partners are reprised as American Contemporary Ballet returns with a new edition of Astaire Dances. The show offers cocktails and refreshment options, especially on Valentine's Day, along with the recreated dance numbers. Details at ACB Studios, Two California Plaza, 350 S. Grand Ave., 28th Flr., downtown; Fri., Feb 10, 17 & 24 8pm, Sat., Feb. 11, 18 & 25, 5 & 8 pm, Sun.,12, 19 & 26, 2 & 5 pm, Tues., Feb. 14, 8 pm, $60-$130. ACB Dances.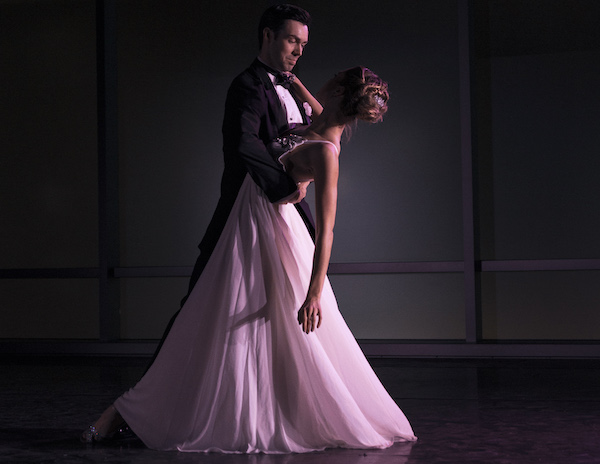 Four and more
New and remounted Quartets highlight this performance and gala from RGWW (Rosanna Gamson/WorldWide. Gamson and her dancers have been previewing the works, but this event brings things together. Details at the website. Stomping Ground LA, 5453 Alhambra Ave., El Sereno; Sat., Feb. 11, 6 pm, $25-$100.  Eventbrite.
Plus ça change?
In 2016, choreographer Christina Suarez created her fifth work exploring the concept of family. Inspired by stories from lesbian moms, gay dads, and LGBTQ parents, Suarez and her Suarez Dance Theater crafter Mother. Father. In an era with some expanded awareness, Suarez and her dancers reprise the work for a new generation. Los Angeles LGBT Center, 118 N. McCadden Pl., Hollywood; Tues., Feb. 14, 1 pm, free. Suarez Dance.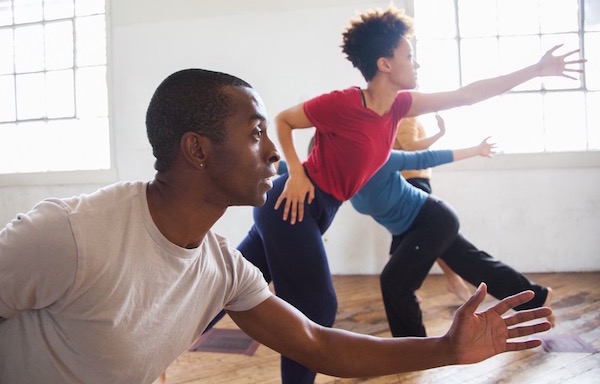 Rock, paper, scissors
In conjunction with the exhibition Ink, Paper, Stone: Six Women Artists and the Language of Lithography, Nancy Evans Dance Theatre performs Imprint. The work employs projection, props, fabric and costumes to bring two-dimensional lithography to life in three dimensions. Norton Simon Museum, Sat., Feb. 11, 5 pm, free w/registration and museum admission, tickets available at 4 pm. Norton Simon Museum.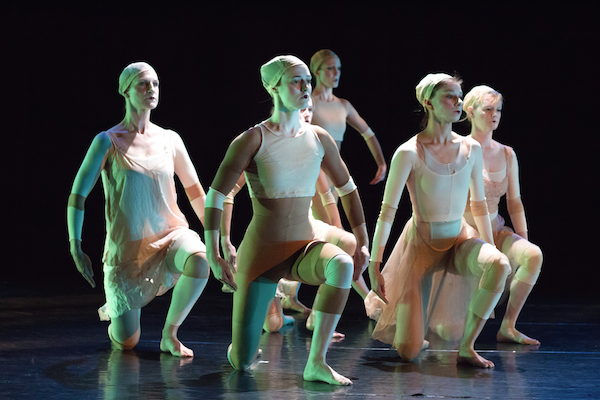 Figaro Fandango
In Act III, when the singers finally work out the plot's antics to get to the actual Marriage of Figaro, choreographer Kitty McNamee unleashes the dancers for a wedding fandango and a flower dance. Often LA Opera's go-to choreographer, including several of this season's operas, MacNamee recruited dancers Raymond Ejiofora, Katherine Highstrete, Jessica Gadzinski, and Nicholas Sipes to the stage for the six performances of Figaro over the next few weeks. Music Center, Dorothy Chandler Pavilion, 135. N. Grand Ave., downtown; Sat., Feb. 11, 7:30 pm, Thurs., Feb. 16 & 23, 7:30 p.m., Sun., Feb. 19 & 26, 2 p.m. $39 to $399. LA Opera.
Words on the last cards
The Obie award-winning duo Abigail Browde and Michael Silverstone aka 600 Highwaymen bring the final weekend of immersive performance under the distinctively unwieldy title A Thousand Ways (Part Three): An Assembly. Described as  experimental theater creations, each roughly one hour event draws on elements of dance, performance, and civic engagement as each audience of 16 people read from assigned cards before being drawn in further, becoming part of each singular performance. UCLA Royce Hall Rehearsal Room, Royce Hall, Sat.-Sun., Feb. 11-12, noon, 1:30, 3pm, 4:30, 6 & 7:30pm. $29.97. CAP UCLA.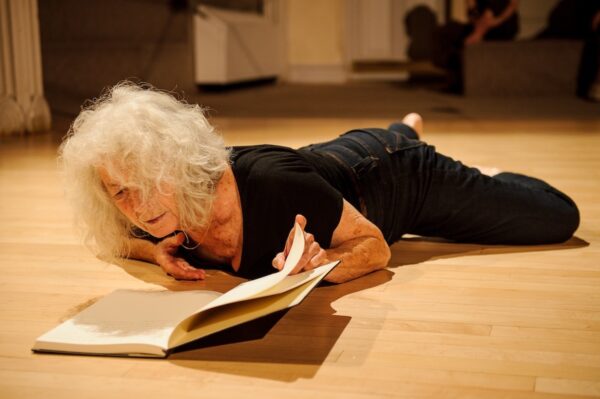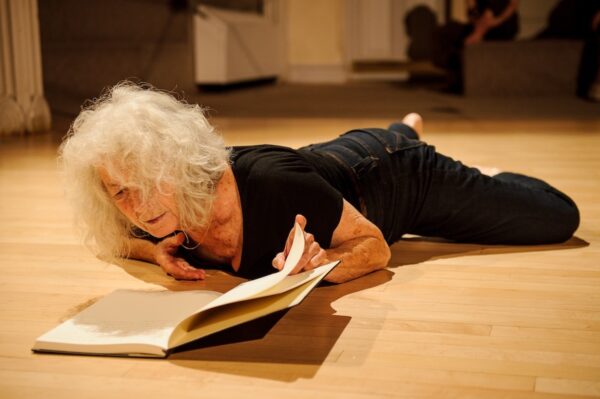 Post-Modern History, Live
Several of the notable figures who emerged from the Post Modern dance era centered at New York City's Judson Church in the 1960's left and came to SoCal. Rudy Perez and Simone Forti are among those NY transfers who became forces on the LA dance scene and now have éminence grise status here. Forti's oeuvre and the materials that fueled them are the focus of Simone Forti, the first museum exhibit to survey what she produced. The three-month exhibit includes live performances of Dance Constructions, one of her landmark works from 1961. Sarah Swenson, a known LA choreographer and long-time associate of Forti, acted as Performance Coordinator for this project and Forti's Dance Constructions presented throughout the exhibition, were staged by Carmela Hermann Dietrich. Hermann Dietrich and Forti have a relationship dating back to 1989 that includes improvised duets, the most recent of which, in 2017, was at Highways Performance Space.The exhibit also includes Forti's sculptures, videos, drawings, and notebooks. Dance Constructions at MOCA Grand Avenue (Museum of Contemporary Art), 250 S. Grand Ave., downtown; Exhibit runs to Sun., April 2. Performances of Dance Constructions performed Thurs., 3:30, 4:45, 6:00, & 7:15 pm, Sat. & Sun., 12:30, 1:45, 3:00, & 4:15 pm, throughout the exhibit run, free with timed museum admission. MOCA.
A Peek at Next Week
Cincinnati Ballet and Hubbard Street Dance Chicago at Laguna Dance Festival, Laguna Playhouse, Thurs.-Sun., Feb. 23-26, different times & programs. Thurs. rehearsal is free, other programs $60, $30 students. Complete program line up plus workshops etc. at Laguna Dance Festival.
Luminario Ballet at the Wallis, 9390 N. Santa Monica Blvd., Beverly Hills; Fri.-Sat., Feb. 17-18, 7:30 pm, Fri., $10 or pay what you can; Sat. $25-$79. The Wallis.
LA Dance Project and Bobbi Jene Smith + Or Schraiber at LA Dance Project Studios, 2245 E. Washington Blvd., Arts District; Thurs.-Sat., Feb. 23-25, 8 pm, $25-$45. OvationTix.
Pilobolus at Musco Center for the Arts, Chapman University, 415 N. Glassell St., Orange; Thurs., Feb. 23, 7:30 pm, $25-$58. Musco Center.
Step Afrika! At Luckman Fine Arts Complex, Cal State University Los Angeles, 5151 State University Dr., East LA; Sat., Feb. 18, 8 pm, $25-$50. Ticketmaster.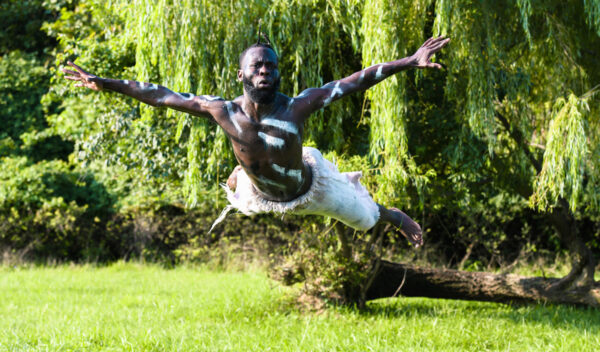 Benita Bike's DanceArt at the Malibu Library, 23519 Civic Center Way, Malibu; Wed., Feb. 22, 7 pm, free w/reservation at LA County Library.
UCI Dance Visions at the Irvine Barclay Theatre, 4242 Campus Dr., Irvine; Thurs.-Fri., Feb. 23-24, 8 pm, Sat., Feb. 25, 2 & 8 pm, $22-$26, $13 students. OvationTix.
Redondo Beach Ballet – Snow Queen at Redondo Beach Performing Arts Center, 1935 Manhattan Beach Blvd., Redondo Beach; Sat., Feb. 18, 6 pm  Sun., Feb. 19 3 pm $40-$50, $30 students. Redondo Beach Ballet.
SoCal Dance Notes
Global Day of Dance for Freedom — This Friday is just the launch day of an effort to show support of Iranian woman. In addition to many participating dance organizations (long list at Rumi With a View) supporting Iranian women protesting the government's oppression and the killing of a young woman accused of improperly wearing her headscarf and the 10-1/2 year prison sentence for a couple for dancing in public (she did not wear a headscarf). Individuals and other dance groups are invited to join starting on Feb. 10 but continuing thereafter. Suggestions for posting short videos in support are at the website. View a short promo at YouTube. Videos can be posted for Feb. 10 (and after) at @rumiwithaview on Instagram and @rumiwithview on Twitter.
Max the access
A new Music Center program, Dance Extension (DANCEx), offers dance students discounted tickets to Music Center dance performances, invitations to dress rehearsals, and talks with dance professionals. Details at Music Center.