As the roller-coaster New York theater season of 2021-22 races to its finish, shows are opening on and Off-Broadway with alarming frequency. Some have delayed inviting critics due to COVID outbreaks among the cast, making the logjam around award eligibility cut-off dates even more hectic (both the Tonys and the Drama Desks have delayed announcing their nominations because of these complications). The latest plethora of shows caught includes a trio of musicals ranging from audaciously different to cliched but entertaining to historically accurate and fascinating, plus two uncategorisable items of varying merit.
The startlingly different one is a show I never thought would make it to Broadway. Michael R. Jackson's A Strange Loop was a critical and audience smash when it played a limited run at Playwrights Horizons in 2019 and subsequently won every award going including the Pulitzer Prize and the New York Drama Critics Circle Award for Best Musical. With such credentials, a Main Stem transfer would normally follow, but Jackson's inventive autobiographical work focuses on a black, gay, plus-sized aspiring theater writer working on a show about a black, gay, plus-sized aspiring theater writer working on a…etc. etc. Jackson's brutally frank script and score include numerous graphic references to gay sex and equally raw use of the "n" word in its exploration of the protagonist's sexual and racial identity. There's even an elaborate parody gospel number where the chorus repeats "AIDS Is God's Punishment" as Jackson's rageful scream against the church's rejection of the gay community. Not your usual Broadway fare. But this riotous and uninhibited portrait of a young man seeking his voice against a backdrop of homophobia and low self-esteem shines with wit and compassion.
Jackson's free-form, riotous book and sparkling score follow Usher (an appealing and versatile Jacquel Spivey in one of the most memorable Broadway debuts in recent memory) as he toils in the ironic position of usher at The Lion King while he works on his musical theater piece, searches for love in all the wrong places, and struggles with his unaccepting family and his inner thoughts, played by a superb ensemble of six (L. Morgan Lee, James Jackson, Jr., John-Michael Lyles, John-Andrew Morris, Jason Veasy and Antwayn Hopper). This sextette embodies everything from Daily Self-Loathing to Agent Fairweather to Supervisor of Sexual Ambivalence and all the members of Usher's dysfunctional family (named for Lion King characters.) Morrison is particularly moving as Usher's religious mother, skirting away from stereotypes though he is playing a drag parody character. Spivey is a charming and adorable lead, balancing Usher's desperation with a bubbly enthusiasm. Watch his tour-de-force solo rendition of all the figures in a satire of a typical Tyler Perry movie.
Stephen Brackett's production is essentially the same as it was at Playwrights Horizons, except it's tighter and better paced. Whether this radical and unashamedly black and queer work makes it at the Lyceum remains to be seen, but A Strange Loop is a breath of new and fresh air on Broadway.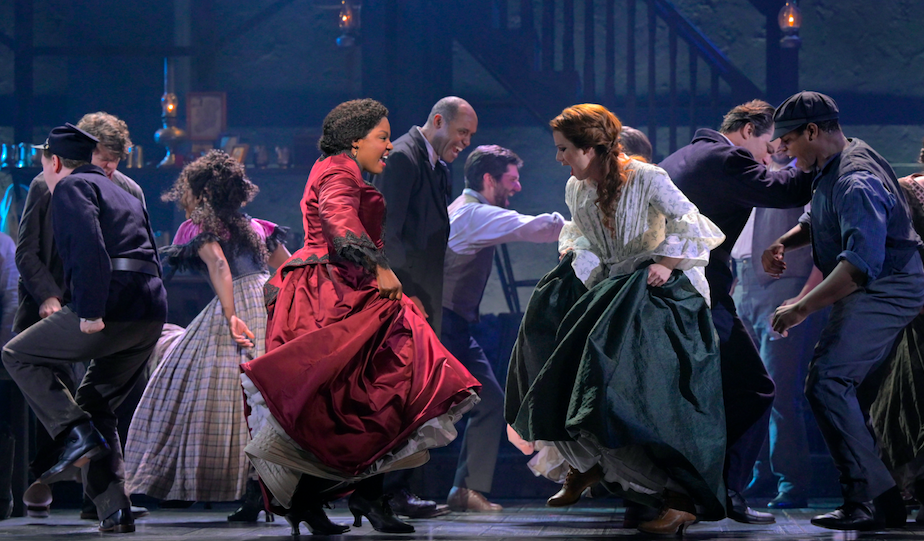 The cliched but entertaining piece is Paradise Square, an attempt at an American version of epic melodramatic European tuners like Les Miserables, Phantom of the Opera, and Aspects of Love. Set in the notorious Five Points neighborhood of Civil War-era Manhattan, the soapy book by Christina Anderson, Craig Lucas, and Larry Kirwin (three authors is always a bad sign) romanticizes poverty and crams in enough plot for several Netflix mini-series. Without going into too much sudsy detail, the story centers on the title establishment, a lively dive where runaway slaves, free African-Americans, Irish immigrants, corrupt politicians and the famous songwriter Stephen Foster in disguise as a desperate drunk converge in a celebration of 21st century woke-ness as the draft riots rock the rest of the city. The Paradise Square denizens emerge scarred but unscathed in their diverse enlightenment. The score by Jason Howland (music) and Nathan Tysen and Masi Asare (lyrics) is pleasant enough, incorporating some of Foster's tunes orchestrated into modern styles, and Moises Kaufman's staging proficiently keeps the seemingly endless action moving on Allen Moyer's complex period set.
A highlight is the spectacular choreography by Bill T. Jones, Garret Coleman and Jason Oremus. The latter two are credited with Irish and Hammerstep choreography. Jones presumably contributed the majority of the story-related numbers, each of which is filled with specific character-revealing movement. The Irish step dancing and the Hammerstep movement are equally enthralling. Not surprisingly, two of the most eye-catching cast members are in dance heavy roles—A.J. Shively and Sidney DuPont as a recent Irish arrival and a runaway competing for their share of the burgeoning American dream on the Paradise's dance floor. When these two go head to head, sparks fly.
Even brighter than the dancers and the melodramatic material is Joaquina Kalukango in the lead role of Nelly O'Brien, the African-American owner of Paradise Square. She brings a fiery passion to a familiar character—a feisty, no-nonsense entrepreneur with a heart of gold. With soaring vocals and truthful limning, she almost single-handedly transforms a sadly routine and overcrowded show into a honest depiction of social upheaval and the struggle for inclusion in a changing America.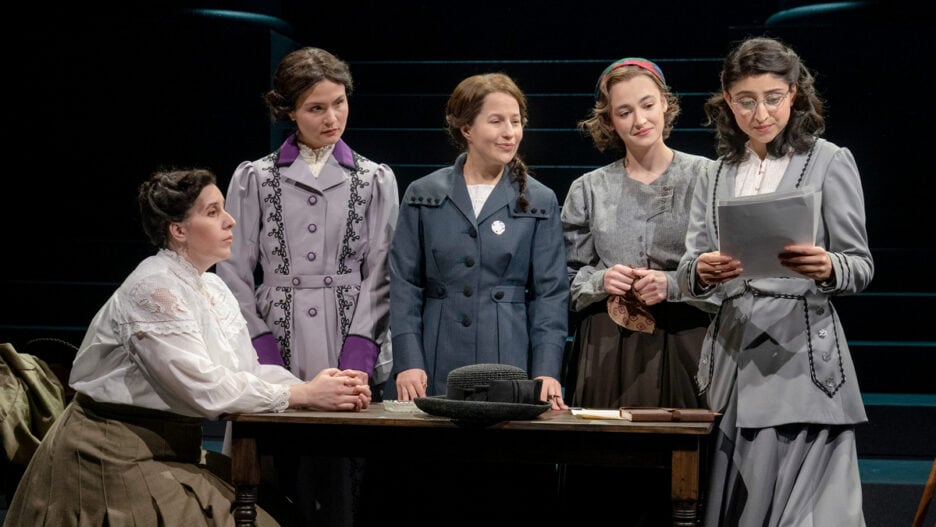 While Paradise Square doesn't quite succeed in its historic and theatrical goals, Shaina Taub's Suffs, an ambitious musical on the Women's Suffrage Movement, brings off this difficult assignment with aplomb, conviction and economy. Though the show does have several surface resemblances to a certain smash hit historical musical, namely Hamilton, Suffs is a fascinating and compelling portrait of a political conflict on a huge canvas. The cast includes 24 ethnically diverse actresses playing multiple roles of both genders.
The Hamilton similarities are many. Both shows originated at the Public Theater; are sung-through; feature book, lyrics and music by the same person who is also playing the lead role of a fiery revolutionary (Taub is a blazing and determined Alice Paul), and the villain is a buffoonish authority figure given hilarious specialty numbers. Rather than a pompous pop-singing King George III, Suffs' antagonist is a vaudevillian, soft-shoe dancing President Woodrow Wilson (Grave McLean in a delightful comic turn).
In addition to her charismatic performance, Taub has written a varied and tuneful score with individual styles for each of the many figures—and there are enough to stock a PBS documentary series. The main conflict is between two leaders of the Suffrage campaign, the youthful, fearless Alice Paul and the conservative, diplomatic Carrie Chapman Catt (a steely Jenn Colella). There is a parallel split between African-American leaders Ida B. Wells (magnificently majestic Nikki M. James) and Mary Church Terrell (dignified Cassondra James). There are numerous additional character threads woven into this colorful tapestry including that of crusaders Inez Milholland (dynamic Phillipa Soo), Doris Stevens (endearing Nadia Dandashi), Ruza Wenclawska (dashing Hannah Cruz), and Lucy Burns (comic Ally Bonino), wealthy benefactress Alva Belmont (big-voiced Aisha De Haas), and Wilson associate Dudley Malone (delightfully awkward Tsilala Brock in a convincing male role).
Leigh Silverman's seemingly effortless direction allows the audience to keep the various characters and events straight and lets various plots flow smoothly. Natasha Katz's lighting and Mimi Lien's unit set resembling the steps of the Capitol aide with the seamless transitions in this near-perfect example of multiple story-telling. History comes alive in Suffs.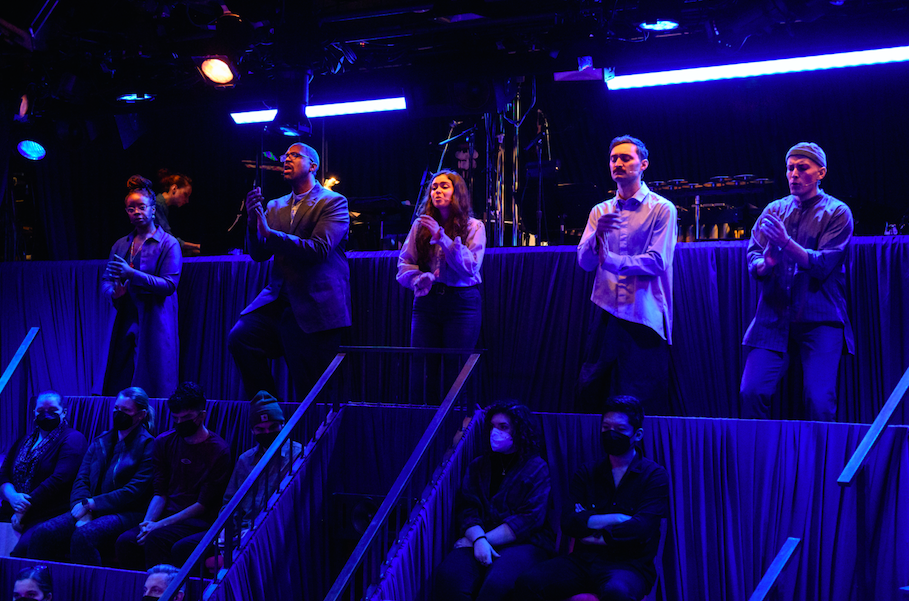 The two unique theatrical experiences offer some mild entertainment. Heather Christian's Oratorio for Living Things from Ars Nova features lovely music and admirable sentiments on peacefully maintaining our place in the universe, but the plotless piece, sung partially in Latin by a marvelous cast of 18 crammed into a tiny playing area at the Greenwich House, left me dazed and confused. The libretto handed out to audience members doesn't help much. The text has something to do with time, memory, and microbiology, all set to luscious music by Christian. Director Lee Sunday Evans keeps things moving, but this Oratorio sailed over my head.
The Cirque du Soleil-like adaptation of the classic The Little Prince at the Broadway Theater also soared above my head, but not nearly enough. Anne Tournie's colorful production features diverting acrobatics, video projections, and modern dance but lacks the charm and substance of Antoine de Saint-Exupery's allegorical interplanetary fable. This is a light bubble, soon to pop earlier than expected when it closes May 8, months before its original planned closing date. Fun for the kids, but the grown-ups should try A Strange Loop or Suffs.
A Strange Loop: Opened April 26 for an open run at the Lyceum Theater, 149 W. 45th St., NYC. Tue 7pm, Wed 2pm & 8pm, Thu 7pm, Fri 8pm, Sat 2pm & 8pm, Sun 3pm. (Check website for schedule changes.) Running time: 100 minutes with no intermission. $49—$250. www.telecharge.com.
Paradise Square: Opened April 3 for an open run at the Ethel Barrymore Theater, 243 W. 47th St., NYC. Running time: two hours and 40 mins. including intermission. $39—$250. Tue 7pm, Wed 2pm & 7:30pm, Thu 7pm, Fri 8pm, Sat 2pm & 8pm, Sun 3pm. www.telecharge.com
Suffs: April 6—May 29. Public Theater, 425 Lafayette St., NYC. Tue—Fri 7:30pm, Sat 1:30pm & 7:30pm, Sun 1:30pm & 7:30pm. Running time: two hours and 45 mins. including intermission. www.publictheater.org.
Oratorio for Living Things: March 30—May 15. Ars Nova at the Greenwich House, 27 Barrow St., NYC. Running time: 90 mins. with no intermission. www.arsnovanyc.com.
The Little Prince: April 11—May 8. Broadway Theater, 1681 Broadway. Tue—Thu 7pm, Fri 8pm, Sat 2pm & 8pm, Sun 1pm & 6:30pm. Running time: one hour and 50 mins. including intermission. $59—$199. www.telecharge.com
Feature photo: James Jackson Jr., Jason Veasey, John -Michael Lyles, Jaquel Spivey, L Morgan Lee, John–Andrew Morrison, and Antwayn Hopper in A Strange Loop. Credit: Marc J. Franklin