Though it's called Clyde's and a photo of a devilishly grinning Uzo Aduba (Emmy winner for Orange Is the New Black) in the title role is on the Playbill cover, she is not the focus of Lynn Nottage's funny and moving new play (presented on Broadway by Second Stage at the Helen Hayes Theater). Clyde is the tyrannical proprietor of a truck-stop sandwich shop in rural Pennsylvania and though she sizzles and scalds the stage whenever Aduba explodes into Takeshi Kata's superbly detailed kitchen set, costumed by Jennifer Moeller in an outrageously flashy wardrobe, the center of the play is Clyde's staff of four ex-cons.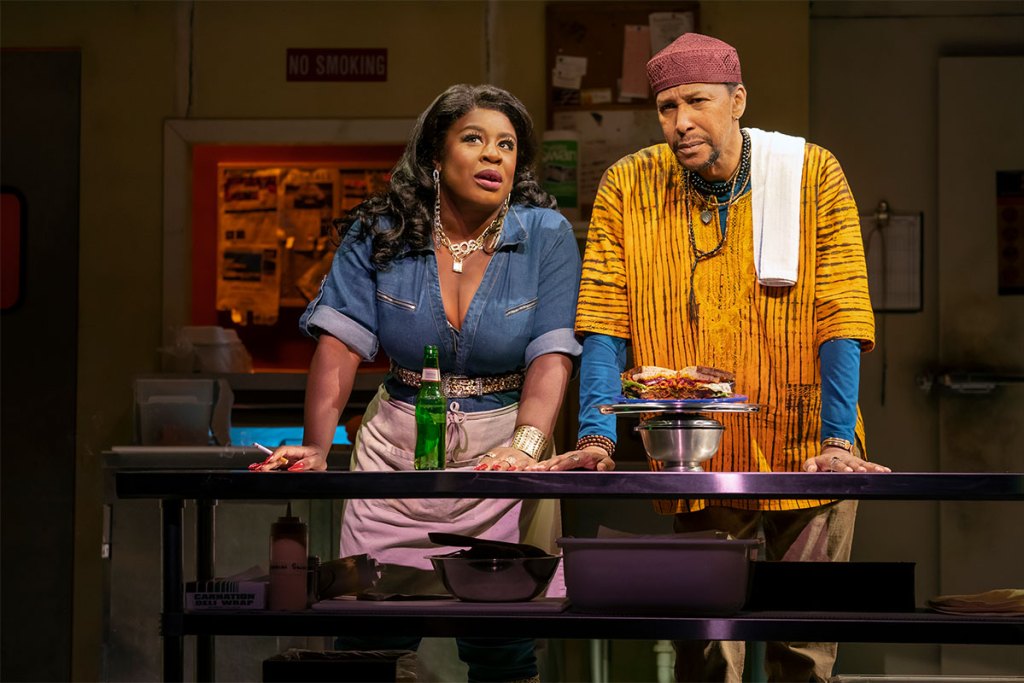 As played by a superb ensemble, the chefs come across as a damaged lot of former felons, striving to navigate the tumultuous waters of post-prison life. Nottage gives them dimension and humanity and the actors give them reams of subtext. The common bond between these fascinatingly real working-class stiffs is the search for the perfect sandwich and a devotion to the culinary arts in order to lift themselves out of their various emotional and psychological traps.
Montrellous (an empathetic Ron Cephas Jones) is a sort of spiritual mentor to the group. After having served years in prison for a drug rap of which he was innocent, this kitchen Yoda dispenses advice on life and food. Prep-cook Letitia (deeply emotive Kara Young) juggles caring for a special-needs child and fending off an abusive ex. Grillmaster Rafael (very funny Reza Salazar), a quirky clown who was arrested for holding up a bank with a BB gun, must cope with drug addiction and his hopeless attraction for Letitia. Newbie Jason (solid and subtle Edmund Donovan), fresh out of the slammer and covered in racist tattoos, is just trying to keep his head down as he attempts to eradicate his violent past while living hand to mouth in a campsite.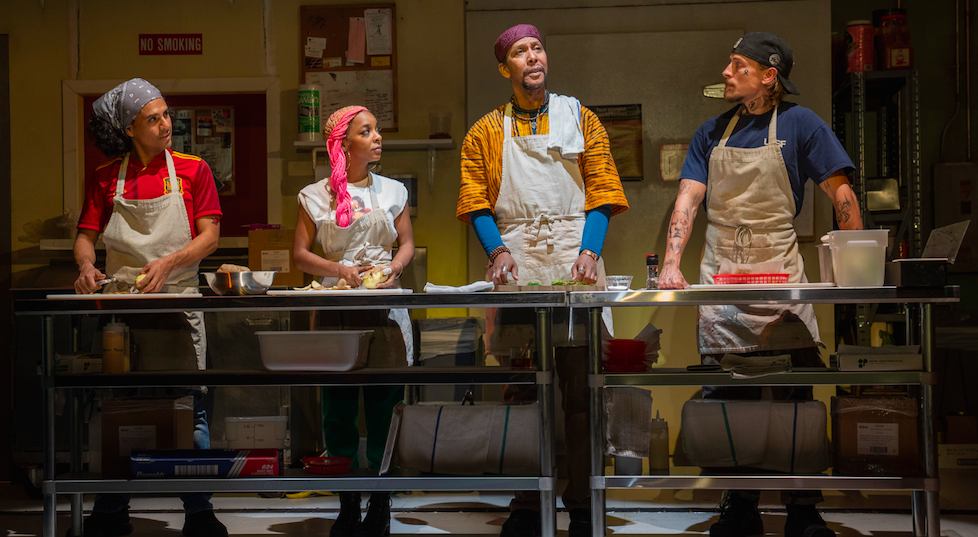 The boss Clyde wants no part of Montrellous' quest for sandwich nirvana. An ex-con herself and deeply in debt to sinister, off-stage mob forces, she rules over her employees with an iron fist. She's not above sexually harassing her male workers, beating or berating all of them. She constantly reminds them she can replace them with a snap of her fingers because no one else will hire them. Just churn out the food as fast and cheaply as possible, she roars while flicking ash from her ever-present cigarette. This basic conflict between art (gastronomic aspirations) and commerce (profit at all costs) is the play's engine and source of humor and pathos. Clyde hovers over them like a threatening hawk as they sneak ingredients out of the supply refrigerator and experiment with spices, condiments and meats to create an ecstatic taste experience. Director Kate Whoriskey, Nottage's collaborator on her Pulitzer-Prize winning plays Sweat and Ruined, provides a kinetic slam-bang production, aided by Christopher Akerlind's versatile lighting. The recipe of timing and reaction makes the almost cartoonish cat-and-mouse game between Clyde and her staff a perfectly finished dish.
The only flaw is that Clyde remains a mystery while we know all about the other characters. We never learn about her past transgressions that have transformed her into a monster and why turning her establishment into a decent tourist spot rather than a truckers' dive would cause her investors to turn to drastic measures against her. Aduba is a delightfully horrible boss, but Clyde's would be a more satisfying meal if we had a more fully-realized Clyde.
Nov. 22—Jan. 16, 2022. Second Stage at the Helen Hayes Theater, 240 W. 44th St., NYC. Tue 7pm; Wed 2pm & 7pm; Thu 7pm; Fri 8pm; Sat 2pm & 8pm; Sun 3pm (check schedule for holiday week performances). Running time: 100 mins. with no intermission. $59—$149. www.2st.com.