You know you're in trouble at a production of Macbeth when the three witches look like they're about to start a cooking class at a suburban shopping mall. That's what greets audiences at the Longacre Theater in the half-hour before Sam Gold's bizarro interpretation of the Scottish Play. This highly-touted staging, starring Daniel Craig (the big screen's most recent James Bond) and the acclaimed Irish-Ethiopian actress Ruth Negga, doesn't seem to trust the audience to take Shakespeare straight. Like his overstuffed King Lear featuring Glenda Jackson from a few seasons back, Gold's take on the Bard's tale of overweening ambition and imaginary daggers, panders to the lowest common-denominator crowd and has way too much going on.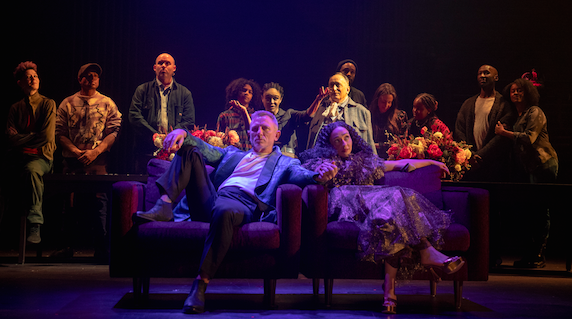 Let's start with those crunchy-granola witches. Maria Dizzia, Phillip James Brandon and Bobbi MacKenzie, along with two other sorcerers (Che Ayende and Eboni Flowers), form a coven of five rather than the usual three. On Christine Jones' bare-bones set, they stand behind a kitchen cart with mixing bowls and utensils, seeming to prepare some pasta rather than a magical brew. They are costumed by Suttirat Larlarb in dowdy modern attire, resembling members of the PTA and are just about as scary. Once the lights go down, Michael Patrick Thornton who will later play Lenox and happens to be in a wheelchair, greets the patrons like a warm-up comic before a sitcom ("How we doin' tonight?"). Then he tells a few jokes about how it's supposed to be unlucky to mention the play's name and elicits mild laughter. It's almost as if Gold is afraid to let this classic work just unspool by itself. He has to gimmick it up. He seems to be saying, "A 2022 Broadway audience can't comprehend the Bard. I have to make them comfortable first with friendly witches, a few jokes, and a little comic schtick first."
The dumbing-down continues with the entrance of Duncan, the king whom Macbeth murders to gain his crown. Played with clownish pomposity by Paul Lazar, he sports fat padding which you just know is loaded with fake blood sacs to spurt all over the stage when the Thane stabs him. After the murder, Lazar strips off his padding and transforms into the low-comedy Porter, all while dropping character, talking to the audience ("This is the weird part of the show" he says) and taking us completely out of the play.
You'll notice I haven't mentioned either of the leads until deep into the review. That's because Gold smothers Craig and Negga as well as Shakespeare's theme of boundless lust for power with all this distracting business. The tricks also include having the ensemble walk around with fog machines to create a spooky atmosphere. When they play demons or ghosts, the fog producers are tucked under rain ponchos, so it looks like they are exuding supernatural mist.
Fortunately, once the Macbeths have risen to the throne, Gold settles down and lets the plot gather force and momentum without the silly side stuff. After intermission, Craig's muscular performance emerges and we see the character's struggle between his conscience and the corruption of absolute power. Likewise, Negga's ruthless interpretation of Lady Macbeth becomes clearer and her guilt-wracked sleepwalking scene is appropriately haunting. The battle sequences and the final confrontation with Macduff (a masterful Grantham Coleman) have real danger and strength (David S. Leong is credited as "Violence Director"). Also on the plus side, Maria Dizzia delivers truthful limning as Lady Macduff, the Doctor and one of the Witches and Amber Gray is convincing as a female Banquo. But Gold has split the play in half. The opening is an unsuccessful attempt at a Macbeth-Lite and the latter portion is a serious staging, but it's too late. He's introduced too many unnecessary concepts and incomprehensible bits for his version to be an integrated whole.
Another Broadway star vehicle has lower ambitions than delivering an accessible production of an oft-seen Shakespeare classic, but is much more successful at entertaining its audience for its entire two and a half hours. Mr. Saturday Night at the Nederlander is an old-fashioned musical comedy, with an emphasis on the latter. Based on the 1992 film starring and co-written by Billy Crystal, this hilarious and somewhat soapy tuner has all the elements for a long run on Broadway: laughs every couple of seconds; slick, efficient staging by John Rando; a marquee name in Crystal; and just enough sentiment to balance the schtick.
Crystal is in splendid form repeating his role as Buddy Young, Jr., an over-the-hill, Don Rickles-like comic whose huge ego has sabotaged his career and damaged his relationships with his wife, his brother-manager, and his daughter. The veteran comedian combines stand-up, sketch work, and character delineation for a stand-out job. He can sing and dance decently as well.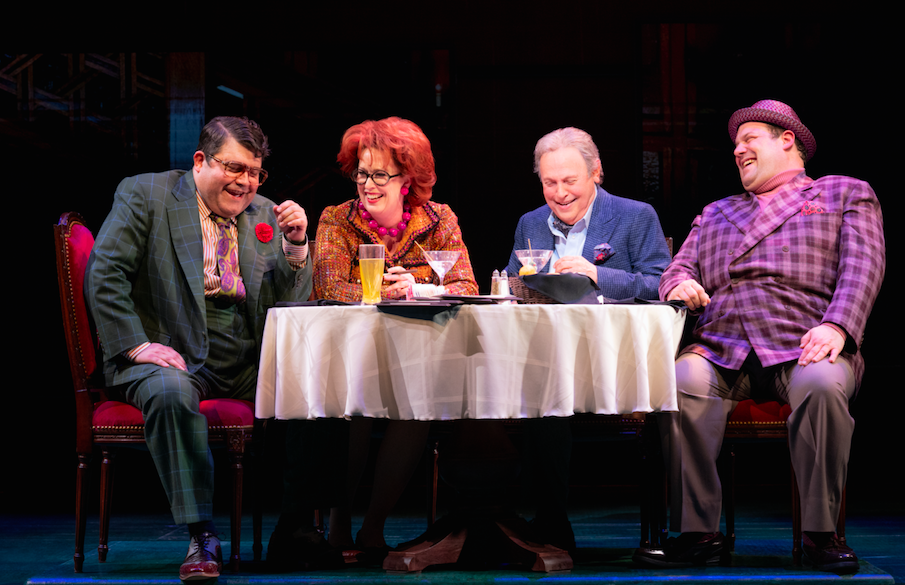 The book by Crystal, Lowell Ganz and Babaloo Mandel, is not a simple retread of the trio's original screenplay. There are several accommodations for the stage and changes which trim and streamline the story. The writers have fun with the conventions of musical theater and allow for Crystal to do extended stand-up bits in flashbacks and in the present as Buddy plays senior centers at 11 in the morning. ("You know you're old when someone says they love your alligator shoes and you're barefoot" is a typical zinger.) Another improvement is the addition of a Greek chorus of second bananas who play the supporting cast on Buddy's 1950s variety TV show and all the other parts needed (Jordan Gelber, Brian Gonzalez and Mylinda Hull are delightfully versatile.) The daughter's role is beefed up and Shoshanna Bean pours pathos and passion into her depiction of disappointment of a show-biz child growing up in the shadow of a famous parent.
Not every change is for the better. The ending is now overly saccharine with everything coming up roses for Buddy, whereas in the film the conclusion was more ambiguous. But that's one of the few flaws in this otherwise tight and sparkling package. The score by Jason Robert Brown and Amanda Green is clever and punchy. Green's wordplay is particularly intricate and hilarious. Scott Pask's flexible set, along with Jeff Sugg's video and projection design and Paul Tazewell and Sky Switser's character-defining costumes transport us to dozens of locals from the Catskills to the Friars Club to TV studios and apartments, from the 1950s to the 1990s.
As Buddy's long-suffering spouse, Randy Graff feelingly conveys her unstinting support and her anger at Buddy's crabbiness. She has been somewhat shortchanged with only one solo, a comic ode to escape called "Tahiti," but Graff makes the most of it. The moving David Paymer repeats his Oscar-nominated role of the put-upon brother from the film with the right combination of gentle humor and emotive depth. Chasten Harmon is bubbly and enthusiastic as Buddy's new agent.
At the performance attended, Crystal chatted with the audience and took questions after the curtain call. Unlike the breaking of the fourth wall in Macbeth, this direct communication with the attendees was an extension of the production—Crystal's warm embrace of the crowd—rather than a departure from it, one of the many flaws in Sam Gold's uneven staging.
Macbeth: April 28—July 10. Longacre Theater, 220 W. 48th St., NYC. Schedule varies week to week. Running time: two hours and 45 mins. including intermission. $35—$499. www.telecharge.com.
Mr. Saturday Night: Opened April 27 for an open run. Nederlander Theater, 208 W. 41st St., NYC. Tue—Thu 7pm, Fri 8pm, Sat 2pm & 8pm, Sun 2pm (check website for schedule changes). Running time: two hours and 30 mins. including intermission. $69—$179. www.ticketmaster.com.