There are some stunning images and moving moments in Robert Icke's massive modern adaptation of Aeschylus' Oresteia, playing in repertory with Hamlet at the Park Avenue Armory. But this nearly four-hour marathon indulges in too much extraneous dialogue and lacks the relentless, gripping action of the companion Shakespearean production.
This is a stunning undertaking and there is much to be admired here. The staging is rapid and kinetic, but unlike Icke's psychologically deep Hamlet, the connection with the material is cool and academic rather than visceral.
In addition, Icke's adaption of the ancient Greek trilogy depicting the endless cycle of slaughter in the House of Atreus, can be somewhat muddled in spots. For those who did not take History of Theater 101, the plays follow a series of murders in the family of Agamemnon, a leader of the Greeks as they prepare for war with the Trojans. Agamemnon sacrifices his young daughter Iphigenia in return for the gods to send strong winds for his navy to defeat Troy. Subsequently, his wife Klytemnestra slaughters her husband after he returns from the war. For good measure, she also bumps off Cassandra, the Trojan princess Agamemnon has brought home as a trophy. Then Klytemnestra's children Electra and Orestes do away with mom. Orestes does the actual slaughter, egged on by sis. In the end, Orestes must face the judgement of the Furies for his crime.
As with Hamlet, Hildegard Bechtler's sleek set and costumes and Tim Reid's crystal-clear video design place us in modern times but the characters still depend on ambiguous omens from the gods to craft policy and conduct their lives—and deaths. At first, the engine driving the plot seems to be the traumatized Orestes (an arresting Luke Treadaway) unburdening himself of the entire sordid mess to a therapist (compassionate Kirsty Rider). But projected supertitles documenting messages and weapons as "Exhibits" and time stamps with the exact moment each of the several victims' expiration, suggest we are in a CSI-type mini-series. There's also the prophet-oracle Calchas (appropriately spooky Michael Abubakar) making announcements before each intermission for the audience to "be upstanding" as if we were in a British courtroom. Plus it's not clear if Electra is real or a figment of Orestes' imagination. Very confusing.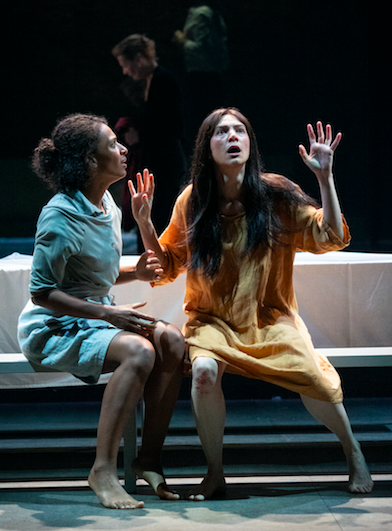 In another parallel with Icke's Hamlet, the author-director brings in several themes appropriate for a contemporary setting. These include the public good versus the individual, the role of religion in public life, and how politics can destroy a family.
He also introduces the theme of feminism as Klytemnestra (the stunning Anastasia Hille in a fiery performance) defends her actions with the justification of a mother and a woman protecting her children. There's also a particularly affecting moment when the enraged Klytemnestra confronts Agamemnon (complex and fascinating Angus Wright) on his devotion to the gods over his family. "Why don't you just call the gods what they really are? Power and money," she bluntly states. But too often these ideas are drowned in a sea of words or, to mix metaphors, Icke hits us over the head with them. Towards the end, an offstage voice of authority, about to pass judgement on Orestes, intones "This house is all of us." Kinda obvious.
Despite the blurry messaging and over talkative scenes, Icke does deliver a stunning series of stage pictures and sequences. Iphigenia's death is presented like a modern assisted suicide in starkly clinical detail with a nurse present, and forms requiring signatures before a fatal dose of poison is administered. It's shocking in its matter-of-factness. Then as soon as the child passes, a blast of cyclonic wind demolishes the quiet and scatters dozens of photographs of soldiers whose lives will be impacted by the coming war. (Several of these pictures blew into the audience and could be examined during intermission.) In another memorable milieu employing breathtaking juxtaposition, the innocent little girl Iphigenia (beautifully played by Elyana Faith Randolph at the performance attended) sweetly sings the Beach Boys' peppy "God Only Knows" just before she is led to her death. Tom Gibbons' eerie sound design and Natasha Chivers' haunting lighting add to the atmosphere of doom and dread.
Fortunately, the acting is on par with the stellar heights reached by the Hamlet company. Not surprising since many of the actors such as Wright, Rider, Treadaway, and Abubakar are in both shows. There's also Hara Yannas' shattered Cassandra, Tia Bannon's jittery Electra, and Peter Wight's coldly conflicted Menelaus. This Oresteia is an intriguing enigma, but there's too much going on for it to be as completely absorbing and revelatory as its sister Shakespearean offering.
Oresteira. July 26—Aug. 13. Park Avenue Armory and Almeida Theater at Wade Thompson Drill Hall, Park Avenue Armory, 643 Park Ave., NYC. Schedule varies (runs in repertory with Hamlet). Running time: three hours and 40 mins, including two intermissions and one pause. $45-$199. www.armoryonpark.org.
Feature photo: Peter Wight and Angus Wright in Oresteia. Credit: Joan Marcus