Melissa Etheridge was the rock queen of longing in 1980s and '90s with soulful yearning ballads like "I'm the Only One" and "Come to My Window." Her sandpaper voice caressed her lyrics producing a tender ache. In addition to her chart-topping music career, she has become an activist for climate change and LGBTQ rights, a breast cancer survivor, and supporter of research to end opioid abuse. She relates her event-packed life story as well as delivers devastating performances of her hits (and songs of others) in Melissa Etheridge: My Window, a hybrid concert and autobiography, at the Circle in the Square after an Off-Broadway run at New World Stages.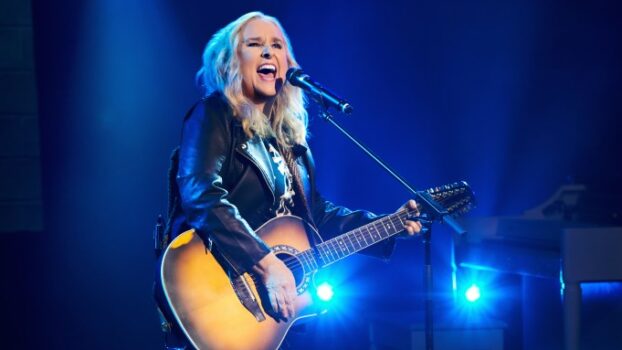 Staged with style and pace by Amy Pinkham and co-written by Etheridge and her wife Linda Wallem Etheridge, My Window takes us on a wild trip through the stages of the star's life, punctuated by her songs. From her childhood in Leavenworth, Kansas (where there were a lot of prisons and captive audiences for her performances) and her peripatetic early days in music, playing gigs in restaurants and bars to her triumphs as a Grammy and Oscar winning singer-songwriter, Etheridge gives us her full story. She is a natural storyteller, full of self-deprecating humor and insightful self-reflection. She not only accompanies herself on a series of guitars but also plays nearly an entire orchestra of instruments. There are also blow-out renditions of Janis Joplin's "A Piece of My Heart" and "On Broadway" by Barry Mann, Cynthia Weil, Jerry Leiber and Mike Stoller. The only other performer is the versatile Kate Owens. Listed as The Roadie, she silently moves props and acts as a host of supporting characters, conveying their essence with telling brief expressions and gestures.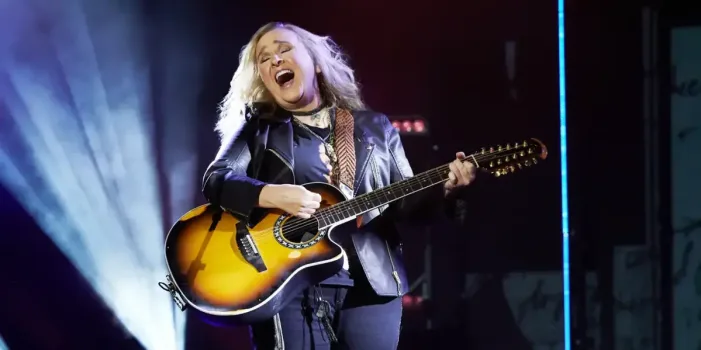 Abigail Rosen Holmes' spectacular lighting and Olivia Sebeswy's vibrant video design fill the stage with detailed images and variety. Set designer Bruce Rodgers has reconfigured the Circle In the Square space so Etheridge can easily walk off the stage and into the audience, connecting directly with theatergoers. The selection of music to accompany the narrative works well, particularly as Etheridge recounts her mother's furious repressed reaction to her early lesbian romances. (Rather than directly confronting her, Melissa's mother left her a note saying she was no longer welcome in her own home.) This section is interspersed with a moving rendition of "Nowhere to Go," a plaintive lament for outsiders in small-town America, isolating in late-night parking lots and driving alone past Walmarts. In another deeply moving sequence, a funny, zestful depiction of Etheridge's exploration of shamanistic practices is suddenly interrupted by a blackout and the revelation that her son has died of an opioid overdose. She is unsparing in recounting this tragic incident and in exposing the additional rougher patches of her romantic and personal life. Messy break-ups with two spouses (one of whom is coyly referred to as "The Movie Star's Wife") are recounted with wit.
The only segments which caused reservations were Etheridge's glowing reviews of her psychedelic drug experiences. These come across as over enthusiastic pharmaceutical sales pitches. There is even a self-mocking sequence satirizing informational films where Etheridge explains the advantages of such drugs while Owens holds a series of printed signs and peppy elevator music plays. Even with humor, these testimonials feel more than a bit forced. Other than this caveat, My Window is rocking, revealing, and intense, simultaneously an exciting performance and a visit with an intimate friend.
Melissa Etheridge: My Window — Sept. 28–Nov. 19. Circle in the Square Theater, 1633 Broadway, NYC. Running time: two hours and 30 mins. including intermission. telecharge.com