Merry Wives, Jocelyn Bioh's adaptation of Shakespeare's bawdy comedy of laundry baskets and bedroom antics, is a significant event not because of its slight whimsy, but because it marks a return to live theater after nearly a year and a half of COVID restrictions. This first production at Central Park's Delacorte Theater since the shuttering of stages due to the pandemic in March 2020 is a celebration of the power of theater to unify a community and needs to be cheered for that. The show itself is fun and silly, perfect for a light summer frolic.
Shakespeare's Merry Wives of Windsor is a frothy romp, originally prompted by Queen Elizabeth I's request of the Bard to see the jolly knight Falstaff from the Henry IV plays in love. The resultant comedy is a riotous farce as the corpulent, vain Falstaff is mocked and abused by the objects of his amorous designs, the comely Mistresses Ford and Page. Bioh and director Saheem Ali have transposed the setting from rustic 1600s Windsor to a contemporary Harlem enclave of African immigrants (The realistically gritty and detailed sets are by Beowulf Borritt and Dede Ayite designed the fabulous costumes ranging from tribal fantasies to striking fashions.)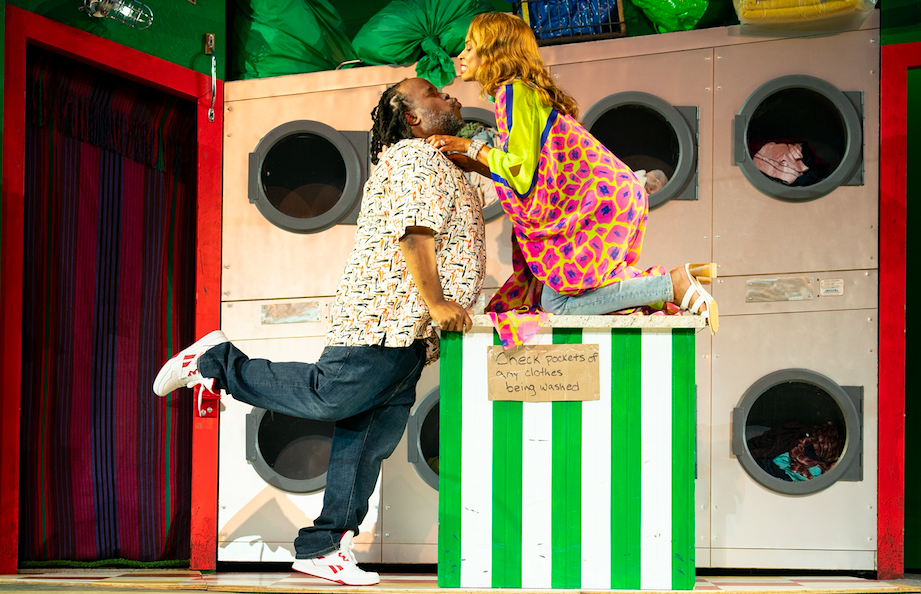 Falstaff is now a rascally "playah" given spark and spunk by Jacob Ming-Trent who even incorporates vocal riffs from Dreamgirls in his delightfully outsized performance. Apart from substituting some contemporary references for Elizabethan colloquialisms, Bioh's main changes are monologues for Falstaff and Mistress Quickly, his go-between, here called Mama Quickly. After his unsuccessful attempts at seducing the titular ladies, the bedeviled roisterer Falstaff addresses the audience in modern speech, explaining that after a year of isolation, you can't really blame him for wanting to have a little fun with the titular ladies. Mama Quickly, played with sass and brass by Shola Adewusi, is given a political speech referencing Black Lives Matter and racial representation in her invocation to the citizens of Windsor—or Harlem—who are disguised as fairies in order to torment Falstaff.
In addition, the subplot of the courtship of Ann Page (Abena, a plus-sized actress who gives the role a fetching charm), the daughter of Mistress Page and her husband, has been given a gay twist. One of Ann's many suitors, and her true love, is now a lesbian (MaYaa Boateng, dignified and determined, she also skillfully doubles as the comic servant Simple). There is a hint of homophobia as Ann's father angrily rejects her female lover, but all is resolved happily in the end.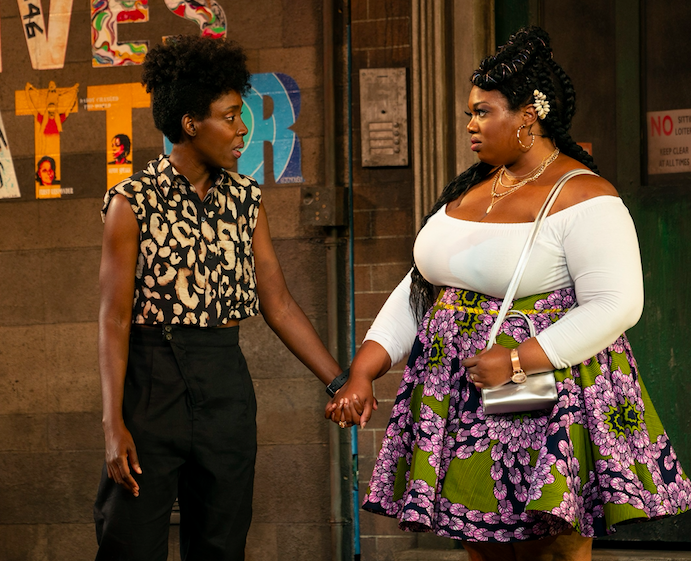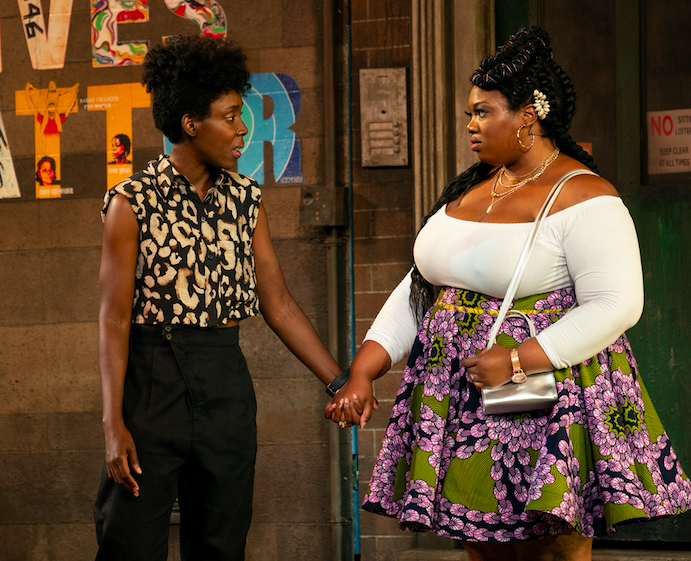 The slender frame of Shakespeare's comedy does not easily bear the weight of these serious issues. Bioh also incorporates themes of class, cultural identity and feminism, and they don't always fit snugly into the proceedings. But the main point of the show is to have fun and return to the joy of gathering together in the pastoral community setting. Ali's rollicking production provides plenty of yucks and the company endows their characters with reality as well as humor. In addition to the those already mentioned, Susan Kelechi Watson and Pascale Armand deliver the lion's share of laughs as the no-nonsense title wives. Director Ali introduces them to us with a bold, fan-waving walk, accompanied by Farai Malianga's vibrant drum composition. These ladies will not put up with Falstaff's nonsense or the jealous ravings of Master Ford (Gbenga Akinnagbe in an inspired depiction of the green-eyed monster).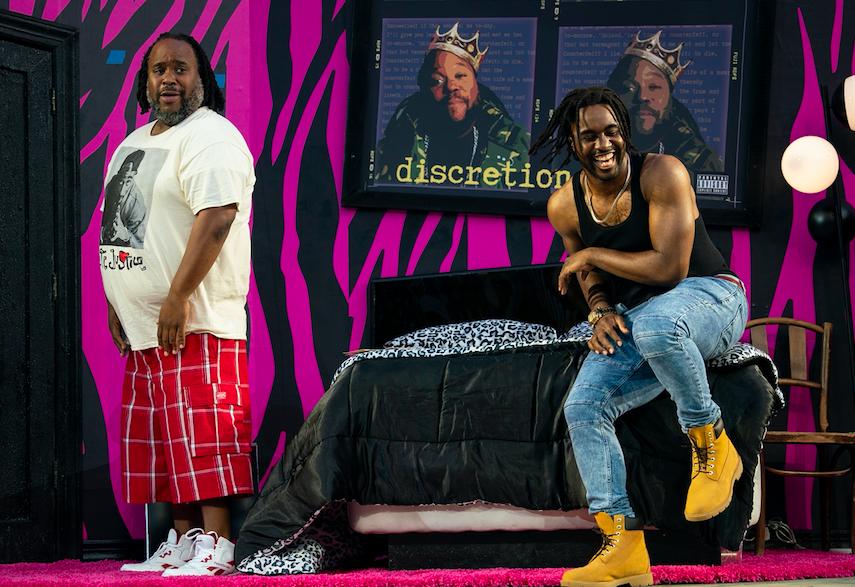 Kyle Scatliffe is a masterful Master Page. Philip James Brannon as Pastor Evans and Julian Rozzell Jr. as Shallow spar buffoonishly. Joshua Echebiri surprisingly doubles as the shy Slender and the macho Pistol. David Ryan Smith stops just short of stereotyping the flamboyant Dr. Cauis in a riotous turn.
As Falstaff tells the audience, "It's been a long, hard year. Couldn't go to the clubs. Couldn't hit up the bars. Been stuck in the house just eating snacks and watching Netflix. Bored outta my goddamned mind." It's so marvelous to return to Central Park and celebrate the joy of live theater with a fun, summer show like Merry Wives.
Aug. 9—Sept. 18. The Public Theater/Free Shakespeare in the Park at the Delacorte Theater, Central Park at W. 81st., NYC. Running time: 110 minutes with no intermission. Free admission. Visit www.publictheater.org for information on vaccination status and masking policies.