Before Jamie Lloyd's minimalist and strangely powerful revival of A Doll's House, Henrik Ibsen's prophetic proto-feminist masterpiece, begins, audience members at the Hudson Theater are treated to the spectacle of Oscar-winning Jessica Chastain sitting in a simple chair on a revolving turntable. As Chastain is spun slowly around, she fixes the audience with a cold stare. Many whip out their camera-phones to take videos or pictures, as if she were an art exhibit. This pre-show photo op reinforces Ibsen's theme of society treating women like dolls or objects. Chastain is objectified by the audience just as Ibsen's heroine Nora is objectified by her condescending husband Torvald. The year of the play (1875) is superimposed above Soutra Gilmour's stark, bare setting to remind us that such sexism has been around for a long time and it hasn't gone completely away.
What follows is a bare-bones yet densely-packed staging of a reliable classic. Apart from a few chairs, there is no scenery and no props. Nora's children are prerecorded voices. Co-costume designers Gilmour and Enver Chakartash have dressed the cast in basic black. Apart from Torvald's explosion of anger when his middle-class world may be crumbling, the actors speak in whispers. Lloyd has stripped the play to its essence, a stark journey of a woman discovering her identity apart from the male-dominated society she inhabits. What starts as a somewhat forced melodrama about blackmail becomes a searing manifesto of women's liberation a century before the modern movement took hold. Nora appears to be a feather-headed housewife, beholden to a powerful spouse who has just gained a high position at a local bank. But we gradually discover she has committed forgery in order to save his health. When an equally desperate victim of institutional inequity named Krogstad threatens her and Torvald wilts under the pressure, she breaks free and emerges as an individual, renouncing her domestic bonds.
Lloyd's precise, elemental staging and Amy Herzog's idiomatic update of the script gives us Nora's story with no frills or distractions. The power struggle between the characters becomes clearer as when Nora and Krogstad battle for space on one chair and Torvald's shadow threatens to engulf Nora (Jon Clark created the noir-ish lighting).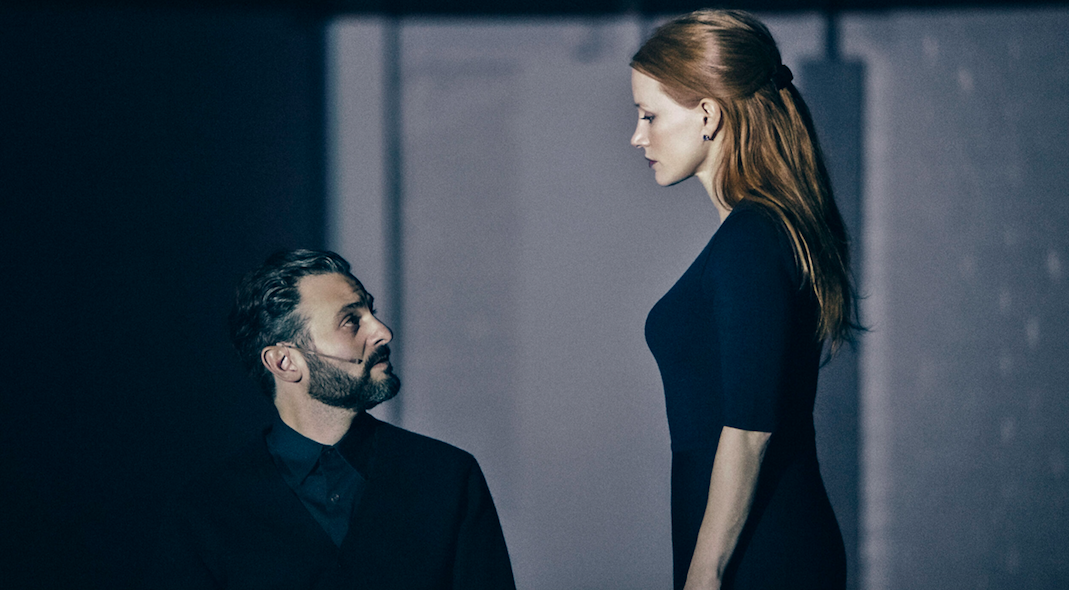 The acting is just as raw, basic and intense. Nora is usually played as a giddy, clueless child until her big speech in the last act and then suddenly she becomes Superwoman. Chastain chooses to exhibit Nora's strength and courage from the beginning of the play so that her transformation from doll-baby to independent feminist pioneer is not so jarring. This Nora is a multi-faceted woman with a different personality for each of the men in her life. With Torvald, she is the childish sprite, dancing for her daddy's approval. With Dr. Rank, she is a sly, fun-loving seductress. With Krogstad, a fierce combatant willing to try any means to save her reputation. Chastain conveys all these Noras in a dazzling performance.
Arian Moayed's Torvald is a petty tyrant, tantrum-prone brat, and finally a crawling supplicant as Nora discovers her true strength. Okieriete Onaodowan finds the humanity in the blackmailng Krogstad and Jesmille Darbouze displays the toughness and compassion of Kristine, Nora's girlhood friend who must make her own way in a man's world and eventually finds love with Krogstad. Michael Patrick Thornton, an actor who uses a wheelchair, is well-cast as Dr. Rank, whose failing health does not reflect his rakishness. His scenes with Nora have an unexpected flirtatious spark. Tasha Lawrence makes the most of the small part of Anne-Marie, Nora's nanny, also a victim of society's disapproval.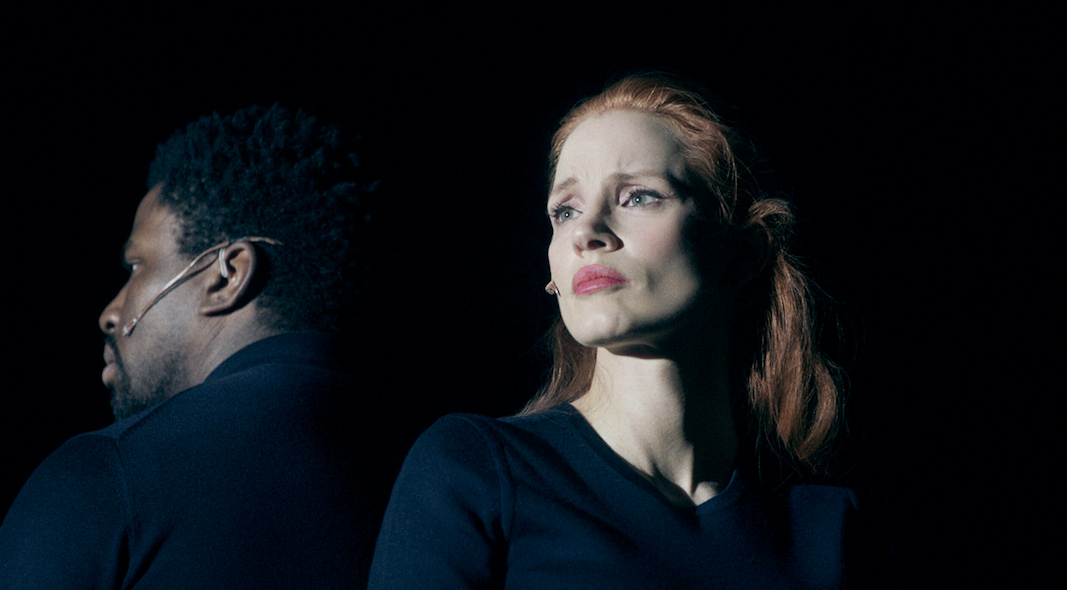 A friend asked if there is no scenery, how does Lloyd stage the famous door slam which ends the play? There are no spoilers here, but suffice it to say that the finale of this inventive revival is as theatrical and surprising as all that precedes it. This is a very sturdy, although unfurnished Doll's House.
Emily Feldman's The Best We Could (a family tragedy), at Manhattan Theater Club's Off-Broadway City Center Stage I, is also performed on a bare stage and delivers an emotional wallop despite its spareness. Feldman's telling of her story of a father-daughter road trip is influenced by Thornton Wilder's Our Town, with a Stage Manager narrating the action, playing supporting parts, and acting as God-like figure controlling the characters. (Best is even closer to Wilder's one-act The Happy Journey to Camden to Trenton, which also features a Stage Manager, bare stage, and involves a family auto sojourn.)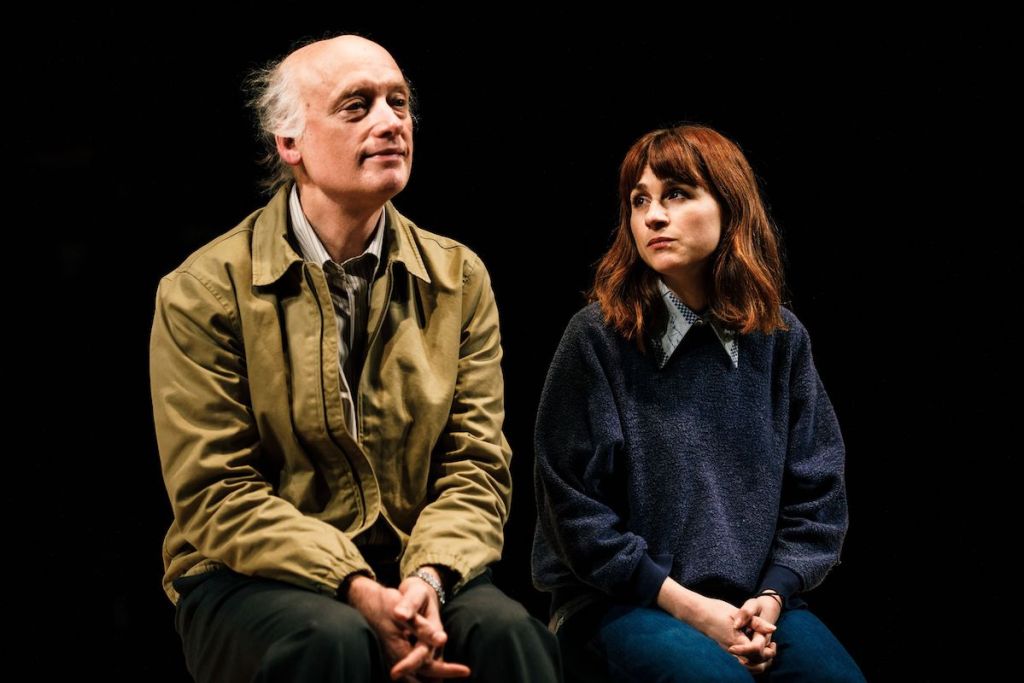 Just as Wilder wrote about the universality in the everyday, Feldman presents a seemingly ordinary story filled with apparently mundane details which reveals the joys and despair of the human experience. Ella (moving Aya Cash) is a disorganized but loving daughter driving cross-country with her eccentric dad Lou (touchingly paternal Frank Wood) to pick up a rescue dog replacement for a recently departed and much adored pet. Along the way, they visit Lou's best friend Marc (affable Brian D. Coats) who may be able to help Lou re-enter the work force after a long hiatus. There are numerous funny scenes with Lou speaking to total strangers (all played by the versatile Maureen Sebastian as the Stage Manager figure, called Maps), much to Ella's embarrassment. We also flashback and forward to vignettes with Ella's mom Peg (an amusingly sharp-edged Constance Shulman) who is demanding she and Lou sell the house and move into a smaller space.
Feldman creates a carefully-observed portrait of modern-day America as Ella's loose, unstructured lifestyle clashes with her parents' strict reliance on one's employment providing your identity. When Ella learns the real reason for Lou's joblessness, their relationship fractures and the subtitle becomes alarmingly real. (Sebastian is especially intense as a former co-worker of Lou's.) Daniel Aukin's direction is subtle but hits the comic moments just right, delivering a perfect balance between humor and pathos.
Both A Doll's House and The Best We Could demonstrate that with the right cast, play and director, all that's needed is two planks and a passion for absorbing theater.
A Doll's House: March 9—June 4. Hudson Theatre, 141 W. 44th St., NYC. Running time: 105 mins. with no intermission. Hudson Theatre.
The Best We Could (a family tragedy): March 1—26. Manhattan Theater Club at New York City Center, 131 W. 55th St., NYC. Running time: 90 mins. with no intermission. New York City Center.

this is an ad space