Disruptive performance in Santa Monica, multi-lingual dance takes the Hollywood Hills, contemporary dance in Culver City, edgy arts downtown, more SoCal dance this week (Aug. 18 to 24), and a peek at next week.
Live This Week
Keeping It New
Propelling into its third decade, REDCAT New Original Works (NOW) continues its mission of presenting innovative, multi-discipline performance, much of which includes dance and movement. The opening edition of the three week series brings a triptych of performers. Dancers, voices, and visuals populate the spatial opera A God of Her Own Making from JOJO ABOT. Dance is the metier in Some more, as choreographer and filmmaker Tuixén Benet considers mortality and eternity in context with mass shootings, police violence, pandemics, and other catastrophic events. Jordi & Ironstone with Cade & Mx. Matías promise slaughterhouse fashion and original choreography in their 2300 She.  REDCAT, Disney Hall, 631 W. 2nd St., downtown; Thurs.-Sat., Aug. 17-19, New performers: Aug. 24-26 (see below), & Aug. 31-Sept. 2,  8:30 pm, $25 single tickets, $50 festival pass. Details, tickets, and the full line up at REDCAT.
And bringing the next new
Week 2 of REDCAT New Original Works (NOW) Festival opens with Exhale Static, Inhale Fumes from disabled dance artist and activist Vanessa Hernández Cruz. Her solo considers the contradiction in the human disconnect and isolation from over-consuming social media at the same time some people, including the disabled, increasingly rely on technology for human connection. With choreography by the always-thoughtful Kevin Williamson, his new work Safe and Sound pays homage to the strength and pleasures of alternative nightlife spaces while pondering self-preservation and solidarity to combat anti-LGBTQ aggression. Williamson is aided by a sound score from Anna Luisa Petrisko, film interludes by Taso Papadakis, and fashion designed by Kelsey Vidic. Artist/educator Melissa Ferrari conjures a magic latern in Relict: A Phantasmagoria to complete the three performances. REDCAT, Disney Hall, 631 W. 2nd St., downtown; Thurs.-Sat., Aug. 24-26,  8:30 pm, $25 single tickets, $50 festival pass. Week 3, Aug. 31-Sept. 2 has new performers. Details, tickets, and the full line up at REDCAT.
Going for the bittersweet
LA-based Contra-Tiempo unveils ¡azúcar! confronting the duality of meanings that have evolved from that word. Considered rooted in the silk road and derived from Arabic for "sweetness," in the New World, ¡azúcar! often is a reference to the sweetness from sugar beets used to temper medicinal bitterness. Choreographer Ana María Álvarez and the dancers worked to explore how the word also came to evoke what press materials describe as an 'unspoken undercurrent of anti-Blackness in latinidad." One of the few dance events at this summer venue, makes this a must-see. The Ford Theater, 2580 Cahuenga Blvd. East, Hollywood; Fri., Aug. 18, 8 pm, $20-$68. The Ford Theater.
Disruptive forces
A summer of collaboration fuels Psychopomp Dance Theater's Chaos! with the troupe's signature high energy, highly physical movement. Weekend One:Creative Combustion this week offers new works from artistic director Shenandoah Harris, Stephanie Mizrahi, and Lydia McDonald. Next up, Weekend Two: Artistic Anarchy promises cross-disciplinary live performance. Highways Performance Space, 1651 18th St., Santa Monica; Fri.-Sat., Aug. 18-19, 8 pm, $35-$50. Highways Performance Space.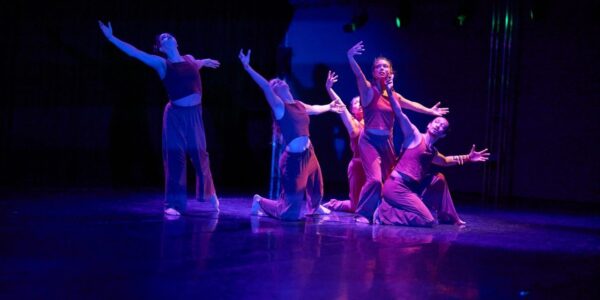 Boxed in
Promising an intimate performance of live dance, dialogue, and projection, MashUp Contemporary Dance Company tackles how to respond to constant change and simultaneously become a driver of change. The all female company has a strong track record tackling issues confronting humanity, with an emphasis on issues affecting women. The Box, 6144 Washington Blvd., Culver City, Sat., Aug. 19, 7:30 pm, $25-$40. Eventbrite.
Ballet white knights
Presented by White Nights Ballet, Continuum: Ballet from Classical to Contemporary sets out to cover the spectrum of the art. Announced contributors and performers include Alina Krasovskaya, Amanda de Oliveira, Maire E. New, Matisse Love, Aimee Cho, Alexander Romanchikov, Aaron Smyth, Jacob Ray, and Matthew Schroeder. Rose Center Theater 14140 All American Way, Westminster; Sun., Aug. 20, 6:30 pm, $43. White Nights Ballet.
Next dance, last chance
Part participatory, part performance, the free, al fresco summer series Dance DTLA concludes this week, showcasing the finale-worthy Bollywood. A (beginner or refresher) lesson at 7 pm is followed by a chance to dance or just watch and enjoy until 11 pm. If this week is not your style, the full line up of upcoming dance options is at the website. Music Center, Jerry Moss Plaza, 135 N. Grand Ave., downtown; Fri., Aug. 18, 7 pm, free. Music Center.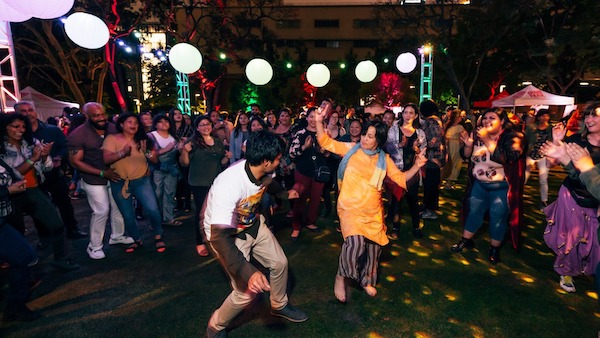 A Peek at Next Week (Aug. 25 to 31)
14th Annual MisMatch Dance Festival at Highways Performance Space, 1615 18th St., Santa Monica; Fri.-Sat., August 25-26, 7 pm, Sun., Aug. 27, 2 pm, $25 Hart Pulse Dance Company.
CONGRESS VIII at LA Dance Project, 2245 E Washington Blvd., Arts District; Fri.-Sun., Aug. 25-27, 8:30 pm, $45 & $75. CONGRESS VIII.
REDCAT NOW Festival — Week #3 REDCAT, Disney Hall, 631 W. 2nd St., downtown; Thurs.-Sat., Aug.31-Sept. 2, 8:30 pm, $25 single tickets, $50 festival pass. REDCAT.