Japanese new year hip-hops into Little Tokyo, an Afro-Brazilian dance marathon concludes in Anaheim, dance news notes, plus a peek at next week with more SoCal dance to start a new year.
Live This Week
Dancing in the street
The Rockettes' stamina in their multi-performance show days has met its match in the Afro-Brazilian dancers of Viver Brasil. For the 9th year, the LA-based troupe has been performing as part of Disneyland's ¡Viva Navidad! street fiesta. That means six performances a day concluding this week. Last chances to enjoy what is always exuberant dancing and to cheer on this home team in the home stretch. Disneyland, California Adventure Park, 1313 Disneyland Park Dr., Anaheim; Fri.-Sun., Jan. 6-8, 12:05, 1:15, 2:15, 3:50, 4:45, & 5:45 pm, free with park admission. Info on Viver Brasil at their site. Park ticket info at Disneyland.
Viver Brasil. Photo by Gennia Cui
Hip hop and the year of the rabbit
Japan's movement-infused calligraphy gets literal as calligrapher/hip-hop dancer Kuniharu Yoshida combines the artistic writing with choreography. The performance will be livestreamed. Just of one of many free, family-friendly events welcoming 2023 at the Oshogatsu Family Festival-the Year of the Rabbit. Full list of events at JANM. Japanese American National Museum, 100 N. Central Ave., Little Tokyo; Sun., Jan. 9, festival 11 am to 5 pm, free. Yoshida performance scheduled for 1:15 pm, live and livestreamed at Instagram (@jamuseum) and YouTube (@janmdotorg).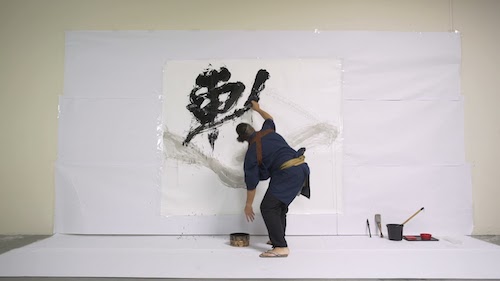 Kuniharu Yoshida. Photo courtesy of the artist
A Peek at Next Week
No)one. Art House at the Odyssey Dance Festival. (Details and complete list of festival performances at Odyssey Theatre.) Odyssey Theatre Ensemble, 2055 S. Sepulveda Blvd., West LA; Fri.-Sat., Jan. 13-14, 8 pm, Sun., Jan. 15, 2 pm, $25, $15 student. Tickets.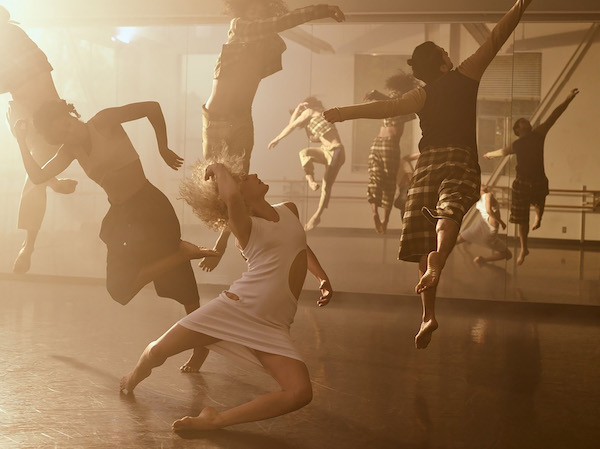 No)one. Art House. Photo by Matthew Brush
Dance Camera West at Historic Barnsdall Art Park, 4800 Hollywood Blvd., Hollywood; Thurs.-Sat., Jan. 19-21, various times & prices. Eventbrite. Details and schedule at Dance Camera West.
Simone Forti — Dance Constructions at MOCA Grand Avenue (Museum of Contemporary Art), 250 S. Grand Ave., downtown; Sun., Jan. 15 to Sun., April 2, (Thurs., 3:30, 4:45, 6:00, & 7:15 pm, Sat. & Sun., 12:30, 1:45, 3:00, & 4:15 pm, free with museum admission. MOCA.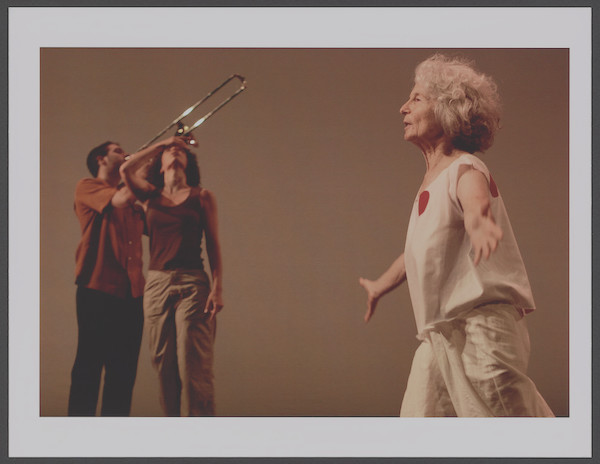 Simone Forti and dancers. Photo by Carol Petersen.
Ballet Project OC at The Irvine Barclay Theater, 4242 Campus Dr., Irvine; Sat., Jan. 14, 7 pm, $50-$225, post event gala reception at 8:30 pm, $75. The Barclay tickets.
SoCal Dance Notes
The namesake choreographer and her band of dancers, musicians, actors, and more are known for their ability to bring audiences to performances throughout LA's far-flung geography, always offering a new perspective and often a first look at sites throughout this patchwork quilt of a metropolis. In something of a family album, still photos from a five year period captures have been assembled by book designer James Robie. Heidi Duckler Dance and this event Book Launch: Heidi Duckler Dancer: 2016-2021 takes a traditional book launch into atypical territory combining the signing with a bit of site specific performance by Edgar Aguirre along with a conversation between Duckler and Robie. Event is free with reservation. Book is $35 at the Heidi Duckler shop. Institute of Contemporary Art/Los Angeles, 1717 E. 7th St., downtown; Sat., Jan. 14, 3-5 pm, free with RSVP at ICA LA.
SoCal dance companies headed to New York for next week's showcase performances at APAP (Association of Performing Arts Professionals) include Louise Reichlin Choreographers & Dancers and Luminario Ballet on Jan. 15. The annual event and performances are designed to bring together companies and those who book venues and tours.