Cassandra Khaw's prose (which they described in an interview as "baroque as fuck") grabs you firmly in the early pages of the novella Nothing But Blackened Teeth. You know you're in the hands of a skilled storyteller who is going to take you on a very creepy journey.
"But the interior didn't smell like it'd had people here, not for a long, long time, and smelled instead like such old buildings do: green and damp and dark and hungry, hollow as a stomach that'd forgotten what it was like to eat."
Khaw's protagonist, Cat, is instantly in charge of this journey with a strong voice, gorgeous descriptions with an edgy wit always thrumming beneath the surface. Cat has wrestled her own demons in mental illness, to which each of her college friends reacted differently, creating uneasy circumstances for a reunion. She is just re-emerging, self-aware and changed by her experience. She is, much like so many of us after the pandemic, nervously throwing herself back into the social fray. Her college friend Faiz is marrying Talia, with whom Cat has a thorny acquaintanceship. Talia has decided on a destination wedding in a known-to-be-haunted estate in a remote part of Japan. Cat's acerbic sense of humor, her long-considered observation of her friends, gives us a self-acknowledging edge. She is the first to be skeptical of any situation, which makes her the best guide for this ghost story. She knows it's stupid to tempt fate by going somewhere with a hairy backstory, somewhere known to be evil. But she is also a fiercely loyal friend who would never abandon her friends to this place. This sets the tone for a conscious journey through a ridiculous predicament told by exactly the friend you'd want along for the ride.
Our setting is an enormous rotting estate cursed by a once-spurned bride, haunted by layered centuries of death. What could possibly go wrong? But Khaw playfully dances with the familiar aspects of our wedding party's predicament. The characters speculate who will die first based on horror movie tropes, dancing around the idea of this haunted estate, but all the time, pulling us closer to the actual haunting. The result is that the reader, wishing to dismiss circumstances as one does watching any slasher movie ("Okay, so I won't have sex in the woods, that will keep me safe"), is pulled ever closer to having the crap scared out of them. Any fast talking, "you can't scare me," noisy trope caller will have trouble keeping the creep from moving up their neck, into their head, and, through Khaw's visceral imagery, getting them in the jump scare.
Underlying all of this is Cat's love for and knowledge of her friends and their history, as well as her personal history with them. The complex shared past of these friends ratchets up the overall tension as more of their personal story is revealed: past betrayals, abandonments, cheating. Cat observes: "Any second now, something was going to snap, a neck or a temper or a spine."
That self-awareness that Cat brings out of her journey with mental illness, her having come out the other side, makes the up-close horror visceral and experiential for the reader.
"I leaned into a direction and counted how long it took before the amygdala called time-out on my chicanery, flashbangs of pain going off over my corneas like a black-and-white Fourth of July."
Cat, of course, is the first to see the terrifying spirit haunting the house and is the first to warn her friends, but would also be the last to abandon them. What follows is a tight journey through an impossible situation that thwarts genre tropes at every turn, while honoring what every horror writer is there to enjoy.
Nothing But Blackened Teeth moves at a lovely pace and can be read in one or two sittings, makes for a very satisfying cold night read by the fire. I highly recommend picking up a copy and tucking it into your luggage as you go off to see family.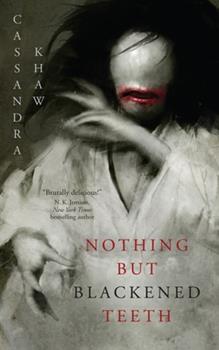 ***
Nothing But Blackened Teeth
By Cassandra Khaw
Novella
TorNightfire October 2021