The celebrated African-American playwright Adrienne Kennedy made her belated Broadway debut with a mystifying, powerful production of her 1991 work Ohio State Murders featuring a stellar turn from six-time Tony winner Audra McDonald. Unfortunately, there is no mystery as to why it took so long for the 91-year-old author, the winner of several Obie Awards, to have a production on the Main Stem and why it closed earlier than its original limited run. It's only recently that African-American authors have been represented in large numbers on Broadway and Kennedy's works examine difficult and painful issues of race in America in a non-straightforward, sometimes abstract manner. Her works are like disturbing dreams where bits of information and stark images collide in a hazy, uncertain atmosphere. You have to work to figure them out. And if you look too closely, the answers to the hard questions she poses are not exactly comforting. Not your typical Broadway fare for predominantly white audiences seeking escapist entertainment. So, despite McDonald's star wattage, Ohio State Murders had an abbreviated run on Broadway.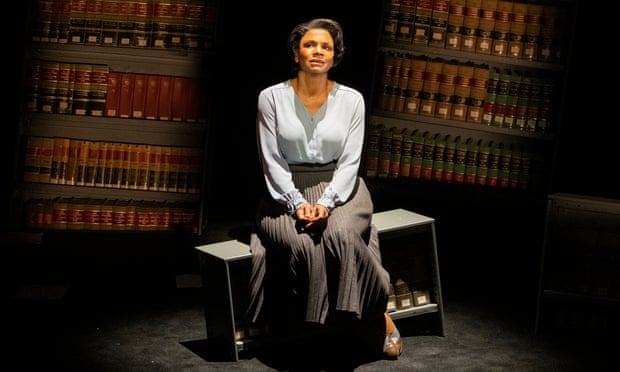 That's a pity because McDonald and director Kenny Leon illuminate Kennedy's dark visions with emotive power and skillful, suggestive staging. Ohio State Murders is unlike any other Broadway attraction. The story does not unfold in conventional fashion. The play's brief, 75-minute running time is a near monologue for McDonald. The eerie, askew setting by Beowulf Borritt places us in a weird landscape crowded with bookcases at odd angles. At the back, two craggy mountainous piles of rock open onto a black void where it's perpetually snowing.
McDonald plays Suzanne Alexander, a semi-autobiographical figure, ostensibly delivering a lecture on the violent imagery in her work at Ohio State University where she attended classes in the late 1940s and early 1950s. Her speech soon transforms from a literary tract into a searing narrative of Suzanne's encounters with racism at the college, culminating in the harrowing, brutal crime referred to in the title.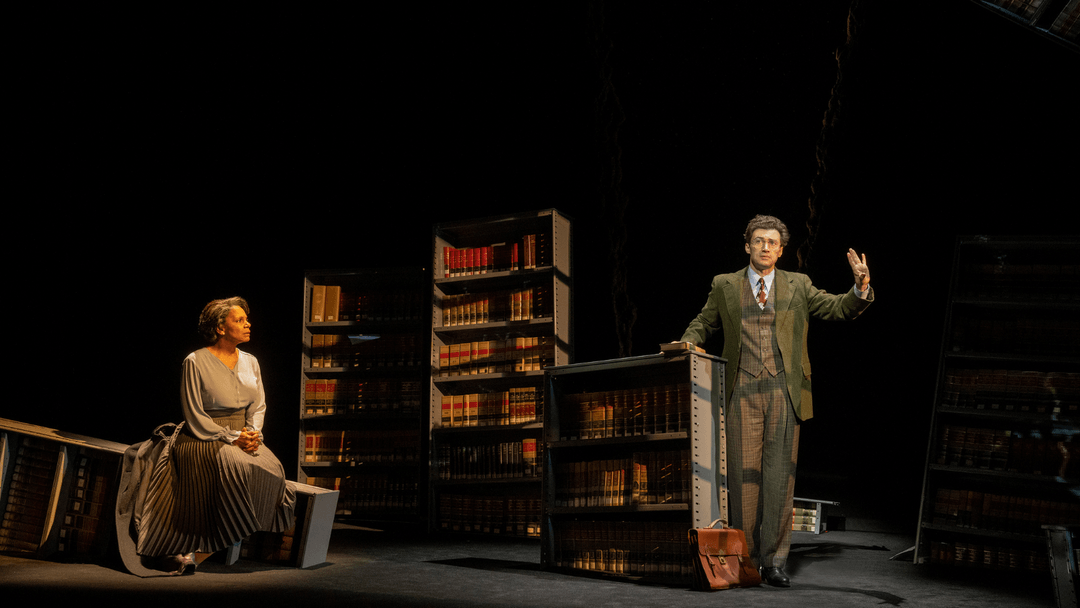 Like the protagonists of Kennedy's earlier works such as Funnyhouse of a Negro and A Movie Star Has to Star in Black and White, Suzanne is drawn to and identifies with white culture. She loves English literature such as Thomas Hardy's Tess of the D'Urbervilles and mainstream Hollywood films like A Place in the Sun and Now, Voyager. She is shunned by white sorority sisters and rejected by the faculty as an English major because of her race. She has a brief affair with her white professor. Her resultant pregnancy and the birth of twin daughters turn her into an outcast. So she is spurned by black and white society.
McDonald intensely conveys Suzanne's repressed anguish. Never leaving the stage, she delivers a galaxy of emotions through her shifting features and voice. She skillfully suppresses the horror of racism and the shattering titular crime, allowing her pain to slip out from beneath the lecturer's smiling facade with a foreshadowing tremor, finally letting it come to the surface at her talk's ironic conclusion. The four other actors have far fewer lines than the star and must get across the characters' conflicts with subtle means. Bryce Pinkham suggests the quiet English Lit professor's internal demons with clipped, soft speech, later transforming into a disheveled wreck. Lizan Mitchell creates three distinct characterizations of a judgmental college dean and two supportive mother figures. Mister Fitzgerald conveys the struggling emotions of two suitors to Suzanne. Abigail Stephenson beautifully expresses the sorrow of Suzanne's college roommate, Iris Ann whose musical ambitions are blighted by discrimination.
The play was marketed as a suspense thriller which may have resulted in the disappointment of some audiences members expecting a conventional Hitchcockian drama. Instead, Kennedy gives us a rumination on her relationship with the American racial and cultural milieu. It's a shocking, disturbing and unsettling experience. Ironically, this devastating examination of racial tension closed on the weekend of the Martin Luther King holiday.
Ohio State Murders — Dec. 8–Jan. 15. James Earl Jones Theater, 138 W. 48 St., NYC. Running time: 75 mins. with no intermission.