Cinderella takes a pratfall. Jack's beanstalk is a Pandora's Box. Rapunzel suffers PTSD. A puppet cow cavorts among such storybook characters as they repeatedly return to the woods in interwoven stories as tautly timed as a French farce. Into the Woods is arguably Stephen Sondheim's most accessible and easy to love musical. Following its recent Broadway run, the new Tony-award nominated production is onstage at the Ahmanson Theater until the end of July bringing much of the Broadway cast.
With a book by James Lapine framing Sondheim's words and music, Into the Woods crochets several familiar fairy tales, Cinderella, Little Red Riding Hood, Jack and the Beanstalk, and with a largely invented tale of a Baker, his Wife, and the Witch living next door who ties into Rapunzel in her tower.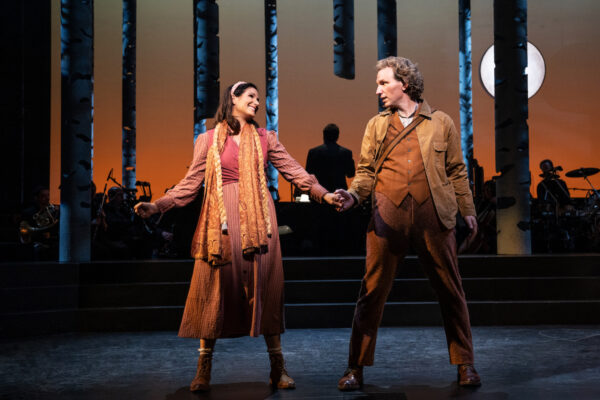 Directed by Lear deBessonet and choreographed by Lorin Latarro, this production moved to Broadway after sold out performances as part of New York City Center's esteemed The Encores! series. The production also is fresh from the Tony Awards where its six nominations include revival of a musical, direction, lead actress, lead actor, featured actress, and sound design.
The show's choreographer Lorin Latarro has an impressive list of credentials as a director in her own right as well as a choreographer and dancer. After training at Julliard, Latarro danced with the Martha Graham Company, Momix and for Twyla Tharp. She moved into musical theater and Broadway shows, a total of 14 different shows and touring companies that included  Fosse, Movin' Out, A Chorus Line, Spamalot, and Swing!. Latarro then began accumulating a similar number of shows as choreographer or director/choreographer. She choreographed three other Sondheim shows, Merrily We Roll Along and Assassins, and Company, working directly with Sondheim before his death in 2021. Before working with director Lear de Bassinet on this production, Latarro was choreographer for productions of Oliver and The Odyssey with de Bassinet.
Recently, the choreographer, Latarro explained her role as choreographer for Into the Woods and the challenge of Sondheim musicals that call for movement, but not outright, identifiable dance numbers.
LADC: How did you come to be involved in this production of Into the Woods?
Latarro: The director Lear deBessonet called me and asked me to join her as choreographer. It was a joyous moment! Lear and I worked together at The Public previously. Into The Woods began at The Encores! where we put up the show in ten days. The show then moved to Broadway after that short run.
LADC: Most productions of Into the Woods have a bit of dance at the end of the first act, but not a stand-alone dance number?  Where does choreography fit into this Into the Woods?
Latarro: I tried to create a movement style throughout the show, based on characters and with the lyrics being the focus. With Sondheim, the clues are always in his lyric. I was able to work with him while he was alive on two previous shows, and his advice was with me throughout Into The Woods.
(At the recent Tony Awards, the performance from Into the Woods included the scene-stealing character Milky White, a cow and best friend to Jack of Jack and the Beanstalk. In the original production and many since, Milky White is a two-dimensional cow cutout on rollers. In this production, Milky White is a puppet manipulated by a seen puppeteer.)
LADC: Please tell me about working as a choreographer with the puppet cow Milky White and the puppeteer.
Latarro: The puppeteer worked very closely with the score and team choreography to make Milky White come to life. James Ortiz, the puppeteer, is a very special artist. Milky really came to life through the work.
LADC: Most of your credits are list you as "choreographer" but some appear as "Movement Director." What is the difference?
Latarro: Sometimes a show uses 'Movement Director' instead of Choreographer when the movement is on actors and stylized, but no dance steps. Both require hours of prep and rehearsals. Small doesn't always mean easy.
LADC: Do you find there is a difference in how you approach choreographing for show versus a stand-alone dance for a dance company?
Latarro: A dance on a company offers more freedom. If it's a narrative dance on a company, you still must make sure you're telling a story clearly, but only the music becomes your guide. You essentially behave as director of the piece. On a musical, there are many gods to please. Composer, book writer, producers, costume designers, directors. The list goes on. Sometimes a gorgeous dance gets cut because the writer changes a story plot or moment. There is a lesson in not being precious about your own ideas  in this collaborative form. The most special moments can happen when all parties work together to create something new.
LADC: Thank you so much.
In 1987, after initial performances in San Diego, Into the Woods opened on Broadway with Bernadette Peters as the Witch, Chip Zen as the Baker, and Joanna Gleason as the Baker's Wife.
That initial Broadway production was nominated for ten Tony awards and won three—Sondheim for Best Score, James Lapine for Best Book and Joanna Gleason for Best Actress. Bernadette Peters who initially appeared as the Witch, left after several months due to a prior film commitment but was part of the original cast assembled and filmed in 1989. Broadcast on PBS' American Playhouse on March 15, 1991, that televised performance gained an Emmy nomination. It also broadened the audience beyond Broadway, fueling national tours, college, high school and community productions, including the 2014 film with Meryl Streep as the Witch and a 2019 semi-staged Hollywood Bowl performance. While over the years, the show has seen periodic revivals on Broadway, this Into the Woods marks the first Broadway production in more than a decade.
This Into the Woods arrives in LA after closing on Broadway and brings many of the Broadway cast including Montego Glover as The Witch, Stephanie J. Block as The Baker's Wife, Sebastian Arcelus as The Baker and Gavin Creel as Cinderella's Prince/Wolf reprising their Broadway roles
With songs like Children Will Listen, Agony, and the title song, Sondheim and Lapine take the audience on a journey that is entertaining, provocative and disruptive. While the first act entertains with familiar parts of the various fairytales as the characters' desires or wishes intertwine, there are shadows that come to the forefront in the second act as this 'once upon a time' world takes a darker turn triggered by some of those first act desires. Compelled to confront their world in chaos, four central characters join forces to respond with a finale that reprises some of the best songs and ends the show on a note that's hopeful, if not happily ever after.
Into the Woods at the Music Center, Ahmanson Theater, 135 N. Grand Ave., downtown; Thurs., July 6, 2 & 8 pm, then Tues.-Fri., 8 pm, Sat., 2 & 8 pm, Sun., 1 & 6:30 pm, thru Sun., July 30. $40-$155. Center Theatre Group.