The 2022-23 Broadway season ends with a trio of productions featuring dazzling star-level performances. Sean Hayes delivers one of the most powerful and versatile turns in a straight Broadway play in many seasons in Doug Wright's somewhat flawed, but ultimately absorbing and entertaining play, Good Night, Oscar, now at the Belasco after a run at Chicago's Goodman Theater. Wright continues his streak of plays and musicals about real-life figures and stories such as I Am My Own Wife, War Paint, Hands on a Hard Body, and Grey Gardens. This time his biographical gaze turns to Oscar Levant, celebrated wit, movie musical second banana, composer, concert pianist, and famous hypochondriac and mental case. Levant's schtick consisted of wry cynicism and ribbing his illnesses—imagined and real. He was a dryly comic personality playing the sidekick in several classic films such as Romance on the High Seas, An American in Paris, The Band Wagon, and The Barkleys of Broadway. His brilliance as a musician and songwriter were overshadowed by that of his best friend George Gershwin whose songs and concert pieces Levant endlessly played instead of his own works.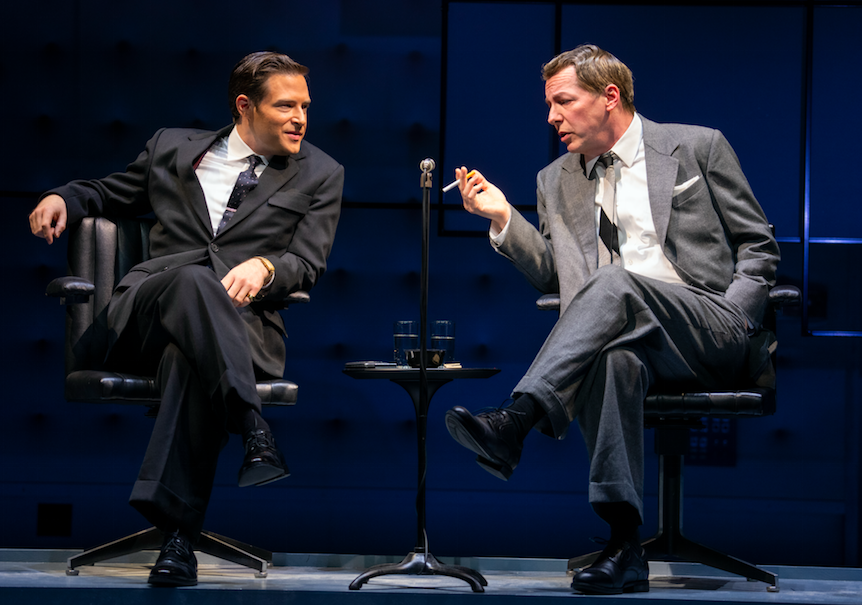 Wright takes an actual event—Levant's live appearance on The Tonight Show starring Jack Paar (smooth Ben Rappaport) in 1958—and turns it into a searing portrait of Levant's dazzling talent and crushing self-loathing. Wright raises the stakes by having Levant out on a pass from a mental facility. His long-suffering wife (sturdily supportive Emily Bergl) has finagled his temporary absence with a lie (she told the doctors their daughter was graduating high school) in order to have her neurotic husband prove his worth to himself and an audience of millions. Meanwhile, Paar is under pressure from the network, represented by president Bob Sarnoff (properly stuffy Peter Grosz) to keep the loose-tongued Levant on a short leash. To add to the mayhem, just before airtime, Oscar downs a medicine chest full of pills, stolen from the supplies of his attendant Alvin (Marchant Davis doing his best with a functional role).
Hayes, heretofore best known as the hyper-kinetic, outrageously out Jack on the long-running Will and Grace sitcom, is equally over the top here, but also completely believable as the jittery celebrity. His physical life perfectly suits the frayed Levant's desperate state. He seems ready to jump out of his skin at any moment. Barely able to hold his frayed nerves together, he spits out witticisms and one-liners like a marksman using his jokes as bullets to demolish his demons. As if that weren't enough, Hayes caps the evening with a concert-level, idiosyncratic piano solo of Gershwin's Rhapsody in Blue, conveying not only Levant's interpretative genius but also the character's insecurities and broiling inner conflicts. My only quarrel with this otherwise superb portrayal is Hayes' attempt to sound like Levant which comes across as a slurred Jimmy Stewart imitation.
While the central characterization by actor and playwright is spot-on, the supporting figures come across as devices to further the plot, provide exposition or a foil for Levant's unconventional, scorching humor. (As noted, the actors are all fine in their limning.) Sarnoff represents the staid, milquetoast attitude of 1950s mass media just so Oscar can tear him down when the network prez cautions the unstable guest star to steer clear of any controversial topics. Studio gofer and Sarnoff's nephew Max (very funny Alex Wyse) is a rabid movie fan ready to supply facts about Levant's career. Alvin just happens to have a decent singing voice so he can croon a bit of his patient's most memorable ballad "Blame It on My Youth" as evidence of Levant's blighted talent. Wright even has the ghost of Gershwin (dapper John Zdrojeski, glibly dismissing Levant's gifts as second-rate) appear in two extended and overlong fantasy sequences (the second is largely unnecessary).
Director Lisa Peterson's staging balances the laughs and pathos, hitting the right notes in sequence for a symphony of sympathy for Levant's tortured condition. Rachel Hauck's versatile set creates the right atmosphere of 1950s style and glamour while Emilio Sosa's costumes carefully define the characters' emotional and social status. Though Good Night has its sharps and flats, the naturals, particularly Hayes' memorable performance, make up for any off notes. 
Also handing in one of the acting highlights of this or any other season is Jodie Comer in Suzie Miller's explosive solo play Prima Facie, at the Golden Theater after an Olivier-winning run in London. Comer runs the proverbial gamut of emotions from A to way beyond Z as Tessa, a high-powered British barrister who mostly represents criminal defendants accused of sexual assault. The tables are turned when Tessa herself is the victim of an attack by a fellow lawyer and she must undergo the degrading process of seeking justice in a male-dominated court system.
The title is Latin for first impressions and ours of Tessa is one of confidence bordering on arrogance as she details the steps of cross-examining an uncertain witness and reveling in her judicial prowess. Comer is remarkably subtle in her depiction of Tessa's non-nonsense demeanor. There's nothing mean or nasty about her, she's just briskly self-assured about her place in the legal universe and that it's the right one. But after casual sex with a colleague turns ugly, Tessa's solid professional veneer is stripped away and set designer Miriam Buether's comforting solid walls of law books vanish, replaced by an empty, rain-soaked void, lit by Natasha Chivers like a nightmare. Comer heart-stoppingly conveys Tessa's parallel unravelling, peeling back her tough exterior to reveal the vulnerable, violated victim.
Miller blunts her powerful point by giving Tessa a climactic, Hollywood-ish courtroom speech where she takes apart the inequities in the standard legal procedures and makes a tearful emotional plea on behalf of sexual battery survivors. No judge would allow such pontification, however justified. Apart from this departure from harsh reality, Prima is prime drama, shattering and heartfelt in the extreme.
David Auburn's Summer, 1976 is not exactly shattering, but does offer amazing actors Laura Linney and Jessica Hecht a chance to display their incomparable skills in bringing two keenly-observed women to life on stage. Auburn's two-hander produced by Manhattan Theater Club chronicles the friendship of Diana (Linney) and Alice (Hecht) which lasts for a few weeks during the titular season at an Ohio university. Diana is an art teacher and Alice is the wife of an economics professor. The two are brought together by their young daughters and there's a funny plot twist involving the faculty babysitting system. Auburn also delicately develops a theme of women and independence, not so subtly connected to the Bicentennial celebration of the setting. The format is the two sitting at a table against a neutral backdrop, telling us the story of their brief but intense connection. (John Lee Beatty designed the understated, tasteful environment transformed into a variety of settings by Japhy Weideman's painterly lighting). Daniel Sullivan, who previously staged Auburn's Proof and The Columnist for MTC, directs with sensitivity and subtlety.
The strongest point of this touching and endearing piece is Auburn's attention to detail in creating the two women. Their vocabulary and quirks are so individual, we get an immediate and deep sense of both. Diana, a bit of a snob, uses adjectives like jejune. We get a notion of her sensuality when she gets aroused by the smells of various art supplies and paints. Alice is down to earth and direct. She speaks in simple, declarative sentences. She has no qualms about reading popular best-sellers of the day like Shogun and Coma. She is largely comfortable with herself, though insecure and unsure of the strength of her marriage.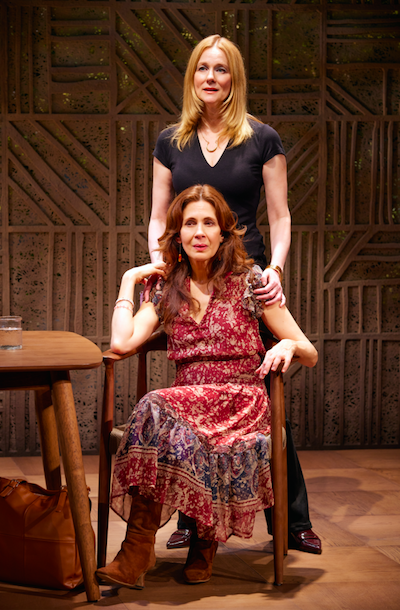 Linney and Hecht further delineate the pair with just the right gestures and facial expressions. Linney's are always appropriate and dead-on. Just for a sample: her voice drips with contempt when describing Alice's reading habits and aches with regret when she recognizes the friendship may be fading. Hecht gives Alice a marvelously flat midwestern accent and within this range, she creates a galaxy of emotions, thoughts and attitudes from hilarious comic confusion when the babysitting system goes awry to earth-shattering shock when her marriage reaches a breaking point (As an added bonus, Linney also ably plays Doug, Alice's estranged husband.)
The plot is not remarkable, but Summer, 1976 delivers a real and recognizable slice of the everyday, brought to quivering life by Linney and Hecht, joining Sean Hayes and Jodie Comer as the top performers of the end of a memorable Broadway season.
Good Night, Oscar: April 24—Aug. 27. Belasco Theatre, 111 W. 44th St., NYC. Running time: one hour and 40 mins. with no intermission. Telecharge
Prima Facie: April 23—July 2. Golden Theater, 252 W. 45th St., NYC. Running time: 100 mins. with no intermission. Telecharge
Summer, 1976: April 25—June 18. Manhattan Theater Club at the Samuel J. Friedman Theater, 261 W. 47th St., NYC. Running time: 90 mins. with no intermission. Telecharge