Two new Broadway productions offer boatloads of entertainment, but skirt around serious examination of their subjects. That's perfectly okay, neither Plaza Suite, Neil Simon's 1968 trio of comic one-acts set in the titular hotel, nor MJ: The Musical, the jukebox-bio musical of the late King of Pop, are meant to be anything more than a lighthearted night out. Yet they hint ever so slightly at the darker issues lurking just beneath their jolly surfaces.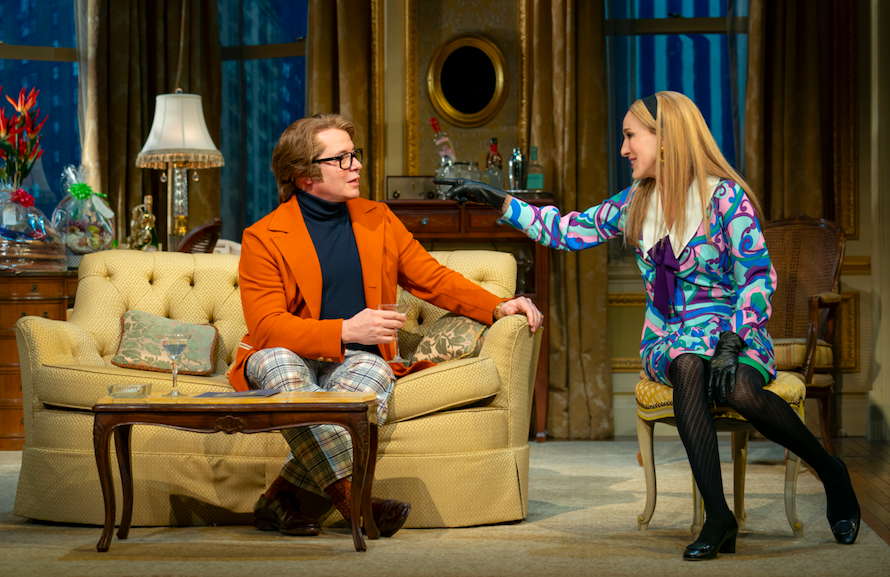 Plaza Suite premiered on Broadway starring George C. Scott and Maureen Stapleton with Mike Nichols at the helm as the 1960s were ending. Neil Simon was the king of comedy and Nichols was the king of directors. This was Simon's first sort-of attempt at something deeper than a frothy yuck fest for the tired-businessman crowd and fodder for the following year's summer stock schedule. The clever premise was three different playlets set in the same suite with the same leading actors playing the trio of lead couples. The difference was in the first act, Visitor from Mamaroneck. Sam and Karen Nash are staying at the hotel while their house is being painted. It's their anniversary and Karen contrives to stay in the same suite as on their honeymoon. After jokes about Karen mixing up the dates and the room number and gags about Sam obsessing over his weight and age, Simon gradually reveals their marriage is on the rocks and does not unite them happily by the curtain.
The second two pieces are more typical Simon sketches with a pompous movie producer seducing his star-hungry high-school sweetheart (Visitor from Hollywood) and the parents of a reluctant bride desperately attempting to pry her out of the bathroom just before the wedding (Visitor from Forest Hills).
In this current revival (at the Hudson), basically an excuse for Matthew Broderick and Sarah Jessica Parker to have some onstage fun together, the latter two gems hold up magnificently, but the first semi-serious scene falls flat. Though their ages are correct for the roles of a disconnected, disillusioned pair, Broderick and Parker look and act like Ferris Bueller and Carrie Bradshaw, their famous alter egos, playing late-middle aged dress-up. They seem uncomfortable in Jane Greenwood's dowdy costumes and in their own skin. The crisis in their marriage—Sam is having a midlife fling with his secretary—comes across as not very important and the comic-relief gags about suburban concerns aren't very funny. It also doesn't help that the script calls for Broderick to be svelte and Parker to be pudgy when they are physically the opposite. Fortunately, John Lee Beatty's set is luxuriously appropriate throughout.
But after intermission, the comic chemistry clicks and John Benjamin Hickey's perfectly-timed staging delivers the right bubbly fizz to send Simon's neatly constructed sketches—and the audience—into the comic stratosphere. As the "swinging" movie mogul, Broderick is hilariously self-confident as he plots to maneuver his former girlfriend into his bedroom. Watch as he shoves scripts, newspapers, and even his lunch plates under the bed for a quicker tumble, then saunters to answer the door to admit Parker, who perfectly conveys the jittery conflicted emotions of a New Jersey housewife dying to be taken advantage of, but simultaneously scared to death. Greenwood's outfits now make comic points and help reveal character. The climactic dance into the boudoir is beautifully handled as Broderick drops movie star names and Parker eats them up with a spoon, allowing herself to boogey down temptation's path.
The final outing is dizzyingly riotous with Broderick getting crazier as each attack on the solid bathroom door is thwarted until finally he winds up crawling on an outside ledge while being attacked by pigeons. Parker reacts with horror and precision as her stockings shred and her dignity wilts. The couple play off each other brilliantly, bringing the curtain down on a laugh riot. Two outta three ain't bad.
MJ: The Musical (at the Neil Simon, named for Plaza Suite's author) also takes places in an earlier era, celebrates pure showmanship, and avoid uncomfortable issues skulking beneath its glittery surface. This elaborate celebration of Michael Jackson's artistry takes place in 1992 during rehearsals of his Dangerous tour, conveniently just before accusations of pedophilia against the star were beginning to emerge. Employing Jackson's vast catalogue of hits for its score and featuring breathtakingly spectacular choreography and staging by Christopher Wheeldon, MJ focuses on the artist's onstage persona and his output, giving scant attention to his "inner demons." Book-writer Lynn Nottage has been put in an impossible position. In order to gain the blessing of the Jackson estate and access to the musical canon, the creative team had to deliver a sanitized version of a tortured show biz story. Thus, a double Pulitzer Prize-winning playwright has been reduced to the status of carpenter building a utilitarian bridge to link the songs together.
The weak book centers on Jackson recounting his fractured childhood and life story for an MTV crew as he painstakingly assembles production numbers based on his greatest hits. Jackson's inner life, his sexuality, his attitude towards his blackness, in fact anything slightly troubling, is barely touched on.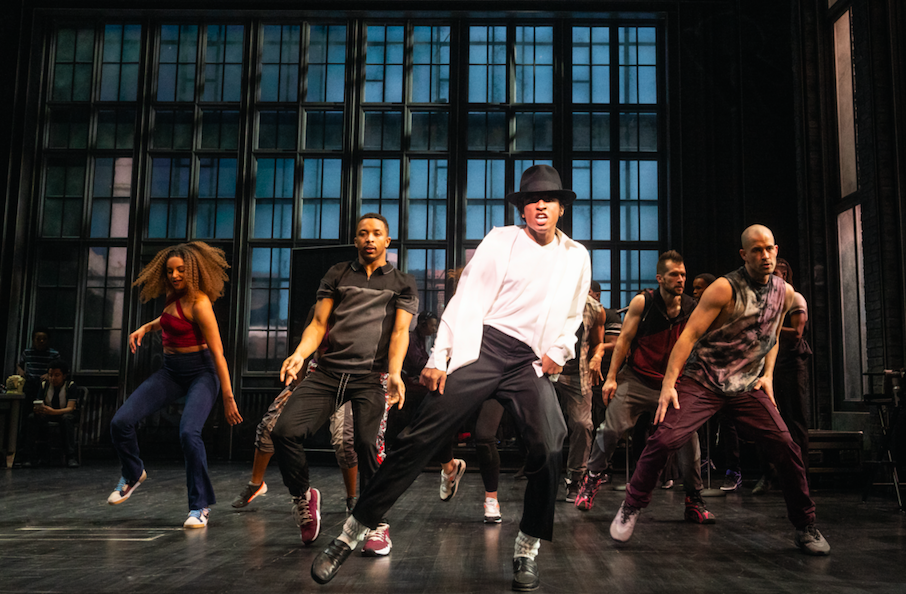 But the audience for this show is not here for psychological insights, but for the music and the flash, amply provided by Wheeldon and augmented by Natasha Katz's rock-concert lighting. As in previous musicals about pop divas Cher and Donna Summer, Jackson is played by three actors, all of whom are amazing—Walter Russell III (child MJ at the performance attended), Tavon Olds-Sample (teen Michael), and especially Myles Frost as the mature MJ, channeling his other-worldly dance moves and ethereal vocals. (Note: I was supposed to attend the show soon after it opened, but Frost had sustained a foot injury and I only recently caught up with it.) Kudos also to Quentin Earl Darrington, commanding in the dual role of Jackson's tyrannical father and his put-upon tour director, and Ayanna George as Michael's compassionate mother. MJ doesn't present the full picture of a complex legend, only his onstage persona. Like Plaza Suite, it's pretty entertaining, but tantalizingly incomplete.
Plaza Suite: March 28—June 26. Hudson Theater, 139 W. 44th St., NYC. Tue 7pm, Wed 2pm & 8pm, Thu 7pm, Fri 8pm, Sat 2pm & 8pm, Sun 3pm. Running time: two hours and 40 mins. including intermission. $109—$599. www.telecharge.com.
MJ: The Musical: Opened Feb. 1 for an open run. Neil Simon Theater, 250 W. 52nd St., NYC. Tue 7pm, Wed 2pm & 8pm, Thu 7pm, Fri 8pm, Sat 2pm & 8pm, Sun 3pm. Running time: two hours and 40 mins. including intermission. $93—$225. www.ticketmaster.com.