In its last Broadway incarnation in 2012, Death of a Salesman was so close to the 1949 original that director Mike Nichols employed the same skeletal set design by Jo Mielziner. Willy Loman's middle-class tragedy was as powerful as ever, proving the steely endurability of Arthur Miller's timeless rendering of the hollow American Dream. Willy has nothing but illusions of fame and wealth as he ends his selling career with no savings and an uncrossable emotional gulf between him and his alienated sons Biff and Happy. At the time it seemed as if nothing more could be added to or wrung from Miller's classic. But Miranda Cromwell's vital staging led by a mostly African-American cast and now playing at the Hudson after a smash London run, finds new shocks and depths in a familiar favorite, highlighted by powerhouse performances by the stunning Wendell Pierce and the intense Sharon D Clarke.
Wendell Pierce and Sharon D Clarke in Death of a Salesman.
Credit: Joan Marcus
In a program note, Arminda Thomas contextualizes the production by explaining there was an independent black community in Brooklyn called Weeksville which later morphed into the Bedford-Stuyvesant neighborhood. This transformation fits in with Miller's storyline of the Loman's small house becoming dominated by gigantic apartment houses. In addition, racial undertones are introduced into certain scenes, making Willy's illusions about the fairness of the American system all the more devastating. The unspoken "n" word is substituted for "walrus" as an insult hurled at Willy, an epitaph that cracks his salesman's smiling veneer.
Willy's relationship with his uncaring boss Howard (played by a white actor) becomes a case study in oppression in a single telling piece of staging. As he is about to fire Willy, Howard drops a cigarette lighter. He glances at Willy, who knows he must pick it up and then light his employer's smoke. In the restaurant scene, Willy and his sons Biff and Happy are seated in an outdoor garden with no other diners so their confrontation can be played without onlookers. Here, their separation is a sign of segregation, prevalent even in relatively liberal 1940s New York.
In addition to the racial subtext, Cromwell adds dream-like presentationalism to her staging. With the aide of Anna Fleischle's scattered, jigsaw-puzzle set and Jen Schriever's spooky, unsettling lighting, Willy's reveries into his past become an unsettling nightmare. His recollections of Biff and Happy's high-school triumphs are posed like a series of flash photographs, exposing them as exaggerated figments of Willy's success-at-all-costs fantasies. Willy's mysterious brother Ben (a disturbingly spectral Andre De Shields) becomes an elusive ghost symbolizing Willy's dreams of riches, accompanied by clouds of fog and dressed in a white suit studded with glittering diamonds (the character-defining costumes are by Fleischle and Sarita Fellows). These flashback are sometimes accompanied by blinding lights, disorienting the audience, just as they disorient Willy.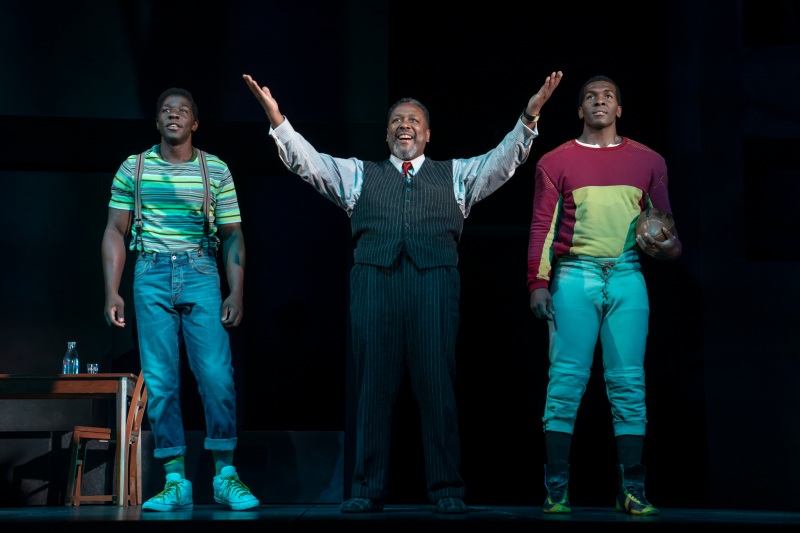 McKinley Belcher III, Wendell Pierce, and Khris Davis in Death of a Salesman.
Credit: Joan Marcus
Pierce gives the performance of a lifetime as the defeated drummer, ripped apart by delusions of business success and crushed by his own illusions and the very real scourge of racism. He lends amazing physical life to Willy's breakdown as he struggles to keep a facade of joviality despite his financial and emotional ruin. Verbally, Pierce is equally adept at demonstrating Willy's unraveling. He bolts through Willy's pep-talk speeches and sales pitches as if racing to reassure himself of the lies of a bright future before the truth catches up with him. (Side note: At the performance attended, Pierce proved his professionalism by dealing with a disruptive audience member with grace and dignity.)
While Pierce skillfully depicts Willy's disintegration, Sharon D Clarke as his wife Linda is a rock of resolve. Linda is usually played as a helpless onlooker to her spouse's trauma, but Clarke displays steely strength in a battle to keep Willy from totally losing all control. Her famous "attention must be paid" speech is a firm declaration of devotion rather than a pitiable cry for help. Khris Davis as Biff comes across as stiff and artificial in his early scenes but gradually builds to a credible portrayal of a lost man coming to terms with his limitations. The racial element adds to Biff's conflict. During the play's climactic confrontation, he states he could rise his average wage above a dollar an hour, the implication of implacable institutional discrimination is clear. McKinley Belcher III feelingly conveys Happy's desperate need to be accepted, not only by his father (who clearly favors Biff) but also by the white-dominated business world.
Casting white actors in supporting roles adds to the tension and contributes additional subtext. Willy's neighbor Charley (Delaney Williams plays the role as a jovial pal) offers him a job and Willy's pride will not let him accept charity from a white man. (Interestingly, in the 1975 revival George C. Scott cast Charley with a black actor, reversing the racial dynamic.) Willy's dalliance with a Boston secretary (Lynn Hawley makes her a guffawing clown) now has a forbidden tinge. Blake DeLong ably limns the smug attitude of Howard, Willy's boss, and the waiter Stanley. There are also valuable contributions from Stephen Stocking as Bernard, Charley's son who succeeds where Biff has failed, Chelsea Lee Williams and Grace Porter in this walloping revival of an American classic, given new life by a magnificent cast and director.
Death of a Salesman: Oct. 9–Jan. 15. Hudson Theater, 141 W. 44th St., NYC. Running time three hours and ten mins. including intermission. salesmanonbroadway.com.