In these touchy political times, it's exciting to see a satiric comedy that takes risks and isn't afraid it might offend someone. At the Music Box Theater, audiences are laughing hysterically at racism and violations of civil rights. The irony is the play is Purlie Victorious which has not been given a professional production anywhere since it debuted on Broadway over 60 years ago in 1961. (There was a hit musical version called simply Purlie in 1970 which launched Melba Moore's career.) Ossie Davis wrote this unflinching skewering of the Jim Crow South and tribute to African-American ingenuity in getting around it. He also took on the leading role of a wily, silver-tongued preacher and his wife, the magnificent Ruby Dee, played Lutiebelle Gussie Mae, his love interest who has a considerable spine of her own. Leslie Odom, Jr. and Kara Young are both dazzlingly funny and incredibly warm in these roles as are the rest of a superb cast, directed with shotgun velocity by Kenny Leon.
The play has not been seen in all this time because, long before TV's landmark All in the Family series, Davis made us laugh riotously at uncomfortable things like segregation, exploitation and sexual harassment. The play's sarcastic subtitle says it all, "A Non-Confederate Romp Through the Cotton Patch." Modern theatergoers may be scandalized by guffaws at such misery. But, Leon gives this Swiftian satire such a sharp, farcical pacing and his cast are so brilliantly precise in their delivery and intentions that theatergoers drown the serious implications of the issues with laughter. This is not say that Davis' play makes light of African-American oppression. He punctures racist attitudes with irony and clever wordplay, making the Southern power holders into pitiful clowns and Purlie is a slippery trickster, besting them every time.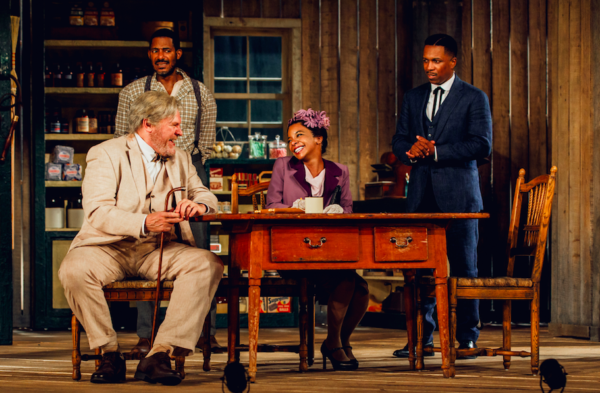 The plot centers around the efforts of Purlie and his family to reclaim a rightful inheritance from the clutches of their bigoted boss Ol'Cap'n Cotchipee (a marvelously buffoonish Jay O. Sanders). Purlie, who has assumed many different professions, is now a minister and plans to use the money to start a church. He has recruited Lutiebelle to impersonate a long-lost relative to acquire the cash.
Odom is charismatic and fiercely amusing as the sly Purlie, raising to revivalist fever as he hits rhetorical heights in his quest for equality. But the show is stolen by Young as the wide-eyed Lutiebelle. She caresses each syllable of her character's Southern drawl (I love the way she says "Much obliged" in response to every kindness shown her.) Her physical life is equally exaggerated and just enough over the top without going too far. As she impersonates a college-educated cousin, it's clear Lutiebelle has never worn high heels before and Young's hilarious balancing walk brings the house down (Kudos to Emilio Sosa's spot-on costume choices for her and all the other characters. Derek McLane designed the simple, versatile set.)
Billy Eugene Jones takes on the tricky role of Gitlow, Purlie's brother-in-law whose main objective is to survive under Ol' Cap'n's autocratic rule by playing what used to be called the Uncle Tom role. Jones does not stoop to stereotype but reveals the pragmatic schemer beneath the shuffling facade. Heather Alicia Simms is commanding as Missy, Gitlow's no-nonsense wife. Vanessa Bell Calloway is equally strong as Idella, the cook and housekeeper who manages to manipulate the ornery boss with her pies and fritters.
Amidst all the comedy, there is one moment when the audience holds its collective breath and an uncomfortable silence falls over the house. A self-confessed Confederate who rails against the Supreme Court's integrationist decisions, Ol' Cap'n draws gales of giggles with his extremist views as he repeatedly ventures to "educate" his stubbornly progressive son Charlie (comically earnest Noah Robbins). After cajoling Gitlow to agree with him, the old racist curses Martin Luther King and the laughter stops. For a brief second, we are reminded of true venomous nature of the Old South. But then, the jokes continue, Ol'Cap'n gets his just desserts and Purlie — both the character and the play — emerges truly victorious.
Purlie Victorious: Sept. 27—Jan. 7, 2024. Music Box Theater, 239 W. 45th St., NYC. Running time: one hour and 45 mins. with no intermission. telecharge.com.